Your Guide

   Gavin Davison
If you are lacking in PHYSICAL strength or just generally struggling to wield your racquet around during LONG practice sessions or long matches…
Then a lightweight racquet is definitely something that you should consider.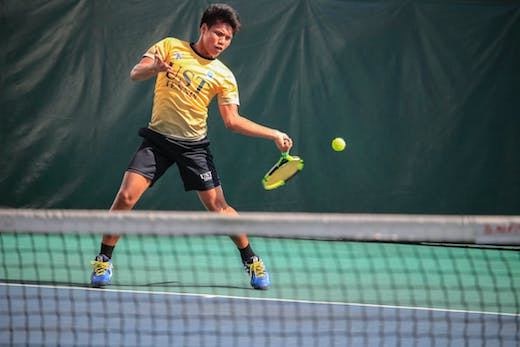 Lightweight racquets are suitable for juniors, female players, older players, as well as male players that don't hit with HUGE power.
They are really versatile and can help you play the game of tennis with greater ease than those heavier frames.
Please see my recommendations for this category right here.
#1: Babolat Pure Strike Lite
The choice to use a LIGHTWEIGHT racquet stems from either physical strength reasons, swing speed preferences, or just general comfort issues.
Whatever the reason is for you, I believe that the Babolat Pure Strike will deliver one of the best lightweight racquets available in 2022.
Personally, I think it even has a better COLOR BLEND than other Pure Strike models too.
This racquet serves up FSI technology and the recently implemented C2 Pure Feel that Babolat has managed to create.
When strung, this racquet only reaches 281g, so it is HIGHLY suitable for those of you that prefer racquets in this weight region.
The fun doesn't end there with the Pure Strike Lite, however, and it's got plenty more to offer.
Key Features
Manufactured using the latest Babolat technology
The lightest frame of the entire Pure Strike range
Designed with racquet head speed in mind, but without giving a dull feel
Plays incredibly well from the baseline
Specification
Weight strung: 281g
String pattern: 16 x 19
Head size: 100 square inches
Balance: 330mm (4 points headlight)
Beam width: 21mm
Pros
A great racquet for those that love baseline play
Almost guaranteed that your arm won't get tired, even in long matches
Very appealing paint job
Cons
Doesn't really produce any extra juice when serving
The beam is very flat, which some players don't particularly like
#2: Babolat Drive G
As much as it pains me to say this, I think that the color blend on this racquet is far better than my current racquet, the Babolat Pure Drive.
I think that the choice of DARK BLUE with black LOOKS AWESOME, and this racquet's performance matches the quality of the paint job.
The head is also slightly larger, with an entire 102 square inches to smoke those baseline shots!
This racquet is also a slightly older racquet model, so there are numerous sites out there that OFFER some great deals.
This model is probably more suited to club players or strong beginners, but it can also be used by promising junior players since it's so light.
Key Features
Specification
Weight strung: 286g
String pattern: 16 x 19
Head size: 102 square inches
Balance: 330mm (4 points headlight)
Beam width: 24mm
Pros
Manufactured using Babolat's game-changing Woofer technology
Quite head light for ease of maneuverability around the net
Oversized head giving a better chance to hit the ball in the middle
Cons
The 102 square inches head size will not suit advanced players
This racquet can be susceptible to increased vibration on contact, so you should purchase a vibration dampener
#3: Head Ti S6
This racquet is super popular with beginners, and for those that just don't enjoy using HEAVIER frames.
 It's only 252g when strung, which makes it one of the lightest adult racquets on the market.
There's much to love about this frame, as it really is one of the easiest racquets to HANDLE due to the balance and weight.
There's a little secret sauce to go with the Head Ti S6, which is a bit of a love or hate thing.
This racquet is actually 27.75 inches in length, which can be a blessing, or it can be a curse.
It all depends on whether you are willing to take a few weeks to READJUST your game to get used to the added length.
One thing I will say is that if you do take this time, you probably won't look back with this frame.
Key Features
Not the traditional oval shape seen with other tennis racquets
A massively oversized head, making it ideal for brand-new players and seniors
Manufactured using graphite and titanium for added strength
Much cheaper than other lightweight models
Specification
Weight unstrung: 225g
String pattern: 16 x 19
Head size: 115 square inches
Balance: 380mm (8 points head light)
Beam width: 29mm
Pros
Super springy string bed, which is ideal for generating pace from the baseline
This racquet is actually very good to prevent tennis elbow
racquet is relatively old so you can get it at incredibly reduced prices
Cons
Not suitable at all for those who have a fast swing speed
With a head size of 115 square inches, it doesn't have a concentrated sweet spot
#4: Wilson Roland Garros Elite
I don't know about you guys, but I always love it when tennis brands bring out racquets that are specifically designed for the major slams.
I loved the Babolat US Open racquet previously, and now Wilson has got in on the action with the Roland Garros Elite.
Of course, it's all down to PERSONAL preference, but I think that the paint job on this frame is fantastic.
At first, I was skeptical because the price seemed alarmingly low for a quality racquet, but I've seen no alarming discrepancies between this racquet and other lightweight models.
It's been developed through the use of some of Wilson's cutting edge technologies, and it's just generally an appealing racquet.
Key Features
Manufactured for players that love some clay-court action
Airlite alloy build around the entire frame
Insanely cheap for the quality that it offers
Also has an extra 0.5 inches to assist with racquet velocity
Specification
Weight strung: 225g
String pattern: 16 x 19
Head size: 112 square inches
Balance: 330mm
Beam width: 25mm
Pros
Huge racquet head size, very appealing for seniors and beginners
Super lightweight, so won't cause rapid fatigue or injuries
The extra half-inch gives added reach across the entire court
Cons
Like other extra-long racquets, it takes some getting used to
Doesn't have the same soft feel as other Wilson racquets
#5: Tecnifibre T-Flash 255
This is a bit of an interesting one, but it still deserves the number 5 spot on this list.
On the surface, you may think that this is just a discolored 'knock in the park' racquet, but after doing some DIGGING I feel that Tecnifibre has earned this listing.
It's on the heavier side as far as lightweight racquets go, but it will appeal to a broad scope of players.
It's been made using Tecnifibre's HD fuse grip technology, which really does provide a nice CRISP feeling upon hitting the ball.
It also has much tighter spacing between the strings, and this means that it's much easier to control the ball through extra slice or topspin.
Key Features
Very little vibration even when hitting at a fast speed
This racquet is absolutely perfectly balanced
Easy to maneuver the frame when defending, as well as attacking the net
Versatile enough to suit a wide range of game styles
Specification
Weight unstrung: 255g
String pattern: 16 x 19
Head size: 100 square inches
Balance: 343mm
Beam width: 25mm
Pros
Tecnifibre is the brand of choice for quite a few top-level professionals (Medvedev being the highest-ranked)
Able to significantly reduce vibration without sacrificing feel on the ball
Definitely a color scheme that will make you stand out
Cons
On the market for around £100, which is a lot for a lightweight racquet
The grip that this racquet comes with is not very comfortable at all
Of course, the racquets in this list above vary in their balance, actual weight, head size, and other KEY FACTORS…
..so it is up to you to filter these racquets down based on your personal preferences.
I personally prefer lightweight racquets that are a little more head-heavy…
But that's because I prefer less VIBRATION and a bit of a FIRMER feel than those that are very headlight – but that's just my preference.
Take the time to understand your preference, and you'll know which racquet to get in no time.