As a senior player, you need a racquet that is LIGHTWEIGHT and easy to maneuver around.
Your Guide

   Gavin Davison
You want to be able to keep playing well into your GOLDEN years, and I believe that my recommended best tennis racquet for seniors below will allow you to do exactly that.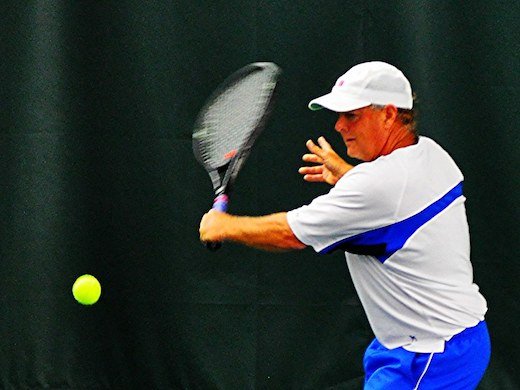 Each of these racquets vary slightly between one another, but the FUNDAMENTAL characteristics that are desirable for a suitable senior racquet remains the same.
Check out these racquets below!
#1: Wilson One
This racquet is the absolute King of racquets for the older generation of tennis players.
It just checks EVERY SINGLE box, and when a racquet does this, it is just impossible to ignore.
The Wilson One is so incredibly easy to play with that older tennis players have been opting for this frame for years.
When this level of CONSISTENCY and popularity is seen, you know that the racquet is doing something right.
Senior players tend to look for larger head sizes, lighter racquets, bigger sweet spots, and just generally look for racquets that aren't difficult to use.
The Wilson One ticks all of these FEATURES, which is why it is at the top of my list.
I highly encourage any senior players out there to at least give this racquet a try, even if you ultimately find that it doesn't suit your game style.
Key Features
Sweet spot that expands the entire racquet face
Very large head size so it's much easier to make contact with the ball
Naturally kind to the elbow no matter how long you play
Nice and lightweight so it's easy to swing
Specification
Weight unstrung: 239g
String pattern: 16 x 19
Head size: 113 square inches
Balance: 376mm (7 points head heavy)
Beam width: 26mm
Pros
Super powerful from the baseline
A great racquet to either prevent or help with tennis elbow or those with joint issues
Responds well to volleys and overheads, ideal for doubles players who spend a lot of time around the net
Cons
The much larger head size isn't for everyone
The head-heavy specifications can sometimes lead to a duller feel when contacting the ball
#2: Dunlop Natural Elite Team
I haven't listed many Dunlop racquets throughout this entire piece, so it was nice and refreshing to see that they've made a racquet that is ideal for senior players.
This racquet also looks fantastic, with a bit of a yin-yang feel.
Color scheme aside, this racquet is light and has technology that reduces vibration, which is always advantageous for senior players.
The racquet may not have an oversized head size, but some players prefer it this way. As an added bonus for this frame, it comes fitted with a great Dunlop GRIP, no matter where you order from.
If you'd like to look at this racquet in more detail, check out the specifications below.
Key Features
Reduced vibration due to the natural build of the frame
The color of the frame will look great on any court surface
Quite stiff in the head so you do get reasonable control
Much cheaper than other senior frames
Specification
Weight unstrung: 260g
String pattern: 16 x 19
Head size: 100 square inches
Balance: 335mm
Beam width: 23mm
Pros
Doesn't take a LOT of money to buy this racquet
Built with graphite to give a nice strong frame
Ideal stringing range (between 52lbs and 62lbs)
Cons
More of a control racquet rather than a powerful frame
This racquet has been discontinued, so there aren't so many left to buy
#3: Babolat Pulsion 105
The Babolat Pulsion 105 gives an all-around package of comfort and ease of play for Veteran tennis players.
I'm passionate about finding frames that will help you, seniors, to continue to ENJOY the game for as long as you possibly can, and the Pulsion 105 will give you maximum longevity in your game.
Since this is combined with specifications that are ideal for older players, this racquet had to be listed.
It has a really cool paint job around the entire frame if this is something that you enjoy, but one of the most favorable aspects is the price tag.
This is available for less than $80 £60 right now, which is awesome for a racquet from Babolat.
Key Features
Oversized head that can help you to hit the ball with ease
Made with graphite composite for a sturdy and stiff frame
Doesn't require a full swing to still generate reasonable power
Ideal for those who prefer a lower string tension
Specification
Weight unstrung: 260g
String pattern: 16 x 20
Head size: 105 square inches
Balance: 340mm
Beam width: 24mm
Pros
Has a very higher power rating for those that need more pace on the ball
Has 20 crosses to allow you to get a little added spin
Nice and stable frame, meaning reduced flex and reduced vibration
Cons
Only super powerful when using a polyester string
Requires a string tension between 50-55lbs, not a huge range
#4: Wilson H4
Besides a simple yet really cool name, the Wilson H4 supplies heaps of benefits for senior tennis players.
It's got a vibrant blue color to kick things off, and the head size combined with the weight of the frame gives an ideal blend for slightly older tennis ENTHUSIAST.
 Usually, whenever Wilson releases a racquet, they do it right, and the H4 is no different.
The racquet does require a slightly higher investment since it is currently around £90, but I believe it is worth it if you can afford to make the investment.
That being said, if you're looking to increase your power plays on the court, the H4 is worth checking out.
Key Features
Manufactured by the top tennis brand in the market
Extra crosses than other frames for a better spin on the ball
Very large head size that provides a powerful string bed
Graphite frame, but doesn't carry the same weight seen with other graphite models
Specification
Weight unstrung: 263g
String pattern: 16 x 20
Head size: 113 square inches
Balance: 345mm
Beam width: 24mm
Pros
Cons
The extra power can be tough to control without adequate topspin
Isn't super forgiving if you start hitting the ball off-center
#5: Wilson Blade 104
The Wilson Blade range generally gives some fantastic technology, and it has been serving players well for several years now.
Given that this range has maintained its popularity, it's clear to see that the racquet offers some highly DESIRABLE features.
I have used this racquet in the past for coaching and playing, and it really gives a solid feel, whether you're hitting volleys or swinging quickly from the baseline.
The major difference in this blade compared to the others is the additional head size and the reduced weight.
This is precisely what makes it ATTRACTIVE for senior players, although it is heavier than others on this list, meaning a reasonable level of strength in the wrists is necessary.
Key Features
Offers a flat beam design for greater stiffness
Standard black and green paint job seen with the blade range
Has a sweet spot that expands across the whole string bed
Same range of racquets used by top-level players like Milos Raonic and Serena Williams
Specification
Weight unstrung: 290g
String pattern: 18 x 19
Head size: 104 square inches
Balance: 325mm (8 points headlight)
Beam width: 22mm
Pros
Racquet plays really well when hitting hard volleys and overheads
The large sweet spot means that you don't need to hit the ball perfectly every time
Additional mains to give more feel on the ball
Cons
The most expensive racquet on this list
It is heavier than some senior players would like
I hope that the information provided above has given you a much greater understanding and a much DEEPER knowledge of what you should be looking for to find your ideal racquet.
Always remember, you are looking for racquets that will allow you to play the game easier, and those that do this without creating unnecessary strain on your arm.
This is what the racquets on the list above will do for you, but you don't have to choose from this list.
I want you to find the RIGHT racquet for your needs, so please take the time to browse and conduct your own research if desired.