Your Guide

   Gavin Davison
If you follow tennis relatively closely, you'll likely have picked up on the fact that the game can be played on VARYING SURFACES.
At the lower levels, tennis can actually be played on multiple surfaces like tarmac, artificial grass, carpet, shale (a crushed brick form of clay), and quite a few others.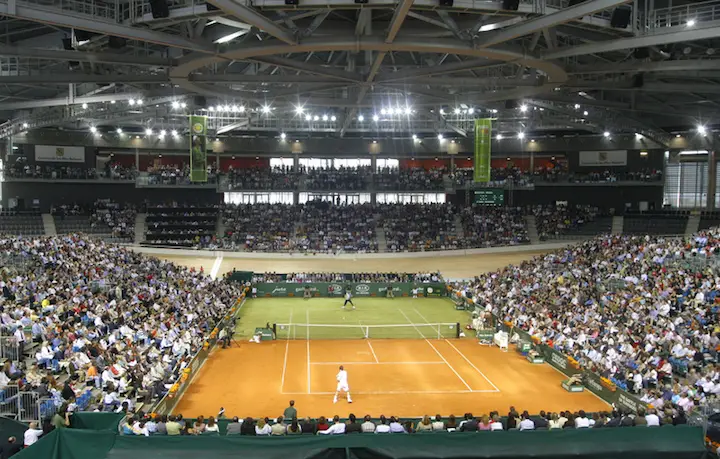 Of course, these are all in addition to the surfaces that I'll be talking about within this article, which just so happen to be the three on which most MOJOR TOURNAMENTS are contested. 
Now, let's run through the three most popular court surfaces right now and identify what separates them from one another. 
Hard Court – The Truest of All Surfaces
There are many reasons that most professional tournaments, both ATP and WTA, are played on hard courts.
Of course, this includes both the Aussie Open and US Open (both Grand Slam events) and countless Masters 1000 titles.
Out of the three surfaces discussed here, this one OFFERS THE PUREST FORM OF TENNIS, to be perfectly honest. 
For starters, you get much fewer 'bad bounces' on hard courts compared to the other two.
And there is no distinct advantage over how the surface responds to a tennis ball – not when you compare it to the obvious differences between clay and grass, anyway.
Secondly, hard courts are extremely adaptable, supporting tennis in both hot and cold climates. 
Finally, hard courts facilitate an EXTRAORDINARILY HIGH LEVEL of tennis by providing the perfect surface to move on, reacting well to both topspin, flat, as well as hard shots
And they allow you to really hear that squeak of the shoes when watching extremely INTENSE PLAYERS!
Just check out this video to see what I mean:
Grass Court – The Most Traditional
I say that grass-court tennis is the most traditional because it's one of the oldest forms of tennis, in terms of the surface that is.
Looking back through history, tennis was played on grass courts long before ANY OF US WERE BORN.
And if you play tennis in the UK – you may know that tennis is still referred to as 'Lawn Tennis' by the governing bodies. 
This tradition has stayed true with the one and only Grand Slam played on grass too, of course, Wimbledon.
The tournament is played at the All England Lawn Tennis Club, and there are some UNIQUE DIFFERENCES between Wimbledon and all other tournaments played on grass – compared to hard courts and clay.
Grass court tennis is particularly unique because it is lightning fast, and the ball bounces INSANELY LOW.
That's why hard and flat hitters do quite well at tournaments such as Wimbledon and those with good touch shots and slice.
And in terms of movement, it's not as easy as hard courts, but it's certainly not as tricky as clay – which brings me to the final court surface. 
Clay Court – The Most Challenging
Source: https://unsplash.com/photos/dWuid6HMrjU
Ask just about any professional player, and amateur player for that matter what the most challenging surface is – I do not doubt that the answer would be clay.
This surface is IMMENSELY DIFFICULT TO MOVE ON, mainly because the surface quite literally moves from under your feet while playing.
To add to that, the ball bounces much higher on clay than on other surfaces, and it's generally a slower surface too.
As you may have guessed, this makes it quite tough and somewhat GRUELING TO WIN A POINT – and I can only imagine trying to do so against the likes of Rafael Nadal, the current King of Clay. 
Of course, this man has dominated the only Grand Slam played on clay, Roland Garros, and he has also dominated the other Masters 1000 events around Europe too.
It just so happens that other ATP players share my opinion on facing the great man on the dirt:
The Most Effective Attributes for Each Three
Now that I've run through the general attributes for each court surface, I figured I'd also include some information on which traits will serve you best on hard, clay, and grass.
Without wasting any time, let's get right into it:
Hard Court
To truly play great tennis on a hard court, in my personal opinion, you have to be SKILLED WITH the following traits:
Big Serve
Ability to Flatten the Ball Out
Consistent Returner
For me, these three attributes will allow just about any player to perform reasonably well on a hard court.
Bear in mind that hard courts are quite quick, if not as quick as grass, and being able to hold serve and break serve is incredibly important. 
Grass Court
Grass-court tennis is obviously quite different from the other two, which is why you'll notice that there are some different ingredients needed to form the perfect grass-court player:
Hit Relatively Flat in General
Effective Slice Backhand
Good Volleys
As you are probably aware, the most successful grass-court player of all time is Roger Federer.
Not only is he an amazing server, but he is also able to hit flat and hard from both wings, he has an incredible slice backhand which he uses to both ATTACK and DEFEND, and his volleys are PRECISE.
No wonder he has 8 Wimbledon titles to his name! 
Clay Court
Last but not least, let me highlight the traits that separate the monsters of clay from the rest: 
Great Agility
Hit With Heavy Topspin
Good-Feel for Drop Shots
Just as Federer has enjoyed the most success on the grass in his time, nobody has done more on clay than Rafael Nadal.
Watch him play and you'll see all of the traits mentioned above, combined with incredible mental strength, ridiculous defensive skills, and a Very Consistent first serve too. 
And if you want to dive deeper into his clay-court success, we can't ignore the fact that he's one of the heaviest hitters on tour, with a sensational topspin forehand that can carve up opponents at will. 
Bonus – the best players on each surface
I couldn't wrap this piece up without explaining who the best players are for the three surfaces I've been talking about here.
So, let me highlight quickly who the best players are on each surface for both the men's and women's games:
Hard Court
For me, the best hardcourt player we've ever seen in the men's game is Novak Djokovic, and since he's still going strong, I can't possibly select anyone else.
For the women, the best there has ever been is undoubtedly Serena Williams, but currently – I'd have to go with Naomi Osaka!
Grass Court
If we were to discuss the true GOAT of grass-court tennis, without question, the answer is Roger Federer.
It's pretty remarkable that he's still going strong at almost 40 years old, although I feel that Djokovic now has his number on the grass.
On the women's side, the GOAT once again has to be Serena Williams, and even now, I feel she can still beat any player on this surface on her day. 
Clay Court
Finally, the undisputed King of Clay is still Rafael Nadal.
I doubt we will ever see a clay court player quite like him within the next 100 years, and for the women, I believe that the young Polish sensation, Iga Swiatek, is the absolute best in the game right now.
She absolutely smokes the ball from both wings, and she is a true competitor too. 
have you found the information useful in this piece? Do you have anything to add? Please let us know in the comments!