Used to glide across a surface (double usage)
To protect the frame of the walker
The perfect size
   Your Guide

   Gavin Davison
You've probably seen it before – people using tennis balls on the legs of their walkers.
This has been done for DECADES ALREADY, obviously by those who need assistance with walking.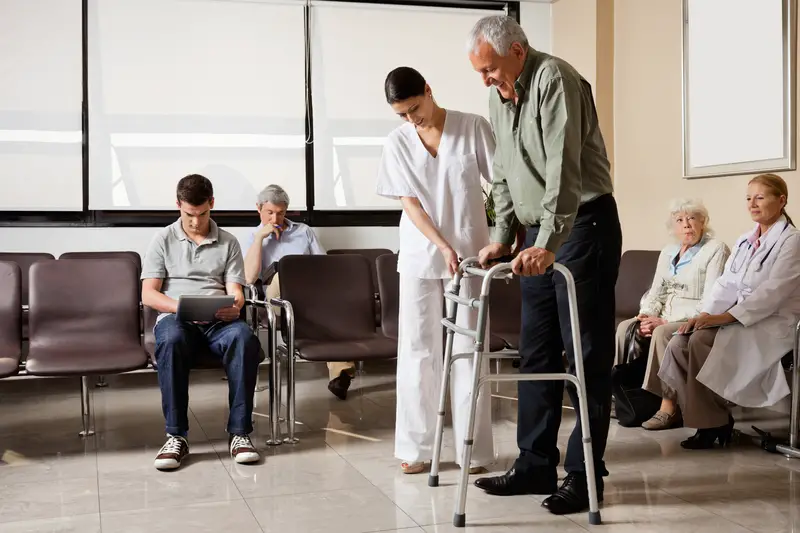 While you might not be at that age yet, it's worth taking the information in for future reference!
You don't even need to be old to use a walker to be perfectly honest. I've seen tennis players using walkers after an injury too. Sure, it's not much fun, but every little helps.
So, as you can see from the points I've raised above, there are three reasons for using tennis balls on walkers.
The first is for those who HAVE TROUBLE actually lifting the walker, hence the need to SLIDE IT instead.
The second is to actually protect the bottom of the walker's legs. These are usually made of rubber but they can get damaged over time, which is why tennis balls are sometimes put on the ends.
And tennis balls are the BEST OPTION rather than slicing up others such as squash balls.
They are a perfect size, and I'd like to DIVE A BIT DEEPER into each of these points right now.
But first, if this is a new concept for you, check out this video on how to actually put tennis balls on a walker:
The Main Reasons Explained in Greater Depth
At a glance, the reasons I've mentioned above might not seem significant.
But once you understand exactly why I've picked these three points, as detailed below, you'll realize why these need to be noted.
Using as a Glider
By nature, walkers are used as a piece of equipment to help people with mobility issues.
This can arise from a whole range of problems, ranging from age to injury.
However, those who are having significant difficulties IN LIFTING THE WALKERS will sometimes stick tennis balls on the ends.
Why?
One, because they might NOT HAVE THE STRENGTH to pick up the walker when moving along.
And two, because this means they can glide across the surface without having to pick it up – providing a WIN-WIN solution.
Tennis balls are STURDY and SMOOTH when sliding across surfaces, making these a stable and helpful solution for those wanting to glide along with a walker.
Of course, this then gets a little tricky if the surface isn't smooth such as GRAVEL OR LOOSE STONES.
However, that's a topic that somewhat goes beyond the scope of this piece.
Protecting the Frame
Putting tennis balls on the end of the walker isn't just an ASSISTANCE EXERCISE.
In fact, the rubber that goes on the ends of a walker's legs can easily get damaged, especially when used OUTDOORS.
That's another reason why some people look to put tennis balls on the END OF THE LEGS.
By doing this, the tennis balls will bear the brunt of the IMPACT with the ground when using the walker.
Of course, cutting up a few tennis balls and putting them on the legs is much cheaper than replacing the entire walker.
This is true even if the walker is used in adverse weather conditions.
Tennis balls can get wet and wear down over time, but they will completely protect the rubber on the legs.
And once they are WORN DOWN to the point where they are no longer providing adequate stability, they can simply be replaced.
Perfect Size
There is a very distinct reason that tennis balls are used instead of balls from other sports.
One of the main reasons is because tennis balls are a PERFECT SIZE.
When they are cut up into the cup shape needed to put them on the walker, as shown in the video, they are PERFECT TO GRIP the legs of the walker.
Other balls such as squash, racketballs, and a whole range of others just wouldn't be suitable.
And if you picked a ball that didn't grip the legs of the walker well, the whole purpose of adding stability to the walker GOES AWAY.
What Tennis Balls Should You Use to Do This?
Now we arrive at the final question – exactly what tennis balls should you be looking to use in this scenario?
After all, there are many different kinds of tennis balls these days, so it's better to know the EXACT ANSWER before making a guess!
Regular Tennis Balls
The main reason I advise using regular tennis balls is that these have the Right Pressure and Materials.
Sure, when the tennis balls are cut up, the internal pressure goes away, but the rubber and outer materials REMAIN INTACT.
So when regular tennis balls then come into contact with the ground, they WON'T COMPRESS as much as other tennis balls.
Of course, this works to provide the desired amount of stability when using the walker. 
Worn Tennis Balls
Let's be honest – it would get PRETTY EXPENSIVE if you were constantly chopping up new tennis balls and sticking them on your walker.
Therefore, do yourself a favor and steer clear of using brand new tennis balls for this purpose.
Instead, I would advise using tennis balls that are somewhat worn and no longer good for actual play.
After all, you are probably going to toss these balls away anyway, so why not give them another purpose?
Final Thoughts
I hope that you don't have to consider this activity for yourself any time soon.
But then again, if you happen to GET INJURED or you need walking assistance for some reason, understanding why tennis balls are a good choice is never going to be a bad thing.
You may even want to learn about this for a friend or relative.
All the same, now that you understand which balls to use and why they are used, you are in the perfect position TO LEND A HELPING HAND!
Did you find this article useful? Have anything to add? Jump into the comments if so.