Your Guide

   Gavin Davison
Of all the pieces of tennis equipment you can purchase for the game, choosing what you put on your feet may not always spring to the front of your mind.
And no, I'm not talking about shoes here – I'm talking about ONE LAYER DEEPER with your tennis socks.
Believe it or not, choosing the right pair of tennis socks can have big advantages!
My personal favourite socks for playing tennis is:
For anyone who has played the game for a long period of time, you'll probably know what I'm talking about. 
Basically, you want the right pair of tennis socks in order to provide maximum comfort, prevent blisters from occurring on your toes/feet, and keep you feeling lively out there on the court.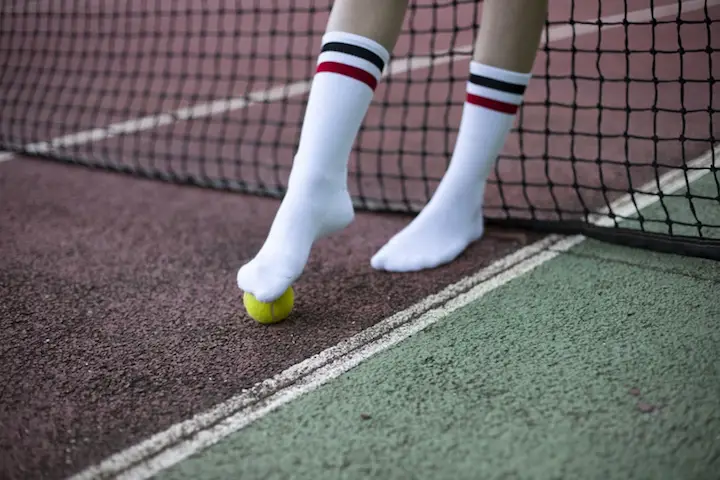 After all, playing good tennis all springs from the feet, QUITE LITERALLY.
Without your feet to maneuver you around the court, you won't get very far, which is why choosing the right pair of socks is critical.
Now, in terms of what you should be looking for, there are a couple of factors. You want to have a soft material to ensure that your feet are comfortable.
You want to have padding in the high-impact areas, mainly around the heel and balls of your feet. And to add to that, you want to make sure that you're not overpaying for your chosen pair.
In the list below, I believe I've successfully narrowed things down to the best five pairs of tennis socks in the market today. 
My top five tennis socks to consider
HUSO Compression Socks
As you'll see from the product here, it's rather colorful!
Now, I won't pretend that these colors will suit everyone – they won't. However, we are after the performance of the sock here as opposed to the aesthetics.
And in this department, the socks are fantastic, with absorbent material to deal with sweaty feet (yes, we all get them) as well as mid-foot arch support.
The latter can help avoid all kinds of pain in the feet too, which is a bonus. 
Key Features
Available in many different colors
Dri fit fabric
Mid-foot to arch compression
Pros 
Vibrant and colorful
Great support in the arch and heel
Cons
NikeCourt Multiplier Cushioned
If it's comfortable socks that you're seeking as a priority, these will be perfect – as you can probably guess from the product name.
There are two elements that make these tennis socks so comfortable too.
Firstly, the arch band wraps really hug your feet, preventing the socks from sliding around while providing support at the same time.
And secondly, Nike has placed extra cushioning in the heels, toes, and balls of the feet. This really pays off in the long run!
Key Features
100% textile
Arch band wraps
Extra cushioning in high-wear areas
Pros 
Sweat-wicking fabric for dryness
Multiple colors to choose from
Cons
Mid-price socks (not suitable for all)
Adidas Alphaskin Crew Socks
You've probably noticed a pattern already about cushioning and support, and this pair of socks deliver on these elements perfectly.
The heel is reinforced with padding, the socks are tight around the arch which creates a compression effect, and the toe region has an extra layer of protection too.
According to professionals, these elements are incredibly important for all kinds of reasons, ranging from comfort to injury prevention!
So, since the Adidas Alphaskin socks deliver in both categories, what's not to love?
Key Features
Moisture absorbing fabric
Compression arch support
High-top design
Pros 
Unique 'umbrella' design
Extra support in the heel
Cons
High-top design won't suit everyone
Artengo Low Tennis Socks
To tell you the truth, I'm not a huge fan of ankle socks – never have been, and probably never will be.
But since there are many tennis players that swear by them, I figured I'd find a cost-effective pair that delivers on everything you need in a good pair of tennis socks.
The Artengo low tennis socks are not only incredibly cheap for a three-pack, as you'll see on most sites, but they are also well-padded around high-impact areas and are made with reinforced cotton.
The latter will provide you with a great deal of comfort, even if the socks don't go much above the top of your shoe line. 
Key Features
Ankle sock style
Reinforced cotton material
Padding in toe and heel
Pros 
Great for those who don't like high-tops
Very cheap price
Cons
No support up the Achilles
Wilson Crew Socks
Finally, I couldn't finish this list without including one of the trademark pairs of tennis socks – the Wilson crew socks.
These socks have served me very well over the years, and I'd imagine they will do the same for you should you choose to get them.
The things I love about these socks are that they are great at preventing moisture build-up when sweating, the cotton is stretchy so you can adjust the sock to suit, and there is great padding in both the arch and heel.
When searching for a great pair of tennis socks, Wilson really does tick many of the key boxes with this pair. 
Key Features
Produced by a leading brand
Mesh ventilation design
Two colors available
Pros 
Stretchy cotton for comfort
Reinforced heel and arch
Cons
Lack of padding around toes
And the winner is … 
I've worn more pairs of tennis socks in my life than I care to recall, so it's fair to say I have a moderate amount of experience in what makes a great pair of tennis socks.
And when weighing up the pros and cons for each of the pairs listed above, the winner, for me, has to be the NikeCourt Multiplier Cushioned socks.
Not only do I love the design of this pair, but the support and padding seen throughout the sock is something that most players will definitely benefit from.
You can see this all along the bottom of the socks, and the best part is that the socks aren't anywhere near as expensive as socks by other leading brands.
So when you get these kinds of combinations in the same pair of socks, they just have to go at the top of the leaderboard!