Your Guide

   Gavin Davison
Best Tennis Knee Brace

Top

Top

Top

Copper Knee Brace for Arthritis Pain and Support-knee sleeve
Check Price

Top

Top

Top

Top

Shock Doctor 2090 Bio-Logix Knee Brace
Check Price

Top

Top

Top

UFlex Athletics Knee Compression Sleeve Support
Check Price

Top

Top

Top

EzyFit Knee Brace Support Dual Stabilizers & Open Patella
Check Price
A Tennis Knee Brace – Why Use One?
Choosing to get a tennis knee brace if you are having problems is a smart choice; let me clear that up right off the bat.
I commend you for your decision, especially if you are experiencing pain, whether on or off the court.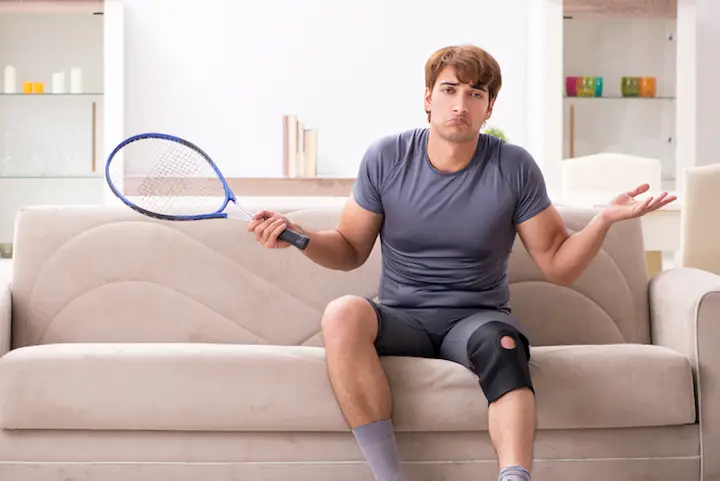 On that note, the pain you may be experiencing can happen for a few different reasons, but while it's important to identify the root cause of it, my job here is to help you keep playing the sport that you love – with as little pain as possible.
That's what a tennis knee brace can do for you if you choose a good one, that is!
As you'd expect, any good tennis knee brace will help support the joint, alleviate the pain, and help you feel confident again on the court.
This is why you should be looking to use a tennis knee brace, but where do you start, and what do you look for?
Well, rather than leave you with too many open-ended questions that could cause more confusion than clarity, I'd like to share my list of the top five tennis knee braces you can get right now.
Here are my top 5 Tennis Knee Braces. I've run through all of my favorites below, so please read on and enjoy.
MyCocoon Hot/Cold Sleeve
I may as well start with the most unique feature of this tennis knee brace – the hot/cold system that is used.
MyCocoon Hot/Cold Sleeve (Use Coupon Code: SPORTSGRATITUDE for 15% off your order); You can heat it up in the microwave and then stick it on before playing, or you can benefit from the cold compression system after you've played.
Both are perfect for helping deal with the pain, and this brace's support is great too.
Key Features
Unique cold/heat system
Improves blood flow
Heavier for increased compression
Comfortable material
Pros
Can purchase as a bundle
Your choice between heat or cold
Cons
More severe pain may require extra support
Copper Compression Extra Support
Copper Compression Extra Support Knee Brace. Highest Copper Content Guaranteed. Best Adjustable Copper Knee Brace. Open Patella Stabilizer Neoprene Sleeve for Sprains, Injury. Fit for Men and Women
Highest Copper Content - Copper Compression products have the highest copper content. Guaranteed. Rather than spraying fabrics with copper, we infuse it directly into the nylon fibers. Our products are constructed with 85% copper-infused nylon. This innovative approach provides maximum benefits, extending the life of the product for a superior experience.

100% Happiness Guarantee - In the very unlikely event that you do not absolutely Love this Copper Compression Extra Support Knee Brace for Men and Women, for any reason whatsoever, well refund you the full price no questions asked. Thats how confident we are that youll be happy with this purchase.

Highest Copper Content Compression Knee Support Brace - Copper Compression knee and leg support braces and sleeves are designed to help you get the support you need for all day and all night comfort. Commonly used by people suffering from nagging Knee injuries, stiff or sore Muscles & Joints, Arthritis, Tendonitis, and more for baseball, basketball, soccer, golf, gym, hiking, running, tennis, and volleyball.

Keep Your Knees, Legs, And Joints Compressed And Supported - Commonly used for arthritis, strains, sprains, fatigue, post-surgery, and sports injuries. Fully adjustable straps can be attached to almost any exterior point, preventing slippage, and giving you the perfect fit you need. Reinforced Stabilizer Ring ensures the knee cap remains in its proper position and distributes stress across the ACL, PCL, LCL, and MCL.

High Performance + You Can Wear It Everyday - Copper Compression Knee Support Sleeves and Braces fit extremely comfortable and can be worn everyday to help you get the support you need! Our high quality fabric will also withstand washing and will not lose its function over the course of time, like many other produc
The unique advantage of this one is that copper has been used in the design.
This has been proven to deal with pain, reduce swelling, and even help remove any muscle soreness – something we all deal with after a long match or intense practice session.
But don't be confused; it's also a very comfortable brace, with spandex also in use to grip tightly around the knee while flexing easily.
Key Features
Double silicone gel strips
Improved stretchability
Many sizes available
Can adjust the desired compression
Pros
Incredibly durable
Good range of motion when wearing
Cons
The sleeve can roll up in high activity.
Shock Doctor Bionic Knee Brace
Shock Doctor Knee Brace w/Compression Sleeve, Maximum Knee Support for Knee Instabilities, Pain Relief & Injury Recovery for Men & Women, Sold as Single Unit (1)
PROTECTION / PREVENTION – Designed as our most advanced knee support. Bi-Lateral aluminum hinges support for a fluid feel and natural range of motion.

COMFORT – We've strategically combined rigid and soft materials to create a unique comfortable support. Comes with a compression sleeve for added support and comfort.

BIO-LOGIX – Is a philosophy of sports medicine. Bio-Logix is an approach fully focused on the realities of the human form, advancing the sciences of design, materials and process to naturally extend the biomechanics of the natural human limits.

COMPRESSION SLEEVE – Using the compression sleeve under the brace allows for the perfect combo: support, comfort, fit, performance and recovery.

ADJUSTABLE – Our strap system allows for exceptional adjustment range and structural support. Use with or without the compression sleeve. Anatomically designed for men and women. Refer to the size chart picture and/or video before purchasi
If you've got a bad knee, and I mean a very bad knee, this is the one you should be looking into.
Sure, it's pricier than others, but this tennis knee brace's support is nothing short of exceptional.
As you'll see from the design, it offers above and below-knee support, the unique strap design helps to stabilize the joint, and above all – your pain should be alleviated to a certain extent.
You can even see more on the design and how it helps with the video here:
Key Features
Provides total knee support
Dual hinge design
Antimicrobial technology
N-TexTM for warmth and healing
Pros
Ideal for severe knee pain
Option to upgrade support level
Cons
More expensive than many others
UFlex Athletics Compression Sleeve
UFlex Athletics Knee Compression Sleeve Support for Women and Men – Knee Brace for Pain Relief, Fitness, Weightlifting, Hiking, Sports – Red, Medium
REDUCES INFLAMMATION & SWELLING: This state-of-the-art knee compression brace is designed to reduce swelling, soreness and stiffness from hard workouts to gardening and daily activities. Unique design produces heating effect for muscular recovery

PAIN RELIEF: Our unique design combines the newest technology with the highest quality materials to produce a comfortable sleeve that will help provide pain relief to runners, tennis players, cyclers, hikers, ballers, skiers and anyone that leads an active lifestyle

INCREDIBLY COMFORTABLE: Adjustable strap ensures a comfortable fit for anyone who needs pain relief. With feedback from over 4,000 professional athletes, our knee compression brace has been designed to provide a comfortable fit while it works to reduce swelling and inflammation

IMPROVES ATHLETIC PERFORMANCE & RECOVERY: Now, there is no need to feel yesterday's workout today. Wearing our knee brace will help prevent blood pooling and promotes faster muscle recovery

STAYS IN PLACE: Our secure straps provide stable compression during gym time or while working out with weights. By utilizing our unisex sizing chart, you will ensure a brace that fits perfec
Not only is this brace amazingly comfortable, but it also helps with two elements relating to knee support.
Firstly, it stimulates blood flow to keep the required amount of flooding into the knee and prevent any further damage.
And secondly, it has a double silicone structure around the edges, mainly to ensure that when exercising heavily and sweating, the sleeve will cling to the skin.
This makes it a very attractive product, although I wouldn't recommend it if you have quite a severe knee pain, as the support isn't as intense as others.
Key Features
Snug fit for extra comfort
Stimulates blood flow
Multiple sizes available
Double silicone for anti-slip
Pros
Cost-effective
High-quality knitted design
Cons
EzyFit Knee Brace
EzyFit Knee Brace Support Dual Stabilizers & Open Patella – Adjustable Breathable Neoprene for ACL Meniscus Tear Injury Recovery Comfort Fit-Black/Blue,Extra Large – 16″ – 24″
COMFORT AND QUALITY YOU'LL LOVE: Feel great again and able to exercise, workout, play sport or enjoy running with the kids without pain or instability. Easy to use support & comfort including reinforced double stitching and strong velcro closures. Professionally made for natural lateral and medial support movement

BEST EXERCISE SUPPORT: Wear while exercising, playing sport & for general knee pain securely stays in place even during rigorous exercise, hiking, walking, running and sports. Ideal to assist recovery from knee surgery, arthritis, Meniscus Tear, ACL, MCL, LCL, Tendonitis. Apply topical pain relief before wearing the EzyFit Knee Brace for increased benefit

CHECK OUT 3 SIZES AVAILABLE TO FIT ALL: Other knee braces do not offer sizes that work for you. Choose your best fully adjustable fit by measuring around your leg at the knee cap. Sizes include: Medium (knee measuring 10"-15"), Large (14-17"), XL (16"-24")

ANTI-SLIP BI-DIRECTIONAL STRAPS SYSTEM DESIGN: Alternating wrapping from all angles help to stabilize the patella to reduce knee joint pain ensuring it stays firmly in place while you move plus quadruple side stabilizers, two on either side of the knee for maximum lateral support

OPEN PATELLA HELPS RELIEVES PATELLA TENDONITIS & PATELLOFEMORAL: Full movement and flexibility of the joint while you exercise - 3.5mm quality stretch Neoprene, with nylon and polyester blend for easy wash and we
My final pick has to be the EzyFit knee brace, as it's the only one with an open patella design to help with mobility around the joint.
While yes, you want support from any tennis knee brace, you don't want it to be so tight and supportive that it restricts movement – especially not when hustling around the baseline.
Therefore, this one won't complicate things in this regard, and it even has built-in heat therapy to keep the joints and muscles warm up and loose when playing. It really is a great knee brace!
Key Features
Open patella design for full movement
Heat therapy
Can adjust compression with straps
Non-slip gel used
Pros
Maximum support and flexibility
Can adjust the pressure to suit
Cons
And the winner is …
All the tennis knee braces I've mentioned here are very good, and they should all help remove the pain you may be experiencing.
Of course, none of them are miracle workers, but the closest thing would be the MyCocoon knee brace I mentioned first.
This one has a very clever design, allowing users to choose heat for activity or cold for post-tennis recovery, and it's the only one on the list with this feature.
Additionally, the weight of the knee brace gives an ideal solution for those experiencing mild to severe knee pain, which makes the product incredibly versatile.
And finally, it's not a product that requires you to throw a bunch of cash at it, either. In fact, it's relatively cheap, considering the assistance it provides.
So, this is my number one recommendation for the best tennis knee brace currently available.
Before I leave you, if you want additional support with getting your knee back to health, I recommend this article from WebMD. It shows all of the dos and don'ts relating to knee pain, and I'm sure you may find it useful!
Next, you may want to check out my article for the best tennis shoes for knee pain.
Do you have any other knee braces you'd like to share with our community? Jump into the comments and let us know.