Your Guide

   Gavin Davison
Once you get to a decent playing level, tennis can be a very HIGH-IMPACT SPORT.
This is true on the joints in your legs when hustling around the court, it's true for your shoulders when hitting overheads and serves, and your elbow also bears a lot of the brunt.
Current Best Selling Elbow Brace:
The latter is where tennis elbow can emerge to become a real problem, and if you are unsure of the symptoms of tennis elbow, I would recommend reading more about it here.
In my opinion, it is one of the most crippling ailments that any tennis player has to deal with.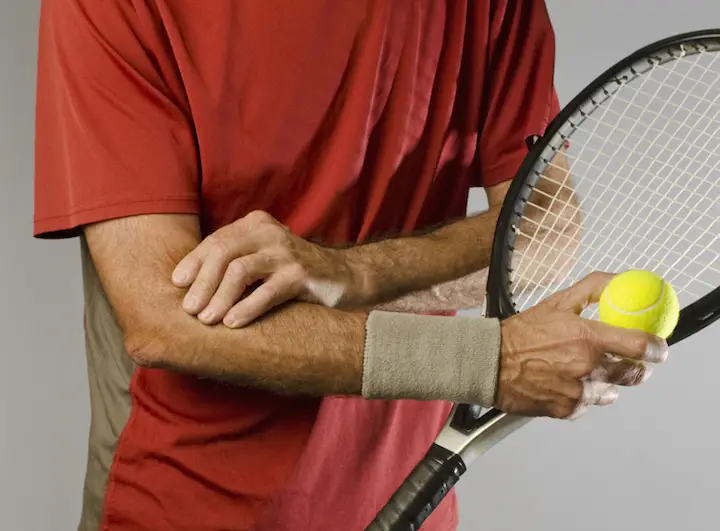 I have personally experienced this several times in my career, and surprisingly, tennis elbow CAN EMERGE for all kinds of reasons.
It can occur because your grip is too small. After all, the strings you are using are too thick, and they can even emerge due to bad technique.
But regardless of the causes, it's an ailment that can cause a fair amount of pain when trying to play the sport, which is something that none of us want to deal with.
With that said, it's still possible to play tennis if you are suffering from tennis elbow, which is where a tennis elbow brace enters the picture. 
How to Keep Playing With Tennis Elbow
Believe it or not, it is possible to keep playing with tennis elbow, even if it isn't exactly ideal.
Sure, if possible, the best way to treat tennis elbow is to give it some rest and receive plenty of physio to get yourself back to BEING FULLY FIT.
But let's face it, when you have a love for the game, it is rather tough to stay away from the court – even when instructed to do so by professionals.
Believe me; I've been there!
Therefore, the best solution is to use a tennis elbow brace so that you can not only reduce the pain experienced with tennis elbow but you can then keep playing the sport that you love.
Here are some exercises you may want to consider too:
This then brings me to the main purpose of this article, which is to identify the best tennis elbow brace for you to use right now.
There are many options out there, so which do you choose? Well, I've narrowed things down to my top five to point you in the right direction. 
My top five tennis elbow braces
AVIDDA Tennis Elbow Brace
As I've said before, you can purchase many elbow braces these days, but this one by AVIDDA is definitely one of the best.
While the purple coloring won't suit everyone, given that it is fairly cheap, you get two braces for the price of one, and that it is very comfortable – those who aren't too fond of purple might overlook this minor inconvenience. 
Key Features
Quite cheap but quality
Extra padding on the inside of the strap
Comes with two braces
Breathable design
Pros 
Cost-effective
Adjustable fit to suit all forearm sizes
Cons
Doesn't provide above and below-elbow support
Vulkan Advanced Elastic
There are many tennis elbow sufferers that prefer this type of design.
This brace is what's known as a compression design, which is equipped to keep the muscles around the elbow warm and to apply pressure to the tendons around the joint to keep things stable and relieve pain.
This kind of design is also perfect should you want to wear your tennis elbow brace away from the court to provide all-day support. 
Key Features
Incredibly lightweight
Can wear on and off the court
4-way stretch design
Above and below elbow support
Pros 
Soothes the joint when wearing
Soft material for comfort
Cons
Sparthos Compression Sleeve
Here we have another compression sleeve, this time by the brand, Sparthos.
Compared with the other braces I've talked about, this one has an added kick by claiming to increase the blood flow to the joint.
This is ideal for keeping things supple and avoiding further damage around the elbow, and thanks to the material – you'll barely even notice that you are wearing a tennis elbow brace.
And don't worry about the colors; there are plenty of options!
Key Features
Improves blood circulation with compression
Made with breathable yarn
Great price for the quality
Multiple colors available
Pros 
Comfortable material for all-day use
Removes pain quickly
Cons
Not a one size fits all solution
Dashsport Elbow Brace
I must confess I LOVE THE CREATIVITY behind this one.
As you will see if you go ahead and check out the product, this one has a sleeve to keep the muscles loose and supple, but there is also a ring that places pressure around the joint as well.
This provides a two-pronged attack to eliminate the cause of pain associated with tennis elbow, and the fabric that has been used in this design will ensure that you stay comfortable out there on the court.
Key Features
A two-in-one solution 
Copper nylon to relieve pain
200GSM fabric – ideal for comfort
Targeted compression
Pros 
Unique and effective design
Many sizes are available to suit
Cons
Two in one solution won't suit everyone
Simien 2 Count Compression Brace
Last but not least, we have the Simien compression brace.
This one fits snugly around the forearm to provide targeted pressure on the ligament which causes tennis elbow.
Many argue that this is a better design as it is more targeted compared with standard compression designs, but that's open to interpretation. Instead, we can simply focus on the positives.
Since this one has a compression gel pad and neoprene/nylon material, again, you'll feel nice and comfortable with this on your arm – and it's very effective at treating tennis elbow I might add!
Key Features
Nylon and neoprene for comfort
Two braces for the price of one
Compression gel pad
One size fits all
Pros 
No need to test multiple sizes
Incredibly comfortable
Cons
Pricier than other elbow braces
And the winner is … 
It's always tough to shortlist my top five pieces of equipment in any category.
And it's even tougher to then settle on just one that I would recommend above all others. But with that said, I believe I've been able to do this effectively when it comes to choosing the right tennis elbow brace.
Of all the products listed above, the one I would have to go for is the Dashsport elbow brace.
It's the only one with both a targeted compression ring and the sleeve to go on your arm, and I believe this is the most effective way of eliminating or at least reducing the pain created by tennis elbow. 
It's also decent on price, so don't worry about unloading your bank account to get such a quality product!
Used any of these braces before? Have any other recommendations? Do let us know your thoughts in the comments.