Your Guide

Gavin Davison
Plantar Fasciitis is a surprisingly common condition that people may experience THROUGHOUT THEIR LIVES.
Our Top Pick:
One of the key symptoms is a persisting pain in the heel, but this pain spreads across to the middle of your foot and even the arch.
Quite a few people involved with tennis are aware of Plantar Fasciitis…
..but few know that your tennis shoes can greatly help with this condition and even prevent it in the first place.
That's why I wanted to cover this category to help all of you who may be suffering from this problem, so please take the time to check this out.
Top Tennis Shoes For Plantar Fasciitis
What To Look For
This condition can strike anyone at any time, but more often than not, having the incorrect footwear can lead to Plantar Fasciitis.
Prevention is always cheaper than the cure, but interestingly enough…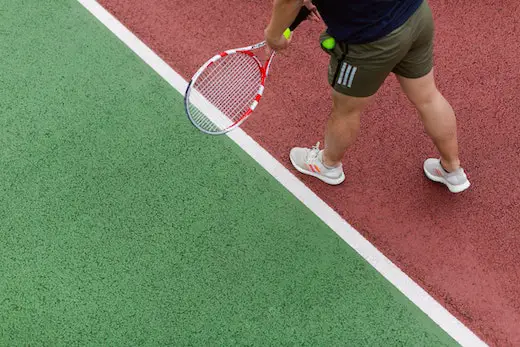 .. the features of tennis shoes that can both prevent Plantar Fasciitis, as well as help relieve the symptoms, are quite similar.
Fortunately, I've never personally suffered from this condition, but I've had friends that have and they've told me it can be truly crippling.
These friends also told me exactly what helped them to get through it, including shoes that have extra shock absorption, extra comfort, and thick soles to PREVENT HEEL PAIN.
There is a shoe out there that delivers on all of these counts, and it isn't a brand that you would expect – surprisingly.
These guys were huge in tennis a few decades back, but they've since been swamped by competitors like Nike, Asics, and Adidas.
However, when it comes to comfort and added support, K-Swiss has some incredible tennis shoes.
First and foremost, this shoe is significantly friendlier on the wallet than other tennis shoes.
This shoe is currently way cheaper than other shoes DESIGNED to counteract Plantar Fasciitis.
I actually had a practice session with these shoes just a few months back, and they were just insanely comfortable.
Yes, they aren't anywhere near as light and responsive as some of the more advanced tennis shoes out there, but that isn't our goal here.
The goal is to keep you pain-free and keep you out on the court and enjoying the sport that we all love.
This is why I believe that the K-Swiss Bigshot Light 3 Omni is the best choice.
If you'd like further information on Plantar Fasciitis,
How It Can Affect You, and
How You Can Deal With It
I'd highly recommend looking at this page by the NHS on plantar fasciitis.
Best Tennis Men's Shoes For Plantar Fasciitis
Best Women's Tennis Shoes For Plantar Fasciitis
Useful Links