Your Guide

Gavin Davison
As an intermediate tennis player, you have no doubt spent PLENTY OF HOURS LEARNING the strokes of the game, and you may have even started to play in a few competitive events.
You may not yet be classified as an advanced player, (click here for recommended tennis racquet for advanced players) and there may be a few kinks to work out in your game…
..which means that there is a specific kind of string you should be looking for.
MY PERSONAL FAVOURITE TENNIS STRING FOR SPIN AND POWER IS:
Given your playing level, it would be too adventurous to use a full polyester string due to the tennis elbow risks and the price of these products.
With that said, you'd also be doing yourself an injustice if you settled for a synthetic gut string, as you'd be losing out on POWER AND SPIN.
That is why I like to suggest co-polyester strings for intermediate players, but the filtering process doesn't end there.
What to Look For 
Before I even get into the specifics of intermediate-level appropriate string, I'd like to quickly congratulate you.
I know that the game of tennis is difficult to learn, and given that you've stuck with it and reached an intermediate level, it is already VERY COMMANDABLE – so well done.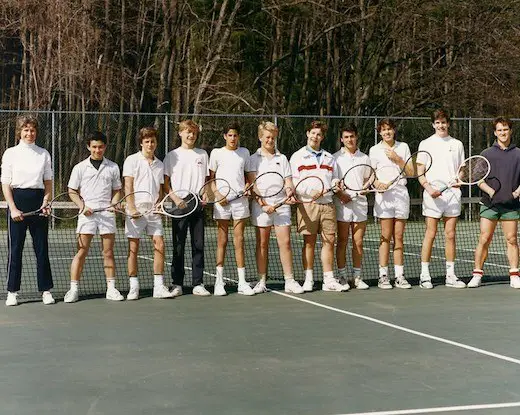 Now, let's get to finding you the right string.
Given that you are still in the process of working on your game…
..I don't believe that it is necessary to choose a string WITH ENORMOUS AMOUNTS of spin and power just yet.
I feel that it is far more beneficial to source a string that gives you control along with moderate levels of power.
This is because you are still in the learning process.
And you must first understand how to control the ball and apply the relevant spins to prepare yourself for that next jump up.
Incorporating more power and masses of spin into your game will come with time, and there is NO RUSH.
Everybody develops this awesome game at their own pace, as did I all those years ago.
With that in mind, there is also no need to go out and buy the best string on the market, as you just don't require it as of yet.
It's much more important to control the ball and continue enjoying your development at this stage, and I've got just the string in mind.
I first experimented with the revolve string a few years back, while I was coaching tennis in the USA.
This string was a huge hit with the kids, given that it is available in a range of bright colors, but it's also a great string for intermediate-level adults too.
Wilson has designed it in such a way that the string performs like polyester, but it is nowhere near as harsh on the arm.
It is incredibly forgiving if you don't quite catch the ball right either, for the strings have a tri-polymer shape that enables a MODERATE LEVEL OF SPIN.
Personally, I love that these strings don't move around all over the place when you play too, as that drives me crazy out there on the court!
You can buy these strings in individual sets or as a reel, so the choice is yours.
Useful Links