Your Guide

Gavin Davison
While some may argue that the women's game isn't quite as physical as the men's game, at the highest level, there are still some pretty huge demands on their tennis shoes. 
Our Top Pick:
Many of them are practicing for hours a day and competing in events every single week, so having the right shoe is a must.
Even if you aren't at that level, it's still absolutely worthwhile taking the time to find the right women's tennis shoes.
There are still some key features that you must look out for to get the most from any shoes you put on your feet, so let's get into it.
Top Women's Tennis Shoes
Best Womens Tennis Shoes

Top

Top

Top

K-Swiss Women's Hypercourt Express 2
Check Price

Top

Top

Top

Mizuno Women's Wave Exceed Tour 4
Check Price

Top

Top

Top

ASICS Women's Gel-Resolution 8
Check Price

Top

Top

Top

Top

Nike Women's Air Zoom Vapor X
Check Price

Top

Top

Top

Wilson womens Rush Pro 3.0
Check Price

Top

Top

Top

New Balance womens Fresh Foam V1
Check Price

Top

Top

Top

Nikecourt Air Zoom Zero
Check Price
What To Look For
Regardless of your current playing level, whether you are a beginner, intermediate, or advanced…
.. I believe that there are some distinct features that separate an average shoe from a great one.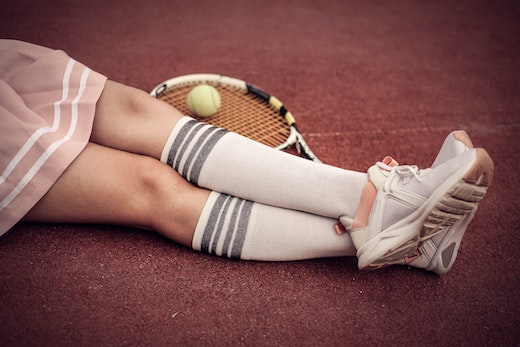 In my experience of working with female tennis players, it's extremely important for a shoe to have great ankle support, durability in both the toe and sole, as well as a lightweight design.
But why is this the case?
Well, by choosing a tennis shoe with great ankle support, you will feel more confident in moving around the court, and it will help to prevent any ankle injuries.
I've had the rather unpleasant experience of rolling my ankle on a tennis court before and let me tell you…
..it isn't good. It can also mean that you need to have weeks of rest, which nobody wants!
The second two features can be difficult to find in the same shoe, as usually, one feature rules out the other.
Typically, more durable shoes are heavier as they tend to have reinforced soles and added rubber, and vice versa. The good news is that I have a shoe in mind that fits all three of these features, as identified below.
This shoe is a bit on the pricey side, but as they say – buy cheap, buy twice.
In my experience, Nike shoes are often some of the lightest shoes on the market, and the Air Zoom Vapor X is no different.
The shoe has been built using Nike's 'Air Zoom Unit', which essentially means that the shoe is lighter and more breathable than others.
Another stand out feature of this shoe is that the back of the ankle is quite a bit higher than others, which really helps to give you that element of stability.
If you'd like a little more guidance as to why these features are so critical to seek out for your tennis shoes, I'd recommend looking at this page by WebMD:
As one of the most reputable online medical websites in the world, they truly offer some excellent guidance for those who are more concerned about their choice.
Best Women's Tennis Shoes
Useful Links