Your Guide

   Gavin Davison
Tennis is one of the few sports that has the ability to change how it is played, relating to the number and gender of players that mix on the court.
Of course, the scoring system remains the same, but when you look at singles play compared with doubles/mixed doubles – it's almost like a different sport.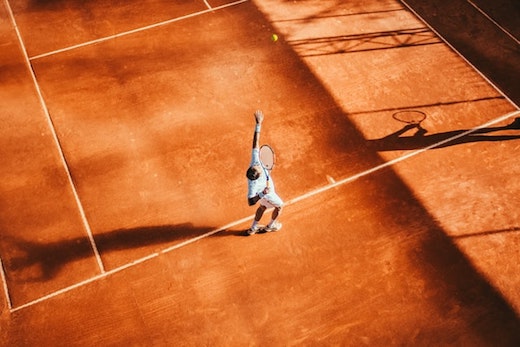 For starters, the tramlines are taken away in singles, which means you need to be MORE ACCURATE with your shots.
On top of that, the outcome of the match is dependent on you and you alone in singles play – there is no partner TO BACK YOU UP if you are having a bad day.
As you might imagine, this makes singles rather challenging, not to mention the intensity of a high-quality game of singles.
And as the game of tennis has developed over the years, so too have the differences between how males and females tend to play a singles match.
To get things warmed up, I'd like to highlight the differences right here and identify the main contributing factors that make singles play so intense for each gender.
Female Singles Play
If you watch a lot of tennis, you'll be quite aware that the women's game is played a little differently than the men's game.
Of course, this doesn't mean it's any worse or any better than the men's game, it simply means that spectators get a different view of how singles can be played, which for me, is great for the sport.
Now, let's get onto the key features that make women's singles game PARTICULARLY INTENSE.
Hard-Hitting
When you look at a standard groundstroke from a female player compared with a male player, the entire scope of the shot is different.
Take players like Serena Williams for example – she is well known for hitting a flat ball on both wings, with some serious pace.
And when faced with pace, the only reply really is to try and HIT BACK EQUALLY AS HARD, which has led to the way in which top-level women's singles matches are played today.
Sure, there have been exceptions to the rule over the years, as seen with players like Justine Henin and Amelie Mauresmo.
However, for the most part, top-level female players will hit hard and flat, which can be very taxing on the body.
Less Margin for Error
The reason that this makes female singles play particularly intense isn't actually a physical factor, it's a mental factor.
At all levels, women's singles and doubles as it happens, are played as the best out of three sets.
Play a bad first set, and you'll find yourself 50% of the way towards a loss, whereas men's singles allows a bit more margin for error – since Grand Slam games are played as the best out of five.
As you can probably imagine, this puts enormous pressure on getting out of the blocks quickly, which isn't something designed for the faint of heart!
Ferocious Competitors
While the men's game has some of the greatest players we've ever witnessed right now, the women's game is SERIOUSLY COMPETITIVE TOO.
In fact, there isn't much to pick between the world's top 20 players, which means that these players need to bring their A-game day in and day out, just to survive on the tour.
And when speaking of ferocious competitors, the women's game is loaded with them. Take players like Sofia Kenin, Simona Halep, Elina Svitolina, and Iga Swiatek as prime examples.
These women will never back down from a heated match, and this alone makes matches against them particularly intense.
Male Singles Play
Now that I've highlighted the key factors that make women's singles so intriguing and intense, I'd like to take a few moments to speak about the men's game.
As you'll soon find out, it's very different and just as exciting!
Court Coverage
Generally speaking, a men's game of singles will tend to see substantially MORE COURT COVERAGE REQUIRED by the players.
This is partly related to HOW THEY HIT THE BALL since groundstrokes are hit with plenty of topspin, allowing for tighter angles to be hit – which naturally requires more coverage for the other guy to get there.
Over the course of a match, all of this extra coverage truly adds up, check out one of my favorite finals of all time between Djokovic and Nadal if you are in any doubt:
Length of Matches
Unless you've got major servers like John Isner or Reilly Opelka stepping out onto the court, you can usually expect some rather hectic rallies in men's singles.
This in itself extends the length of the match, but to add to that, singles games at the Grand Slam level are played OVER 5 SETS.
And if you get two guys that like to grind from the back, especially if they are of a similar level, these matches can drag on and on and on.
Just imagine the stress this puts on the body and the fitness required to stick things out!
Some players are having to grind things out for MORE THAN FIVE HOURS just to get through a round, as seen with Schwartzman vs Thiem at Roland Garros 2020.
Pressure on Holding Serve
I couldn't finish this list off without mentioning the importance of holding serve, which is ABSOLUTELY CRITICAL in the men's game.
With many guys now serving at more than 130mph, you can imagine how difficult it is to break serve.
And on that note, if you enter the mind of the server, this means that there is ENORMOUS PRESSURE on every other game when you step up to the line to serve.
When you watch a big men's singles match, and the set gets to scores such as 4-4 or 5-5, you can even Feel The Tension on the Court just by watching.
Overall, What Makes Singles So Gruelling?
When all is said and done, exactly what is it that makes singles so intense?
I've identified the differences in the men's and women's games, but in terms of the fundamentals, there are a few that really stick out.
You Are Responsible for Every Shot
When you see this written down, it may seem overly obvious, but believe me – many wouldn't think of it when talking about singles intensity.
Unlike doubles, you MUST HIT EVERY SINGLE-SERVE, VOLLEY, and GROUNDSTROKE required on your side of the net.
All of this adds up throughout the course of a match, not to mention the physical exertion required to hit powerful shots in an effort to take down your opponent.
You Must Cover the Entire Court
On top of the requirement to hit every shot, you must track down every single ball.
As I've already mentioned, this requires incredible fitness to stick things out in a LONG GAME.
In fact, some of the actual distances covered throughout a tournament are nothing short of staggering – just check out this read on the players that seem to prefer the hard route in a game of singles:
Intricate Details
In terms of what I'd describe as 'intricate details', there are two features that I feel need to mention.
Firstly, in order to hit your forehand or backhand as well as you possibly can, you have to be in a PERFECT POSITION WITH YOUR BODY.
This requires adjustment steps around the ball once you arrive at the shot, which is where you might also hear the squeak of a player's shoes with hard court tennis.
Bear in mind this has to be done for each and every shot to play your best tennis!
Secondly, the Mental Pressures of singles play make it NATURALLY MORE INTENSE compared with other variations.
If things are going badly, you must figure out a way to turn things around.
And at the highest level, players need to suck up situations such as a crowd cheering against them, deal with unfortunate injuries, and above all – rise to the occasion every single time!
For me, this is what makes singles tennis so exciting and intense, but what do you think? Let us all know in the comments!