Your Guide

Gavin Davison
Best Tennis Ball Machine

Top

Top

Top

Lobster Sports – Elite Grand Four
Check Price

Top

Top

Top

Top

Spinshot Plus-2 Tennis Ball Machine
Check Price

Top

Top

Top

Spinshot-Player Tennis Ball Machine
Check Price

Top

Top

Top

Wilson Portable Tennis Machine
Check Price
A Tennis Ball Machine – What Is It?
Have you ever fancied a game of tennis but you just can't find someone to play with?
Or maybe you're just a little bored of hitting against the wall?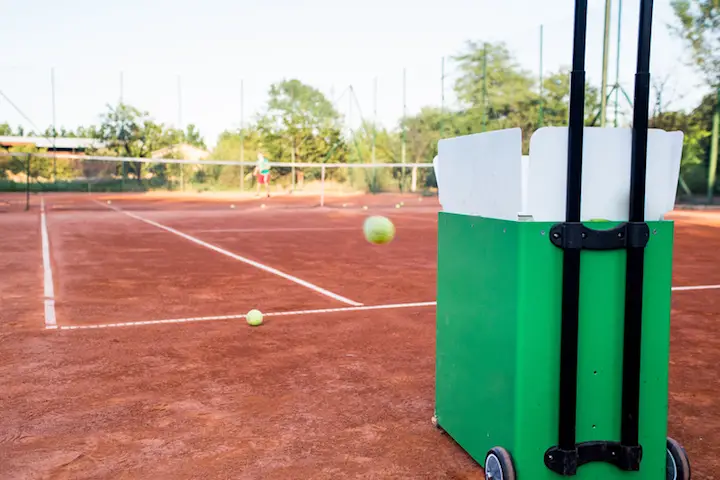 Well, the good news is that a tennis ball machine provides an ideal solution.
These clever little things can load up on balls and fire them down the court at you from various speeds, and heights, and the better ones can even apply certain spins these days too!
Although since you're here, you're no doubt wondering what the best tennis ball machine is – all will be revealed soon. 
Why Use a Tennis Ball Machine?
In my opinion, there are three key reasons why one might want to use a tennis ball machine. 
The list I'm about to provide you with isn't exclusive, and sure, maybe you've got your own individual reasons. But for me, I believe that the following three are the KEY BENEFITS of using a ball machine:
1) No Need for a Partner
This may seem the most obvious one, but without a doubt, this is one of the key reasons for using such a machine in the first place. 
Rather than calling up every player in your phonebook to get a practice session going, you can simply cart your ball machine off to the local park/club and there you go – your partner has materialized. 
2) Can Get a Great Workout
The best tennis ball machine, or at least a selection of the best can have well over 100 balls locked and loaded.
Once you've input the settings into the machine, you're all set to then go and thrash these balls around the court.
Such frequency and repetition can ultimately give you a GREAT WORKOUT, and it definitely beats slugging things out on a treadmill. 
3) Practice a Certain Shot With Repetition
As stated previously, the top machines can now apply certain spins and fireballs to a particular part of the court over and over again.
Maybe you're working on your technique, or maybe you want to learn how to deal with a certain shot – this is where tennis ball machines can prove invaluable. 
The Best Tennis Ball Machine – My Top Five
Lobster Elite 2
Lobster Sports – Elite Grand Four – Battery-Powered Tennis Ball Machine – Grinder Drill – Six Pre-Loaded Drills – Fully Random Oscillation – 2-Line Feature – Translucent Hopper – 150-Ball Capacity
SIX PRE-LOADED DRILLS: The elite grand four includes 6 pre-loaded drills that simulate the main styles of tennis played in the modern era. This digital, robot-like tennis ball machine makes you feel like you are playing against a pro.

FULLY RANDOM OSCILLATION: This battery-operated tennis ball machine has been programmed to mix up ball location, speed, spin, and feed rate to present a true challenge for tennis players of all experience levels.

2-LINE FEATURE: The elite grand four includes narrow, medium, and wide settings, allowing for alternating of forehand and backhand strokes. It also features tennis ball speeds ranging from 35 to 80 mph and elevations from 0 to 50-degrees.

TRANSLUCENT BALL HOPPER: Lobster Sports builds high-quality tennis ball machines. The elite grand four has a 150-capacity translucent hopper to allow you keep track of how many balls are left and plan your tennis training sessions accordingly.

OPTIONAL ACCESSORIES AVAILABLE: You can purchase many accessories separately on Amazon to enhance the elite grand four, including the grand 20-function remote control, grand remote for Apple, or grand remote for Android.
The Lobster Elite range of tennis ball machines has grown to become some of my favorites.
Besides the slick design and somewhat reasonable price tag compared to some others, the Lobster Elite Two deserves to be placed on this list.
I was fortunate enough to give this beast a try just a couple of years ago, and I must say, it does the job!
Just check out some of the features here:
Key Features
10-80mph feeding speeds
4-8 hour battery life
2-10 seconds feeding rate
150 ball capacity
Pros
Great ball capacity
Ideal for longer sessions
Cons
Spinshot Player
Spinshot-Player Tennis Ball Machine (Best Seller Ball Machine in the World)
Any Type of Drill Can be Easily Programmed on the Tennis Ball Machine

Only Tennis Ball Machine not Made of Plastics, Weight Only 19kg

Free Phone App Provided to Program Speed, Spin, Height, Angle and Feed Rate to Make your Favorite Drill

Only Tennis Ball Machine with Patented De-Jam Design

Flexible Power Options Available
Of all the machines I've covered here, the Spinshot Player is probably the most modern.
It integrates seamlessly with the latest smartphones and smartwatches, it has modern-day drills loaded into its system (see how to use this feature in the video below)
And if you fancy receiving shots as heavy as Nadal's – this one is your best bet.
Of course, you can always keep things within the realms of normality with the spin settings too, but all in all, this is a great tennis ball machine. 
Key Features
Pre-programmed drills ready to go
Option to turn on 'high spin'
Controllable with smartwatches
120 ball capacity
Pros
Heavily customizable
Reasonably priced
Cons
Sports Tutor Wilson
Wilson Portable Tennis Machine w/Remote & 2-Line Oscillation – from The #1 Name in Tennis – Wilson Sports
WILSON SPORTS, the #1 name in tennis, in partnership with Sports Tutor, the #1 tennis machine manufacturer in the world, bring you the quality and performance you expect from Wilson.

FEATURES: Ball Speed - Up to 75 MPH. Ball Feed -Adjustable from one ball every 1-1/2 seconds to every 10 seconds. Spin Control - Heavy underspin to heavy topspin. Electronic Elevation Control - Ball trajectory is electronically adjustable from groundstroke to lob. Ball Capacity-110 Balls. Built-in Oscillator – Delivers shots randomly across the court for hitting on the run. Ball hopper folds down when not in use. Includes built-in towing handle and large towing wheels for easy rolling.

RECHARGEABLE BATTERY – Built-in battery provides up to four hours of playing time per charge. Includes Smart Battery Charger – Fully charges the battery overnight and shuts off automatically to prevent overcharging.

OPTIONS INCLUDED - WIRELESS REMOTE CONTROL -Starts and stops ball delivery, and controls oscillator. 2-LINE OSCILLATOR - Allows you to practice alternating forehand and backhand shots, or lets two people practice at a time. (see chart below for different option configurations))

THREE YEAR WARRANTY. Made in U.S.A. by Sports Tut
If you're on a quest to find the best tennis ball machine but you don't want to break the bank, you may want to consider the Sports Tutor by Wilson.
This is one of the older ball machine models in the market, but as they say, it's old but gold!
For me, this machine covers many key bases to still provide players with a variety of shots, to hit plenty of balls, and it should suit players of all abilities. 
Key Features
Up to 75mph feeding speeds
Feeding rate – 1-10 seconds
2-10 seconds feeding rate
110 ball capacity
Pros
Great ball capacity
Wilson is a major tennis brand – always does things right!
Cons
Model is a little older than others
Spinfire Pro 2
If I had to categorize what kind of player this machine would be suited to, I'd have to cover all three – all the way from beginner to advanced.
It's an incredibly versatile machine with varying spin settings, an awesome ball capacity at 150, and thanks to the remote control it comes with, you no longer need to run around the net to change the drill.
While yes, it's towards the pricier end of the spectrum, I believe the hours of quality practice that the machine provides makes it worth it in the LONG RUN.
Key Features
Awesome LCD display
150 ball capacity
Three separate power options
Heavy spins possible
Pros
Updated and improved model
Comes with remote control
Cons
Just 3-hour battery life for some models
Key Features
150 ball capacity
6 pre-programmed drills
Random oscillation supported
Up to 8-hour battery life
Lobster Elite Grand 5
Lobster Sports – Elite Grand Five LE – Battery Powered Tennis Ball Machine – Custom Drills – 12 Player Style Drills – 2-Line Narrow, Med & Wide – Fully Random Oscillation – 150 Balls – 44 lb
CUSTOM DRILLS: Program & save your own custom drills. The elite grand five le features custom drills to 18 court locations. Choose the location, ball speed, ball spin, and feed rate for each shot and then save as your personalized drill.

12 PLAYER-STYLE DRILLS: The elite grand five le includes 12 pre-loaded drills that simulate player styles such as Grinder, Power Baseliner, All-Courter, which will make you feel like you are playing against a pro.

FULLY RANDOM OSCILLATION: Revolutionary fully random oscillation mixes up ball location, speed, spin, and feed rate to present a true challenge for tennis players of all experience levels.

EASY TO MOVE & STORE: 8" all-terrain wheels make it easy to move the machine over any surface and to the court. The reversible hopper & foldable handle and make the grand five le easy to transport in your car or to store when not in use.

BUILT FOR LIFE: Engineered to be your life-long hitting partner, the grand five was built for frequent use and can last for many years if properly maintained. Machine is covered by a 2-year warran
You may recall this model from earlier in the list. Remember – the Lobster Elite 2?
Well, here is the upgraded version, but it does come with a hefty price tag.
The main differences between this one and its older cousin are that this one has creative drills you can choose from, you can pick varying feeds to practice your shots, and if you really wanted to, you could be out there doing battle for as long as 8 hours! 
Pros
Lighter than other models – more transportable
Up to 80mph feeding speeds – extremely powerful
Cons
One of the priciest models out there
And the winner is … 
It's always tough to narrow things down and choose just one item, and that's when assessing any product category – not just when finding the best tennis ball machine.
But when all is said and done, taking factors like the price and modern features into account, I've got to go for the Spinfire Pro 2.
You can even watch this machine in action through the video here:
I love that it's suited for players of all abilities and that you can really turn up the heat when you want thanks to the different spin modes. 
And finally, I prefer the LCD display on the machine over others as it makes things simple to use. 
Believe me, that isn't always an easy thing to achieve when browsing through the many ball machines out there!
If you've experimented with any other ball machines that you'd like to share with our community – jump into the comments and let us know!