Diego Schwartzman
5ft 7 inches
Argentinian
   Your Guide

   Gavin Davison
Tennis is a sport where being tall certainly has major advantages.
As the years have rolled by, becoming a successful player when you are a little on the short side has become increasingly difficult.
The days where a guy such as Michael Chang (5 feet 9 inches, 175 cm) has been able to reach the VERY PINNACLE of the game are all but over.
So for that reason, it is particularly impressive that Diego Schwartzman has been able to break into the top 10 and enjoy the kind of results that he has.
At just 5 feet and 7 inches tall, he is the shortest male tennis player that is currently playing at the top of the game.
He even has the nickname 'El Peque', which translates as 'shorty' in Spanish.
Mind you, he seems to embrace his height and is not afraid to take on the big guys on the court.
I must also confess, he is one of my favorite players because of HIS FIGHTING SPIRIT and because of the way that he's able to GRIND OPPONENTS DOWN.
After all, given his height, he will not be blowing any players away with massive serves or huge groundstrokes.
He has to fight out there for every single point, and I commend him for this.
Below, no, I'd like to continue to discuss Diego Schwartzman in terms of his rise up the ATP rankings and the greatest achievements of his career. 
Diego Schwartzman – The Little Miracle
It is no great secret that Diego Schwartzman is very small by tennis-playing standards.
In fact, some matches where he has needed to shake hands with guys such as John Isner at the net have been quite comical!
Of course, this is where you really see the height difference between Schwartzman and some of the other guys on tour.
But despite his height, which would be regarded as a disadvantage in the modern game, he has still been able to achieve some pretty astonishing things:
ATP High of Number 8
Schwartzman has been a very consistent player throughout his career.
Sure, he hasn't managed to claim many titles, but he has always done well in important events.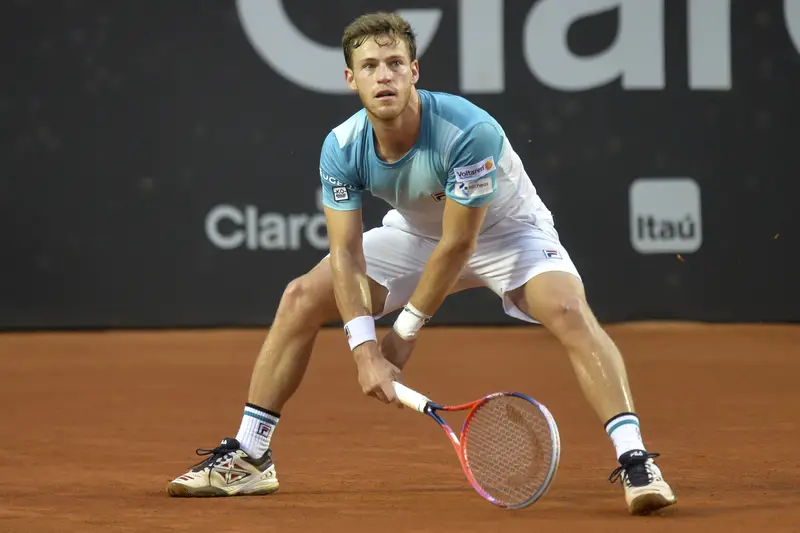 He has been consistent in Grand Slams and at the Masters 1000 level, and this is proven by his career-high ranking of number 8 in the world.
This was achieved in October 2020, mainly thanks to his 4th round appearance at the Australian Open and his first semi-final appearance at a Slam at the French Open.
This brings me to my next point.
French Open Semi-final – 2020
Given that Schwartzman has to really grind to win points in tennis, you would assume that his game is well suited for the clay courts.
Of course, the fact that he also grew up playing tennis in Argentina means that he is well-adapted and comfortable playing on clay.
I've always known that Schwartzman was a very good player on the dirt, but I often thought he lacked the necessary firepower to really cause a threat during the major clay-court events.
However, I'm pleased to say that he put my doubts to bed at the 2020 French Open.
This was the biggest achievement of Schwartzman's career, where he managed to reach the semi-finals before losing to Rafael Nadal in an incredible four-set match.
En route, he also managed to beat Dominic Thiem in five sets – a match that lasted more than five hours.
Bear in mind that Thiem was a strong contender to win the event, which made this victory and semi-final appearance all the more impressive. 
The tennis was absolutely remarkable, too as you can see from the video here:
Rome Masters 2020 – Beating Nadal on Clay
The Rome Masters is a huge tournament on the ATP calendar.
And in this particular tournament, it seemed that Diego had a little added firepower to his game.
During this event, he came up against Rafael Nadal, a man whom he had a 9-0 head-to-head losing record against.
One of the main reasons he has struggled so much against Nadal over the years is that Nadal is physically stronger and he can hit a heavier ball than Schwartzman.
But on this day, none of that seemed to matter, and Diego put in a miraculous display to beat the greatest clay courter of all time in straight sets.
Most amusingly, after the match, Schwartzman was asked about his victory.
And his only response is – 'nobody beats me 10 times in a row'. 
Number 3 for Breaks of Serve
For a man who is 5ft 7 inches tall, it goes without saying that he's never going to have the biggest serve in the game.
So not only will he struggle to hold serve more than other players, but this places even more emphasis on his ability to break serve.
On that note, Schwartzman is third in the rankings regarding total breaks of serve for his career.
He is behind only Novak Djokovic and Rafael Nadal in this category in terms of percentage return games won.
Currently, his return game success is more than 32%, meaning that he tends to break serve, on average, almost 1 in every 3 return games.
For me, this is incredible and has helped Schwartzman throughout his career.
Early Struggles in Tennis
When Schwartzman was playing tennis as a junior, his family didn't have enough money to invest in his tennis.
According to his own accounts, his mother would make bracelets and Diego would then go and sell them to people to raise money to fund his tennis adventures.
However, despite having relatively poor finances, he made it work, DOING EVERYTHING POSSIBLE to keep going and keep chasing his dream.
And today, it would seem that the sacrifices made by him and his family have paid off.
Did you enjoy this piece? Have anything to add? Let us know in the comments.