Your Guide

Gavin Davison
If you want to really get the most out of your tennis game, you have to find some appropriate tennis balls to PLAY WITH.
For competitive events, unfortunately, you don't often get the choice of which tennis balls to use. However, when you are practicing, you most certainly do!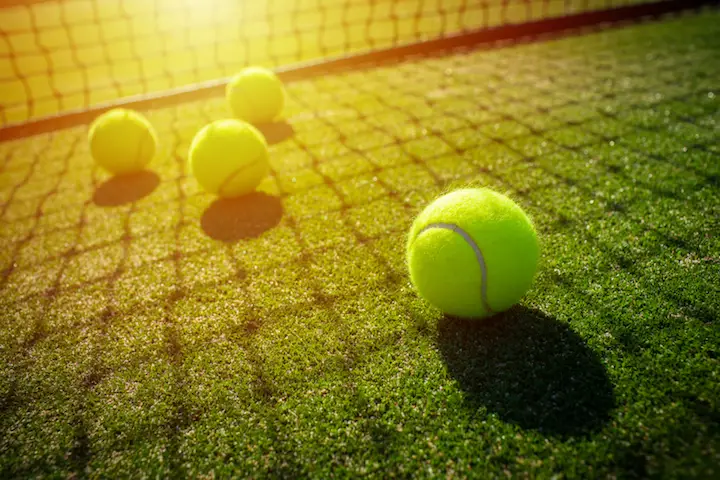 In my experience, sourcing the best tennis balls to train with is absolutely critical for several reasons.
The top tennis balls let you work on your strokes more effectively, they let you practice for longer thanks to durability, and they provide you with a realistic setting to work on your tennis game.
After all, nobody enjoys practicing with duds or balls that seem to have no feel to them – believe me, I know!
However, the type of tennis ball you pick also needs to be suitable for the surface you are practicing on too. There's a lot to consider, and we didn't even get to the price yet.
Therefore, I figured I'd provide my two cents on what tennis balls you should be looking to use in practice.
The Best Tennis Balls – My Top Choices
As you may have guessed already, it is the Grand Slam events that tend to use the very best tennis balls.
To give you a general introduction to these balls, please check out the video right here:
With four different Grand Slams on the ATP/WTA Tours, as expected, there are four different kinds of tennis balls that get used.
Again, in my experience, these four types of tennis balls really are exceptional, but I have a couple of bonus balls for you to also investigate.
Remember, we won't all enjoy playing with the same tennis balls, so it's better to cover several types to cater to everyone.
On that note, let's get into my list to reveal what the best tennis balls are right now.
Wilson US Open
Wilson US Open RD Tennis Ball -3 Ball Can
Wilson is the Official Ball of the US Open and the Australian Open Grand Slam Championships

Regular duty ideal for longer play on clay or indoor courts

Exclusive Tex Tech Industries felt from Wilson provides premium performance and long lasting durability

Ideal ball for tournament players who are looking for premium performance

USTA and ITF Appro
The Wilson US Open tennis ball has long been a favorite of mine.
As it happens, this is the ball that is used in NCAA college tennis – so I've had my fair share of playing with the US Open ball.
Of course, it's also the ball of choice for the US Open, so you'd expect that it has something special. For me, there are two standout points for this ball:
Key Features
Light feel
USTA/ITF approved
Liveliness
Pros
Used at many professional tournaments
Sanctioned by major governing bodies
Cons
These two traits help to create a fantastic tennis ball, especially for those who want to try and get some rallies going.
The balls bounce high, they don't put your arm under too much strain, and they don't fluff up too badly like other tennis balls. This keeps them lively for a long period!
Slazenger Wimbledon
Slazenger Wimbledon Tennis Balls
Slazenger ultimate performance tennis ball

Slazenger's patented hydro guard technology repels up to 70 percent more water than a standard ball

With tour core and premium woven cloth

3 Ball tin

Ideal for elite tournament and club play; Material: rub
Being the ball of choice for the most prestigious Grand Slam in the world, Wimbledon, the quality of this ball almost speaks for itself.
Typically, this ball is used on grass, but it suits hard courts very well too, due to the ball being heavier and more durable than other brands. (talking about hard courts check out my guide for my favourite hard court tennis shoes).
As for the key benefits, check them out:
Key Features
Hi-vis design
Heavier with impressive feel
Hydroguard technology for water protection
Pros
Easy to see the ball, even in the evening
Ball of choice for Wimbledon Championships
Cons
Much pricier than other balls
The hi-vis design that Slazenger came up with here was basically to help players distinguish between the grass and the ball.
Of course, they are pretty similar in color, but this creates another benefit – you can use them late in the evening for better visibility.
And on top of this, the balls feel heavier than others, which actually allows you to control the ball easier and stop it from flying out!
The hydroguard technology is just the icing on the cake too, as it means you can keep going even in the rain.
Dunlop Australian Open
DUNLOP Australian Open (AO) Extra Duty All-Court Tennis Balls – 3 Ball Can (2 Cans)
DUNLOP AUSTRALIAN OPEN TENNIS BALL: The official ball of the AO, Australian Open, usable on all tournament events including finals, the Dunlop Australian Open tennis balls are designed for competitive, tournament level of play, and to suit the style of tennis presented by the world-class players participating in the most prestigious tourneys in tennis.

PRODUCT FEATURES: The ball provides excellent responsiveness and bounces with the HD core, as well as incredible feel and visibility with the HD Pro cloth. It preserves playing characteristics for longer on all playing surfaces throughout countless tennis sessions, including consistency and shot sensation.

AUSTRALIAN OPEN: As the official ball of the Australian Open in 2019, the Australian Open logo printed on each ball. Players of all levels looking for the highest quality ball will be satisfied with this new offering from Dunlop.

ITF APPROVED: The ball, along with the racket, is arguably the most important piece of tennis equipment. The tennis ball must lie within the specifications laid down in the Rules of Tennis while providing consistent playing properties and being sufficiently durable to withstand repeated high-speed impacts with the racket and surface.

FOR YOUR CONVENIENCE: We offer packs from 2 cans to 24 cans for frequent players. Dunlop Australian Open Tennis Balls Come with 3 balls per c
When the Australian Open kicks off in January of each year, the heat can be pretty brutal.
And when the heat is on, the organizers opt for the Dunlop AO tennis ball. I've played with this ball in numerous events, and for me, it's definitely one of the better balls out there.
Generally, it's cheaper than the Slazenger Wimbledon and Wilson tennis balls too, which is perfect should you be on a tighter budget. With that said, my two favorite features of this ball are as follows:
Key Features
Durability
Great feel – HD Pro Cloth material
ITF Approved
Pros
Relatively cheap
Endorsed by the International Tennis Federation
Cons
To survive the intense heat Down Under, Dunlop has made these balls incredibly durable – even for heavy hitters.
You can play for hours and hours before this ball becomes useless, so you really get value for money.
To complement this, the feel you get on the ball is fantastic, especially when attempting to cradle the ball through drop shots or delicate volleys.
No wonder it's ITF approved for many international events besides the Australian Open!
Wilson Roland Garros
Wilson Unisex-Adult Roland Garros Official Tennis Ball, Yellow, 18 × 4
Wilsons official Roland Garros 2020 tennis balls

Superior performance on clay

Approved by the French tennis federation and the international tennis federation

Set of 3 balls, can with lid

Contents: 1 x Wilson Roland Garros official can of three balls, suitable for clay courts, WRT125
Up until recently, Babolat had a contract with Roland Garros to supply the tennis balls.
However, Wilson has since moved in to become the official ball supplier, and they've even created a brand new tennis ball to commemorate this historic partnership.
Rather than the lightweight and lively balls that Wilson are known for, they've switched things up by giving the balls the following traits:
Key Features
Heavier and fluffier
ITF approved
Great durability
Pros
Great durability
Approved for international events
Cons
Only suitable for clay courts really
To withstand the heavy clay of the French Open, Wilson completely changed the recipe for this ball.
They've added extra fluff to ensure the ball responds to the surface well, and you'd have to tear through several layers before the ball becomes too worn to play.
After all, this ball has to withstand shots from the likes of Rafael Nadal, so you can imagine the amount of reinforcement here
Babolat Team – All Court
Having lost the contract to the French Open, at least for the tennis balls, Babolat has had to switch things up a bit.
And now, they've ignored the clay courts to create a top-level all-court ball, which is awesome I might add. Here's what the ball delivers on:
Key Features
Suitable for all-courts
Rubber Play technology
Extremely lively
Pros
Can be used on most surfaces
Very durable thanks to Rubber Play design
Cons
Not as cheap as other balls
If you want a tennis ball that will serve you well for any practice session on any surface, this is a great choice.
Babolat creates all of its products with pride, and the quality of these balls definitely reflects that. The ball is quick off the strings, lively when it hits the court, and it's a very fair price for a can too.
RS Tour – Robin Soderling
That's right – Robin Soderling has created his own chain of tennis balls, and they are absolutely brilliant.
He hasn't been on the tour for quite some time now, but if you needed a reminder, he's one of only two men to beat Nadal at the French Open.
Therefore, I think he knew a thing or two about playing great tennis, including what the balls need. This has been implemented into the balls he's developed too:
Key Features
Top-notch feel – natural felt material
Used at the ATP Stockholm event
Perfect response off the strings
Pros
Good durability
Awesome feel when hitting the ball
Cons
One of the most expensive balls there is
When it comes to the sheer feel, comfort, and durability of tennis balls, I can't think of any better than the RS Tour.
This ball really is at the peak of the market. And regardless of your playing level, it will help you to control your play to ultimately have longer rallies, and have more fun!
My favorite ball – the RS Tour
Of all the tennis balls I've covered here, surprisingly, the best performing (in my opinion) is the Robin Soderling Tour ball.
I stumbled across this ball a few years back, and from the moment I hit the first forehand, I knew it was exceptional.
The feel, the durability, and the overall quality is something you don't find with just any ball here.
And what's even more surprising is that this ball still isn't amazingly well-known, so if you do play with these – you are playing with a hidden gem!