Your Guide

Gavin Davison
Best Tennis Bag

Top

Top

Wilson Roland Garros
Check Price

Top

Top

Babolat RHx6 Pure Drive Blue
Check Price

Top

Top

Top

Wilson Federer DNA 12 Racquet Bag (White/Gold)
Check Price

Top

Top

Tecnifibre Tour Endurance RS 15 Pack Tennis Bag
Check Price

Top

Top

HEAD Djokovic 12R Monstercombi
Check Price
There's a lot of emphasis placed on what rackets and other equipment to get these days.
But have you ever thought about what bag you should get to carry all of your chosen equipment around in the first place?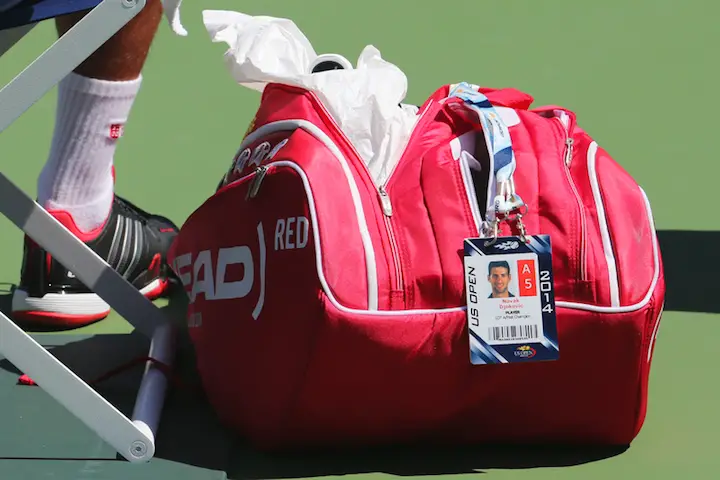 If not, or maybe you just haven't thought about it until now, I'm glad you're here.
There are a few things to consider when making this decision too, things that might be overlooked without the necessary research.
Just think – how many rackets do you own?
How much equipment do you usually carry to a match or to the practice court?
Do you like a larger or a smaller tennis bag?
Do your shoes smell after several hours of intense play?
All of This Needs to Be Considered.
But rather than produce a huge range of tennis bags for you to choose from, I'll be providing you with a top-five list to help narrow things down.
The bags I'll be talking about are all awesome in their own regard, but the one that you ultimately choose will naturally depend on what your preferences are (click here if you need a nudge in the right direction).
With this said, let's kick things off with my rundown of the best tennis bags on the market right now.
The Best Tennis Bags – My Top Five
Federer DNA 12 Racket Bag
Wilson Federer DNA 12 Racquet Bag (White/Gold)
Pocket Types: 2 racquet compartments. 2 outer accessory pockets.

Straps: Ergonomic backpack straps & carrying handles.

Technology: Yes

Racquet Storage: Stores up to 12 uncovered racquets.

Thermal Lining:
I may as well kick things off with the bag from my all-time favorite player, Roger Federer.
For a man of his reputation, you'd have thought that he's fairly good at picking the right bag to hold his equipment in.
Not only does this bag carry the signature of Roger Federer on the outside, but it's got a great color, it will protect your rackets
And there are separate compartments to store your sweaty clothes and shoes after a match/practice.
Key Features
Holds 12 rackets
Matte black style
2 shoulder straps
Hard exterior to protect rackets
Pros
The bag of Roger Federer
Awesome design
Cons
Expensive compared with others
Wilson RG Premium Backpack
Wilson Roland Garros Premium 9 Tennis Bag, Holds up to 9 Rackets, White/Blue, WR8012601001
Wilson tennis backpack from the Roland Garros Premium Collection

Padded main compartment for up to 2 tennis rackets, Additional compartment with padding for laptops or tablets

Large compartments for equipment and clothing, Small compartment with fleece padding for valuables

Small pocket perfect for personal items, Practical carrying handle

Contents: 1x Wilson Roland Garros Premium tennis backpack, Holds up to 2 rackets, Dimensions: 30 x 22 x 48 cm, Colour: White/Blue, WR8012701001
A backpack is an ideal solution for a tennis bag if you don't have a ton of equipment to carry around.
In most backpacks, you can fit a couple of rackets (three at a push), your shoes, some tennis balls, a tower, and a drink.
There's not a whole lot more you'd typically need for a game of tennis, and the fact that it's a backpack MAKES IT PERFECT for those who might not have the luxury of a car to get to the courts.
And for this particular backpack, it's made with sturdy material, the design is cool, and there are multiple compartments.
Key Features
Three compartments
Clean white design
Official Roland Garros Bag
Protected on the bottom
Pros
Cheaper than 12 racket bags
Ideal for cycling or walking to the courts
Cons
Limited space compared with larger bags
Babolat Pure Drive 6 Racket Bag
Babolat Pure Drive 6-Pack (2021) NA
Pocket Types: 2 racquet compartments. 1 includes Isothermal protection. Large side accessory pocket with internal compartments. 1 small sider accessory pocket has a protection shell. Shoe compartment.

Straps: Padded, adjustable backpack that can also be used as shoulder straps. 2 top grab handles.

Technology: Isothermal lining

Racquet Storage: Stores up to 12 uncovered racquets.

Thermal Lining:
Since I've already covered the 12 rackets and the lightweight solution, I may as well cover the middle ground now.
For me, 6 racket bags are perfect if you have a decent amount of stuff to take with you, but you just don't feel the need to upgrade to a 12 racket bag.
And no, don't feel that you need 6 rackets to JUSTIFY GETTING IT.
I had a 12 racket bag for most of my playing career, and not once did I ever travel with 12 rackets!
Now, coming back to this bag, it has a separate shoe compartment, insulated pockets, and hard material for the exterior to ensure your equipment won't get damaged.
Key Features
Can hold 6 rackets
Removable shoulder straps
Clear shoe pocket
Insulated fabric to keep drinks cool
Pros
A more economical solution
Vibrant blue design – you won't lose the bag!
Cons
Just three main compartments
Tecnifibre Tour Endurance 15 Racket Bag
Tecnifibre Tour Endurance RS 15 Pack Tennis Bag
Pocket Types: 3 racquet compartments, two external pockets, two vented pockets, two external water proof accessory pockets

Straps: Backpack straps & carrying handles.

Technology: Yes

Racquet Storage: Stores up to 15 uncovered racquets.

Thermal Lining:
This bag is endorsed by one of my favorite rising stars of the game – Daniil Medvedev.
On top of that, the bag (as you can see) is able to hold 15 rackets at once.
Of course, not many of us wander around with 15 rackets in our bags, IF EVER.
But if you think about it, this bag can double up as a racket bag and a suitcase if you're traveling away to play.
This saves space, and money if you are traveling by plane!
Besides the economical reasons for a 15 racket bag, this one really is slick, just check out the features below:
Key Features
Two ventilated pockets for wet shoes/clothes
Tarpaulin lining on the exterior
Two separate accessory pouches
Bag of choice for Daniil Medvedev
Pros
Used by many pro players on tour
Sizeable bag with plenty of storage
Cons
Fair expensive compared with others
Head Djokovic 12R Monstercombi Tennis Raquet
HEAD Djokovic 12R Monstercombi Tennis Racquet Bag – 12 Racket Tennis Equipment Duffle Bag
HEAD PERFORMANCE: Born out of revolutionizing how we ski and play tennis, HEAD has constantly pushed athletic equipment into the modern era. With decades of experience in all racquet sports; HEAD offers nothing but top tier tennis equipment.

UP TO TWELVE RACQUETS: The equipment bags main racquet compartment offers enough room for up to 12 racquets. Keep your racquets properly protected and playing like new for seasons to come.

AMPLE STORAGE SPACE: Two main compartments and two outside accessory pockets, as well as an integrated, ventilated shoe compartment, ensure youll have plenty of room for your belongings.

MULTIPLE CARRY OPTIONS: With easily adjustable straps, the athletic bag can be casually flipped over the shoulder or carried like a backpack.

SPECS: The sports duffle bag measures 77 x 35 x 45 and is made of a durable fabric that will stand up to seasons of u
It's hard to dispute the incredible achievements of Novak Djokovic over the last decade.
And while we could all only hope to play like him, we can definitely take advantage of the equipment he uses to give ourselves a boost!
This 12 racket bag gives another middle-of-the-park solution for those with quite a few rackets and plenty of equipment to cart around.
But it's not just the size of the bag that made me pick this one, for it's also EASY ON THE EYE, loaded with various compartments to separate equipment, and it's cost-effective!
Key Features
Cool black and white design
12 racket capacity
Insulated compartments
Approved by Djokovic
Pros
Padded straps for ease of carrying
Multiple compartments to separate gear
Cons
White design can get dirty easily
And the winner is …
At the end of the day, you want a tennis bag that is durable, high-quality, sizable to carry all of your equipment, and won't break the bank.
That isn't too much to ask for, right?
Of the list of tennis bags I've provided above, for me, the ultimate bag has to be the first one I have listed – the Federer 12 racket DNA bag.
And as you'd expect, Federer carries a fair amount of kit with him for events!
But coming back to the bag – the design on this one is sensational, it's not overpriced for what it is, and it will keep your equipment dry and secure both at practice and at tournaments.
Therefore I must say – well done Roger for selecting such a quality tennis bag!
Do you like the selections here? Have any other tennis bags you feel should be listed? Go ahead, let us know in the comments!