Intelligent Shot-Making
Tenacity and Fighting Spirit
Physical Fitness and Strength
   Your Guide

   Gavin Davison
Have you ever stopped and wondered about the makeup of all good tennis players?
I certainly have.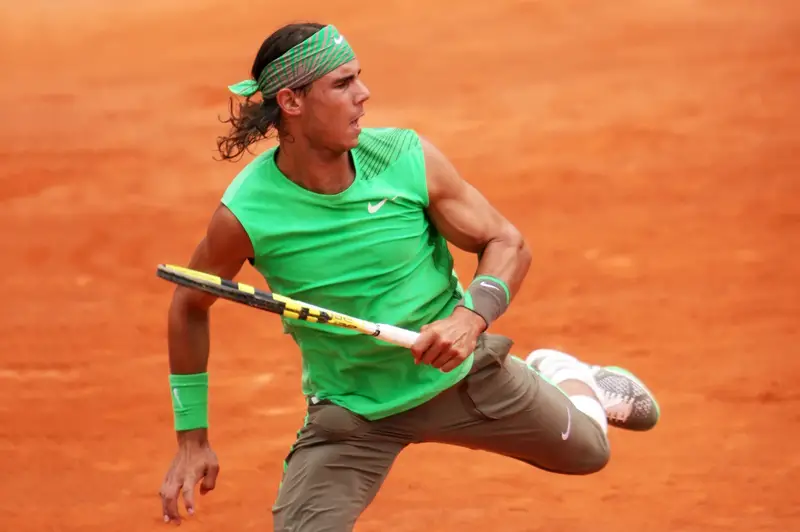 And I believe that while all tennis players have their own strengths and weaknesses, there are some fundamentals that have to be there.
These three fundamentals have been listed above, and the good thing is that you can always work to improve these three areas in your own game.
Of course, we all have a certain limit to our talents in the game of tennis.
But that doesn't mean that you cannot reach the very pinnacle of how far your talents ALLOW YOU TO GO.
In fact, when I used to coach promising juniors, I would tell them that it was their duty to maximize the talents they had been given.
To that end, we all know the phrase 'hard work beats talent when talent is lazy'.
I do believe this to be true, which is why it's important to work on the three fundamentals as much as possible.
And if you manage to combine hard work with supreme talent, this is where you get THE GREATS OF THE GAME.
But for now, let me dive into some more details as to why these three areas are so important to becoming a good tennis player. 
The Three Vital Ingredients for Good Tennis Players
If you look at some of the best tennis players in the game right now, they all excel in different areas.
Take Novak Djokovic as an example – he is incredibly quick around the court and his ability to control the point is almost unrivaled.
This is different from others such as Rafael Nadal, whose main strengths are his competitiveness and NEVER SAY DIE SPIRIT.
But even these two guys, among many others, still display the fundamentals that I have outlined above.
So without further ado, let me describe why these are so important and so evident in good tennis players. 
1) Intelligent Shot-Making
It goes without saying that being able to hit a tennis ball well is a surefire way to become a decent player.
This is true in terms of your timing, technique, and how often you can REPLICATE CERTAIN SHOTS.
With that said, I have seen many tennis players who can hit a fantastic ball who never really do well in matches.
In fact, I've often seen great players lose to others who cannot hit the ball as well as them, but they choose their shots in a MORE INTELLIGENT MANNER.
This area is popularly referred to as having a good 'tennis brain'.
In my opinion, intelligent shot-making comes down to two main things.
The first of these is being able to identify opponents' weaknesses and then exploiting those weaknesses as much as possible.
The second comes down to your general choice of shots, regardless of which opponent you are playing.
Some players just seem to have a knack for choosing the right shot most of the time.
This is often what separates average players from great tennis players.
2) Tenacity and Fighting Spirit
Tennis can be a bit of a rollercoaster sport.
Unless you manage to dictate a match from the very first point, there is a STRONG CHANCE that you will need to deal with adversity and come from behind at certain times.
This is especially true if you manage to lose your serve early on or lose the opening set.
For that reason, I believe that tenacity and being able to fight through tough circumstances are absolutely pivotal for good tennis players.
All too often I have seen players start to lose early in the match and then their head just seems to go.
But those who maintain a POSITIVE MENTAL ATTITUDE and keep fighting for every point will always be in with the chance to turn things around.
Remember the two guys I have mentioned previously – Rafael Nadal and Novak Djokovic? 
These guys are two of the greatest fighters on a tennis court that I have ever seen, hence why they have such fantastic matches when they play each other.
Neither of them wants to give an inch to the other, and no matter the score, they will always fight to the end.
Nadal proved this in his recent Australian Open title, coming back from two sets down to beat Medvedev in five.
And Djokovic showed this magnificently when he won the 2021 French Open title – coming back not once, but twice from a two-set deficit en-route to the title.
3) Physical Fitness and Strength
If you have played tennis to a reasonable level, you will understand how physical things can be out there on the court.
Matches can extend for hours and HOURS, and the rallies that you will NEED TO ENDURE if you are to get the win can be brutal.
For that reason, being physically strong and fit is one of the most important aspects of all.
I can remember when I was a junior, I used to win plenty of matches on fitness alone, even if the other guy was a better ball striker than I was.
If you can extend a match and keep the opponent out there, FITNESS and STRENGTH definitely become a factor.
This becomes all the more apparent when you look at some of the matches that are played on the professional tour.
Again, I'd have to reference the recent Australian Open final between Nadal and Medvedev.
This game lasted almost 5 1/2 hours, and while Nadal is 10 years older than Medvedev, I'd have to say that Nadal had him in the fitness department.
This is also apparent with other players who use fitness to their advantage – as Djokovic also does.
Check out his fitness training video here to get a glimpse of how he does it:
Especially when it gets to the clay-court season, this is where those in peak condition shine through.
Look at players like Schwartzman, Tsitsipas, Zverev, Ruud, and many others.
They are all incredibly fit, and surprise surprise, they are all within the top 20 in the rankings!
Has this piece given you an insight into what makes a top-level player? Let me know in the comments!