Your Guide

   Gavin Davison
Best Tennis Dampener

Top

Top

BABOLAT Unisex's Custom Damp X2 Vibration Dampener
Check Price

Top

Top

HEAD Xtra Damp Tennis Dampeners
Check Price

Top

Top

Top

Wilson Vibration Dampeners with Emoji Motifs
Check Price

Top

Top

Tourna Vibrex Neon Tennis Vibration Dampeners
Check Price

Top

Top

Wilson Dampener Set, Roland Garros
Check Price
A Tennis Dampener – What Is It, and What Is Its Purpose?
A tennis dampener, also known as a shock absorber, is something that many tennis players prefer to play with.
There are many different designs and variations out there for this clever piece of equipment, but the overall reason for using one remains the same.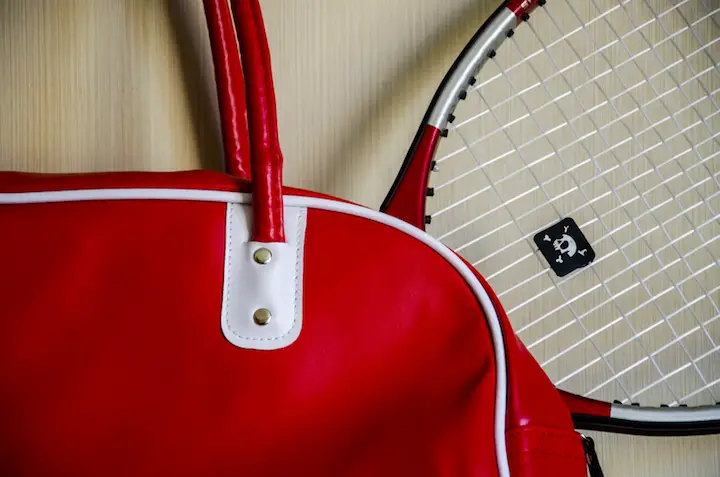 By placing a dampener on your racket, you are eliminating the vibration and shock that can come through the arm when striking the ball.
And if you are new to the world of tennis dampeners, here's how you use them correctly:
So now that you know how to use them, you are ready to roll and pick the right dampener to suit your preferences.
Many professional players actually use dampeners too, and fun fact for you – many professionals actually used rubber bands as dampeners until the rubber ones became as sophisticated as they are today.
A prime example of this would be Andre Agassi!
I'm not suggesting you run and out and start playing with rubber bands on your racket, just to clear that up.
I'm merely showing how privileged we are to now have stylish and advanced dampeners that do the job without requiring more creative solutions!
And now, I'd like to show you five of the best dampeners in the market today, which will most certainly serve you well if you want to eliminate the vibrations when hitting a ball.
Let's get started!
My Top Five Tennis Dampeners
Wilson Emoji Dampener
Wilson Vibration Dampeners with Emoji Motifs, 50-Pack, Yellow/Black, WR8404901001
Shock absorbers for tennis rackets, Exclusive design with cheerful motifs

Reduces string vibrations for improved playing comfort and feel with every stroke

Hilarious designs: a variety of yellow emojis for more fun on the court

Pack of 50 pieces

Contents: 1x Wilson set of 50 emoji shock absorbers, Colour: yellow/black, WR8404901001
Who doesn't love a good emoji?
I certainly do, and Wilson has developed an awesome range of emoji-themed dampeners to choose from.
Sure, you won't find many professionals using these dampeners, but they are fun to use and cool to look at.
Some may even improve your mood if you are having a rough time out there on the court!
And if you were so inclined, Wilson sells these things in bulk.
Key Features
Many different faces to choose from
Cheap and cheerful
Button design
Pros
Can buy in bulk from Wilson
Fit snugly on the string
Cons
Not all adults keen on emoji dampeners
Babolat Custom Dampener
I truly respect Babolat as a tennis brand. Whatever they manufacture, whether it be shoes, rackets, grips, or dampeners, they always do things right.
And these dampeners are certainly NO EXCEPTION.
The design on them is cool, they do their job effectively, and since they are not solid in the middle, many players actually prefer them.
This makes them a little easier to place on the strings too, which is perfect for if you have a hard time with this.
Key Features
Streamlined design (hole in middle)
Fit tightly on upper and side string
Two different colors
Pros
Decent price for two dampeners
Color-coordinated with Babolat's top rackets
Cons
Can tear easier than solid dampeners
Head Xtra Damp
HEAD Xtra Damp Tennis Dampeners
Product Type: Dampner

Product Content: 2 strings per pack

Easy to install

Provides more comfort to the string bed

Heads trademark l
If it's endorsed by the great Novak Djokovic, it has to be good, right?
I have personally used this dampener on my rackets in recent times, and I can confirm, it does remove complete vibration when hitting the ball.
I prefer things this way in tennis, whereas some players prefer to feel a little ping or vibration to actually 'feel' the stroke.
That's all down to personal preferences, but if you hate that ping sound and you aren't too fond of any vibration going up your arm, this is one to consider.
Key Features
Endorsed by Djokovic
Very cheap price
Removes all vibration
Pros
Easy to put on the racket
All packets come with two dampeners
Cons
MSV Vibration Dampener
You don't often see these designs anymore. I can remember as a kid when everyone had these dampeners, but they seem to have all but disappeared.
However, they are actually highly effective at removing the shock associated with striking the ball.
As you'll notice, rather than a button-style design, this one follows a 'snake-style' design, which weaves in and out of all of the strings to provide optimum vibration dampening.
The beauty of these is that you can stretch them out to improve how much the vibration gets taken away too, which is pretty cool.
Key Features
Snake-style design
Doesn't risk flying off like button designs
Can adjust the vibration dampening
Pros
Easy to take on and off
Unique design compared to others
Cons
Not many styles to choose from
Roland Garros Dampener
Wilson Dampener Set, Roland Garros, 2 Pieces, WR8402001001
Tennis racket dampeners; exclusive Roland Garros 2020 design

Reduces vibration to improve comfort and feel with each stroke

Wilson logo in red on green, Roland Garros logo

Lot of 2 units

Contents: 1 x lot of two Wilson dampeners for tennis rackets, Roland Garros 2020, WR8402001
I'm not really one for merchandise and using fancy pieces of equipment purely because of a name, but I'll make an exception for this one.
Roland Garros is an awesome tournament, and since these dampeners are awesome at what they do, as well as being cheap on cost – I had to include them in my list.
I love the thicker circular design on these, as it means they fit on the string better, and it makes them easy to put on and take off – something which can get quite annoying if this isn't a feature!
Key Features
Official Roland Garros dampener
Designed by Wilson – top brand
Button design to fit tightly on string
Pros
Aesthetically very cool
Decent price for official merchandise
Cons
Can fly off easy at times
And the winner is …
I have to confess here – I'm a big fan of the Emoji dampeners!
Not only do they serve their purpose incredibly well, but they also add a nice bit of fun to the game.
They are adaptable to suit all ages too, which is why you'll often see kids running into the pro shops to grab these dampeners, but adults also use them too.
I myself use a Wilson Emoji dampener, although the Emoji I choose to go for depends on the day and the mood!
But that's the beauty of these things, you can grab plenty of them and mix and match to spice up your tennis games.
All in all, I'd say that these are the pick of the bunch right now.
Which tennis dampeners do you use? Are there any great dampeners you know of that are missing? Do let us know in the comments!