Your Guide

Gavin Davison
 Top Tennis Shoes For Ankle Support
Whether you are darting around a tennis court or just exercising in general, it is your ankles that are going to experience the greatest level of stress after a while.
As someone who has rolled their ankle quite badly in the past, I cannot stress enough how important it is to find a pair of tennis shoes that give suitable ankle support.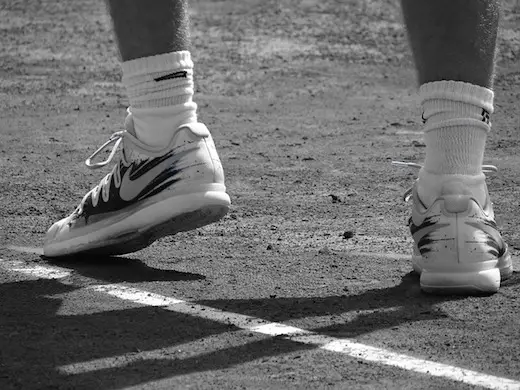 Believe me, if you get a cheap pair of shoes and end up rolling your ankle (like I did), you will regret it.
I always like to say that you cannot put a price on health, and this is true for the health of your joints, not just your physical health.
There are some tennis shoes today that do fall under the pricier end of the spectrum, but then again, they provide fantastic support for your ankles.
Let's look at this in greater detail below.
What To Look For
Getting a pair of tennis shoes with significant ankle support is always the best preventative measure in my opinion.
And there are shoes today with reinforced support around this area along with EXTRA CUSHIONING.
All of this is designed to reduce the pressure placed on your ankle joints and of course, to reduce the risk of unwanted ankle injuries resulting from the wrong pair of shoes.
Not all shoes are built with extra stability around the ankles, for as we all know, some are just manufactured to look good and fit the description of a 'cheap shoe'.
That isn't our goal here, for it is far more important to select the right pair of tennis shoes to keep you in action whether on the court or..
.. in whatever exercise you may use your tennis shoes for.
When it comes to shoes specifically for ankle support, I like to look for shoes that are slightly more raised in the back than most.
This gives support all the way up the Achilles, not just in the ankle, but it's all connected.
On top of this, extra cushioning around the ankle region is an ABSOLUTE MUST!
This softens the impact when engaging in any extreme exercise sessions.
And believe me, as the years go by you will be thankful that you took the time to find an appropriate pair of tennis shoes.
You will notice straight away here that this shoe has built-in ankle support.
This already eliminates the need for you to go out and buy any extra support from a sporting goods store, as it's right there on the shoes.
What I also love about these shoes is that they have velcro, so you can adjust the tightness to a point that is comfortable for you.
The shoe is designed to support all the way up the Achilles too, so this area is covered.
Clearly the shoe has been built specifically for ankle support, and I also like that the thickness of the sole around the heel area has been increased.
This makes the shoe comfortable while reducing extra pressure in and around the ankle/heel zone.
Finally, this pair of shoes fit in with the 'all-court' category, so you can wear them on hard court, carpet, clay, and a whole range of other surfaces.
 Best Men's Tennis Shoes For Ankle Support
 Best Women's Tennis Shoes For Ankle Support
Useful Links