Tennis elbow really can be a CRIPPLING and debilitating problem, and it doesn't just affect life on the tennis court.
If it gets bad enough, you could struggle to lift up a glass of water, holding your child, or even typing at a keyboard in extreme cases.
So the question is – Are you PREPARED to take that risk by not using a racquet that will help with your tennis elbow issues?
Your Guide

   Gavin Davison
I really hope that the answer is no, and I've produced a list of my racquet recommendations that will help you with this issue and keep you having fun on the tennis court for many years to come.
Before I JUMP into my recommendations for the best racquets for tennis elbow, it is important that you understand the causes, the dangers, and what you can do if you are already suffering from this frustrating condition.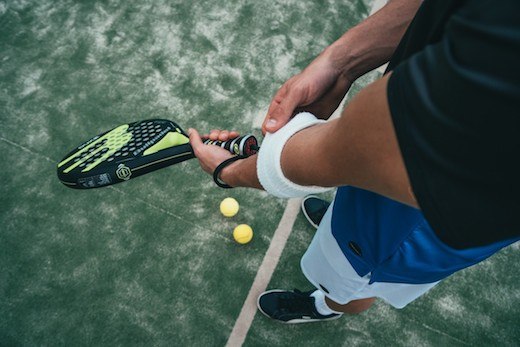 Of course, in an ideal world, you would like to PREVENT tennis elbow before suffering in the first place. However, each of you reading this will have a different story.
Regardless of whether you have tennis elbow right now, have had it in the past, or are perfectly fit and HEALTHY for tennis, please take the time to read this article to fully understand why tennis elbow is so important to pay attention to.
If you've ever suffered from tennis elbow in your life, you will know all too well the pain and FRUSTRATION it can cause.
Depending on how severe it gets, you can be in agony when hitting the ball, and it can even start to impact other areas of your life.
Needless to say, you want to find a racquet that will not only help with this CONDITION but also find a racquet that will reduce the chances of tennis elbow recurring.
This is precisely where the Wilson blade 98 comes into play.
It is a nice and solid frame that reduces vibration on contact, and due to the specifications, it really emphasizes that you need to swing correctly to avoid FURTHER PAIN.
I believe that this is the best racquet out there to help with your tennis elbow, and it's also a great frame to use once your tennis elbow subsides.
Key Features
Racquet of choice for players like Tsitsipas and Serena Williams
Has the option of countervail technology to monitor your game
One of the top racquets on the market for reduced vibration when hitting the ball
Has an appealing paint job consisting of green and black colors
Specification
Weight strung: 320g
String pattern: 16 x 19
Head size: 98 square inches
Balance: 330mm (3 points head light)
Beam width: 21mm
Pros
The racquet does not perform well if you are not using the right technique (forces correct swings)
It is heavy without necessarily feeling the additional weight in the arm
A very good all-around racquet, great for serves, groundstrokes, and volleys
Cons
This racquet is not suitable for beginners and lower intermediate players
Once again, Wilson has delivered a racquet that is right up there with the best.
This time it comes in the form of the Wilson Clash 100, and this racquet has HELPED people with tennis elbow ever since it hit the market.
While it may not be as popular as some racquets in the Wilson range, I believe that it is one of those hidden gems.
Due to Wilson's ever-advancing technology, this racquet is able to provide significant support to the elbow, and it has the feel of a heavier frame despite being less than 300 grams.
This means that you are getting the benefits of the feel on the ball without risking arm FATIGUE and further damage to the elbow.
It also has the added advantage of 100-square-inch head size, meaning that the racquet can be used for more advanced beginners and intermediate players.
Key Features
Racquet has some of the best reviews out of the entire Wilson range
Amazingly headlight in terms of the balance (10 points head light)
Has the benefit of a carbon frame for added flex
Has a nice color blend of red and grey
Specification
Weight unstrung: 295g
String pattern: 16 x 19
Head size: 100 square inches
Balance: 310mm (10 points head light)
Beam width: 24mm
Pros
Facilitates a medium to fast swing style to assist with tennis elbow
At 295g unstrung, you won't suffer from rapid arm fatigue
After helping with tennis elbow, the racquet is a very good choice for intermediate and advanced players
Cons
The frame is extremely headlight, which is definitely a more individual preference
This racquet retails at £200, making it quite expensive compared to other frames
I would say that Volkl has kept a bit of a low profile in tennis, especially over the last 10 or 15 years.
I can still remember how popular they were when I was playing as a junior, but this popularity seemed just to disintegrate overnight.
However, while you may not see many top players using their racquets, I have discovered that they provide some AWESOME frames for those suffering from tennis elbow.
The best one out of these frames is the Volkl V8 Pro, and there are countless instances of players claiming that this frame almost healed their tennis elbow.
While I can't personally confirm that this is true, I can confirm that the specifications of this racquet are ideal to at least help with your tennis elbow.
Key Features
Really cool looking racquet with a striking all-red color scheme
Perfectly balanced racquet, therefore appealing to a wide range of player's
It has a much tighter string pattern for added control
Provides quite a nice feel for serve and volleys
Specification
Weight unstrung: 305g
String pattern: 18 x 20
Head size: 100 square inches
Balance: 315mm
Beam width: 23mm
Pros
With an 18 x 20 string pattern, you can get great control from the string bed
This racquet is on the heavier side, meaning less pressure on the player to try and generate racquet head speed
The racquet can be bought in any grip size between 1 and 5
Cons
Not a cheap frame, retailing at over £150
Not ideal if you prefer to hit with power over control
When browsing through the Head Prestige range, it doesn't really matter what racquet you look at, because they are all right out of the top drawer.
Of course, each individual racquet has its individual BENEFITS, and the Head Graphene XT Prestige S has many benefits suited for those struggling with tennis elbow.
It's one of the lighter Prestige racquets out there, but it still falls within the DESIRED weight range. While it may be a lighter frame, it can still boast the typical characteristics of a Prestige racquet.
You can still access heaps of power when you hit that sweet spot, and for a baseline player, this added power can make all the difference whether you are competing for fun or at a serious level.
Key Features
One of those color schemes that just looks intimidating
Not one of the most-desired Prestige models, so it's cheaper
Wider string pattern than other Prestige models
The smaller head size that requires more precise contact on the ball
Specification
Weight unstrung: 305g
String pattern: 16 x 19
Head size: 98 square inches
Balance: 320mm (headlight)
Beam width: 22mm
Pros
The ball will absolutely fly when you catch it in the middle
It isn't as frustrating to string the racquet (often a downside with Prestige frames)
Gives a little bit more flexibility with your technique as it is a head light racquet
Cons
At 305g unstrung, it can still be far too heavy for some players
Quite a dull feel if you don't use a top-quality polyester string
Sneaking in at number five, I've picked out another Volkl that is FANTASTIC for those experiencing tennis elbow.
This means that there is a total of 2 Volkl's inside the top 5, which is a testament to the quality of their brand.
I haven't had the pleasure of hitting with this racquet before, but I do know several players that have and are quick to sing the praises of this frame.
Yes, the racquet doesn't perform as well as frames from maybe the Babolat or Wilson range, but it serves a purpose…
…That purpose is to reduce the pain that you are experiencing and to keep you enjoying the sport that we all love.
Of course, you must seek professional help with tennis elbow, but choosing the right racquet is a major step in the right direction.
Key Features
Facilitates quick racquet head speed through unique grommet designs
Uses the patented VTEX technology for increased comfort
Slick black color design
Optimum head size to suit many players
Specification
Weight unstrung: 305g
String pattern: 16 x 19
Head size: 99.5 square inches
Balance: 325mm
Beam width: 23mm
Pros
Slightly wider string pattern for more life on the ball
It works well with many different types of strings
Recently released frame, so it has some of the most advanced technology available.
Cons
The racquet is not cheap by any means
Volkl racquets, in general, aren't as good as other brands
Please don't continue to SUFFER with tennis elbow when a solution could be found simply by choosing to use a different racquet.
While prevention is better than the cure, if you are already suffering, you might have to invest a little bit to clear yourself of the pain and frustration of not being able to play without discomfort.
I've coached many players through the years that have needlessly suffered from this problem when a pain-free tennis game is on the other side of simply SWITCHING racquets.
Take the initiative, and see if a different racquet could help you today.