According to Healthline, the fastest growing health information website (Google Analytics, July 2019), our job as dancers and choreographers is an actually dangerous one.
We can get hurt A LOT.
Your Guide
   Alexandra Romanmi
From common blisters and calluses, to black and broken nails, from sprained ankles, stress fractures, plantar fasciitis to the well-known dancer's ankle/dancer's heel syndrome (yes, we have disease named after us), we can get them all.
How do we minimize the occurrence of such painful events?
By training smartly.
Even if we love rehearsing our dance routines and performing on stage, in the spotlight, there is a lot of training we actually need to do outside of all that fancy SOUNDING lifestyle.
Dancers need to hit the gym and run around the sports fields just like everybody else.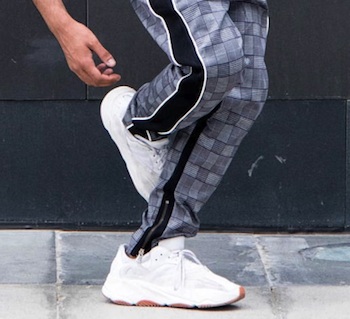 Training smartly means adhering to a fairly strict rehearsal schedule, trying not to miss classes, never forgetting the warm-up and cool-down routines and always wearing the appropriate clothes and shoes for the type of dance we practice.
Furthermore, no matter how competitive we are, we must not be afraid to take the right amount of time off, in case we get injured.
Nothing is more important than your health. Mens sana in corpore sano, remember?
When it comes to training sessions I usually go for tennis shoes.
They are carefully designed for exercising in them and they usually come with a wide variety of technologies that make my feet feel less tired and my joints less stressed during LONG training hours.
Here are a few of my favourite options:
I love Irene Lewis McCormick, M.S., a fitness veteran and author of a book I really like: A Woman's Guide to Muscle and Strength.
She INSPIRED me during my gym adventures and guided me through my journey of muscle building – which is crucial for a dancer.
She is also a Ryka ambassador, so when it comes to my favourite footwear for training, I tend to always choose this brand.
It's created by women –who define themselves as a fearless tribe of women who want better – for women and it somehow feels empowering to wear it.
The amount of research that goes into making these shoes is simply AMAZING to me.
First of all, they are especially created for the women's anatomy of the leg and foot, as they adapt to things such as the Quadriceps angle –a measurement of the width of the pelvis – which is 5 to 7 degrees greater in women than in men.
The External RE-ZORB LITE pod network placed between the midsole and outsole is a special foam compound used for cushioning and further shock absorption.
The upper that comes with a lace-up front is made of a BREATHABLE mesh and stretch lycra.
The difference is considered to be a risk factor for injuries during training and failing to adapt to it increases the chance of accidents. But fortunately, Ryka knows how to deal with that.
My recommendation, the Women's Dedication XT Training Shoes come with great features, such as the Anatomical Precise-Return insole, a Ryka trademark, that offers the extra heel and arch support.
The skeletal outsole is made out of eight pieces of durable rubber that will prevent you from carelessly sliding across the floor. The turns are facilitated by the Pivot Point design which makes them easy and smooth.
Pros
They are very lightweight, facilitating long hours of training.
They are design with the women's anatomy in mind and it shows in how comfortable they are.
The upper material is breathable, regulating the perspiration of the feet and keeping the skin nice and fresh for longer than most products I tried.
The price is very good taking into account the technologies they offer.
They are available in a Black and Pink combination or as a Brilliant White model. The sizes range from 5 to 11 (US) and the width is medium and wide.
Cons
They don't have an option for people looking for narrow width models.
They were a little stiff during the first times I wore them, causing a couple blisters, but eventually they broke in.
It's the gentlemen's turn. My number one recommendation for men will be the Men's Court 806 Stability model by New Balance.
No, it is not because one of their latest Brand Ambassadors is Jaden Smith, but I will admit I am a BIG FAN.
They are actually a really good product base on its score of 4.2 stars out of 5 on Amazon, based on the reviews of more than 580 customers.
Advertised as the model tennis players who want superior stability and support are looking for, these shoes feature three of New Balance's top technologies: the C-CAP®, ABZORB® and ROLLBAR®.
The motion control they offer seems amazing, as the ROLLBAR® actually refers to a system meant to reduce rear foot movement.
The moulded plate that is placed under the heel is connected to the postings on the inner and outer edges of the shoe, offering it its increased stability by preventing the foot to roll inward.
The upper is made of full-grain leather, while the outsole is made of herringbone which allows for increased traction during lateral movements and facilitates fast turns.
New Balance technology LIGHTNING DRY® keeps MOISTURE away from your feet, letting them breathe and feel dry and comfortable.
They are available as a white and navy model, with sizes ranging from 7 to 16 (US) and width ranging from narrow to extra wide. The model may also be eligible for Medicare reimbursement.
Pros
Severe overpronation, along with severe supination is very well controlled by the Rollbar® system.
The level of cushioning and shock absorption provided by the ABZORB® technology is superior, making them the kind of shoe that carefully protects your joints during movements such as jumps or running.
The LIGHTNING DRY® system controls the level of feet perspiration during training, reducing the risk of developing infections such as the Athlete's Foot, which according to Mayo Clinic, is a fungal infection commonly occurring in people whose feet become very sweaty while training in tight footwear.
Cons
They are not available in a wide range of colours.
FOR WOMEN:
FOR MEN:
As one of the major companies to sponsor SUCCESSFUL athletes across the world and sports teams such as Real Madrid and FC Bayern Munich, Adidas is also one of my FAVOURITE choices in terms of tennis shoes manufacturers.
Among tennis players' favourites, my third recommendation for you will be the classic model Adidas Court Jam Bounce.
As an affordable, yet high quality product, the shoes feature a breathable mesh upper with TPU (thermoplastic polyurethane) on the front tip to prevent damage and prolong the shoe's life.
They have a lace-up closure, adding to the tight sock-like feeling of the model.
The durable Adiwear rubber outsole along with the Abrasion resistant Adituff toe area make this model great for training INSIDE, as well as OUTSIDE.
They are regular fit and are available in Cloud White, Light Solid Grey and Core Black.
Pros
They are great for your joints, as the bounce cushioning is especially designed for increased comfort and flexibility in your movements.
They seem to have a very durable outsole, making a very good choice for training on the field, outside of the rehearsal hall.
The breathability of the mesh upper prevents sweaty feet and the inconveniences that come along with them.
They are affordable.
Cons
The mesh upper is easier to tear apart compared to models featuring full-grain leather uppers.
The colour scheme is a little dull.
FOR WOMEN:
FOR MEN:
Asics loves the science and technology behind making exceptional footwear and dancers LOVE their results.
The model that caught my attention is the Gel-Court™ Speed which comes with very attractive features for someone who trains every day and whose joints sometimes shout for a break.
The I.G.S® – Impact Guided System is designed for superior shock absorption while guiding the foot to a neutral position during propulsion movements.
The GEL® technology, positioned in the rear and forefoot provides well cushioned and safe landings.
The AHARPLUS™ is a compound placed on the high impact zones, offering the possibility of free and flexible direction SWITCHING – which is an important characteristic for our usually fast turns and pivots.
Another two innovating technologies the DUOMAX® support system and TRUSSTIC SYSTEM® contribute to maintaining your balance, by adding extra-support across the mid foot.
They are normally available in sizes ranging from 6 to 15 (US), but you need to check their website, because most of the time the most popular sizes go out of stock.
The colour scheme features White and Silver, Black and Cherry Tomato, Black and Flash Yellow and Illusion Blue and Silver models.
Pros
They are lightweight (12.3 oz), thanks to the TRUSSTIC SYSTEM® technology designed to reduce the weight of the sole, without damaging the structural integrity of the model.
The mono sock fit makes them very quick and easy to put on.
The materials are seamless, making it harder for irritation and blisters usually caused by classic stitches and seams to occur.
The toe area is protected with the PGUARD toe protector design, making them last longer.
Cons
The width is standard. There are no narrow or wide options.
Picking the right size can be tricky, as your size may not always be in stock.
FOR WOMEN:
FOR MEN:
With over 5000 ratings on Amazon and an overall score of 4.4 stars out of 5, this Reebok model first caught my attention with its name – the Princess Sneaker.
This is what 21st century (gym) princesses must wear now, right? I
n the end, we all want to feel royal while training (and basically all the other times of the day), so if Reebok wants to SPOIL us, then so be it!
Jokes aside, this beautiful and very affordable model features a very classy and clean upper design, made entirely out of synthetic leather.
The Union Jack symbol is tastefully added on the outer side, below the laces. The TRADITIONAL lace-up closure help you secure the shoe to your foot, providing an optimal fit.
The model has good grip to training surfaces thanks to the highly abrasive rubber sole.
The model offers premium cushioning thanks to the EVA (ethylene vinyl acetate) midsole and to the padded foam sock liner, while the shoe remains very lightweight (around 255 grams) and easy to dance in.
They are minimal in design, which gives them a very classy air.
They are affordable, yet they look and feel sophisticated, as they are designed with the trainer (dancer) in mind.
The Reebok website gives you the chance to be featured in their gallery if you mention @reebok on your Instagram profile. In my opinion, this may help you build and be part of a bigger dance community.
You have the option of 3 interest-free payments with Affirm.
Cons
The soft terry lining HELPS with moisture absorption, so if you have feet that sweat a lot, these may be a good option for you.
They are available in all White or all Black, with sizes ranging from 5 to 12 (US).
Pros
They are a little stiff and make pivots harder than other training shoes.
I would have preferred them to be made out of genuine leather instead of synthetic leather, as they would have been more long-lasting.
Every single time you buy a pair of tennis shoes for your training sessions you are actually investing in your health and actually PROLONGING your dancing career, so choose carefully.
Our body is our most precious gift and we need to take care of it and respect it, and it will respect us back.
So practice all the time, train RELIGIOUSLY, wear the right things and enjoy the results.
I am interested in how dancers around the world train outside the rehearsals, so if you want, share your routines with me.