Magic shoes or just dance shoes…or maybe both?
Puss in Boots asks for a pair of boots before helping his master become royalty.
Our Top Pick:
Cinderella loses her glass slipper, only to find true love later on. Perrault's Little Thumbling steals a pair of boots from an ogre and makes a fortune of off them.
   Your Guide
   Alexandra Romanmi
Dorothy travels all over The Wonderful Wizard of Oz land wearing her pair of ruby shoes. 
Hermes – the Greek God of trade – had a pretty slick pair of winged sandals.
So I sit here at my computer and wonder…What if I had a pair of magic shoes?
Then it hits me: I kind of do. They are not magical in the conventional sense of the word, but they sure did magic on stage and in the rehearsal hall.
After a long string of bad choices concerning my pointe shoes – which ended up with my feet getting hurt a lot – I had to make a better smarter (and more expensive) choice.
In 2011, I got my first custom made Gaynor Minden pair of pointe shoes and I honestly haven't been happier with any of my teenage years' investments. My feet still thank me every once in a while.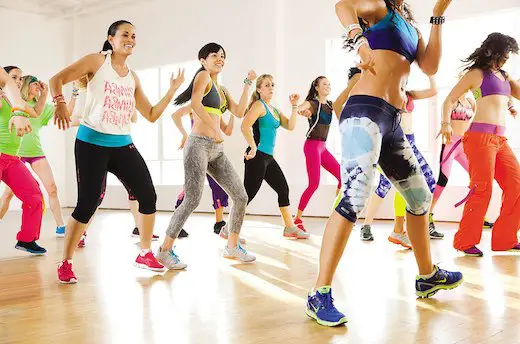 Ever since then, I stuck to my choice, with the color as the only specification I change when I place a new order.
The model, vamp, heel, box and shank always remain the same. Dancing on the tip of my toes is still painful sometimes, but a good pair of pointe shoes makes all the difference.
There may be lots of other models and brands that work just as well, but I found the ones that fit me best and that is very important.
Whether you are a groovy hip-hop dancer or an elegant salsa champion, I will try to teach you how to pick the best shoes for your style and recommend you the ones I consider to tick all the quality boxes.
I have a pretty big collection of shoes for all sorts of styles, so most of my recommendations are based on personal experience, as well as online research.
Hopefully, with a little help from me, you'll find what you're looking for.
How To Choose Sneakers For Dancing Hip Hop & Breakdance
Following a culture that was born in Bronx in the mid-1970s, rappers, DJs, beatboxers, graffiti artists and, of course, my fellow B-girls and B-boys out there have been making the world a better place for a while now.
If you're part of the latter category of artists – following the (dance) steps of legends like Richard Crazy Legs Colon – then you are probably constantly wondering how to improve your technique and win those dance battles.
While part of the answer is obvious to you (practice, practice and practice again!), the shoes you wear to your rehearsals and contests count…a lot.
What To Look For
As breakdance is a highly complex and demanding dance style, there are a few things you might want to consider when choosing which pair of shoes will accompany you on the battleground:
their weight,
the soles & the support they offer to your feet
the price range ( from $30  up to $1000 a pair)
The weight of your shoes classifies them in three main categories: light weight, mid-weight and heavy shoes.
I won't recommend the latter type from the start, as I noticed that bulky shoes tend to stay in the way of the dance flow.
While light shoes help you with your high jumps and knee lifts, making it easier for you to master a clean footwork, I personally prefer the mid-weight ones, as they seem more secure and steady on the dance floor. Speaking of steadiness, the sole is a crucial element.
From my experience, it needs to be flexible, medium dense and thick.
The balance between these three elements should make stomping, sliding, toe spins, and shoe tricks a lot easier and seem more natural.
Stay away from extremely dense and thin soles, as they will limit your moves and mostly force you to keep your feet flat on the ground, i.e. no fancy tricks for you.
The support the sole offers to your feet, from low to high, is also important, especially if you train a lot or you teach long hours.
The cushion-like soles, with medium to high arch support prevent your feet from getting too tired after hours and hours of dancing.
The low support ones have a very flat bottom, minimizing the distance between your feet and the hardwood floor, hence hurting your feet more and they also wear out pretty quickly.
Taking everything into consideration, after reading tons of reviews, trying them on myself and ripping a few pairs, I arrived to the one pair that seems to be doing the best so far: Adidas Ultraboost.
As they were primarily designed for running, they are very comfortable and they adapt to the shape of your foot.
Their thick foam sole, made from white energy capsules (constructed using a small granular material called Thermoplastic Polyurethane) helps you get super bouncy. Price-wise, they start from $90 a pair and can go up to a few hundred dollars.
They're great for sliding, jumping, spinning and switching from heels to toes. Also, if you train a lot, you might like the Primeknit Technology that comes with these shoes.
Their upper is basically a whole piece of knitted fabric that keeps your feet very well ventilated. No sweaty feet sound good to me.
According to Dr. Howard E.Friedman. a board certified podiatrist from New York, every 100 gram reduction in shoe weight also reduces the amount of energy required to run.
This may as well apply to dancing, so this light to mid-weight pair of shoes could help you reduce premature fatigue.
How To Choose Tango Dancing Shoes
 "First there is desire
Then, passion
Then, suspicion
Jealousy, anger, betrayal!
(…)
Jealousy, yes, jealousy
Will drive you
Will drive you
MAD!"
If you read these lyrics out loud with the Argentinean's low raucous voice, then you are probably a Moulin Rouge fan, like myself.
El Tango de Roxanne made me fall irrevocably in love with the mysterious and seductive art of tango dancing right around the beginning of high school.
Since then, I keep trying to perfect it and while doing so, I have realized that apart from the elegant thigh-high slit dresses, the fire in your eyes and painfully precise moves, there's another key element that makes a tango night as authentic (and comfortable) as possible – the right dancing shoes.
What To Look For
As tango is a highly elegant dance style, the high heels are a must. They help boosting your confidence, your posture and, surprisingly enough, your balance.
The moves simply don't look the same if you perform them while wearing socks, as they lose many of their graceful and alluring characteristics. However, if you are not used to dancing on high heels, start with lower ones!
You can increase the height of your heels as you get more and more accustomed to your routine, as they usually provide a more efficient weight placement.
Make sure your shoes have secure straps though. Nobody likes to play Cinderella on the dance floor.
Walking on heels can be very tiring for your feet and so is dancing, so be kind to them and choose shoes with high density latex memory padding. They feel comfortable and offer the adequate support for your foot arch.
The sole is also an important choice. Some people prefer suede soles as they offer a superior grip to the floor – yes, I am afraid of accidents too, but I personally prefer the leather soles because they are more resilient and they tend to slide better.
The suede sole is also significantly more flexible and it makes me feel a little unsteady, compared to the leather one that adds a greater sense of balance to my moves.
Also, try to keep the shoe model as simple as you can, avoiding unnecessary accessories such as bows, little chains or anything of the sort as they will bother you during your routine.
Your heels may get stuck and everything can fall apart from there. Trust me on this. I used to love bows.
My recommendation for you comes, just like tango itself, from Buenos Aires.  The brand I chose for my practice classes, Milonga nights and competitions is Comme Il Faut.
My favourite pair is the Comme Il Faut Nude Metallico, open toe model with closed heel cage and of course, a double strap as I really don't like accidents on the dance floor.
The heels height is 7,5 cm and I do not recommend you to go a lot higher than that.
I love the nude colour as it basically matches any colour you choose for your dress and it makes the shoes look like a natural extension of your own feet.
They have comfortable foot paddings and the sole is made of soft leather with a pretty good grip to the floor.
It might sound silly to you, but beware that the new shoes have a plastic protection layer on the sole that has to be peeled off before your first dance routine.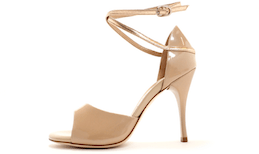 Comme il Faut – Nude Metallico
How To Choose Shoes For Swing Dancing
If you're a little bit of a nostalgic and love the smell of vintage clothes, you're also probably at least familiar with swing dancing. More probable though, you love it. And you dance it.
Whether you do it for fun on Sunday nights, or actually take part into national competitions, whether you do the Collegiate Shag or are more into Balboa, you are part of a sophisticated community who loves to boogie.
Sometime in early 2018, I discovered one of the loveliest dancer couples on the Internet, Kendall and Ronnie who own one of the most comprehensive YouTube channels focused on Swing Dance, Live Collegiate Shag.
From practice advice, to vintage hair tutorials or vintage dress restorations, everything swing is there.
I have never been an extraordinary swing dancer, mostly because I am afraid of aerials, but I did take classes for almost 6 months after watching them dance and tried to follow their advice when it came to choosing my shoes.
I used ordinary sneakers and tennis shoes for the first weeks of practice, but I've put suede on their sole before rehearsals time – never forget to do that! Here's a short video on how to do it.
However, after you get an idea about the way you're supposed to move, you kind of want to try your fancy moves on fancier shoes. Tennis shoes are not too vintage after all.
What To Look For
What you need to keep in mind when you choose your next pair of swing dance shoes is that your ankles have to be very secure.
The air tricks are a big important part of this style, but they are also demanding for your feet and joints, so you need to protect them by choosing shoes with straps.
For the same reason, I do not recommend a high thin heel. Swing was originally danced in street shoes, so you don't want to overdo it.
You should look for wide heels, probably no higher than 4 cm. Also, beware of open toe shoes as they will make it easier for your toes to get stepped on.
When it comes to soles, the choice is usually made between rubber soles and leather ones, but I would recommend the latter as it makes sliding across the dance floor a lot easier, allowing you to spin with more ease.
The brand recommendation I have for you comes from Barcelona and it is called Slide & Swing. In their 20 minute long video about their swing shoes collection, Kendall and Ronnie also mention this brand as their favourite, so we're on the same page here.
The model I purchased is the Ava model, in a beautiful black and gold colour. They have a vintage inspired look combined with, what seems to me, a very secure strap around the ankle.
They are flexible, yet stable on a wide 4 cm rubber top heel. The shoes are 100% handmade with natural leather.
Despite the fact that they are lightweight, they are very durable, so I recommend them if you plan on dancing outside on hard surfaces such as concrete.
If you like these and would like to get a matching pair for your partner Slide & Swing also has a variety of models for men, with the Blucher Noruego as the model that caught my eye – partly because they would match my Ava model. You may want to check them out though.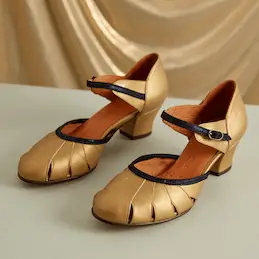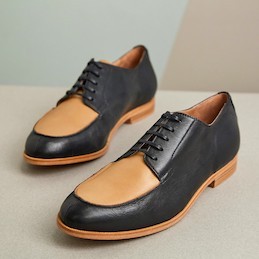 How To Choose Tennis Shoes For Dancing
Whether you choose to master one dance style or focus on more at the same time, one thing is sure – you have to train a lot to become a better dancer.
As dancers, we all love the stage and the glamour of the spotlight, but before we enjoy them, we need to spend most of our time rehearsing. However, long sweaty hours pay off.
The structure of a dance class is a fairly complex one and it includes warm-up, cardio exercises, force training, performing combinations and finally rehearsing choreographies and cooling down.
The way you prepare for it is just as complex. You need certain training clothes, such as sports bras, leotards and leggings, and obviously the right tennis shoes to complete your outfit – stylistically and functionally.
First off all, for your dance rehearsals, it's good to try and resist the urge to use the same pair of shoes you normally use for walking and running.
What To Look For
Dance is very demanding for our feet so we need to care for them a little more than usual, by choosing shoes that lend more support to the foot arch, muscles and joints.
The benefits of arch support are discussed by specialists on a website dedicated entirely to Plantar Fasciitis.
According to Mayo Clinic, plantar fasciitis is the most common cause for the stabbing pain occurring with the first steps in the morning. Dancers get it sometimes, especially as we get older.
Shoes that offer good arch support should have specifically designed mid and insoles in order to maximize shock absorption and should offer some sort of motion control in order to prevent injuries due to over-pronation or supination – this is how ankle sprains and shin splints happen.
One of the options I found out to work for me is the Women's Dedication XT Training Shoes model from Rykä.
The brand creators define themselves as a fearless tribe of women who want better and that just worked on me.
Their creations are backed up by serious science and rely on the difference between a man's and a women's anatomy of the leg and foot.
For example they take into account the "Q-angle" or the quadriceps angle which is a measurement of the width of the pelvis.
It is 5 to 7 degrees greater in women and it is considered to be a risk factor for sports injuries, as women tend to shift more weight to the outside of their feet, leading to instability.
Furthermore, the customized shape with a narrower heel, wider forefoot and more secure insole addresses the complex biomechanics of our plantar region.
The Women's Dedication XT Training Shoes come with some special features.
The Anatomical Precise-Return insole that offers the extra heel and arch support is a Ryka trademark along with the External RE-ZORB LITE pod network placed between the midsole and outsole.
The latter refers to a special foam compound used for cushioning and further shock absorption.
Flexible, yet secure they help me during my training hours and they may become your best friends too if you give them a chance.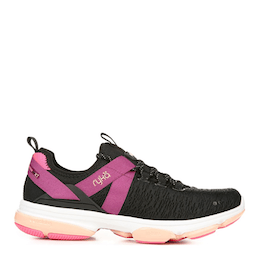 How To Choose Shoes For Dancing All Night Long
Whether you are a professional dancer or not, you have probably been invited to a Social Dance Party at least once in your life.
This gatherings offer the perfect chance to show off your latest moves, to perfect the old ones and to socialize with people from your dance class.
All in all, a great night out! A great night out with tons of dancing, which means you need to prepare for it adequately.
Apart from a fancy outfit, the shoes you choose to wear will make the difference between a fun occasion and a long painful night on the dance floor.
I used to go to this kind of Latino dance parties almost every week in my first years of college and they usually turn out to be a nice experience, unless I went on wearing pretty, but supremely uncomfortable shoes. Disclaimer: It happened a lot.
But now I know better and I will try to help you too.
What To Look For
First of all, forget about stilettoes –they will immediately turn into your nightmare, no matter how flattering they are for your feet.
High thin heels will make you feel uncomfortable after a few moves and they will also prove to be quite slippery on the club's dance floor, offering you little to no stability. Instead, you may want to try medium height thick heels with sturdier bases.
Secondly, make sure to get shoes with ankle straps. It is important to feel secure and to not fear that you'll lose your shoes at the next fancy turn.
It is also important to have lots of cushioning for your insole. Expect to dance a lot at these parties, so make sure your feet will feel comfy.
It is worth it to even go a step further and actually insert some extra comfort in there, using orthotic insoles.
According to an American podiatrist, Grace Torres Hodges for health.com it is better to try the over-the-counter insoles available in all sorts of styles before getting the custom-made prescription-based ones, as they can get pretty pricey.
It is hard to choose one single pair to recommend you, as there are millions of shoes I haven't tried that are probably really great.
However, I will stick to my all-time go to brand – Capezio, an old and famous dancewear manufacturer founded by Salvatore Capezio back in 1887.
The model I recommend for this kind off "dance-all-night" kind of parties is the 2.5 "Heel Flex Character Shoe. They are elegant, yet comfortable with a foam padded footbed and a ¾ steel shank – the Capezio Signature Construction.
They feature a secure T strap with buckle closure, so you won't play Cinderella at your party – unless you want to, of course.
The upper is made of leather and the forefoot comes in satin which adds a refined air you might like and use to complete your outfit.
They also come with a suede sole, so I advise you to only wear them once you actually got into the club, so you won't damage them while walking on the street.
Designed with the dancer's comfort in mind, they also feature an Achilles notch and a closed round toe box, which I usually prefer to the square and point ones, as they make my toes hurt a lot faster.
There's also an identical model that features a 1.5 "heel, in case you want to be even comfier.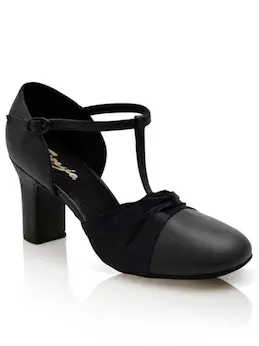 They are under $100 which seems like a reasonable investment if you plan on going out and dance a lot, without compromising your precious dancer feet.
How To Choose Shoes For Line Dancing
I have never tried to practice line dancing, but as a medical professional I have come across some interesting articles that prove me I might actually have to give it a try some day.
One of them, states that life without line dancing and other activities would be too dreadful too imagine.
It was published in the prestigious Ageing International journal and it focuses on social dancing and its effects in older adults.
It showed that as opposed to a normal dance class, social dance promotes a playful and spontaneous atmosphere, while adding a positive reconnection and continuation with one's memory, youth and history.
With this in mind, I encourage you to try it yourself or further recommend it to your older relatives at the next family dinner and, why not, try it along with them. It seems like a lot of fun.
What To Look For
After you signed up for your class and once you get into this style (which will probably happen sooner than you expect), you will need to invest some money in proper dance boots.
They will offer you good ankle support, good foot support and they will make it easier for you to spin around the dance floor, while giving you that full-on cowboy/cowgirl look you'll be craving for.
Most of them feature a flat or a low Cuban style heel at most, as line dancers keep comfort and quality as their highest priorities when choosing their footwear.
After doing my research and reading lots of reviews I came up with what I consider to be the best recommendation for you, my fellow dancers – The Ariat Brand, a performance footwear and clothing brand from California.
The models I chose for you are are the Ariat Men's Heritage R Toe Western Cowboy Boot and the matching Ariat Dahlia Western Boot for Ladies.
With an overall score of 4,6 out of 5, based on over 400 reviews on Amazon, The Ariat Men's Heritage Boots seem to be a very good choice for your line dance classes.
They are lightweight, yet they offer good stability and good arch support. The R toe means they are tapered, but rounded at the tip.
They are 100% full grain leather and they feature the ATS ®Technology, the Advanced Torque Stability Shank – which offers support and cushions your foot during movement.
It also helps you maintain your posture and reduces fatigue. The gel-cushioned footbed is moisture wicking which will provide you a cool and dry experience.
The ladies' choice, the Ariat Dahlia Western Boot will probably become your best friend on the dance floor.
These are short cowboy boots that allow you to easily tuck your jeans in. They are made of 100% full grain leather and benefit from the same ATS Technology, as the ones for men.
Their toe box is beautifully crafted with elegant embossed leathers. They feature a D toe which means they are tapered toward a point, but have a flat tip. The 2,5 " heel is leather-wrapped, thus sturdy, so your long dance nights won't damage them too much.
On Amazon, they have a high 4,2 out of 5 score, with 61% 5 star reviews, out of a total number of 573 customer ratings, which sound very promising too me.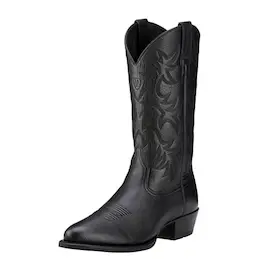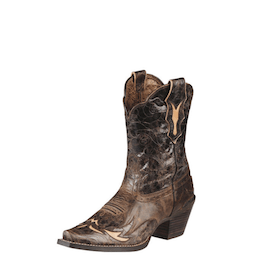 How To Choose Shoes For Dancing On Concrete
One thing is sure. Dancers don't like concrete. It feels like it restricts our moves and it makes us more vulnerable to injuries.
Its high friction limits pivots and fancy turns, making it hard for choreographies to be extremely spectacular.
However, sometimes, the occasion demands it and we need to say goodbye to our beloved sprung floors and rock the tough concrete ones…
What To Look For
One way of dealing with concrete is by using low-friction stick-on soles. They are cheap and they promise to help you pivot and slide with ease on high friction surfaces such as concrete.
However, if you are like me and your craft skills are at kindergarten level, you'll probably want to skip gluing soles on to your shoes, along with and any other handmade tricks.
So what is there to do?
The answer is simple. If you're going to dance outside, on concrete, then the safest thing to do is to replace your indoor dancing shoes with outdoor footwear.
You'll have to choose it carefully as it will still need to carry some of the characteristics of the shoes you normally wear for rehearsals, such as high flexibility and good ankle support.
On top of that, the concrete floor imposes a few more demands: the sole needs to be adapted for shock absorption, which means a lot of cushioning and it also needs to successfully deal with high friction surfaces, while preventing injuries.
Your best bet will most likely be the running sneakers –they are flexible, comfortable and safe for your joints.
Runner's World  veteran biomechanist Dr Martyn Shorten has performed lab tests to determine which new running shoes best suit the needs of the modern sportsmen.
He measured shoe characteristics such as cushioning, flexibility, height and weight, figuring out the role they play in the performance of their wearer.
Among his choices, there's the pair that won Runner's World Best Value 2019 – the Reebok Floatride Energy.
This pair of shoes also made its way on my wish list. It is fairly cheaper than similar models from other brands, yet it seems to tick most of my checkboxes.
The Floatride term points to a light and bouncy midsole cushioning which grants a good energy return from the surface you'll be dancing on.
The upper features a simple design, nothing too fancy, which is great since it won't bother you during your performance.
According to Doctors of Running, the upper material supports the foot well and it is also breathable –another characteristic I like in dancing shoes, since sweaty feet are simply not as reliable as dry ones.
According to Dr Nathan Brown PT DPT MS from Doctors of Running who tested the shoes, they are very durable.
He mentions that he used them for running over 120 km in total and they only shoed minor changes in foam, with any other real damage, so I'd say they can take our outdoor dance training just fine.
The doctor also mentions their ability to pick up the pace, which I believe is important for our routines.
He gave them an overall score of 91% which sounds perfect to me taking into account their comparatively smaller price.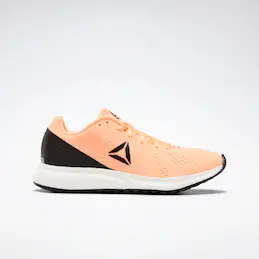 FOREVER FLOATRIDE ENERGY SHOES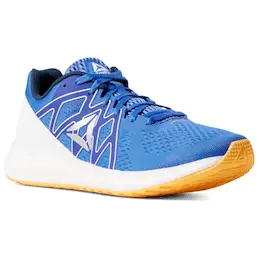 How To Choose Pole Dancing Shoes
Pole dancing used to be one of those taboo subjects people would whisper about, especially in the dancers' communities.
However, in the last decade or two, it became less of a taboo and more of one of these things that you got to try out at least once in a lifetime.
And I myself did. There are a few spots in the city I live in where they offer pole dance lessons as fitness training and I am telling you – it is a lot harder than it looks like.
No surprise they want to turn it into an Olympic sport – they should.
Now, I went to these lessons either barefoot or wearing my soft ballet shoes, but that is just because I was a newbie and honestly not very good at it.
If you are on the way to becoming a professional pole dancer or want to enjoy the full experience of pole dancing you will need the special super high heel shoes you see in the movies.
The moves look completely different in those, they are a lot more sensual – which is the whole point and they help you improve your performance by clinging to the pole and making attaching to it and climbing it a little easier on your body.
Saving energy is important and you won't notice it until you try it.
What To Look For
My teacher came to class one day wearing a pair of fancy professional high heels and asked if anyone would like to train using them. I did and the experience was worth it.
The brand she chose is called Pleaser USA and after doing my research I found out that they are the most popular among strippers and pole dancers, as they've been in the business for almost twenty years.
Among other shoe lines of the company such as Funtasma, Demonia or Devious, Pleaser is the number one choice for dancers due to the high quality craftsmanship and comparatively good price.
Here is a helpful guideline telling you the difference between a few models from Pleaser.
Recommendation For You – ADORE-708
The pair I tried and fell in love with was the ADORE – 708 Pleaser sandals. Their signature Stiletto Heel is 17.8 cm high and the platform is 7 cm high. They feature a secure ankle strap and a clear upper made from PVC.
If I were to choose between ankle boots, thigh high ones and sandals, I'd go with the latter ones. The boots feel like they are restricting the movements, keeping the legs from bending freely.
These comfy sandals come with a chrome plated bottom, in lots of colours, so you can easily fit them with any of your fabulous outfits.
The rubber sole has good adherence to the ground, offering good stability. Another good thing about these sandals is that they are very simple in design.
They do not feature any glittery diamonds or any other accessories that may break off and inconvenience you while you do your routine.
Also, since they are transparent, they will show off you're pedicure, so go ahead and paint those nails crazy colours.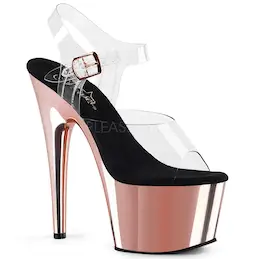 How To Choose Shoes For Club Dancing
Tired of going barefoot on the dance floor? I sure am. Going out to dance with your friends, especially if you are known to be a professional dancer is a demanding task.
They all expect you to rock the clubs you're going to, so you cannot disappoint.
What To Look For
This means, choosing normal shoes for your night outs is not always a good idea. Sticking to your dear dance ones might make difference.
Although they are not always the fanciest looking, they do help you protect your feet from getting too tired and to me that's worth a lot.
My go to choice is usually a fairly priced pair, the Ellie Shoes Women's 254 Lucille Dress Pump.
They get a nice 4.3 out 5 score on Amazon, with almost 1300 ratings from people sharing my opinion. They are 100% satin with 1920's Vintage inspired design, adding elegance to your outfit.
The leather and rubber sole make spins and slides easy, yet secure. Unlike most dancing shoes, these have non-suede sole, which means you can easily wear them directly on the street –no need for an extra pair of shoes in your bag.
They feature a comfortable round toe box that protects your toes, preventing ingrown nails. We all know how painful and uncomfortable these can get.
If you have a few too many drinks and you worry about losing your shoes on the dance floor, you might like the adjustable buckle strap, the T-strap design and the stable sculpted heel.
They provide the appropriate support and security without getting too tight on the skin. Blisters are my worst nightmare on a dance night out, so I always look for ways to prevent them.
They are comfortable and they fit very well, accommodating your tired feet if they swell after hours and hours of showing off your moves.
Ellie Shoes Women's 254 Lucille Dress Pump
How To Choose Nike Shoes For Dancing
Nike is already a well-established brand and dancers around the world make them their number one choice every day.
But with such an astonishingly big number of models available, sometimes we may feel overwhelmed when trying to pick the best one to fit our dancer needs.
What To Look For
Here are a few things to take into account when buying a pair of dancing Nikes:
A good grip, adequate support for the foot, good cushioning, a comfortable toe box, a non-slippery sole and a high quality upper made from lightweight, breathable and durable materials. Nike's got our back.
When it comes to shoe-making technology, we've come a long, long way from the old wooden shoes in the Celtic lands.
A good example which embodies that exact amazing advancement in shoe tech and my latest acquisition from Nike are the Joyride Run Flyknit shoes.
They are like a tiny hug for my tired feet, as they have a soft sock-like feel to them and little foam beads placed in four strategic points under the plantar region of the foot.
These provide good shock absorption, protecting your joints whenever you do your fancy jumps.
They offer a personalized kind of response. It feels like my shoes know me and that's important, especially on long training days.
The TPE (thermoplastic elastomers) bead system is also really dynamic as it shifts during movement, contouring your sole and supporting it in every position.
To me, this was a very helpful trait while training as they gave me a springy response, saving energy during difficult routines.
Apparently, after years of studies, Nike came up with this joyride system which offers 14% greater shock absorption the other foam cushioning technologies in their running shoes, e.g. the Air Pegasus 36 – which I have not tried yet.
They are extremely lightweight, yet secure with a very useful built loop, making it very easy to put the shoe on.
Thanks to the high quality materials, they seem very durable so far, although I have only had them for less than two months now. I guess time will tell if that is the case or not, but so far it all seems promising.
I got them in pink, but they come in a varied palette of colours and you can also design your own if you're not happy with the available options.
The internet famous Industrial Designer and self-entitled Sneaker Enthusiast Seth Fowler does a pretty good job reviewing this pair of shoes, focusing on the new cushioning technology from Nike and you can watch it right here.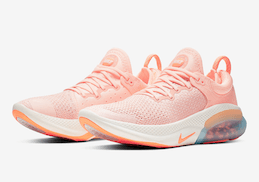 Nike Joyride Run Flyknit Sunset
How To Choose Salsa Dance Shoes
When it comes to salsa, there are two types of people in the world:
The ones who think of it as a delicious spicy dip for their tortilla chips
And the ones whose eyes lit up and whose hips start moving to an imaginary Latino rhythm every time someone mentions it.
If you're part of the latter category, then you're probably a salsa dancer.
Whether you go to salsa classes a few times a month to escape your mundane and stressful day to day life or you have actually dedicated your entire existence to salsa and became a professional, we're all salsa dancers in the end and we all love our salsa shoes, don't we?
Well, I do, but I've also hated a couple until I managed to choose the right ones to suit my needs.
What To Look For
As an occasional salsa dancer, I did not want to spend a fortune on a pair of dance shoes, but I also did not to skip any of the important features that make a good shoe good.
First of all, when you think of buying your salsa shoes, go for heels.
The sensual Latino movements simply look better on a lady with heels and they make you feel a lot more confident on the dance floor.
If you believe it is easier to first learn the steps wearing flats, you might actually need to relearn everything once you decide it is time to switch to heels.
Secondly, pay attention to the flexibility of the shoe, its cushioning, the ankle strap system and the support they offer to your foot arch.
My recommendation for this section is probably the most popular pair of Latin Dance Shoes available on Amazon, the TT Dancewear Rhinestone shoes. With an overall mark of 4,5 out of 5, based on 377 ratings, they won my heart  (and got my money) too.
They are a valuable addition to your dance shoes collection as you can wear them to most of your Latino dance classes, not just for salsa.
They are very flexible, showing off that beautiful pointed foot arch you've been working on since lesson no 1. They're made from satin and come with smooth suede sole which proves to have a pretty good grip to the floor.
If you like light shoes that make you feel as if you are dancing barefoot, these may be a good option since they are really comfortable and weigh almost nothing.
I am also obsessed with stability, so the double ankle strap comes in handy. They also feature a quick release buckle – really useful in case of fast changes at competitions or shows. T
They come in lots of colours and have delicate rhinestones applied on the upper straps and heel, which in my opinion, make them very feminine.
TTdancewear Women Rhinestone Ballroom Dance Shoe
How To Choose Wedding Shoes For Dancing
The big day has finally arrived. You're marrying the man of your dreams and everybody's eyes are on you two.
Among a hundred other things you have to worry about, the Bride & Groom First Dance is a big one.
Not only you need to practice for this one beforehand, but you will also need to be able to continue dancing all night long, mostly with every guest, friends, family members and long lost relatives who show up at your wedding (potentially uninvited).
I haven't taken the big step yet, but I did go to lots of weddings, most of them involving professional dancers as protagonists, because apparently dancers tend to marry their kind.
When it comes to wedding dance shoes, we do not only take into consideration the basic features of a normal dance shoe, such as flexibility, good grip to the floor, cushioning, an ample toe box, shock absorption, etc., but also the way they fit with probably the most expensive one-wear dress we're ever going to buy in a lifetime – the wedding dress.
What To Look For
Although some wedding shoes look really pretty and match your dreams since you were a little girl imagining yourself to be a princess-bride, the truth is most of them are ridiculously uncomfortable after only a couple hours of wearing and a few spins on the dance floor.
You don't want that, I don't want it, nobody does, so here comes my recommendation, based on some of my closest friends' experiences with their wedding shoes and on the podiatrists' advice.
According to Dr Nicole Freels a podiatrist from Lexington Podiatry in Kentucky, the trend of brides who tend to choose more comfortable and practical shoes that can be worn more than once is currently increasing. Way to go, girls!
The winner in my opinion is the luxurious, yet affordable Giona II Sandal from the Jewel collection by Badgley Mischka.
They come with a 2" stable block heel that will take the place of an otherwise uncomfortable stiletto.
The round open toe d'Orsay sandal features really elegant laser cut detail, adding style to your bride outfit, while the crystal stones embellished over the crisscross straps add a note of refinement. They're beautiful shoes indeed.
Made from metallic leather that complements its fancy accessories, the sandal has a cushioned footbed and ankle straps you can easily adjust, so they don't go missing on the dance floor.
They feature high quality material and craftsmanship with man-made lining and sole.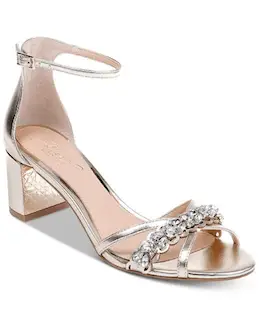 Badgley Mischka Giona II Evening Sandals
How To Choose Shoes For Contra Dancing
Contra dancing is not just dancing. It is a social event and it brings people together.
To me, it is a wonderful cultural phenomena we should all expose ourselves to at some point.
Here's a video full of people who are all about contra dancing and will have you fall in love with it too.
There are no fancy moves, no prior experience is needed so all we really need is a pair of good shoes and we can hit the dance floor.
What To Look For
According to Jeff Kaufman, a contra dance organizer we need to answer a few questions when trying to pick the most suitable pair of contra shoes.
How slippery the sole should be? How much cushioning do you need? Do you want to join the entire hall and make noise with your feet on balances? How flexible would you like your shoes to be?
The best choice for both men and women will be a pair of low heeled character shoes.
They are light, not too flexible, so your feet will feel stable. They are also good for making the balances noise, so if it is important to you to blend into the crowd, they will help you do it.
My recommendation for this style of dance is the K360 Customizable Oxford Character Shoe from Capezio.
Made from high quality full grain leather upper, they are a comfortable option featuring foam padding in the heel and arch area.
In contra dance, you need to avoid rubber soles, as they will prevent you from sliding smoothly.
These shoes come with hand stitched leather sole to solve that problem. The shoes also have folded edges and the Achilles notch for some extra comfort. The stacked heel is low, measuring only 1".
There's an extra option Capezio offers with these shoes: if you want, they can attach the Tele Tone® toe and heel taps, but you will need to contact their Theatrical Department at 1-(877)-300-1887 in advance and let them know.
Their recommendation is that men begin with their street shoes size. However, for women, they should start 1.5 – 2 sizes down from street shoes size.
Capezio also has a good return policy that states that they offer free return on all their products within 30 days if you buy directly from their website. Of course, the products do not have to show signs of distressed use.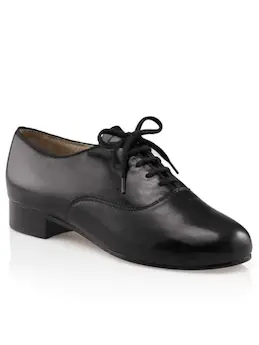 How To Choose Ballroom Dance Shoes
Derived from the Latin word ballare, meaning to dance, the term ballroom dance used to define the type of dances reserved for the privileged, the aristocrats from royal courts, leaving the folk dances to the commoners.
It is from this style that my beloved ballet was born from. But not only ballet, since ballroom dancing encompasses a wide range of social dances such as Waltz, Foxtrot, Quickstep or Swing.
It is one of the most sophisticated and refined types of dance, transporting you across the centuries back to the 16th century at King Louis XIV sumptuous parties.
You can imagine that the outfit and shoes you choose to attend such an event are pretty much the same you'd choose for a ballroom dance competition or even a class – very fancy.
What To Look For
When it comes to footwear, just like with everything in life, there are very cheap, cheap, mid-range and high-end options we can pick from.
However, it is not always easy to choose the ones that better suit our needs and pockets, when there are so many available.
Honestly, I believe in investing in a really good pair that will last a lot longer, rather than in buying multiple cheap ones, as they tear apart and wear out so quickly.
The popular professional ballroom dancer and instructor Michael Litke, guides you through the process of choosing the right pair of shoes for ballroom dancing in this short video.
He insists on paying attention to characteristics such as the type of heel, the closed toe box and the secure straps for women and such as the flexibility, type of sole gliding features and durability.
This time, my recommendation for ballroom shoes comes from a deluxe shoe manufacturer – Aida Dance. They are a bit expensive, but they are designed with the dancer's needs in mind.
The shoes are handmade, from very high quality materials, leading to you enjoying them for a long period of time. They have a 5 out of 5 score on their official Facebook page, based on 81 reviews.
If uncertain about what pair to invest in, they also offer a free consultation from one of their experts.
As a very professional brand, they also have a short video explaining you how the shoes are supposed to fit. However, all orders are refundable if you are still not satisfied with what you have received.
For women, I chose the Taylor 040C model, a variation of the 040 Standard model. The ones I recommend come in Flesh satin and feature a 2" Flare Heel with added heel protectors.
They have a comfortable closed round toe box and a soft padded insole to support you during your long dancing hours.
If you are worried about balance on the dance floor, these shoes might be the ones to have your back, as the signature design aims to offer very exceptional stability and the sole creates a good connection to the floor, allowing you to slide in peace.
The strap keeps the shoes securely tied to your feet, so you cannot use the missing shoes Cinderella trick to find prince charming at the ball you are attending.
When it comes to shoes for men, the website has it clear: they offer unsurpassed quality, through ergonomically correct shoes that perform, last and impress. May it be so!
My choice for gentlemen is the 119F – Mirko model, rebranded in the honour of former WDC World Champion Mirko Gozzoli.
They feature a full patent leather toe box mixed with a crepe satin arch support that makes them very flexible.
If you like the freedom of the split sole, these shoes might be the ones you are looking for.
Make sure you like them, since they are durable and you'll be stuck with them for a while.
In my opinion, the website excels in customer service and also offers a very wide range of customization options, so you are free to choose the heel height, style, the width and shape of the toe box, the sole colour, and even the material of your new pair of shoes, making them fit perfectly to your tastes.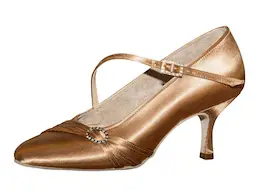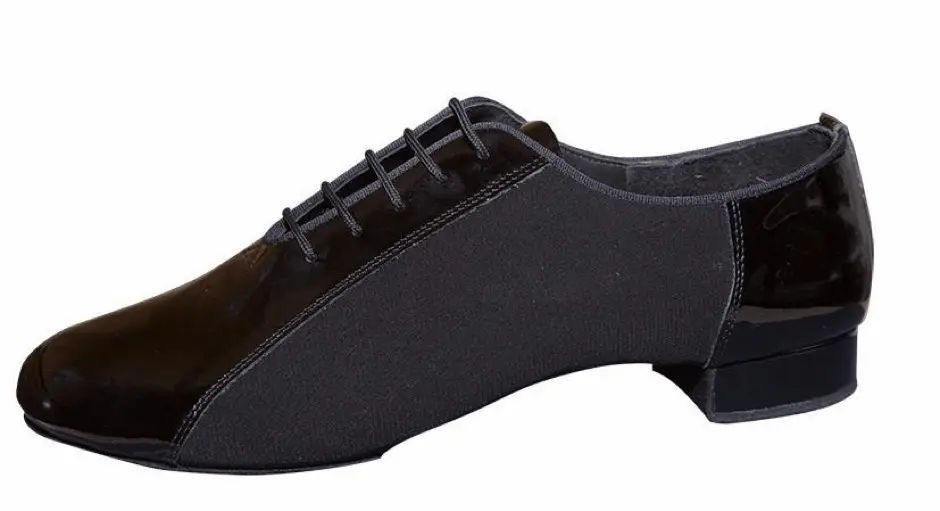 Final Conclusion
As Leonardo da Vinci said "The human foot is a masterpiece of engineering and a work of art."
We need to respect our feet and value them as our most precious asset. We cannot ignore our feet needs and hope they will work just fine on the dance floor.
The shoes we choose as dancers are a sign of how much we care about our performance on stage and about our health in the rehearsal hall.
So anytime you need to buy a new pair of shoes for your routines, take your time and make an educated choice.
It does not matter whether you are a newbie in the world of dance or you are already an established authority in this field.
Go ahead, pick a pair of magic shoes from the list above and write your own fairy tale on the dance floor. The whole world will be there to watch.
As dancers, we all have a magic shoes story. What's yours?