Your Guide

   Gavin Davison
Tennis has been a major influence in my life now for over 20 years.
Having played the sport for this length of time, it's safe to say that I have had my fair share of good and bad products over the years.
I have followed trends and ridden the waves of popular products many times throughout my playing career, and it hasn't always worked out how I expected.
After hours of research and from my personal experience using the products, here are my best tennis gears guide for you:
Tennis Shoes
You could be the fastest player alive, but if your tennis shoes do not facilitate what is necessary to cover the court, you are going to have a hard time.
And besides your own natural ability for each of these, there is a key element that will improve your performance: what you have on your feet.
OUR RECOMMENDATION- Asics Court FF 2
CLICK HERE TO SEE OUR BEST TENNIS SHOES
Tennis Racquet
Choosing a tennis racquet is probably a bit easier than choosing the right tennis shoes since a few brands lead the industry.
You have to find the right head size, balance, string pattern, and weight- it can be information overload when trying to choose the right one for you.
OUR RECOMMENDATION- Pure Drive Blue Black
CLICK HERE TO SEE OUR BEST TENNIS RACQUET
How To Choose The Best Tennis Racquet
As one of the main tools used in the tennis trade, the ability to choose the right racquet that suits you is of paramount importance.
I guess this is no surprise really since the tennis racquet is behind each and every ball that you will strike in practice and in competition.
Choosing a tennis racquet is probably a bit easier than choosing the right tennis shoes since a few brands lead the industry.
But with this said, there are loads of different racquets within these brands that meet different specifications across the board.
You have to find the right head size, balance, string pattern, and weight- it can be information overload when trying to choose the right one for you.
But fortunately (and to keep with the theme of this article), I have narrowed things down and made this choice considerably less overwhelming.
What to Look For
Tennis racquets are always designed to fit a certain playing style. For example, those that are heavier and have a tighter string pattern are designed for players that can generate their own power but want more control.
Racquets that are lighter and have a wider string pattern are designed for players that have the control but need assistance in the power department.
And there are other specifications too. Racquets where the frame is quite stiff is ideal for players who enjoy serving and volleying, but this isn't necessarily a good fit for baseline players.
The opposite is true for racquets that have a lot of flexibility in the frame. These racquets are well suited to players that prefer the baseline, although they aren't quite as efficient when coming to the net or serving.
These are all considerations to think about when choosing the right racquet, and there are certain brands that definitely manufacture racquets better than others.
Some of the better racquets on the market come from brands like Babolat, Head, Wilson, Tecnifibre and Yonex.
This statement is also supported by the fact that many top tier professionals have signed with these brands.
The top 3 players in the men's game (Novak Djokovic, Roger Federer, Rafael Nadal) play with Head, Babolat, and Wilson racquets.
The top 3 in the women's game (Ashleigh Barty, Karolina Pliskova, Naomi Osaka) play with Head, Yonex, and Babolat racquets.
Safe to say, these brands are dominating the field right now and there are strong reasons why.
Without a doubt, the available racquets within these brands are some of the best out there. But there is one particular racquet that rises above all others.
It offers the perfect mix of power, control, and spin. And this holds true whether you are a beginner, intermediate or advanced player.
As used by players such as Fabio Fognini (men's world number 12), this racquet offers the chance for enormous power while coming from a relatively lightweight frame.
The best part is that this power comes easy, thanks to the wider string pattern seen with the Babolat Pure Drive. However, this power does not come at the expense of reduced control – which is a major reason that I love this racquet.
The racquet itself weighs in at just 300g. It also boasts a head size of 100 square inches, as well as being a majorly headlight racquet, which facilitates racquet head speed.
These specifications allow for a huge sweet spot on the racquet too, meaning that you do not need to contact the ball exactly in the middle to get full access to this racquet's power.
This is what makes it so easy to use and is just another reason as to why this racquet is so hugely popular.
The Babolat Pure Drive is undoubtedly more suited to baseline players since it is primarily a power racquet.
But what I have found with this racquet compared to others out there is that it doesn't lose the feel or the control when it comes to serving and volleys.
It has just the right amount of flexibility in the frame too, which essentially provides a 'meet in the middle' solution for those looking for baseline and net play action.
And for further specifications and professional player's opinions (including Fabio Fognini) on the Babolat Pure Drive, take a look at this highly informative YouTube video:
How To Choose The Best Tennis Elbow Brace
This is probably one of those categories that we all think less of when it comes to choosing the right tennis equipment.
But I cannot help but think of a specific quote that summarizes just how important this category is for tennis players, "prevention is better than the cure".
Many don't realize that using a tennis elbow brace is often a great preventative measure to protect your elbow in the first place – it shouldn't just be used if you are already suffering from ailments such as tennis elbow.
Trust me, I've been there and it isn't something that you want to suffer from.
What to Look For
Of course, if you are young, fit, and healthy it is less likely that you will develop tennis elbow as rapidly as those who may be slightly older. But for those that are suffering, it is critically important to deal with the problem now rather than later.
And this isn't just me preaching to you either; professional doctors are stressing great caution – especially for tennis elbow (the most common elbow problem in tennis).
And while it may not be the 'cool' thing to do, wearing a tennis elbow brace is important even if you feel just the slightest twinge in your elbow when playing.
I know firsthand the pain and frustration that tennis elbow (and even golfers elbow) can cause, so choosing an appropriate elbow brace is still an important factor for your overall equipment selection.
But the specifications are not quite as obvious for this category as some of the others.
There are certain aspects that the elbow brace needs to have before you even consider buying it, and you have to know what to look for.
In my experience, four characteristics need to fit the bill before I even consider the purchase.
It has to be stable, it has to be comfortable, it mustn't restrict movement, and most importantly it has to help the pain suffered with tennis elbow and other elbow injuries.
As is the case with many sports injuries, if you feel pain in a joint, you will typically feel weakness too.
This is why first and foremost, the elbow brace has to provide stability for the joint. But leading on from this, what use is stability without comfort?
I tend to prioritize comfort quite highly when choosing an elbow brace since any piece of clothing or accessories have to feel comfortable, so you concentrate on playing instead of adjusting your accessories!
As you probably know, elbow braces come in all shapes and sizes.
And if you come across one that restricts your movement too much, it has to go right back on the shelf – for there is no use having great support if you cannot even extend your arm to hit the ball.
Finally, your chosen elbow brace has to help with the pain.
There is nothing worse than having to miss playing tennis because of a niggling injury, so your elbow brace has to allow you to get back out there on the court and play, ideally without pain!
I must admit, I already had a few brands and tennis elbow braces in mind when making my recommendation, but it is the Simien tennis elbow brace that wins the contest for me.
As you can see from the image, this brace offers support without too much bulk, so it won't restrict movement. For me, it provides everything you could want in a tennis elbow brace, and it provides the perfect blend of the criteria outlined above.
There are two main reasons however that this won the contest, besides the fact that it contains all the necessary characteristics. I like that when I have used it in the past, I didn't even notice it was there after a few minutes.
I also like that you can adjust the pressure simply by tightening or loosening the Velcro strap.
If you prefer more pressure on the tendon, you can of course pull the Velcro tighter, but it truly is adjustable so that you can find the right mix of pressure needed vs. pain relief.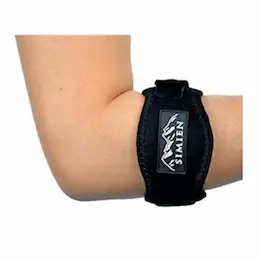 SIMIEN 2 Count Golfers Compression Sweatband
How To Choose The Best Tennis Strings
Choosing a racquet that suits your game is one thing, but your tennis string is undoubtedly the second most important category when choosing your equipment.
And just like tennis racquets, tennis strings come with a whole host of specifications that can seem overwhelming at first.
Do you want one that is purely for durability?
Do you want a string that is for feel?
Do you want a string that is going to give you more power?
These are all common considerations that come to mind when choosing the right tennis strings.
What to Look For
There is such an intricate relationship in tennis between the racquet, the strings and the actual contact on the tennis ball.
String types are often related to a particular game style too, much like the tennis racquet discussed earlier.
If you are a baseline player you will be on the hunt for a nice blend of durability and power. If you are a player who chooses accuracy over power, you might be on the lookout for a softer string with more feel.
But just like the other categories, I believe that there is a blend of characteristics that will suit all players.
Ideally, you want a string that suits all of the criteria identified above, although it isn't easy to find.
You want a string that is highly durable and has great power without compromising your feel on the ball. Trust me, there are plenty of tennis string types out there are that are amazing for one of these criteria, but terrible in another.
I've used strings that provided amazing pop on the ball in my time, yet I felt like I was hitting the ball with a cricket bat rather than a tennis racquet!
I've also used strings that provided an unreal feel, such as the natural gut, but then my bank balance was emptied almost weekly due to the poor durability!
So this is why you need to find a good blend of all three, and I truly think that I have managed to find a string that is a perfect match.
I have honestly never used any other string that even comes close to this quality or this power scale.
This is my string of choice 7 days a week, 365 days a year. Not only does it give me probably 15 – 20% extra power, but also it is durable and has an awesome feel on the ball.
But please take note that this is a higher-end string, meaning that if you are still in the beginner to the development stage, this string probably isn't suitable for use in the whole racquet.
You can still use it if you are a beginner, but I would highly recommend blending it with a softer string in the crosses, such as synthetic gut string.
With this string, I find that my ground strokes are significantly more penetrating, thanks to the added power and increased spin that you can get on the ball.
And the best part is that this added power and spin comes without any added effort, so you can still conserve energy throughout the game or practice.
It is also an effective string for those that may like to slice the ball, thanks to the octagonal shape naturally biting the ball's surface more than a circular string.
To solidify my choice, Babolat RPM Blast is the string of choice for none other than 19-time Grand Slam champion Rafael Nadal.
No, I'm not promising that this string will make you play like him, but it's clear to see the power and spin that he is able to get. And it seems to be working just fine for Nadal!
If you're still not too sure, check out this play-by-play instructional piece from the e-commerce tennis guru site, Tennis Warehouse.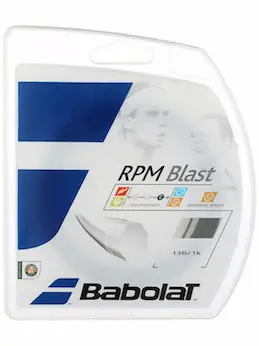 How To Choose The Best Tennis Balls
Tennis ball selection is another category that is often overlooked by many players, but depending on the balls used it can greatly impact how you play.
Tennis balls are typically manufactured to be suited for either clay court tennis, hard court tennis, or grass court tennis.
And the specifications for tennis balls do not actually vary all that much since they are all the same shape and size.
However, scratch beneath the surface, and there are some finer details that can have a major impact on the way you perform.
I've been fortunate enough to play with many different types throughout my career, and I like to think that I know the difference between a bad ball and a good ball!
What to Look For
Some of the most popular brands for tennis balls include Wilson, Head, Dunlop, Babolat, and Slazenger.
You've probably played with at least one if not all of these brands at some point, and there are some subtle differences between them that often go unnoticed.
Wilson's balls are typically much livelier than the others, meaning their speed and reaction to the court is quite substantial.
Head tennis balls and Dunlop balls are actually less 'fluffier', meaning that you do not get as much feel on these tennis balls as others.
In contrast, Slazenger balls are extremely 'fluffy', meaning that you'll get a great feel on the ball – yet they aren't quite as bouncy as others.
And Babolat balls are usually manufactured for clay court tennis, meaning they are incredibly bouncy!
Well, it would appear again that we are spoilt for choice!
Of course, the specifications above provide just a brief overview of the performance for each different brand.
And when you actually get on the court and use each type of tennis ball, the difference is subtle yet powerful.
You will start to notice how the ball feels when it connects with your strings. You will begin to notice how the different types react to topspin, slice, and flat play. And you will notice how the ball reacts when it hits the court surface.
These are all factors that can prove to be positives or negatives depending on the ball you choose.
Furthermore, these factors may also be suited or not suited to your game style.
So in the interest of finding a balance for the ball characteristics as well as how they perform regardless of the court surface, I have narrowed down my selection and provided my recommendation below.
The prestige of this ball is kind of given away in the title here, but my personal tennis ball of choice is the Wilson US Open tennis ball.
I've used this tennis ball on all surfaces, and I have to say that it performs the best on average out of all the options listed above.
It has a great feel, solid durability, and it is an incredibly lively tennis ball.
This means that it reacts well to the court surface, regardless of external factors such as temperature, spin, or speed of the shot.
I guess there is a reason that this is the ball of choice for the US Open Grand Slam!
One of my biggest determining factors for this recommendation is how the ball performed after a good amount of usage.
To be honest, Babolat tennis balls perform just as well as Wilson initially, but the deterioration and dip in performance is much faster with that brand.
The Wilson tennis ball remains lively after hours of play, and it doesn't seem to lose as much fluff on the edges as some of the others. This fluff gives the ball a good feel, and the fact that it doesn't fade away after an hour of play is a credit to the ball's quality.
If you're still fascinated about the specifics of tennis balls, including how they are made, further product specifications, and professional insights – have a look at this incredibly interesting piece featured in the Wall Street Journal.
They even talk about how tennis balls play differently for both men and women! It is truly an intriguing article.
How To Choose The Best Tennis Ball Machine
Are you sick of not having a partner to play against? If so, you might want to consider getting a tennis ball machine.
Or if you'd rather just have a good workout while practicing a few strokes, it is also a good option.
Some criticize the effectiveness and 'unrealistic' aspects of a tennis ball machine compared with real play, and to be honest – it is understandable.
Of course, it isn't going to be quite like the real thing, but using a tennis ball machine can still be a great way to develop your game.
Let's face it, sometimes schedules clash and life gets in the way of playing tennis with other people – so it isn't a bad idea to have a tennis ball machine as a backup.
What to Look For
While it isn't my preferred method of practice, I still know a thing or two about selecting a high-quality tennis ball machine.
Like other categories, there aren't too many variations in terms of the specifics of tennis ball machine performance.
So really it just comes down to how many features the machine does possess, as well as how easy it is on your wallet!
Firstly, you are looking at over $1,500 for a quality and reliable tennis ball machine. So with this said, you want to try and get a machine for as close to $1,500 as possible – otherwise it can become incredibly expensive.
Secondly, you want a machine that is battery powered (ideally with 2-4 hours battery life) since you will set up the machine in the middle of the court, and the nearest main socket could be some distance away.
Thirdly, you want a machine with a considerable ball capacity. This allows you to hit plenty of balls before needing to go and pick them up to reload the machine. And finally, you want a machine that can easily wheel around the court.
That seems like a lot to ask for, right?
I agree, but if you're going to make the investment, you want to make sure that you do it right.
There are plenty of ball machines out there that promise the world and fail to deliver. And let's be honest, it's not like you are buying a can of tennis balls where if they are poor quality you won't be too upset.
This is a big investment, and it's one that requires care and attention. I don't want you to make any mistakes if you are thinking about this purchase, which is why I have taken the liberty of providing my personal recommendation for this category below.
On the market, at just over £1,000 is the Lobster  Elite Freedom tennis ball machine.
While I haven't experienced this machine first-hand, I have done extensive research in order to make my recommendation.
This is by far the most cost-effective machine while including as many key features as possible.
It is battery powered, has an adjustable handle for ease of mobility, can hold up to 150 tennis balls, and can fire balls your way at 70mph!
These speed settings can be adjusted, and the ball can be fed to you anywhere between 10 and 70 mph.
While the ball machine can't put spin on the ball, reviews indicate that is highly accurate in feeding to a certain part of the court. This is ideal since you can specifically practice any given shot thanks to precise feeding capabilities.
And to top it all off, this machine has a battery life of up to 4 hours.
So if you have the power to go through a 4-hour practice session with a ball machine, this could be the machine for you.
If you would like a full review complete with the pros and cons for this particular ball machine, have a read of this highly informative piece on the website: Tennis Guru.
Lobster Elite Freedom Battery Powered Tennis Ball Machine
How To Choose The Best Tennis Overgrip
Choosing the right tennis overgrip is critical as the main piece of equipment attaching your hand to your racquet.
So many things can go wrong with this category. You could choose a grip that is too slippery, a grip that is too rough and gives you blisters, or a grip that is just generally uncomfortable.
But so many things can go right, as long as you have the necessary knowledge and information to make an informed decision. Well, you are in the right place for that!
I am well versed in the topic and have used several different types throughout my many years of playing.
What to Look For
Many people think a tennis grip is just something that goes around the racquet handle so that you do not hold the wooden surface underneath. But there is so much more to it than just this.
You need to know the specifics and understand how this can impact your game.
Firstly, let's identify a key difference between an overgrip and a replacement grip – since these are often confused.
A replacement grip goes directly over the wooden surface on the racquet handle, and it is typically much thicker than an overgrip.
Whereas an overgrip is a type of grip that goes over the replacement grip and is usually very thin and tacky – or at least this is what it is supposed to be.
The Invention of the overgrip came about thanks to one fundamental reason. Players wanted a way to get more comfortable on their handles, without increasing the grip size.
And a good overgrip does exactly that. It needs to be thin but strong, tacky but comfortable, quality but not extortionately expensive, and it just needs to get the job done right!
Tennis has come an awfully long way since the early days of carpet-style tennis grips that would carve up your hand like no tomorrow!
Nowadays, the grips are much more advanced and are much easier on the palm of your hands and the tips of your fingers. But this by no means indicates that they are all perfect.
Some of the better brands for overgrips include Wilson, Babolat, Tournagrip, Head, and Tecnifibre. But I believe that one of these brands has a particular product that stands well above the rest.
In my opinion, this is the Godfather of all tennis overgrips. The brand Tournagrip originally came onto the scene thanks to the likes of Andre Agassi and Pete Sampras. But the grips that they use still follow a kind of carpet texture – not ideal for the modern-day tennis player.
In fact, the demands and requirements of over grips in this day and age have changed considerably.
The team at Tennis Express has managed to debunk several myths about the over grip, and they have identified some of the most popular features that the modern-day player looks for.
Tournagrip took note of the changing requirements for overgrips, drastically modernizing their range of grips. And the release of the Tourna Tac overgrip gave me something that I had never experienced before.
To start with, it is one of the tackiest grips I have ever used, even when competing in hot climates, where of course, your hand will sweat a lot.
I still practically had to peel my hand off the grip at the end of matches. Now that is tacky!
I've never really been someone who focuses on color, but the striking purple of the grip also matches well with various tennis racquets.
Aesthetics aside, the grip is very comfortable and is extremely sweat-absorbent. Finally, while the word durable is not often used with overgrips, I feel it is appropriate in this instance.
The grip doesn't lose its colour quickly, and it is slow to wear out on the high impact areas like the bottom of the grip. This makes it one of the most durable overgrips that I have ever used too.
To build on an already impressive resume for the Tourna Tac overgrip, it is incredibly cost-effective compared with other brands like Wilson and Babolat.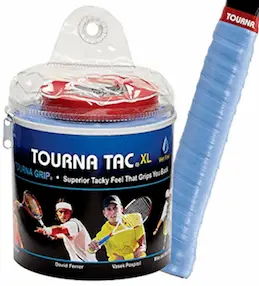 Unique Tourna Grip Overgrip Tour
How To Choose The Best Tennis Socks
Padded in the right places, strong, breathable, durable, thick, and comfortable – this is what you are looking for in an appropriate pair of tennis socks. That's not too much to ask, right?
You'd think that all of the top brands manufactured socks of this quality, but this isn't the case.
As we have already seen throughout this article, different brands specialize in different categories. And for tennis socks, the leading brands are unquestionably Nike and Adidas.
These two clothing brand giants have been wildly successful across a whole range of sports, yet their quality has also spilled over into the tennis socks category.
What to Look For
Now that we have the primary features laid out, we must delve deeper and see the specifics needed to be a great pair of tennis socks.
We will address each feature one by one and identify exactly why this is needed.
Tennis can be an extremely high impact around the ankles, heels and toes.
Therefore, the socks' padding must be reinforced around the heels, ankles and toes to prevent friction and subsequent blistering of the feet.
Another feature that goes hand in hand with reinforced padding is the strength of the socks.
They need to be flexible enough to stretch out fully over your arches and above your ankles, but they must be strong enough to ensure that the material does not become weakened due to washes or playing time.
We can couple the next two features together (durable and thick) since the two typically go hand in hand. Each time you take to the court, your socks will inevitably move across your feet and rub on the inside of your shoes.
Therefore they need to be thick to prevent rapid breakdown and have several layers of fabric to last as long as possible while staying comfortable.
Our final two features can also be coupled together (breathable and comfortable).
By being breathable, your feet can actually 'air out' even while still wearing them, and this helps to prevent moisture build up.
And by preventing moisture build-up, your feet will remain fresh and the nice dry feel should stay intact – therefore ensuring that you have a comfortable set of socks on even after several wears.
So now that you know what to look out for, I will give you my recommendation on the best socks on the market today.
This has been my favourite pair of socks now for several years, for all the reasons you might expect.
The padding around the heel and toes is awesome, especially for someone who is a bit prone to blisters and even toenails falling off like myself!
This protective barrier has proved highly effective for me, and I suspect it can do the same for you.
On top of this, the fabric over the socks' arch has been woven tightly. This makes it fit your feet like a glove, and also prevents the sock from sliding around too much.
The icing on the cake for me is the choice of material used on the arches and the upper sock.Nike has chosen to use mesh fabric for these areas, which greatly helps to reduce sweat build-up – even after practice sessions lasting for several hours.
I'm sure there are other socks out there that contain some of these important features, but this is my personal preference by a long way.
This pair of socks isn't exactly rough on the eyes, either. But of course it is far more important that they basically meet all of the prerequisites needed for a solid pair of tennis socks.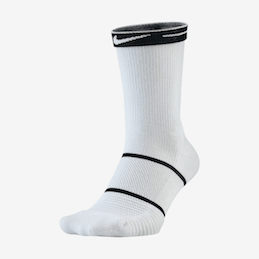 Nike Court Essentials Crew Tennis Socks
How To Choose The Best Tennis Dampener
There is nothing worse than striking a tennis ball and repeatedly hearing that annoying ping sound, not to mention the subsequent vibration that rattles up your arm.
And if you miss the strings and hit the ball hard off the racquet's frame, the vibration can be quite painful.
Welcome to the world of tennis dampener's (sometimes called dunby's / shock absorbers in certain corners of the globe).
These little gems are fixed just below the bottom string of your racquet, and as long as you buy a good one you will not feel any vibration when hitting the ball. But then the question becomes, how do you pick the right one?
What to Look For
99% of tennis dampeners are made out of a rubber material since this helps to absorb the shock that results from striking a tennis ball.
They come in all shapes and sizes really, and there are multiple brands that offer these to players.
The interesting thing about this product is that it isn't actually necessary to have one, but rather it is a personal choice whether you like to play with one or not. I like to use one at all times, and there are certain specifics that I look out for before buying one.
First of all, I prefer the smaller tennis dampeners that can be fit between two strings.
This is mainly because it takes up less space on the racquet, and if you don't quite catch the ball in the middle of the strings there is less chance that you will hit the dampener.
Those that have mistimed the ball and hit the dampener before know what I'm talking about!
But if you are fortunate enough that this hasn't happened to you yet, be ready for your tennis dampener to fly off the racquet and bounce off to whatever region it chooses – highly annoying!
There is also a little rubbery piece in the middle of the tennis dampener that connects the two sides together.
I prefer that this rubber piece be as close to the top of the dampener as possible, since then you can push it up tight onto the bottom string and it basically eliminates all vibration.
These are the only two specifications that I look for really. I know, it is significantly less than the other categories!
These are simple to check for in the product specifications, but I do prefer one particular tennis dampener to the others.
While it may seem silly, I love Wilson's smiley face vibration dampener.
Not only are they compact and can be fitted tight onto the bottom string; they are not branded by a particular racquet manufacturer like Head or Wilson.
This means that even if you change your racquet at some point down the line (which is highly likely), you can just switch this dampener over without feeling too 'brand conscious'.
And for all you tennis players that are a bit prone to getting angry on the court, this gives you something soothing to look at. Trust me (as strange as this sounds), it actually works if you are having a bit of a rough day and not playing too good.
You can get these smiley's in a whole range of colours including yellow, green, blue, red and many more.
And if a smiley face isn't quite your style, you can change it to get a winking face, an angry face, a laughing face or essentially whatever you want.
The Wilson range is really extensive, so go ahead and choose whatever emoji you would like sitting on your racquet!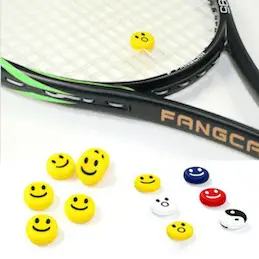 How To Choose The Best Tennis Books
While tennis is more of a 'learn by doing' game; there is still an awful lot of valuable information that can be found in the right tennis books.
There are books that cover all sorts of categories such as the mental side of the game, the loneliness of the professional circuit, and of course biographies of some of the games greatest.
However, I feel like the most practical information can be learnt through the 'how to play' books out there. I particularly enjoy books that discuss technique, strategy, and above all just how to win tennis games.
What to Look For
You will hear people talk about how tennis is such a mental game, and while I agree, I don't believe that this is the most important factor unless you are playing to a very high level. I believe that the ability to fully grasp the fundamentals of the game is much more important before addressing the mental side.
Tennis really is a sport that is so much more technical than others. Not only do you need to know how to hit the ball, but you also need to understand the various spins, how to apply them, and just where exactly to hit the ball. That's a lot to think about, and to access that valuable information you of course want to access the most valuable minds (coaching minds that is).
There are some truly amazing coaches out there, and thanks to tennis books you do not need to try and get in front of them personally to access their knowledge. Some of the most prestigious coaching figures of the game today include the likes of Uncle Tony (Nadal's coach), Marian Vajda (Djokovic's coach) and Patrick Mouratoglou (Serena Williams's coach).
While these are all incredible coaches, and some do have their own books available for purchase – none of them even come close compared to one particular man. I did some major digging into this category, looked at so many books, and still this man continued to rise above the rest for his information and his inspiration. He will forever go down as a legend of the coaching game, and he has been responsible for so many players reaching the top level.
Check out my recommendation below for his phenomenal book!
Nick Bollettieri has been a legend of the game for many years now. So many top-level players credit their success to this man's teaching methods and techniques. And now he shares them with the world through this book, that is available both online and through any major bookstore.
The reason I particularly like this book is because he has blended all aspects of the game into one complete manuscript. He talks in-depth about technique, how to deal with the mental side, how to find opponents weaknesses, fitness drills, and so much more. This man provided the platform for some of the games greats to emerge including Andre Agassi, Serena Williams, Maria Sharapova, Boris Becker and many others – so it's fair to say that he knows his stuff.
His track record really speaks for itself, and after reading even just a couple of chapters in his book it is clear why Nick Bollettieri has such a reputation. He breaks the game down in such a clear way, and identifies complicated concepts into an easy-to-understand manner. Regardless of your current playing level, you will stand to learn something from this book.
Even if you already know most of the technical side of things, keep the book with you and look back over the pages to refresh your memory and gain a different perspective on things. It truly is a masterpiece.
To get a quick glimpse into the teachings of Nick Bollettieri, check out this YouTube video where he discusses attitude and the mindset required to become a champion. It's truly awesome: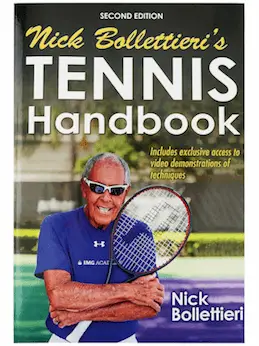 Nick Bollettieris Tennis Handbook 2nd Edition
How To Choose The Best Tennis Bags
As the item that keeps all your worldly tennis goods together, it is rather important that you know how to choose the right tennis bag. Here you keep your racquet, shoes, towels, change of clothes, snacks, fitness equipment, and whatever else you like to carry around with you onto the court.
Since you will be carrying so much stuff around, why not take the time to source a really good bag? You will be glad that you took the time and effort to research this category each and every time you travel for practice or events.
So keep on reading, and I will show you how you can make a more informed decision for your tennis bag selection.
What to Look For
Personally, I always go for the 12-racquet tennis bags. Do I always have 12-racquets on me? Of course not! In fact, I'm not sure if I ever had 12 tennis racquets on the go at any one time throughout my career. But there is a sound reason for choosing a 12-racquet tennis bag.
As mentioned above, you will be carrying so much equipment in your tennis bag that you absolutely need adequate space. So if you are like most people and you only have two or three racquets, the rest of the space can be used for all of your other equipment. After all, if you can carry everything in one bag rather than two, this is surely beneficial and easier to manage.
Besides having adequate space, you will want your gear to be protected. Therefore the last thing you want is a bag that has flimsy external material. You want a firm and solid outer shell on the bag for maximum protection. This is even more important if you are travelling for competition. Believe me, there is nothing worse than arriving to an international tournament and finding that your racquets have been damaged on the plane!
The two final specifications that I always look for is how breathable and sweat resistant the inside of the bag is. Since you are constantly putting sweaty shoes and clothing into your tennis bag after playing, this is a hugely important factor. I usually look for bags with mesh material on the inside, as this helps absorb moisture in the air and remove any unpleasant smells from sweaty clothes and shoes.
This is an even bigger bonus if there is a separate compartment to put your shoes away from the main compartments.
Besides the fact that this racquet bag is endorsed by one of the best players ever to live, it ticks all of the boxes that I look for in a bag. It even has an extra feature that I prefer, which is the fact that it is completely black in colour. Given that we constantly throw our bags down onto grubby hard courts, clay courts, and even grass courts, it is inevitable that the bag will get dirty. So for me, having a dark color across the whole bag is a positive thing.
I love that this bag has Wilson's Thermo guard material on the edges of both racquet compartments too, so you will not need to worry about racquet damage when traveling. The bag also uses mesh material in the compartments designed for equipment and clothing, which again ticks a very important box. And as shown in the name, this bag is a 12-racquet bag, meaning that it has more than adequate space to fit in all of your equipment.
To confirm my decision for this bag, it also has adjustable and padded straps for carrying the bag around. It's rare that you will need to carry the bag for a huge length of time or for a considerable distance, which is why I didn't put this as one of my critical features. But the fact that it does have this feature only affirms my decision to recommend this bag.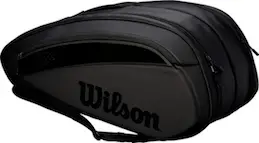 Wilson Federer DNA 12 Racquet Bag
How To Choose The Best Tennis Knee Brace
For our final product category, we will be taking a look at how to choose an appropriate knee brace. Wear and tear on the body is unfortunately an unavoidable side effect with tennis, as discussed within the tennis elbow brace category previously. All of that hustling across the baseline, charging down drop shots, and those fitness sessions for the sport of course takes its toll on the body.
So just like the elbow brace, if you start feeling a bit of pain in the knees you may want to consider looking into a tennis knee brace. Sure it may not be cool to wear one, and it can even be a sign that you aren't as young as you used to be, but it will keep you on the court and enjoy this awesome sport.
What to Look For
You don't need to go and see a physician to know if you are having some knee problems because of tennis. It is a perfectly common thing for people to experience some pain who are playing a lot, since the strain on the body can be quite significant. So now that we have accepted this is a fact, let's address exactly how we can counteract this pain and keep you on the court.
There are so many problems that you can get such as tendonitis and other unwanted issues with the knee joint. It's a hot spot for injuries, so you are going to want something that provides stability, comfort, and most importantly reduces the pain that you feel when playing.
Unlike the elbow brace where you can get just one strap that goes tightly around the ligaments, the knee brace requires slightly more reinforcement. Of course your legs are the limbs responsible for carrying the rest of your body around the court, so they are the joints that take on the most pressure out of all them all. This is why I feel that it is important to look for a brace that offers protection both above and below the knee.
All of the ligaments are connected around this joint, so finding a brace that provides stability for all is the golden ticket. Finding a brace that offers support around the entire joint will reduce the efforts required from your ligaments to try and stabilize the joint themselves. This of course reduces pressure, stress, and will subsequently reduce the pain.
You also want to find a brace where you can easily adjust the tightness, since this then contributes to your general comfort with the brace itself. I prefer flexible but strong material, and an adjustable Velcro strap to adequately meet these criteria.
McDavid really is one of the best brands out there for injury support equipment. And while I haven't needed to use this knee brace before (touch wood), I have had multiple friends who absolutely swear by this knee brace. Of course I looked into it myself, and this knee brace offers a remarkable range of features.
McDavid has even provided a whole write up on their website for who should wear a knee brace, how to use it, and lots of other important information.
Just by looking at the picture you can see that it offers huge support across the entire joint. It has adjustable Velcro straps, very flexible material, and it is even ventilated to prevent excessive moisture build-up.
The material does not use any latex either, so you needn't worry if you have a latex allergy. And there are also elasticized straps to provide additional support at the side of the knee, therefore stabilizing the joint further.
Better still, this knee brace has not been manufactured specifically for the right or left knee.
So this means that you can buy one and fit it to either knee, depending on where your pain is.
With all of this said, however, it is highly advised that you seek medical attention if your pain does not improve or gets worse.
The last thing you want is to take time away from the court, when it could have been prevented.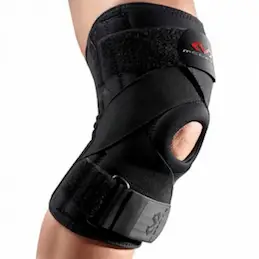 Conclusion
I really hope that you have found these product reviews and specifications helpful in your search for finding the best tennis equipment.
While I have provided my own recommendations for each category, I still advise that you conduct your own research before rushing into any purchases.
Tennis is such a vast sport that it is very difficult to find one particular product that will suit every type of player. In fact, it is nearly impossible since there are so many factors to consider.
I have recommended the products that will suit the majority of players, but of course these products won't suit all of you. And you will also have personal preferences for each of these categories.
For example, you may find that you want to reduce the amount of power on your shot, in which case a string that produces power may not be the one for you.
It is all relative, and again I would encourage all of you to conduct your own research based on your own personal preferences.
Regardless of your playing level and what you want to do with your tennis, I really hope that you have found some value in this article.
And if you have, please feel free to share it with any friends that you feel might also benefit from this information.
We all share one common motivation here: to facilitate fun and enjoyable tennis playing for all. It really is a sport for life, and I hope that you will continue to enjoy this incredible sport as much as I currently do.
I wish you all the best with your product selections, and with any future plans you may have with your tennis game.
Thank you.