Your Guide

Gavin Davison
If you are an avid walker/hiker, you will know all too well that after miles and miles of exploring your favorite places, your feet really can START TO SUFFER. 
Our Top Pick:
Whether you are walking up and down mountains, strolling through the countryside, or combining a mixture of the two, choosing the right shoes is essential.
Many of the 'experts' will tell you that hiking or walking boots are always the best solution if you are going to walk FOR HOURS ON END.
However, tennis shoes can often provide a more simple and often cheaper solution, which is why I've covered this category in detail below.
Top Tennis Shoes For Walking
What To Look For
Here's the reality – unless you are going to be walking through treacherous terrain or unstable and difficult walking paths, it's just not necessary to go and purchase an expensive pair of hiking boots.
Tennis shoes are more than capable of providing adequate support and comfort to keep you out there walking and exercising.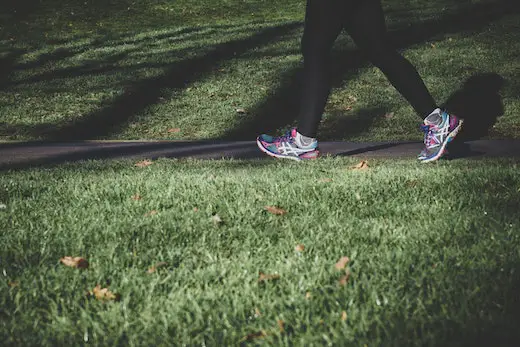 Generally speaking, you want to find a pair of shoes that offer additional padding and reinforced stability in HIGH IMPACT AREAS.
However, perhaps more importantly, you need a pair of shoes that is less likely to cause friction that will lead to painful blisters.
This is far more common in people who enjoy walking long distances as a form of exercise, so it's one of the main aspects to try and counteract.
Like with any activity where you are going to be wearing one pair of shoes for a very long time, comfort is always going to be the MAIN PRIORITY.
When you are out walking, you want to be able to take in the scenery and enjoy the fresh air – you don't want to be preoccupied with thinking about how much your shoes are hurting.
I believe it is absolutely possible to find a shoe that blends all of these characteristics into one, and I've provided my recommendation here.
Once you look at the photo of these shoes, you will see one unique feature.
The opening of the shoe is much more compact around your feet, which provides awesome support for when you are walking around.
This then links into the secondary benefit – by being tight around your feet you will find that your feet do not slide around as much inside the shoe…
.. meaning LESS FRICTION and FEWER BLISTERS!
I've had several tennis-playing friends rave about the comfort of this shoe, and for the icing on the cake – they are black.
As with any shoes you wear when you are out walking in them, they are going to get dirty, but since they are black, they are much easier to clean.
Best Women's Tennis Shoes For Walking
Best Men's Tennis Shoes For Walking
Useful Links