Your Guide
Alexandra Romanmi
Great dancers usually start out their professional career when they are young, so it is important to have the right influences at the right time in order to get yourself inspired to pursue your path.
Dancing is a tough career that takes up most of YOUR TIME, ENERGY and SOUL, so you need to make sure you are 100% dedicated to it.
Our Top Pick:
And if you are, it will pay off. If you are not, it will still pay off, but only as a hobby.
What To Look For 
When I was little, a while before I started taking my first ballet lessons, I watched ballet shows from the Bolshoi Theatre in Moscow online.
It felt like watching a fairy tale played by real people.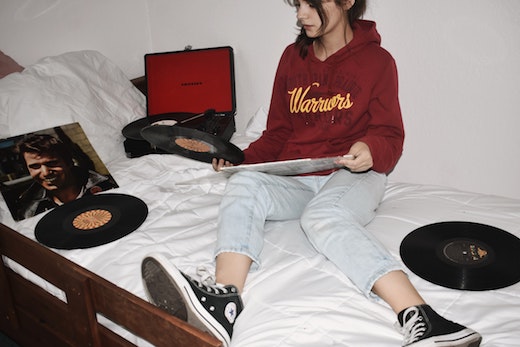 It was great, but somehow, as a very young dancer, I felt like I could not relate to the kind of performance the professional dancers were able to offer to their public.
I needed something closer to me, closer to the real people struggling to get where the Russian ballet dancers I was watching already were.
So I started watching movies like Step-Up, Ballet Shoes, Center Stage and Footloose, which featured simple adolescent stories that made my dream to become a ballerina seem a LITTLE MORE ATTAINABLE.
However, my favorite teen movie of all time will remain to Save the Last Dance.
As a film of BEAUTIFULLY DEPICTED CONTRASTS, it tackles important social issues such as:
Interracial Relationships
Poverty
Fatherlessness
Dysfunctional Families and
Gun Violence
In a way that is accessible to young people. 
Also, the dance scenes are real good but easy to relate to.
Julia Stiles is Sara Johnson, a promising dancer who hopes to be admitted to Juilliard School, one of the world's leading drama, music and dance schools.
She fails her audition exam and learns that her mother died in a car crash on the way to see her audition.
Hopeless, she moves in with her father and transfers to a high school in the south side of Chicago, where she happens to be one of a handful of white students.
Here's where Sara's immersion into the HIP-HOP CULTURE BEGINS.
She becomes friends with Chenille and her brother Derek, skilfully portrayed by Sean Patrick Thomas.
Derek is trying to escape the gang lifestyle and follow his dream of becoming a doctor, by getting accepted to Georgetown Medical School.
On his way to achieving his goals, he decides to help Sara succeed in her career by incorporating more hip-hop into her ballet skills.
I must tell you the results are amazing and her transformation is stunning. 
There are a few dance scenes like the ones in STEPPS club that will simply make you jump off the couch and start learning some hip-hop moves yourself and more than that…
…To follow your dreams no matter how complicated the road to success may be.
It is good for you as young dancers to get a taste of completely different styles other than the one you already are focusing on, as it will turn you into the well-rounded artist you wish to become.
Honestly, as a ballerina, I have resonated very well with Sara and I have tried to broaden my (dancing) horizon by adding SOME GROOVE to my stiff classical style.
It works and it feels great and I highly recommend it.
This movie also works the other way around. You could try adding some ELEGANT MOVES TO YOUR ROUTINE if you are a hip-hop dancer.
I am quite sure it will make you a very interesting character on the dance floor.
However, no matter on which side of the barricade you are, Save The Last Dance shows how influential and important hip-hop culture is for a dancer.
And how inspirational it can be for an artist in general while depicting a beautiful love story between two people who were never supposed to be together.