Someone asked me once what I would save if MY HOUSE was on fire and I could only pick one object before I left it…
..My hand instinctively went to the delicate silver chain I had around my neck and looked for the ballerina pendant that was hanging from it.
This, I said while holding the LITTLE PENDANT between my fingers.
Your Guide
   Alexandra Romanmi
The pendant is not in itself special if you judge it by its MATERIAL VALUE, but if you understand its emotional value, it is absolutely PRICELESS.
My mother gave it to me when I was 14. Take this so you'll always remember I'm there for you, my little ballerina, she said.
She gave one to my sister, who is also a dancer, a few years after that. We are both wearing them EVER SINCE.
They not only represent what we have become but also the person who has always been there for us on the long road of our becoming.
Even if today we live FAR APART from one another, this little symbol unites us and REMINDS US that we'll always support each other.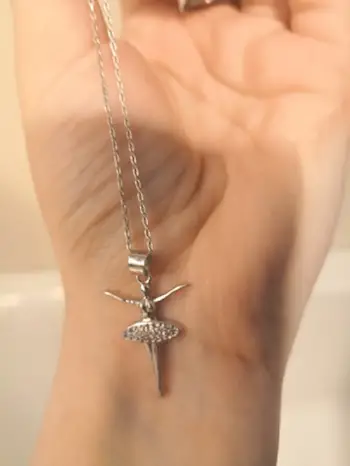 (this one is my own ballerina pendant and it comes with me everywhere.)
Young dancers need this kind of symbolism in their lives as it will shape who they become as adults.
In a world that gets more and more complicated and confusing, young people need to understand the value of very simple things.
It won't be another pendant, another PIECE OF JEWELLERY they will throw into the closet and forget about…
…it will be a powerful statement from their loved ones, a symbol of their love and unconditional support for their hobby and maybe a future career.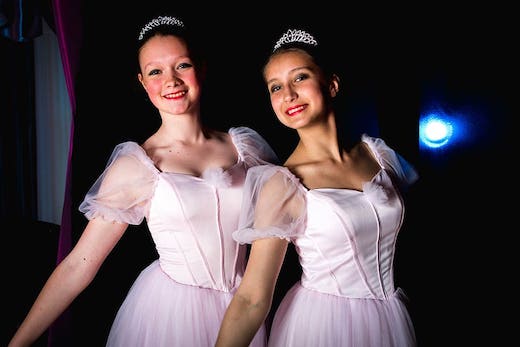 Young dancers who are at the beginning of a LIFELONG COMMITMENT to the art of dancing are usually people who will appreciate this kind of symbolic gift more than ANYONE ELSE…
..understanding its depth and value through their artistic and sensitive soul.
When picking the best pendant and necklace model, make sure it is LONG-LASTING.
Choose a material that will stand the TEST OF TIME, as you'll want your young one to have it with them for many decades, preferably in good shape.
Gold and silver are good options as they do not RUST.
They don't need to be BIG or ostentatious; even the tiniest one will do the trick. There are many options available, but I chose one that is close to what I have received as a young dancer.
My recommendation will be from an Etsy shop called kyooziAccessories.
This sterling silver ballerina pendant comes with a beautiful and delicate necklace and would make for a GREAT GIFT in my opinion. You get to choose the length of the silver necklace, as it can be 14, 16, 18 or 20 inches long.
The pendant's height is 25 mm and its width is 17 mm.  It is handmade and it comes in a cute gift box.
The designer also accepts making custom sizes and designs, so if YOU WISH to engrave something on it, you can contact her.
If you are a CREATIVE PERSON YOURSELF and wish to craft this gift on your own, you can always take your time and make your own dancer pendant.
There are tons of handmade pendant ideas on the internet, but this glass photo one is probably MY FAVORITE ONE.
Go ahead and try a few designs yourself and share the results with us!
Don't forget it's not necessarily the pendant itself that matters, but the MEANING IT CARRIES.
Useful Links