We all dream of bringing that Fred Astaire vibe to our dance routines, but from all of us, our fellow SWING DANCERS manage to do it the best. One of their tricks is the right pair of shoes.
Your Guide
   Alexandra Romanmi
They make a huge difference, from the type of sole they have, facilitating your TURNS and pivots to their shape that moulds to your feet and helps you keep your balance and master your technique.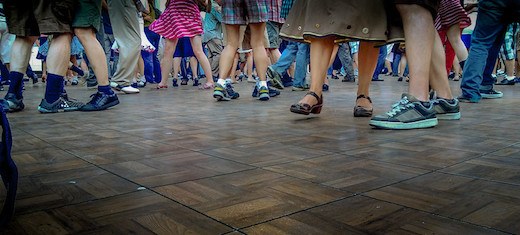 After all, you would not imagine Fred Astaire do his dance in a pair of sneakers, right?
Swing is all about that vintage style we all love and need to respect.
So what do we need to look for in swing shoes?
#1: Ava Shoes by sliding & swing
Recommended by my favorite swing dancers Kendall and Ronnie from Live Collegiate Shag, Slide & Swing is a very professional brand that makes GREAT footwear.
Also, they come from sunny Barcelona, my favourite city.  The black and gold model I recommend you has a VINTAGE look to it completing your outfit.
The strap that comes around the ankle is very secure, making you feel comfortable during your fancy aerials.
The heel is a wide and sturdy 4 cm model, with a rubber top. They are 100% handmade using natural leather, with pig LINING on the insole (forro porcino).
They are available in sizes ranging from 35 to 42 (European). If you don't like my black and gold choice you can opt out for other colours such as Lila, Violet, Lavanda, Mint. They're all just as pretty.
Pro-tip! If you want to get a matching pair for you partner, I recommend the Blucher Noruego from Slide & Swing. Check them out!
Pros
Their insole is very comfortable, with just the right amount of padding.
The leather is very high quality, durable, but flexible thanks to the cuts in their design.
The laminated goat leather has a very luxurious look to it, yet the price is affordable.
Cons
Their product descriptions are not available in English on their website www.slideandswing.es and that makes it a little harder to get the information that you need.
The stock is usually limited, so you might end up waiting for a long time for your pair of shoes. However, it's all worth it in the end!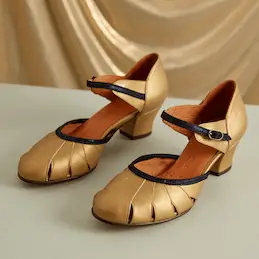 This recommendation comes straight from the land of fame, from Los Angeles, California.
The story of the Re-Mix vintage BRAND dates back to the '90s when it became popular among the retro lovers.
With a dedication to recreating models from the 1910s to the 1960s, the brand is the proud manufacturer of over 80 faithful reproductions of classic shoes from these eras.  So of course, I had to take a look at their products.
My favorite model from their collection is the Balboa Suede Combo, which also happens to be the most popular style on their website.
Oh well, I guess the Swing community and myself have the same tastes when it comes to shoes. This beautiful piece of red footwear is an elegant T-strap shoe coming from the 1930s.
The heel is fluted and measures 2 ¼". They are very soft and comfortable, helping you during the LONG rehearsals you are probably planning on doing. The upper is made from leather and so is the sole.
They are available in other colours such as Blue, Grey, Teal and Purple or you can go for the metallic palette, also available on their website.
They come in whole and half sizes ranging from 5 to 10 (US) and the manufacturer specifies that they run true in size with most customers ordering and wearing their usual size.
However, when it comes to width they also recommend dancers with wide feet to purchase the suede version of the shoes instead of the leather and metallic versions which are a little stiffer.
Pros
They are very high quality products, made by people who know and respect the vintage tradition.
They break in easily, without damaging your feet during the first rehearsals you use them.
You can submit a photo of you wearing the shoes and they will share it on their website and Instagram Page. Who knows? Maybe you'll become an influencer in the swing dance community over night or maybe you'll make some new online friends who appreciate your dance skills.
If you happen to be in London, UK, the vintage store Revival Retro Boutique, has the Re-Mix collection in stock, so you can actually try the shoes in person. The store is run by a fellow swing dancer, so drop by and say hello.
Cons
They are among the expensive choices, just above £200, plus the shipping if you don't live in London or Los Angeles.
I would have preferred a higher amount of cushioning for the insole. However, you can always purchase Dr Scholl's foot inserts for extra comfort. If you plan on doing that, make sure to order half size up.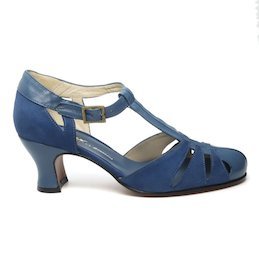 Balboa Suede Combos By Re-Mix Classic Vintage Footwear
#3: Swing001C 135 Metallic blue model by very fine dancesport shoes
The American brand Very Fine (Dancesport) Shoes comes as a high quality, yet very affordable alternative to the high end brands that may seem a LITTLE intimidating, especially for a beginner who is not sure whether he or she will actually enjoy dancing this style.
The Swing 001C 135 Metallic Blue model I recommend you will be a colourful addition to your collection, that could come with you to every rehearsal and (literally) support you there.
I don't know about you, but I get very attached to my shoes. They have cushioned insole that absorbs the shock, protecting your knee and HIP joints from damage.
The minimal shank board adds support and makes the shoe very flexible.  The leather material is good quality, resistant to scratches.
With a 1,6" medium heel, they could be the right choice for both beginners and professionals. They have a quick release buckling system and a double ankle strap that secures the shoes onto your feet, thus you'll avoid playing Cinderella on the floor.
They are available in sizes ranging from 4 ½ to 10 (US), and medium width. They come with a polyester shoe bag and a set of shoe fresheners.
Pros
They are a very affordable option, yet still good quality.
The heel is very sturdy, offering the right balance during complicated moves.
They are well cushioned, preventing your legs from becoming tired after the first hour of rehearsal.
Cons
They are a special order item, so it can take up to 8 weeks for them to arrive.
The brand does not offer any kind of customization options, such as colour, heel type or width. They are all standard.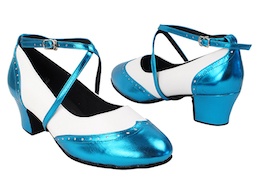 Swing001C 135 Metallic Blue Model By Very Fine Dancesport Shoes
This budget-friendly option from Ollio, comes with a convincing score of 4.2 stars out 5 on Amazon, based on 289 reviews. They are the most affordable, yet very good shoes on my list.
The model features a low-cut lace-up upper rendered in faux sued and the classic wingtip oxford DESIGN that gives it a vintage and classy feel. The sole is made from rubber, making it sticky, so they have a good grip to the floor.
They are available in a variety of colours and patterns, although my favorite will always be the black ones. They simply go well with every outfit. The heel height is 0.47", so it is very low and very well suited for beginners.
They are available in sizes ranging from 6 to 10 (US) and they also have a size chart you can consult before you order – some dancers recommend you to get a half size up your normal size if you want them to fit perfectly.
However, I chose my size and they fit just fine.
Pros
They are extremely affordable, just under $30 a pair, so you can buy multiple colours to fit all your favourite dresses without worrying about your budget.
They stay true to their size.
They are comfortable and really light, so they are easy to wear at long and tiring rehearsals.
Cons
The faux-suede doesn't let your feet breathe enough, so they get pretty sweaty. Make sure to always wear some cotton socks in them and maybe even some shoe antiperspirant.
Their lifespan is limited. They can get worn out in about a year of rehearsal, so don't expect them to last forever.