When trying to choose the best tango shoes as a beginner, you may get easily confused.
All the movies you've watched have ELEGANT ladies dancing in high heels, mastering the most complicated movements, but when you try to do even the easiest turn in those, your whole routine turns into a mess.
Your Guide
   Alexandra Romanmi
However, you don't want to keep dancing in your socks, no matter how COMFY they are.
You need to bring out the femme fatale in you and she does not wear comfy socks, but these heels you can't yet ROCK on the dance floor.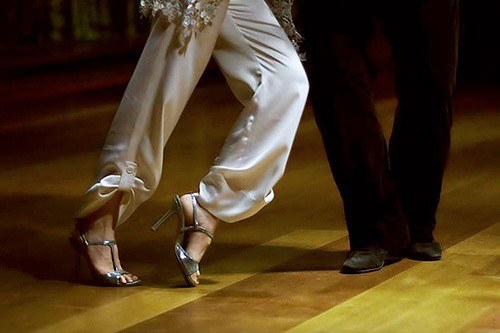 I know; I've been there too and it is frustrating…
…Good news is that you'll get there with a little patience and the right shoe choice.
YES, you'll get El Tango de Roxanne right.
If you are already a professional and the heel height is no longer a concern, you might be wondering about other KEY features that make your choice a little more difficult than it has to be.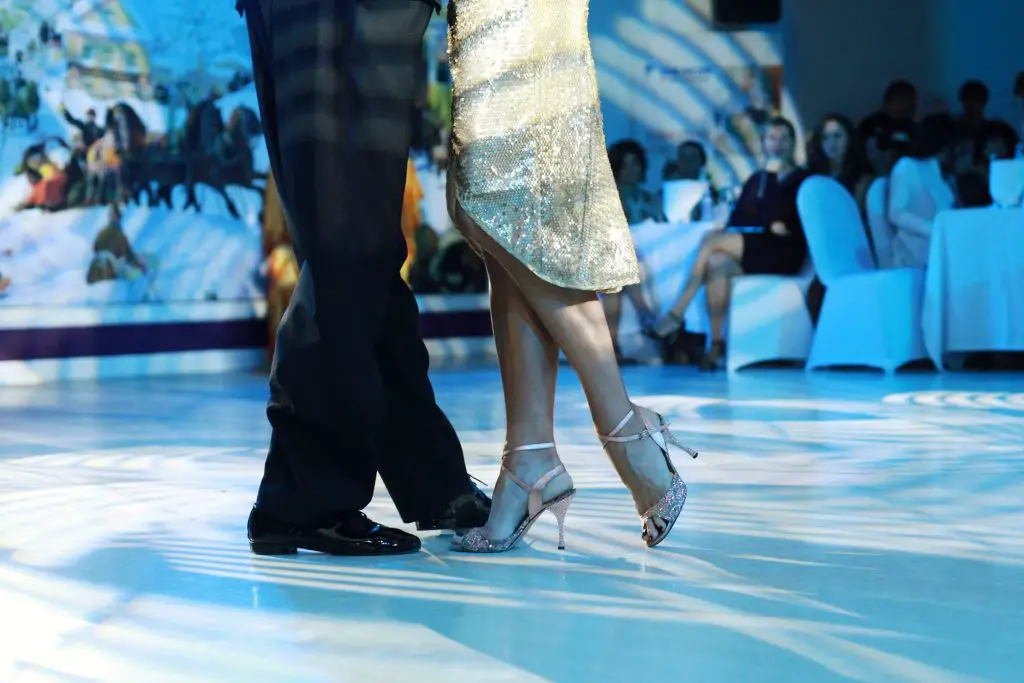 What is the appropriate type of support for your foot arch?
How can you spot the well-balanced shoes that will offer you the equilibrium you need when standing on one foot?
What is the best kind of sole?
What is the best material to choose from?
Which one will prevent sweaty feet?
If you've ever wondered about any of these key features, here's a list of five shoes that I believe will satisfy your needs:
#1: Nude Metallico by Comme il Faut
Nude Metallico by Comme il Faut
My number one recommendation is the Nude Metallico by Comme il Faut and it couldn't come from anywhere else but from the heart of tango, Buenos Aires, Argentina.
It's a beautiful and elegant pair of leather shoes, my preferred material when it comes to tango.
Featuring an open-toe box and a closed-heel cage, this choice will probably offer you just the right amount of freedom you need, while remaining secured to your feet.
The closure system is a subtle leather strap. As the sole type, Comme il Faut chose the leather sole, which I personally would have opted out for too, since it slides better and it is sturdier than a suede sole.
Their website talks about the secret of their hand-crafted shoes, which lies in the stunning design, in the quality of their materials and in their dedication to the art of craftsmanship.
They are available in sizes 34 to 41 (European), and 2 to 7,5 (British). If you're ever in doubt about shoes sizes, here's a very useful tool I use whenever I buy shoes from other countries.
The heel height is medium (7,5 cm or 3 inch), which should work just fine for both beginners and professionals.
The nude color I chose fits any outfit well; however, more options are available, just as elegant as this one.
They are very simple shoes, without any extra accessories, which is an important feature to look for in tango shoes.
Even if they may look nice, any extra pompon, flower, bow, etc., get in the way of dancing, as they can get stuck in your dress, or your partner may get his clothes destroyed by them.
Pros
The leather is of very high quality.
The craftsmanship is truly remarkable.
They seem very sturdy yet elegant and lightweight.
They're simple shoes, without extra accessories on them.
Cons
They are expensive dance shoes and may seem like a big investment, especially if you are a beginner.
If the dance floor is very slippery, suede soles may be preferable to the leather sole these shoe feature, as it grips better to the dancing surface.
#2: Tangolera A8B Nappa Nero Lucido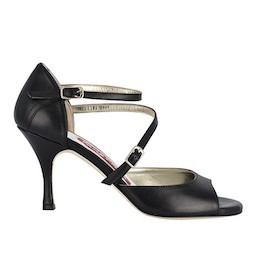 Tangolera A8B Nappa Nero Lucido
Here's another pair of medium heel shoes, this time from Tangolera.
They are designed by shoemakers working for a family business located in Rimini, Italy, so you'll get high end ITALIAN shoes made by people who love and respect the craft of dance.
Yes, the owner of the company is himself a tango dancer.
The upper is ENTIRELY made from Nappa leather, which covers the heels and the double heel strap.
Nappa leather is a type of soft, full-grain leather, an exceptionally durable material that is easy to clean. The insole features the anti-inflammatory plantar Bandolera NO MORE PAIN© system.
The outsole comes is made from Buffalo leather. Upon request, you can also have these shoes made from Vero Cuoio.
They are available in sizes ranging from 34 to 41 (European). The heel is medium (7 cm), but they also have the same model available with a slightly higher heel (9 cm), so the choice is up to you and your level of performance.
The sole width is normal.  They come in an elegant black color with no added accessories.
Pros
The craftsmanship is of superior quality.
The Nappa leather they choose for these shoes is extremely soft to the touch, yet resistant to wear and tear.
You'd support a family business started by one of your fellow dancers.
I like the fact that upon request, you can have them custom-made in Vero Cuoio.
Cons
I couldn't find a very low/ low heel version.
Tangolera's website does not work properly everywhere in the world. You may need to purchase their shoes from partners in your area, hence paying a little extra.
#3: Alessandria – Mirror 80 by Tangolera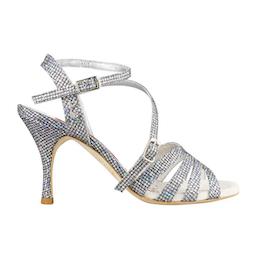 Alessandria – Mirror 80 By Tangolera
Shiny shoes for a shining star on the dance floor!  These Italian dancing shoes are made from Vero Cuoio, which means "Real/Genuine Leather," offering a high-quality experience to the dancers who choose to wear them.
If you worry about sweaty feet, this material has you covered as it will let your skin breathe and prevent your feet from sliding inside the shoe due to humidity.
Vero Cuoio will also mean that your shoes will be your best friend for a while, as they are designed to last.
As they are part of the Tangolera brand, they also benefit from 4 mm of extra footbed padding especially designed using the NO MORE PAIN © memory foam system.
The upper, the heel and the double ankle straps are covered in little shiny "mirror" jewelry pieces that will make your feet stand out in the spotlight.
They are available in sizes ranging from 34 to 41 ( European), the standard heel height is 80 mm, but you can have them custom-made with a 60, 70, or 90 mm heel.
The width is medium, but again you can choose to have them crafted with a narrow or wide design.
Pros
They are 100% handmade in Italy and come in customizable designs to fit your foot perfectly.
They have a special FIRST ORDER 10% discount if you sign up for their newsletter.
You can pay in 4 interest-free installments.
The Vero Cuoio material is of outstanding quality, making them durable yet lightweight and flexible.
Cons
Pricey, pricey shoes! A $250 investment may seem like a lot. However, their installment system helps.
The custom-made designs are non-returnable.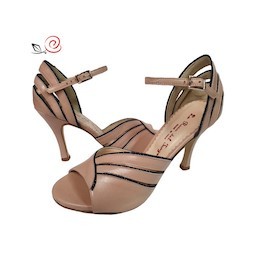 This beautiful pair of tango shoes come from Italy too. The Tamara model from La Rosa del Tango features a nude and black leather upper with a secure ankle strap.
The design elegantly combines leather with very subtle glitter material created to emphasise your feet on the dance floor and in the stage lights.
You can choose to have their sole done in Vero Cuoio or Buffalo suede.
They also let you choose the amount of padding you want, 3 mm or 6 mm, your heel height from 60 mm to 90 mm, and your heel shape, flared or stiletto.
I personally recommend a 6mm padding with a medium 70 mm flared heel for maximum stability.
Pros
I like how customizable they are, as you can play with every feature they have.
You get a 5% discount if you sign-up for their newsletter.
These are shoes made 100% in Italy, so you know got that high end feel to them.
They are affordable compared to other Italian dance footwear brands.
Cons
I think the color palette could have been richer.
I would have preferred a double ankle strap for a more secure feeling during complicated moves.
#5: Biella Rose Copper Glitter 90 By Tangolera
Biella Rose Copper Glitter 90 By Tangolera
And here I go again, recommending a pair of shoes from Tangloera.
What can I say?
 They really know their craft, and the shoes they make are made for tango!
Another LUXURIOUS yet fairly affordable creation is the Biella Rose Copper Glitter model.
Their upper is made from soft Italian micro glitter leather that will take the shape of your foot once you start wearing them and their insole comes in suede leather with leather lining…
…of course, benefitting from the innovative NO MORE PAIN © cushioning system.
The outsole is also made from natural leather covered with a removable protective film.
As a little gift, this pair comes in an Axis Tango Italian satin shoe bag you can use to carry your shoes to and from REHEARSALS and shoes without damaging them.
They feature a 90 mm steel rod heel that may seem a little high but is extremely stable.
However, they are also available in 70, 60 and 80 mm heel designs.
They come in sizes ranging from 34 to 41 (European). The width is medium, but upon request, you can have them made in a narrow or wide designs.
Pros
They are 100% handmade in Italy by shoemakers led by a fellow tango dancer, Pascale Girardi.
They are very elegant yet sturdy and made to endure long hours of competitions and rehearsals. The shiny design also looks very nice in the spotlight.
You can pay for them in installments.
Cons
They are high-end shoes and their price can be a little high.
The pink color does not match any outfit, so you'll need to consider this aspect whenever buying a new dress to wear with them.
Whether you choose high-end luxury shoes that will stick with you for a LIFETIME or more affordable models that will still serve your needs perfectly, you will have to adapt them to your own routines and level of performance.
Be the Cinderella of your own STORY and choose only what best fits your requirements as a dancer.
We're picky people and we should not make compromises when it comes to the quality of our dance act nor to the health of our most beloved possessions, our feet.
As a pro tip, whenever you get the chance to test your shoes before buying them, test them by walking backward. In the end, that's how you'll use them most of the time, right?