Howdy!
Are you more of a Madison or a San Francisco Stomp?
Or perhaps ARE YOU more of a Swamp Thang guy?
Or a Watermelon Crawl?
No, wait, I got you!
You can't wait to do the CHICKEN DANCE. If you know what I'm talking about, you're probably a hardcore line dancer and if you don't, you might want to check this out.
You are missing out on some of the Hidden GEMS of the social dance world.
Your Guide
   Alexandra Romanmi
Until now, the only connection I had with line dancing was through some medical articles I've come across that considered the fact that this kind of social dance can improve memory and fight against the onset and EFFECTS of neurodegenerative diseases such as Alzheimer's.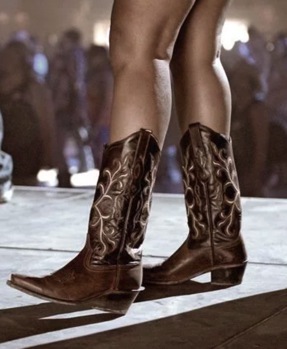 I only recently discovered the pure JOY of line dancing when I attended a wedding party in Phoenix, Arizona.
They did the Cupid Shuffle at some point and I totally LOVED it, so I started looking into it.
As a dancer, I am always interested in the style's origins, history and influences, most famous performers, best-suited music and obviously the best footwear for practicing it.
When it comes to line dancing, the choice is pretty clear: country boots.
FOR WOMEN:
FOR MEN:
With over three decades of experience in manufacturing high-quality footwear, the Californian brand Ariat is committed to five core values that reflect in their high-quality products:
Innovation
Quality
Integrity
Teamwork and
Respect
The company's name comes from the Secretariat, the legendary racehorse (yes, this is the real-life horse that inspired the Secretariat character in BoJack Horseman) that was the 1973 Triple Crown WINNER.
Apart from this, Ariat is the first equestrian footwear to incorporate athletic footwear technologies in its boots.
So you know we are sure that if equestrian athletes can use them in their field, they will do very WELL on the dance floor too.
With a strongly developed culture for their craftsmanship, manufacturers at Ariat have their boots go through more than 150 steps during their construction, focusing on offering the durability and high performance that EVERYONE is looking for.
All their products are field-tested to endure their high quality and functionality.
The model I recommend you is the Ariat Men's, Heritage Boot.
It comes with the ATS® technology, which equips the boot with additional gel-cushioning for shock absorption and stability while keeping the feet dry thanks to the breathable footbed.
The EVA midsole is also designed to REDUCE the shock and stress on your joints. The Duratread® technology makes the outsole slip-resisting, adding to its flexibility and durability.
They have an R toe which means they are tapered but rounded at the tip.
The heels have stabilizers for EXTRA support and balance on the floor.
Regarding the design, these are some of the very stylish, carefully crafted boots that you can match with your cowboy outfit.
The full-grain leather shaft height is 13", they are available in sizes ranging from 8 to 15 (US) and you can choose from narrow, medium, or wide models. The colors available are brown and black.
Pros
After hours of research, they seem to be among the top models in the industry.
The high-quality materials and craftsmanship are reflected in the long-term performance of the boot.
The ATS® technology ensures comfort for your feet, keeping them away from injuries.
They are very well suited for being worn outside; if you think of rocking the cowboy style off the dance floor, you can definitely use them to complete your outfit.
They are actually made for equestrian athletes, so they might just give you an incentive to take up riding classes.
Cons
They could seem like a large investment for a beginner who is not sure about the time he will spend practicing line dancing.
The color scheme is limited to two colours.
FOR WOMEN:
FOR MEN:
Ariat also makes premium footwear for ladies.  My recommendation is Ariat's Dahlia Western boot.
As their website description states, these boots are made for dancing in. They come with a 9" long upper made completely out of full-grain leather with a BEAUTIFUL Floral Model embossed on it.
This D toe model benefits from the same ATS Technology, making them comfortable to wear and practice in. The MASTERFULLY sewn stitches and durable materials promise to stand the test of time.
They are available in a combination of brown tones or in all black and their size ranges from 6.5 to 12 (US), with the possibility of choosing between medium and wide models.
The manufacturer runs true-to-size and the product doesn't need to be broken in.
Pros
The details on the upper and forefoot are very well done and they give these boots a unique personality which I am quite sure will attract lots of compliments on the dance floor.
The highly researched technologies that go into manufacturing these boots make the dancing experience a very comfortable one. Your feet and joints will probably appreciate your investment.
You can share the photos with your Ariat boots with the whole Ariat community by adding the #MYARIAT hashtag to your posts on social media.
The 52 reviews on the website, with an average score of 4.6 out 5 are extremely encouraging.
Cons
I wish the color scheme offered more possibilities.
Again, these are high end riding boots, so they may seem like a big investment at the beginning of a line dancing adventure.
Laredo brand has been one of the top choices among western style enthusiasts in the United States for over 45 years.
My favorite model from them is the Women's cross Point Western Boot that would GRACEFULLY complete your cowgirl wardrobe.
They are tall boots with a 13" pull-on leather shaft featuring western embroidery, crafty stitches and stud details.
The cut-outs and underlays give this pair a very fashionable look, while the cushioned insole makes them the right CHOICE for long hours on the dance floor.
The 1.5" cowboy heel adds to the stability of the boot and the synthetic outsole won't let you slip and fall on the floor during your fancy turns.
Their size ranges from 6 to 10 (US) and they are available as a medium width model. The boots are a stylish light brown.
However, some reviews I read stated that they are darker than in the photos.
They are very durable as they are mostly designed to be worn outside and to endure to conditions that ranch chores would impose on them.
Pros
They are a long-term versatile investment, as they seem very durable and could be worn outside the dance practice hours without damaging them.
The delicate embroidery shows craftsmanship and respect for details.
You can pay them in three interest-free payments.
Boot Barn, one of the online shops that sell them offers a profitable Loyalty Plan you might want to check out.
Cons
The only available color for this model is brown. As a chromatics enthusiast, I'd like to have more options.
They could seem a little stiff at the beginning, so they need a breaking-in period.
Dan Post Boots brand identifies itself with the motto Handcrafted Cushion Comfort.
With a history of over half a century, this manufacturer only works with the finest exotic skins and premium leathers, so you know what you will be paying for.
The model that caught my eye is the Women's Vintage Bluebird Leather Boot. It is absolutely GORGEOUS.
I am not usually a very big fan of cowgirl boots because I am short and they make me look even shorter, but these ones will make an exception.
I do not care how short I might look wearing them; the CRAFTSMANSHIP that went into creating them is all worth it. They seem like a painter's canvas, not like a pair of boots.
They are made of distressed, tan leather and wonderful turquoise underlay and a few red spots on the upper shaft. The medium cowboy heel and rustic leather outsole will support you and add balance to your moves on the floor.
They are paired with a removable Soft Strike Orthotic for extra comfort and care for your feet and joints.
They are available in sizes ranging from 6 to 10 (US), medium width. Their height measures 11," and the circumference is 12 ½".
Pros
It feels like you're wearing a work of art.
You can pay for them in 4 interest-free installments.
They are extremely comfortable and since they are designed for riding, they would take adequate care of your dancer feet.
Cons
They are a serious investment, so you might need to take your time and save money to purchase them. I know I am. It was love at first sight and I couldn't exactly resist them.
H.J.Justin & Sons are America's celebrated cowboy boot makers continuing a HANDCRAFTING tradition dating back from 1879.
The model I believe men's line dancers will appreciate is the exquisite Ostrich Western boots. This brown and dark green exotic model is absolutely stunning, made from smooth ostrich leather.
The 11" shaft is Kango Tobacco and it features CRAFTY turquoise embroidery that adds personality to the model.
The broad, round toe keeps your feet comfortable together with the J-Flex technology insole that provides great energy return.
The Tekno Crepe outsole offers a good grip to the floor and high durability. The block heel is sturdy and supports and balances your dance MOVES.
They are easy to pull on, featuring overlay fluted pull straps. The size ranges from 8 to 13 (US); you can choose from medium and wide models.
Pros
The exquisite ostrich leather is a premium material you can rarely find available on the market at such an affordable price.
The combination of colors is elegant and will stand out on the dance floor.
The patented J-Flex technology is a comfort system designed especially to care for your tires, soles and joints.
Cons
They are quite an investment and their purchase may require some planning beforehand.
Now go ahead, put on your favorite boots and blast Achy Breaky Heart as LOUD as you can. That will get you up and push you straight on the dance floor.
So tell us, what's your favorite line dance?
I'll start.
Mine is the Hoedown Throwdown!
Yeeeee hawwwww!