I remember watching Barbie and The Three Musketeers when I was little. I really loved Barbie movies (and I still do), but I loved this one ESPECIALLY.
The Sword Dance scene was so magical to me that I really wanted to bring that exquisite atmosphere from the ROYAL court into my own life.
   Your Guide
   Alexandra Romanmi
It might have seemed SILLY then, but I think that I managed to do it, at least partially, by taking dance lessons, especially ballroom dancing classes.
Even though we don't get dressed like royals, part of that elegance still makes its way into the rehearsal hall and I'm usually reminded of that movie and of the feeling I had when I watched it.
Most Comfortable And Best Ballroom Dance Shoes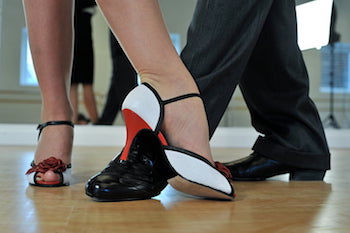 I made a list with some of the best options I have in terms of ballroom footwear in order to complete that royal couple look we're all dreaming of:
#1: TAYLOR 040C model by Aida Dance
I believe that in terms of absolutely stunning ballroom dance shoes, Aida Dance does a great job. The Taylor (040C) model, a variation of the standard model, is here to prove my point.
It offers excellent support for your foot arch while keeping you balanced. The sole keeps your foot CONNECTED to the ground while maintaining its superior comfort using a soft padded insole.
Other than that, the shoe is fully customizable. The heel can be 2" or 2.5" long and it can be slim or flared. I usually opt out for flared ones as they offer more stability.
The toe box can be round or square and the sole can be red suede or black suede.
 You can add heel protectors and replacement heel tips and if you wish to go on full Disney princess, a rhinestone design is also available.
The upper is made of elegant white or light pink satin so that you can match it to your dress.
The delicate strap will keep the shoe secured to your feet while gently emphasizing your natural lines. The delicate CRYSTAL buckle will allow you to adjust the strap according to your needs.
They are available in sizes ranging from 4.5 to 8.5 (US), with extra narrow, narrow, regular, wide and extra wide models.
Pros
They are stunning and they will make you feel like a princess. Or at least I know they did that to me,
The fully customizable options come in handy.
The brand prides itself on manufacturing the most comfortable standard shoes in the industry.
Cons
They can get expensive, especially if you opt out of all the extra details.
There are not enough colors available with this model.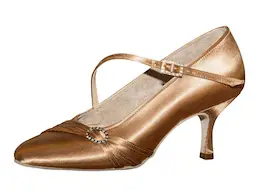 TAYLOR 040C model by Aida Dance
#2: Mirko 119F model by Aida Dance
You've probably seen Mirko Gozzoli DANCE; if you haven't you might as well do so (below).
Aida Dance has a shoe pair named after him that I believe deserves all the praise. Because every princess needs her prince, these shoes come to save the day.
They come with patent leather and crepe satin upper that perfectly combines the mobility of your feet with the SUPERIOR support they need on the floor.
The split sole allows for great flexibility in the arch, while the insole cushions your feet for a comfortable rehearsal or show time. The heel height is 1" and you can choose from a regular, red suede or black suede outsole.
They are available in sizes ranging from 7.5 to 12 (US) with extra narrow, narrow, regular, wide and extra wide models. You can also choose between Black Leather, Black Crepe Satin and White Satin. I would go for the standard black ones though.
Pros
They are elegant shoes with a very useful combination of fabrics for the upper.
They are adjustable thanks to the laces in the upper.
The split sole offers freedom of movement.
Cons
They may seem a little stiff and they may need to be broken in.
The insole could benefit from more padding in my opinion.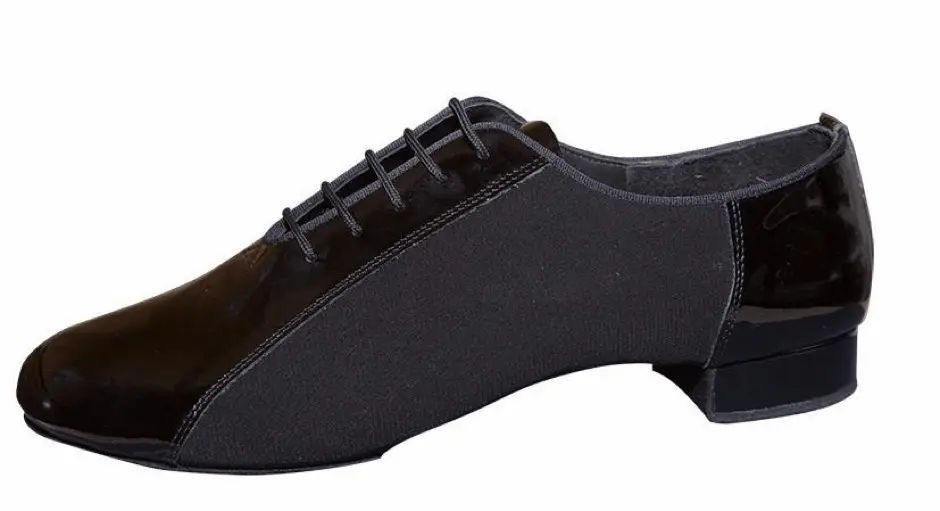 Mirko 119F Model By Aida Dance
#3: Bloch Dance Women's Split Flex Character Shoe
Bloch comes with another great option for women, the Split Flex T-strap character shoe which I see fit for beginners.
This pair comes with a leather upper and lining, so they'll make for a durable first pair of ballroom shoes. The contoured 2 1/2" heel will offer the NECESSARY support while giving you the princess-like feeling of high heels.
The stretchy underfoot panel allows for superior foot flexibility, making it easy for both demi-pointe and even pointe work.
The T-strap will keep the shoe tightly secured to your feet and the pin buckle attached with an elastic fabric will allow you to control the tension in the upper.
The outsole is made of suede, which provides a good grip on the floor while allowing for smooth sliding. The external shank comes as reinforcement at the heel.
They are available in black and the size ranges from 35 to 41 (EU). You can choose between a black and a tan shade.
Pros
They are very easy to dance in, so beginners will pretty much fall in love with them just like I did.
I love the fact that they are tightly secured to my feet. I hate thinking they can just slip off during a routine.
They are made of durable leather and you know how much I love leather.
They are affordable.
Cons
They are not the most elegant shoe you'll ever own, as they are more focused on their functionality rather than the design.
They will most likely be used during rehearsals and less during competitions and shows as they do not have that royal air you may be looking for.
#4: Bloch Dance Men's Xavier Ballroom Shoe
Bloch also has an option for gentlemen. The Xavier Ballroom and Latin shoes caught my attention as they look very REFINED and functional at the same time.
 This Oxford-style ballroom shoe has a full-grain leather upper and a flexible suede sole. The heel measures 1" and it is cushioned for EXTRA SUPPORT and BALANCE.
The arch offers superior mobility as it is unlined, so your demi pointe and en pointe work will go as smoothly as it can go.
The insole is also cushioned and the shock absorption properties protect the joints.
The Kashmir lining is very breathable, keeping your feet dry for a LONG time. The heel is low and wide and the shank is short, offering support and maintaining flexibility.
They are available in whole and half sizes ranging from 6 to 13 (US). The only available color is black.
Pros
They are stunning and very high quality, completing the royal couple look.
The materials used to create them are very durable, yet the shoes are extremely comfortable and flexible.
They are still very affordable for the price-quality ratio they offer.
Cons
This model is only available in black. I would love to see more options in the color scheme.
They may need some breaking in.
Don't let anybody stop you from CHASING your childhood fantasies…
..If there's one place where princes and princesses come to live, that is for sure a ballroom dance hall. Join one and become part of your ROYAL FANTASY WORLD.
When was the last time you felt like a prince/princess?
Suzanne Langer, an American philosopher I really like, said that no art suffers more misunderstanding, sentimental judgment, and mystical interpretation than the art of dancing.
When I first read these words, I paused and reflected.
She was right.
I did not know how to feel about it, but later on I realized that we as dancers are BLESSED.
We get to play with one of the most difficult arts and if we do it right, the places we can reach are absolutely amazing.
Even if people get to literally judge your every step, you also get infinite chances to create works of art with every step that you take on the dance floor.
So put on the right shoes and Make Art Happen!