I am a very CURIOUS and nerdy character, especially when it comes to the fields I am working in: Medicine and Dance.
When the two somehow manage to come together, my heart fills with JOY.
Your Guide
   Alexandra Romanmi
You can imagine my excitement when I got to read a study published in the New England Journal of Medicine, talking about the way dance is associated with a reduced risk of dementia.
What a great combo!
The first thing I thought after I read this article was how to get my grandparents from home straight to the DANCE FLOOR.
A fairly difficult task if you knew them…
When it comes to the styles of dance that elderly people really enjoy, I usually think of social dances like: contra dancing, line dancing or ballroom dancing.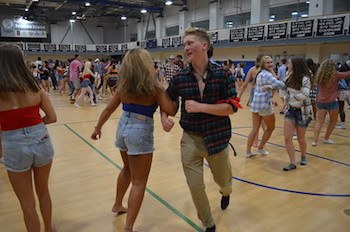 I have recently come across a very comprehensive list of contra dances and I was stunned and quite INTRIGUED.
There's so many of them and they look so fun to perform.
It was pretty much what I was looking for and I got my grandparents to try it.
They loved it.
Yes, of course, I tried it too. You just can't sit and watch.
Even if they are novices in the world of dance, my grandparents needed to get suitable footwear for their new WEEKLY ACTIVITY.
If you plan on doing the same or if you're already an established contra dancer, I made a list with the top shoes you can choose to take with you to the next contra gathering.
In my opinion, the best choice for both beginners and professionals, this pair of character shoes comes from one of my FAVORITE dance footwear manufacturers – the Capezio brand.
The K360 Oxford Shoe features a full-grain leather upper and a hand-stitched leather sole – the ideal choice for contra dancing, as the rubber sole will prevent you from sliding smoothly across the floor.
The heel and arch area are padded offering EXTRA support. The Achilles notch benefits from folded edges that protect this sensitive area from getting injured.
The stacked heel is low, measuring 1" and it comes with the option of attaching a Tele Tone® heel tap, so you can join the entire hall and make that absolutely awesome Tap Sound.
However, you may need to contact them at 1-(877)-300-1887 in advance and let them know you want this extra option.
They are available in sizes ranging from 6 to 12.5 (US), medium, wide and extra-wide. They are black with no other color option.
The recommendation on Capezio's website is for men to begin with street size and women to begin 1.5 – 2 sizes down from the street shoe size.
Pros
They are made from full-grain leather which translates into a very durable shoe.
The design is classic and comfortable.
They are compatible with the Tele Tone heel tap.
Cons
They are a pretty big investment, as they cost just a little above $300. However, in case you find them expensive, there is also the PU leather alternative, which is much more affordable.
I wish they made smaller sizes for this model too, as they run big for women.
Here comes another great product by Capezio. I told you I love them.  This Oxford jazz shoe comes with a lace-up leather upper, so you can easily adjust them to the SHAPE of your foot.
They have a split-sole i.e. there is no sole under the arch, allowing for much more flexible movement of the foot, as it can bend freely without encountering any resistance.
They feature EVA (ethylene-vinyl acetate) sole patch and heel. The foam padded insole provides support and comfort, along with the non-slip heel counter with an Achilles relief for a softer topline.
They come in black and are available in sizes ranging from 1 to 8 (UK), medium width.
If you don't like the split-sole model and wish for full support with a full sole jazz shoe, you can check this pair out. However, I would always go for the split-sole model.
Pros
They are very simple in design and could be worn by both men and women.
They are made of durable, but soft leather.
They are extremely affordable and will make for a good shoe for your contra dancing meetings.
Cons
The model only comes with the medium width option.
They are only available in black.
Another dancewear manufacturer I like – Bloch – comes with an elegant option for gentlemen who love contra dancing.
With almost a century of experience in creating shoes for dancers, Bloch usually can't disappoint me. This shoe makes no exception.
It comes with a leather upper which means you'd invest in a DURABLE pair of dance shoes that will accompany you in your contra dance journey.
The leather sole allows for smooth sliding across the floor, while the cushioned insock will allow you to enjoy your dance session without having to worry about your tired hurting feet.
The insole is especially designed for shock absorption, protecting your joints from injuries. The functional lace-up with reinforced eyelets allow for good control of the tension in the upper.
The stacked flat heel provides the right support and balance. They come in black and are available in sizes ranging from 6 to 13 (US). The website recommends for men to start with one full size down from street shoes.
Pros
The price-quality ratio is really good.
The durable leather fabric and reinforced eyelets make this shoe a good long-term investment.
They look very elegant.
The shock absorption property is very important, especially for people with fragile joints.
Cons
This model is only available in black. I would have loved to have more options, in case you have fun outfit ideas you'd like to match.
They seem a little stiff, so they may require breaking in before you take them to your dance class.
When I was little I hated laces. If you could have only bought me slip-on shoes, I would have been the HAPPIEST child.
Right now, I have a sort of love-hate relationship with lace-up closures, because now I do understand their functionality.
However, every once in a while, a slip-on shoe catches my attention. The jazz ones by Stelle seem to me a great idea for contra dancing.
They come with a soft and breathable leather upper and a neoprene stretch arch insert for more flexibility and support.
The split sole is made from synthetic materials, offering good traction on different kinds of floors.
You never know where your contra dance meeting is going to happen, so you need to be ready. The shoe is very STRETCHY and it fits like a sock.
They are extremely lightweight, thus wearing them will not feel tiring for your feet. They are available in black or tan shades and the size range from 4 to 12 (US). Men are advised to order one size up.
Pros
They are very easy to wear and would make for a good shoe for beginners or people who are not entirely sure will continue to go to contra dances for a long time. They are not a huge investment, yet they will do their job just fine.
They are very lightweight.
The split-sole allows for great flexibility in the foot arch and I love that.
Cons
They don't have a shock absorption system in place.
The insole could benefit from a little more padding.
Another slip-on option, this time by Capezio, the Show Stopper Shoe comes with a DURABLE leather upper and moisture wicking insole padding allowing your feet to stay dry.
The elastic mesh instep makes it a great choice for people like me who struggle with very narrow feet.
The split sole will allow for freedom in the foot arch are, while the EVA rubber sole patch and heel will prevent you from SLIPPING on the floor. Your pivots will be safe!
The soft Achilles topline ensures that you won't have to deal with blisters in that area. The foam padded insole comes with the adequate support and shock absorption properties to protect your joints.
They are available in black or caramel and the sizes range from 4 to 12.5. Men are advised to start two sizes up their street shoe size, while women can begin with the street shoe size.
Pros
They are a high quality slip on shoe, while remaining affordable – just under $50.
They are very lightweight, yet they provide the right support thanks to the foam padding.
I love split-soles!
Cons
They have a very soft upper, so you won't like it if someone steps on you.
They are not the best option for people with wide feet.
As I was saying in the beginning, dance has tremendous effects on our health. Make sure that you don't just keep it to yourself, but SPREAD the joy of Dancing with the ones you love.
I promise it'll make for a wonderful experience. They don't need to be professional dancers to enjoy it.
My grandparents were far from that, but I swear they were the best dancing partners I've ever had.
Share with me the best experiences you had on the dance floor with your loved ones. I bet I'll find lots of contra dancing stories among your comments!