Imagine this: you're finally at the end of your wedding party, the stress is over and you're on the way to enjoy your honeymoon…but you are Limping.
Not fun, is it?
Your Guide
   Alexandra Romanmi
And the only reason that this is happening is because you did not pay enough attention to choosing your wedding shoes.
Or maybe you did, but they were simply not right for you. Or they were so pretty it didn't even matter they looked UNCOMFORTABLE.
In order to avoid unpleasant scenarios like the one I've described, let's look at what podiatrists have to say about choosing your perfect wedding shoes.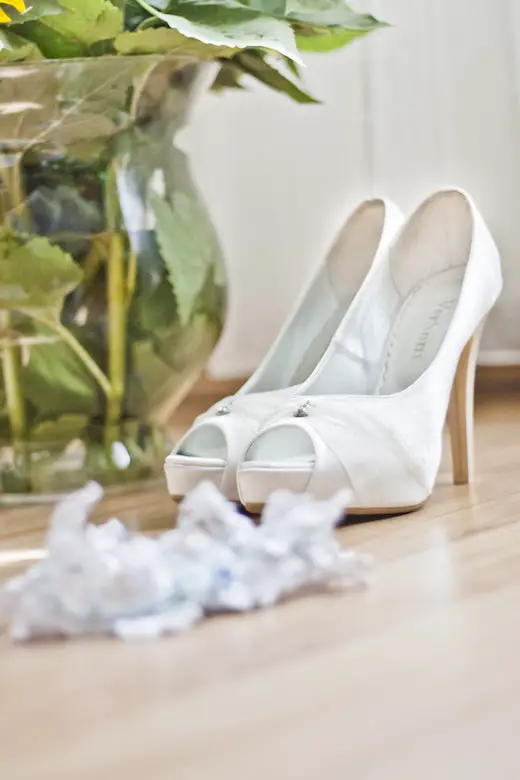 The Pivotal Podiatry Clinic specialist Leah Waters BELIEVES that the pair of shoes you choose for your wedding either makes you or breaks you.
Harsh, but I agree with her.
When it comes to stability and comfort features, she has a few recommendations:
Thicker heels
Ankle straps,
Protective cushions,
Paddings and
Backup plan – for the worst case scenario, when your lovely shoes start hurting your feet.
You may need a pair of COMFY wedges or even flats just in case things go downhill with your first choice.
Now let's see a few options I believe could work perfectly for your big day:
A LUXURIOUS choice is the Giona II Sandal by Badgley Mischka. It is part of the Jewel Collection and it is in itself a jewel.
With a manmade upper, manmade lining and sole, you can feel the craftsmanship that has gone into creating this sandal.
The 2" block heel is very stable and comfortable – time to understand that stilettoes are not the best option for us.
The insole comes with a SOFT padding to help you get through a whole night of dancing without getting extra tired. The round open toe box will emphasize the shape of your foot and show off your beautiful pedicure.
The metallic leather sandal features laser cut details, making it look astounding, especially paired with your dream dress.
I really LOVE the rhinestone detail on the toe cap – it's just the right amount of shiny accessories for such an important event.
It looks elegant, festive and glamorous without looking kitsch. The super delicate ankle-strap features an adjustable buckle closure.
The model is available is gold, silver and champagne shades, with whole and half sizes ranging from 5 to 9, medium width.
Pros
They are among the most refined shoes you can choose. They are very delicate and simple, yet feature a supremely elegant air.
The block heel is of great help.
The rhinestone accessory makes this sandal truly festive.
They are still affordable compared to other wedding shoes I've seen.
They are easy to match with other outfits, so you won't just use them once in your life, for the wedding.
Cons
There are no narrow or wide models, just the medium one.
I would have preferred a more secure strap around the ankle, maybe even a T-strap given the amount of time brides will wear them for their wedding party.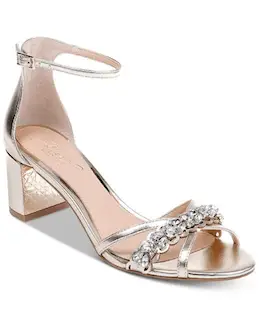 Giona II Sandal from the Jewel Collection by Badgley Mischka
Adrianna Papell is a brand specialised in WEDDING clothes and footwear which takes great pride in their superlative craftsmanship and manufacturing of exquisite products for their clients.
I especially like their Trala Ankle Strap Flat. Whether you absolutely want to say no to heels on your wedding day or want to keep them as the back-up plan for when you get tired of dancing on high heels, this model is a good choice for you.
The upper is made of 100% textile materials which prove to be gentle to your skin and let it BREATHE. The laced closed toe box makes them very elegant and fit for your special occasion.
The leather sole will prevent you from slipping on the dance floor – which is important give we all know how messy the dance floor can get during a great wedding party.
The leather sock lining is also breathable, keeping your feet dry. They are flat, with a tiny heel of half an inch. The delicate ankle strap will keep the tight.
They are available in Black Attalie Lace, Blush Attalie Lace, Navy Attalie Lace, Pewter and of course White Attalie Lace. The sizes range from 5.5 to 11 and they usually fit as expected.
Pros
They are very elegant, while bringing you the comfort of a flat shoe.
They are available in so many colours, so you can even buy them for your bridesmaids.
The lace is very delicate and feminine, completing your goddess look.
Cons
They are quite narrow, so they may be difficult to wear if you have wide feet.
The sole is a little stiff, so you won't be able to get extremely technical about your dance moves.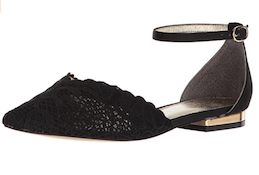 Adrianna Papel Trala Ankle Strap Flat
Yet another beautiful creation by the same BRAND Adrianna Papell, the Aviana model is a great option if you want to wear heels at your wedding and still feel comfortable.
The 3 ¼" block heel will support you through the night and make you feel like a real princess on the dance floor.
Take it from a dancer, even if you have the prettiest shoes, unless you're comfy in them, you won't be able to rock the floor like a star. And we all know that's what we dream of.
The delicate strap secures the shoe around your ankle, so it won't SLIP off. The upper is made from glitter fabric, so you'll literally shine.
The open toe box will emphasize your pedicure, so make sure you paint your nails in a matching shade. The insole has memory foam padding for extra comfort and support.
They are available in black, nude, bronze and pewter and in whole and half sizes ranging from 5.5 to 11, medium width. They are true to size, so you can go with your street shoes size and not worry about it.
Pros
The memory foam padding helps a lot during a long party, along with the supportive block heel.
They are glittery, without looking cheap and kitsch.
There are many ways to wear them after your wedding, so they won't just be forgotten in the closet. They'd make a great pair for any other special occasion or even for a night out when you want to feel like a fashion diva.
Cons
The strap around the ankle is quite thin and given the height of the shoe, I'd like a sturdier strap or even a T-strap attached.
There are no narrow or wide models available.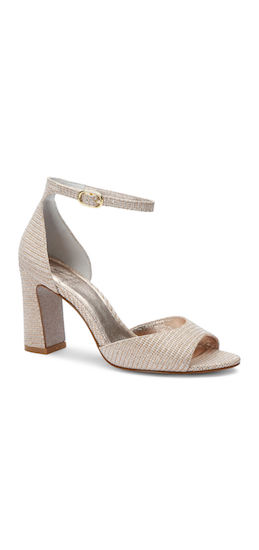 Aviana Block Heel By Adrianna Papell
Based in Los Angeles, Jeffrey Campbell is an independent shoe brand that strives to reflect the beauty in all body types, ages, ethnicities and genders.
What a great MESSAGE to spread in the world!
Apart from their progressive policies, they also make really great products that I absolutely love and appreciate.
I have been complaining about thin straps until now, but the Lindsay Sandal has got me covered. Their design is very simple, yet elegant and practical.
The synthetic upper with leather lining is covered in crystals and it features a thick ADJUSTABLE ankle strap with Velcro closure that will secure the shoe to your feet.
The foot bed is padded, for maximum comfort, while the 3.75" block heel will offer the support you need on the floor and a beautiful feminine shape to your leg.
The sole has a traction pad that will take care of your balance even after hours and hours of stressing out about the TINIEST detail of your wedding.
They feature an open toe box, so make sure your pedicure matches them. T
The fit is true to size and it is available from 5 to 12, medium width. The combinations you can choose from are Black and Silver Satin or Nude and Champagne Satin.
They are also available in full suede, without any crystals on them in case you don't like them.
Pros
They are stunning, yet comfortable thanks to the padded insole and block heel.
They will remain multi-purpose shoe after you wedding.
The thick ankle strap is great. It feels secure, without looking chunky.
Cons
They don't have a narrow or wide model.
I would have preferred the leather upper that the model without crystals has.
Since comfort is our number one priority, along with a GEORGEOUS and elegant design, my last choice on the list will be one that incorporates both:
the VENI Sandal by David's Bridal – a brand that started off as a neighborhood bridal salon in Fort Lauderdale, Florida, back in 1950.
Wedges are a great choice, as they offer you the height you're looking for and the comfort of a flat shoe.
This model comes with an absolutely stunning satin upper that features a very delicate and luxurious pearl and crystal ankle and T-strap.
Apart from the refined look the T-strap will also ensure that the shoes are securely attached to your feet and that they won't just SLIP OFF at the next sudden turn.
The synthetic sole has a good grip to the floor, while the 3" wedge heel will keep you comfortable all night long.
They are available in an Ivory shade and the sizes you can choose are between 5 and 11. You may want to order half a size down, especially if you have narrower feet, as they tend to run big.
Pros
They are a stunning model, yet very comfortable. Let's thank to whoever invented wedge heels.
The crystal and pearl detail is very refined – I really love it.
They are very affordable.
Cons
The ankle strap is a little loose if your ankles are very thin.
They run big, so you need to be careful with the size you order.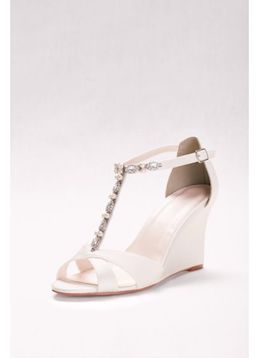 David's Bridal VENI Wedge Sandals
Whether you choose high heels, flats or wedges, make sure you dance the night away in them. It is your SPECIAL day and you should enjoy it to the maximum.
Iwish you a happy wedding day and a happy and Long Life together with your partner.
As I'm about to get married soon, I'd love it if you shared with me some of your wedding preparation adventures.
Did you go full bridezilla or did you remain calm and patient?