PORTABLE HOOPS are a great option if you don't have the room in your yard for a dedicated basketball court
Or your local laws prevent you from building one, but you still want to be able to play basketball without having to look for a public court or a GYM.
Your Guide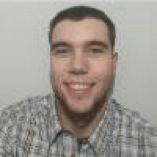 Edis Hajlovac
Our Top Pick:
The main factors that INFLUENCED the ranking of the hoops on this list are
The Backboard
The Stability
Features (base and support pole), and
The Rim
But we also take into account the related external factors such as the PRICE and ease of ASSEMBLY.
These external factors can cause an otherwise great hoop to be ranked lower than it would be if we were only taking every hoop at face value.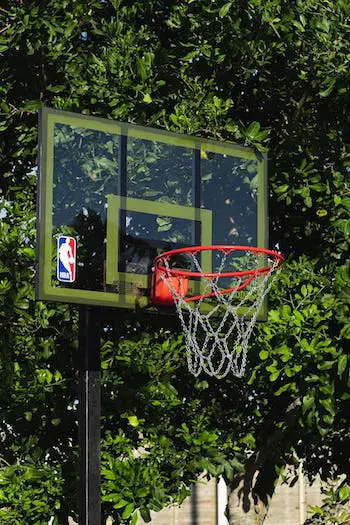 And we do this because these external factors are among the most important when making a purchasing DECISION for most people.
Since a driveway is likely the only concrete surface in many yards, it's reasonable to expect many people to use their portable hoops in their driveways.
In light of that, we will be adding a paragraph discussing the suitability of each hoop for use in the driveway where we will be focusing primarily on their MOBILITY.
THIS IS because card coming in and out of the driveway means that the hoop must be moved frequently.
With that out of the way, let's kick off our first list.
Spalding did basically everything right with this hoop. It STRIKES a great balance between
Mobility
Stability
Performance, and
Durability
It has a very stable base, a wide acrylic backboard with a breakaway rim, and it is much easier to set it up that most other hoops in the category.
The hoop's defining feature is its hybrid base designed to be filled with sand and water which can be accomplished without having to TILT the base at all.
The base design works well with the support pole to give this hoop superior stability, and stability will make or break a portable basketball hoop.
Portable hoops as a whole will never be able to fully replicate the feel of playing in the gym, but this hoop is as close as it gets.
Suitability for driveway usage
The wheels on the base are spaced apart almost as much as the width of the base allows which is good for STABILITY in transport i.e. you won't have to worry about the hoop tipping over because of a poor mobility system.
The hoop is around 155 pounds when the base is empty which is still lighter than quite a few other portable hoops. The base may give you some problems when it comes to movement depending it how you fill it.
The best filling for easy mobility would be bagged sand since it is the easiest to take out of the base quickly.
Otherwise, you will have to move up to 200 additional pounds of base filling on top of a 155-pound hoop.
The mobility is not the best but it is still surprisingly good, and the performance is simply way too good to ignore. Even if you find yourself having to CONSTANTLY move the hoop, it is still worth it in my opinion.
Key Features
Hybrid base with compartments for sand and water
Easily adjustable between 7.5' and 10'
A breakaway rim that can withstand dunking
Angled support pole that proves backboard offset
Specification
Brand: Spalding
Weight: 154 lbs
Dimensions: 38 x 60 x 16.8 inches
Color: black
Pros
Very stable base
High-quality backboard large enough to practice a variety of shots
Easy to set up and move around compared to most other hoops
A sturdy rim that can withstand dunking
Cons
Big price difference between the 54'' and the 60'' backboard versions
Despite the relatively easy setup, the instruction manual can be very unclear
There are many who consider The Beast to be the best portable hoop on the market.
In some aspects, it really is the absolute best you can get, but it also has some drawbacks that have lead me to place it in the second slot on this list.
There is a lot to like here, starting from the hoop's premium 60'' tempered glass backboard that is the very best material you can get.
It also features a BEEFY support pole and a powerful base, and it is the very definition of durability in regards to both the materials and the construction.
However, some of these positives come with a price, both figuratively and literally, that kind of makes me think that The Beast is trying to do too much for a portable hoop.
It is heavy and expensive, both up to a point where I would maybe suggest you explore an idea of an in-ground system instead.
Suitability for driveway usage
The hoop is very heavy even with an empty base. This doesn't bode well for mobility, especially when you consider the FACT that the base has a capacity of 55 gallons which means a lot of extra weight once it is full.
I would not recommend this hoop for driveway usage unless you can place it in a position where you can easily play on it without needing to move it out of the way of cars.
Key Features
Heavy and stable base
Wide support pole for improved stability
Top tier 60'' tempered glass backboard
All-weather rim and net
Easily adjustable height
Specification
Brand: Spalding
Weight: 384 lbs
Dimensions: 32 x 60 x 20 inches
Color: black
Pros
Very durable materials and construction
Easily able to withstand dunking
Tempered glass backboard offers the closest experience you can get to playing on a gym hoop
Angled support pole that proves backboard offset
Cons
Very expensive for a portable system
Very heavy, more than double the weight of the Spalding Hybrid
No backboard padding on the sides
The support pole itself is wide enough to INSPIRE confidence in the stability it provides.
The backboard is the crown jewel of this hoop and it has padding on the side that both gives it a cleaner look and helps prevent some scratches that will diminish the overall look of the hoop.
The main feature of this hoop is its 54'' tempered glass backboard.
You will quickly notice that this hoop does not feature an angled support pole like the previous two on our list and instead opts for a completely vertical one which LIMITS the backboard offset.
To somewhat compensate for this, Spalding included a sort of shield on the lower part of the support pole as a safety precaution.
Finally, we have the Arena Slam breakaway rim that is perfect for dunking, just be careful not to hit the support pole.
I wish Spalding included a 60'' backboard instead of the 54'' one on this hoop because a 54'' backboard can sometimes feel small when doing layups or bank shots.
This way, the hoop has some features tailored to shooting and some to dunking but doesn't fully commit to either.
Suitability for driveway usage
At 200 pounds, this hoop is also a bit on the heavier side but it has a much better mobility system than The Beast since the wheels are properly spaced apart and they aren't obstructed by other structural components.
The base has a capacity of 40 gallons and it can't be quickly emptied out, but the hoop can still be moved by just one adult person even when the base is full should the situation demand it.
This hoop is an okay option for driveway usage because the mobility is good enough for a hoop of this weight and the overall level of performance it offers still justifies any potential difficulties you may encounter while moving the hoop.
Key Features
A 54'' tempered glass backboard
Wide support pole for improved stability
Shield on the support pole
Adjustable rim height
Specification
Brand: Spalding
Weight: 190 lbs
Dimensions: 54 x 35 x 19 inches
Color: black
Pros
Tempered glass backboard offers the closest experience you can get to playing on a gym hoop
Has padding on the sides of the backboard
Strong rim that can withstand dunking
Has a shield to cover the lower part of the support pole
Cons
Lacks offset behind the backboard
The backboard is relatively small given the fact it is made out of a premium material
This hoop is the lightest one on our list. As such, you need to know what to EXPECT from it.
If you're looking for a relatively cheap hoop you can practice dunks or fancy layups on, I suggest you give this hoop a pass and look elsewhere.
If you're in need of a relatively cheap hoop for practicing jump shots on, then this one will probably interest you.
Its 54'' polycarbonate backboard isn't really perfect but it will do fine for practicing very basic layups and bank shots.
The reason why I said that this hoop is best suited to practicing jump shots is the rim which offers rather good performance and it is quite durable, which is another theme with this hoop.
Both the graphics and the materials of this hoop are advertised as fade and weather resistant.
Speaking of which, I have to mention that I really like that the manufacturer is putting their MONEY where their mouth is by offering a 5-year warranty.
In the end, this can be an amazing hoop if you properly set your expectations or a horrible one if you fail to take its drawbacks into account.
Suitability for driveway usage
At only 107 pounds with an empty base, this hoop is quite light and relatively SIMPLE to move around. The wheels at the front of the base are spaced just enough apart to provide optimal balance in transport.
The 35-gallon base can be QUICKLY emptied if it is filled with water which is another positive when it comes to using this hoop in the driveway.
Even when the base it full, the mobility of this hoop is still superior to many others.
While the performance of this hoop is inferior to that of the hoops ranked higher on this list, this is the hoop that is so far the simplest to use in a driveway.
Key Features
Fade-resistant graphics and weather-resistant materials
Adjustable rim height
Slam-it pro rim
Surprisingly high-capacity base
Specification
Brand: Lifetime
Weight: 107 lbs
Dimensions: 49 x 54 x 120 inches
Color: black
Pros
High-capacity base
A good rim
Durable graphics and materials
Shatterproof backboard
Cons
Lacks offset behind the backboard
Questionable stability due to its very low weight
Not suitable for dunking despite the good rim
The support pole itself is very similar to the one found on the Pro Tek, so it will do a fine JOB.
The 54'' polycarbonate backboard and a basic breakaway rim will do a decent job in terms of performance.
At first glance, this hoop is quite similar to the Pro Tek model we featured at number three.
However, once you dive a bit DEEPER you start seeing the factors that set these two hoops apart and why one of them is ranked number three and the other one number five.
The two hoops share an identical base, yet this model is less top-heavy and overall lighter which should result in improved stability given how its center of gravity is lower.
The 68395W doesn't share the Pro Tek's shield and instead just has some padding on the lower part of the support pole.
The padding is welcome but it is inferior to the shield in terms of protection, both from hitting the support pole and preventing rolling your ankle on the base which I think is the main potential danger.
Cons
Lacks offset behind the backboard
Backboard and the rim won't offer great performance and are definitely not suitable for dunking
I would definitely not recommend trying to dunk on the hoop because I doubt it will be able to withstand the forces involved in the act.
Suitability for driveway usage
The mobility configuration of this hoop is similar to that of the Spalding Hybrid portable.
The two hoops have similar empty-base weights and base capacities, and their wheels are spaced apart about evenly. This should in THEORY give them similar mobility characteristics.
The base of the Hybrid portable can be emptied much faster than the base of the 68395W.
This gives the Hybrid portable greater overall mobility, but what does it mean for the 68395W's driveway usage?
There are certainly hoops with better performance and better mobility than this one.
The 68395W wouldn't be my first choice for a driveway hoop but it can certainly perform the role.
If you like what the hoop has to offer and want to put it in your driveway, it is certainly a viable option.
Key Features
A 54'' polycarbonate backboard
Wide support pole for improved stability
Adjustable rim height
Padding on the lower portion of the support pole
Specification
Brand: Spalding
Weight: 149 lbs
Dimensions: 54 x 1 x 1 inches
Color: black
Pros
A high-capacity base and a thick support pole
Has protective padding on the support pole
Most of the weight is concentrated at the bottom which greatly improves stability
This is a somewhat unique design on our list because of the unique shape of the base that puts emphasis on mobility while still having a large surface area in contact with the ground for stability and it has a steel "leg" that connects the support pole to the ground.
This kind of design leads to okay stability but many users seem to have opted for putting additional weight on top of the base.
The hoop features a 54'' polycarbonate backboard but they opted for a very clear look which I'm not a fan of.
Most other hoops with clear backboards have graphics along the edges to help with visibility but this hoop lacks that and instead tries to go for an "infinity" look with the backboard that is very likely to make it harder for the end-user to play on the hoop.
The hoop has a breakaway rim that will perform fine on jump shots or layups, but given the overall construction of the hoop I wouldn't Recommend Throwing down any hard dunks on it.
Instead, I suggest you use it for normal play or practicing layups and shooting.
Suitability for driveway usage
The NXT Portable has some interesting features when it comes to mobility. The wheels on this hoop are larger than the wheels of any other portable hoops on the list which is a definite plus.
They are also spaces out as much as the base allows so stability in transport won't be an issue here.
The wheels are positioned near the back of the base where you will also find a kickstand that you can use to help lift the hoop into a transport position and it will also prevent the hoop from tipping over.
This is perhaps the best wheel setup of any of the hoops on this list.
The back is quite large but its unique shape makes moving the hoop EASIER. The empty-base weight of the hoop is around 160 pounds, which isn't too heavy.
The manufacturer says that two people are recommended to move the hoop but one should be SUFFICIENT with proper technique.
Overall, this is a highly mobile hoop that is almost perfectly suitable for driveway usage despite that performance shortcomings.
If I was picking a hoop solely based on how suitable they are for driveway usage, this would be my pick.
Key Features
A unique base configuration that doesn't require any filling
Adjustable rim height
A 54'' polycarbonate backboard
A breakaway rim
Specification
Brand: Silverback
Weight: 160 lbs
Dimensions: 60 x 66 x 64 inches
Color: black
Pros
Simple and fast assembly process because of preassembled components
Base doesn't require any filling
Very easy to move around
Cons
The base setup can lead to reduced stability
Backboard lacks any edge graphics which can mess with visibility when playing
Portable hoops are available on the market range from very BASIC and flimsy constructions to hoop that can easily go up against lower-tier in-ground hoops.
I would recommend staying away from the flimsy ones unless you're buying a hoop for the most casual of casual playing.
What you should also pay attention to is whether or not you have easy access to the materials needed to fill the backboard, be it an outdoor water supply or a pile of sand.
If you do, portable hoops can offer SUPRISINGLY good performance.
It is incredibly important to clearly define what you want out of your hoop before you opt for one of the portable models because portable hoops are in my opinion the least forgiving when it comes to using them for something that is not STRENGTH of the particular model.
Fortunately, it's not hard to decide what you want out of a hoop and we have tried to highlight each model's strengths and weaknesses which should help guide your decision.
If you make the right choice, you'll be very happy with your hoop for a long time.