If you have ever walked on the streets of Athens, chances are you might have come across a street salesman selling you all kinds of products, watches, handbags, and DVDs back in the day (maybe selling fake brands/products, ahem). 
Giannis Antetokounmpo.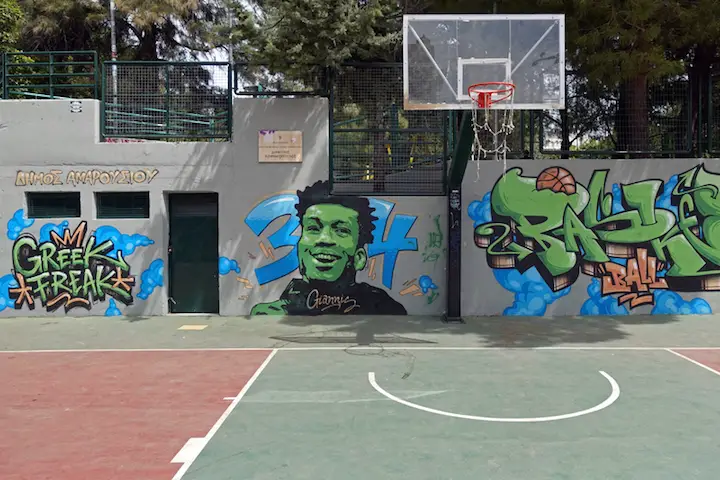 A tall…
.. skinny teenager selling you sunglasses in the 36 degrees summer heat, is one of them.
But, fast forward, with sheer determination and hard work, he is an NBA world champion, finals & regular-season MVP, and defensive player of the year.
Like Manny Pacquiao's story, Giannis's story is an inspiration and a testament to what a burning desire, with the right team and execution, can make a nobody potentially become the greatest ever to do it. 
Giannis Antetokounmpo Story
Gianni's parents Veronica and Charles, were both from their hometown Lagos, Nigeria. In pursuit of a better life, Veronica and Charles moved to Greece in 1991, three years ago, and three years later, Giannis was born on 6 December 1994.
Veronica and Charles had to leave Francis (their eldest son) with Giannis's grandparents. Francis, the oldest of the five, bothers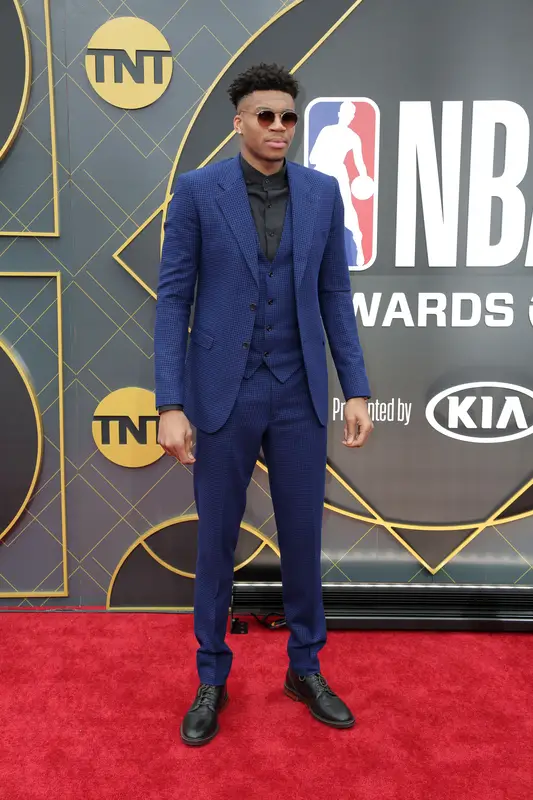 In Athens, Giannis's parents constantly were looking for a job to meet their end needs there were days their fridge would be empty, and the financial challenge didn't end until Giannis GOT INTO THE NBA.
Charles mainly worked as a handyman, and Veronica primarily worked as a babysitter. Giannis' family also hustled in the street, selling various products to meet their ends need.
It could be this trial and tribulation Giannis went through that makes him humble and appreciative of what he has. 
Antetokounmpo family Height and Athleticism
Giannis parents were both athletic. His father, Charles, played soccer in Nigeria before immigrating to Greece, and Veronica was a high jumper.
No wonder all the Antetokounmpo brothers are athletic and play basketball at an ELITE LEVEL. 
There is no official height measurement for Giannis's parents; however, it will be safe to say, Charles's height is definitely between 6 feet 3 inches and 6 feet 6 inches. Veronica's height is between 5 feet 10 inches and 6 feet.
So it is not a surprise that all their children grew up tall and some of their children outgrew their parents by a lot. 
Starting with their eldest son to the youngest.
Francis Antetokounmpo
6 ft 5 in (1.95 m)
Thanasis Antetokounmpo
6 ft 6 in (1.98 m)
Giannis Antetokounmpo
6 ft 11 in (2.11 m)
Kostas Antetokounmpo
6 ft 10 in (2.08 m)
Alex Antetokounmpo
6 ft 8 in (2.03 m) 
Introduction to Basketball
In 2007, when Giannis was 13 years old, Charles introduced basketball to his children because they were getting taller.
Charles wanted his children to play soccer, but due to their increased height, Charles saw the early potential to become good basketball players ONE DAY. 
So Charles didn't push too hard for his children to play soccer even though many of his children are pretty decent in soccer. 
Meanwhile, while living with his grandparents back in Nigeria, Charles's eldest son, Frances Francis Antetokounmpo, developed good soccer skills to play for a soccer club in Greece. Sparta F.C. 
Giannis Antetokounmpo Greatness
Max Kellerman, in 2019 at ESPN, said Giannis The Greek Freak (age 24 at the time) COULD BECOME the greatest player of all time, comparing him to Michael Jordan. 
"Giannis is already starting to shoot the three very respectfully. I anticipate that's going to get better and let me tell you this: 
If Giannis becomes a real serious 3-point shooter, I would say from everyone who has come along when you go, Shaq has a chance; no, he was an all-time great, but he wasn't Jordan. Lebron has a chance, but not quite of everyone… 
I see Giannis is the guy who if he becomes a deadly three-point shooter could replace Jordan one day as the greatest player who ever lived. I mean, he's that great; he's only 24."
With a Player Efficiency Rating of 30.9 in the 2018-2019 MVP season with 27.7 points per game, 12.5 rebounds per game, and 58% field goal percentage, Giannis has shown consistent improvement every year, and Giannis is living up to his potential.
With his 50 points, 14 rebounds, and five blocks in Game 6 to win his first 2021 NBA World Championship, Giannis is in the conversation for the top 3 or top 5 greatest closeout game. 
One thing that separates Giannis from other NBA players is his effort. Of course, every NBA player puts in the effort to win the ball game, but it is easy not to miss watching Giannis game that he works extra hard EVERY SINGLE POSSESSION.
NBA players like Kobe Bryant, Allen Iverson, Russell Westbrook, and Giannis, when you watch the game, even if you are supporting the opposing team, you sometimes can't help but admire THEIR PASSION and their determination TO WIN.
Even after Giannis won his back-to-back MVP 2019-2020, he respectfully told Ernie Johnson (at the end of the interview below) not to call him MVP until he wins a Championship.
Giannis inspires all the young players, and we can admire his hunger and desire to get better each day. 
Giannis NBA Journey and Legacy
After winning his first championship, Giannis gave an excellent summary of his journey to being an NBA champion.
"six months before coming into this league, we were trying to figure out where we were going to get, the next meal from."
"When I came into the league, I said okay, I am 18 years old, nobody believes in me, nobody thinks I can make it. I am going to work extremely hard—every Single Day. I am going to wake up every day with a goal in my mind. 
You know, it might be a crazy goal. But I'm going to have the goal in my mind and I will do whatever it possibly takes to achieve that goal if I have to stay in the gym six hours, eight hours, ten hours.
If I have to run more than the other guys, whatever I have to do, I am going to do it. Step by step things was just happening. I got stronger. I had people that believed in me. I had people through me through the whole journey. " 
Giannis wants to create his own legacy. He said in the interview after winning the 2021 NBA Championship; he didn't just want to join a super team and play his role. 
After winning his first NBA championship, Giannis said that he didn't just want to join a super team to win a ring in his post-conference. 
"It is easy to go somewhere and win a championship with somebody else (all-star). It's easy. I could go to a super team and do my part and win a championship, but this is a hard way to do it, and we did it."
Giannis Championship wins comparison with Lebron James and Kevin Durant
Max Kellerman summarises perfectly why Giannis winning a championship vs. joining a super team is challenging and has a greater value to his ring than joining a super team to win a championship. 
"When you create a situation where you can't lose, you don't prove the same kind of things. You don't prove the same kind of things; we already know that Kd is very skilled, as Steven A said…
But you don't prove the other stuff we really want to know about what a championship tells us about your grit and your determination about your ability to overcome obstacles because there are no obstacles if you put an MVP caliber player onto 73 (win team)."
Without hurting Kevin Durant and Lebron James's die-hard fan's feelings, as you are aware, just to put it into perspective:
KD Joining the 73-win game team, which has the greatest two shooters we have in the NBA with Stephen Curry and Kay Thompson, creates so much space on the floor and a team is extremely hard to beat when you add a player caliber of Kevin Durant into the same team. 
Lebron James, after failing to win a championship in Cleaveland, in 2011, left the Cavaliers to join superstars Dwayne Wade (arguably was still in his prime), who it could be argued to be in the top 5 and definitely top 10 shooting guards in the NBA history)
And 11 times NBA all-star Chris Boss, who averaged 10.8 rebounds per game, 24 points per game, and a field goal percentage of 51.8% in the previous 2009/2010 session before joining the Miami Heat from Toronto Raptors.
In 2012, Ray Allen was added to the already stacked Miami Heat team, a top 3 best shooter in the history of the NBA among Steph Curry and Klay Thompson. 
A season before Ray Allen was added to the Miami team (2011 – 2012), Ray Allen was shooting his career-best 45.3% from the three-point line.
Yes, that is right, 45.3% from the three-point line! 
Lebron James Miami Heat Championship and Kevin Durant Championship with Golden State Warriors; you could argue it does not quite add the same pride and honor Giannis Championship at Milwaukee Bucks.
You don't prove the same as Giannis, who has been loyal to his Bucks team since 2013 despite not having superstar teammates.
He developed himself to be two times MVP and Defensive Player of the Year, grew with Chris Middleton to both becoming an NBA All-Star player and finally, after eight years of hustle, become a 2021 NBA Champion. 
It is excellent to have Giannis attitude compared with some NBA all-star players wanting to join forces to play with an all-star to win a championship, which is what people look at right the number of rings you have at the end of their basketball career.
So Giannas STAYING LOYAL to the Bucks and their fans in return win him more fans. 
Giannis and Manny Pacquiao
Coming from nothing to having a dream of becoming an NBA player one day, now having accomplished so much as a basketball and still improving each year.
His rise from the bottom to top, from selling sunglasses in the street in Athens in a 36 degree (96.8 Fahrenheit) heat to being on top of the world, becoming an NBA player and becoming an NBA Champion, is an INSPIRATIONAL STORY.
Everything accomplished after winning his championship for Giannis must feel like an upside. 
With his struggle with not knowing where his next meal will come from and sleeping in the basketball gym, Giannis is similar to another superstar in a different sport named Manny Pacquiao. 
Manny Pacquiao came from an extremely poor condition in the Phillippines where he and his family drank lots of water to fill their stomach with the hope that tomorrow they would have something to eat the next day. 
His purse was just 1 dollar when he fought at amateurs as a boxer at age 12 and gave his money to his mother to buy two sacks of rice to feed his family. 
He fought with no idea of what boxing was at the moment. Still, He fought to feed himself and his family and later fought to take his family out of poverty (which is different in developing countries than in the Western world). 
And accomplished so much as a boxer to arguably be the second-best pound-for-pound fighter after the great Sugar Ray Robinson and winning eight division championships, which may take centuries to be broken, and lineal championships in five weight classes. 
That is from a malnourished 12-year-old kid who fought to survive to accomplish so much.
Both Giannis and Pacquiao are not from America. So it could be argued and many fans believe they may not be promoted by the American media to their true greatness in comparison if they were American.
Still, they have a global following and are loved by fans all over the world. 
What is fascinating to observe in these two guys who dominate in basketball and boxing are both likable, and down-to-earth. You could feel that in every accomplishment and world record they break; they never let the ego get in the way. 
Giannis says "Freak" stands for the guy from nothing who became everything. 
You can watch any Giannis and Manny Pacquiao interviews, and you can't help but notice that they are super humble, and likable.
And most importantly, they are great people who are not only incredibly proud to represent their nation but continually do so much charity and community work to HELP OTHER PEOPLE.
Giannis and Manny Pacquiao's story is inspirational for what they have accomplished in their sport, overcome their challenges, and still write more history. 
Giannis Humility and Mindset
What also Separates Giannis from his contemporaries is his old-school mental attitude that he does not want to work out with players from the opposition team and be sociable with them.
Instead, Giannis intends to come and bully you in the court like you ate his school lunch or made fun of his mother. No kidding, watch his highlights: 
Giannis goes into the court with a mentality to destroy his opponent and challenge himself to be the best version of himself, whether it is against 7 feet extremely talented Joel Embiid or old veteran Vince Carter.
As a side note, at the end of the video, Vince Carter and Giannis swapped the jersey back to sign Jersey and give it back later. 
Let's be honest: young Vince Carter would give Giannis a taste of his own medicine (Every 00's kids know Vince Carter's dunks were out of this world, and it is still the best dunks to watch in today's 20's standard), but that is further from the point…
Giannis loves competition, and you can tell his mindset on the court is, I don't care who you are when we step in the court, I am here to help my team win, and I will help my team win no matter who is on the way and whatever it takes. 
And with his burning desire to CONSTANTLY IMPROVE to become the best basketball player he can be and his determination to win, Giannis deserves all the accolades and love from the basketball fans.
Giannis is an inspiration to all aspiring fans and particularly international players who want to become NBA players one day. 
Passing Away of Charles Antetokounmpo
We can only imagine passing away from Charles Antetokounmpo; Giannis and his family were utterly devastated to see their father, their husband, who died at age 54 in September 2017. 
In 2021 no doubt Giannis wanted to celebrate his first NBA championship with his father, who attended almost all of his son's NBA games. 
It is similar to Michael Jordan's father, James R. Jordan, Sr; passing away at age 56. 
Both Michael Jordan and Giannis fathers would absolutely love to celebrate their son's championships and have another proud father moment with their son's accomplishment. 
However, there is no doubt both Giannis and M.J.'s fathers left this earth being absolutely proud of their son and knowing their son has found a passion they love and are pouring their heart and soul to be the best in their profession every day. 
Growing up, Giannis says he would open the fridge, have no food, and know his parents hustle hard selling on the street to put the food on the table for him and his brothers. 
Giannis says on his Nike I am Giannis Episode 2 that his mother would say to her husband Charles that he needs to eat and that his father would always reply, "Let my kids eat first." 
Understandably it must be hard for Giannis to win his first NBA MVP in 2019 without his father by his side. Giannis remembered his dad in his emotional MVP speech. 
"Two years ago, I had to goal in my head that I'm gonna be the best player in the league. I am gonna do whatever it takes for my team to win, and I am going to win MVP and every day that I step on the floor, I always think about my dad that motivates me, and it pushed me to play hard and move forward even though my body's sore, even I don't feel like playing I was going to show up, and I was going to do the right thing."
 Giannis Antetokounmpo Fan Base
Giannis is a very likable person. People respect and love Giannis because he is a fun-loving, humble man who loves his family and gives his all on the court. 
There was an interesting story when Giannas got into the league of how Giannis sent all his money to his family and had to run to a Fiserv Forum stadium because he didn't have money for a cab fare.
Giannis lived in a hotel for five months his rookie season and sent money to his family back in Greece. 
Giannis didn't own his own suit until hours before the NBA Draft, as suits can be expensive, and you want to look good. Giannis had his first suit just hours before the 2013 NBA draft and was drafted by the Milwaukee Bucks. 
Giannis fans love and appreciate him being genuine and STAYING HUMBLE despite his success in all these stories. 
Giannis learned to drive and open a bank account when he came to America, and his fans appreciate support and love him for who he is. 
Giannis Workout Session with Kobe Bryant
One of my favorite interviews of Giannis is what he learned one on one from Kobe Bryant about being a kid because when you are a kid, you always want to learn. 
With this learning mentality where you lose or win, like Kobe says, if you fail today, you can learn from that failure and try again on Tuesday or Wednesday. 
Giannis said in the interview that Kobe shared with him that 
1) You have to be simple and work on your craft again and again. 
2) Think outside the box, and you always have to be a kid. 
Shaq Gives Giannis his Superman Name
We all know how Shaq loves big men to play strong and attack the ring like a big man. 
Shaq does not give his praise easily, and you have to earn to get praise from him. 
It is an incredible moment Shaq on national television gives utmost respect to Giannis, gives him his Superman name, and provides a detailed breakdown of why Giannis is better than him. 
Shaq loves Giannis because Shaq says that Giannis is humble, works hard, and wants it in his interviews. 
Max Kellerman said in 2019 that Giannis (before he won any championship) Giannis has the potential to be greater than Michael Jordan to ever play basketball.
Respect to both Max Kellerman and Shaq for giving the utmost respect to Giannis, and he deserves all the praise and accolades. 
Giannis is an Inspiration To Every Kid
Giannis made an inspiring speech in his interview after winning his first NBA championship and NBA Finals MVP. 
"This Should make every kid everybody around the world believe in their dreams.
No matter whatever you feel, when you feel down, when things don't look like it's going to happen for you, you might now make it in your career; it might be basketball or anything.
Just believe what you're doing, keep working, and don't let anybody tell you what you can't be and what you cannot do.
People told me I couldn't make free throws. I made my free throws. I made them, and I am not supposed to make them. I hope I give people around the world from Africa to Europe give them hope; you know that it can be done.  
Eight years ago/Eight and half years ago, when I came into the league, I didn't know where my next meal would come from. My mom was selling stuff on the street, and now I am sitting at the top of the world.
I am extremely blessed.
If I never have the chance to sit at this table again, I am fine with this, but I hope this can give everybody around the world hope and to believe in their dreams."
Shooting and Freethrow is not yet a strong part of Giannis Game wherein the 2021 playoffs and finals, suns, and other opposing teams started a count down whenever Giannis went to the free-throw line because of how long it takes Giannis to take free throws. 
Giannis joked, "don't tell nobody tell you what you can and cannot do. People told me I cannot make free throws. I made my free throws tonight, and I am a champion." 
When it counted the most, Giannis made 17 out of his 19 FREE THROWS 89% in the NBA finals to help Bucks win their NBA championship since 1971.
In addition, Giannis scored 50 points which matched perfectly with 50 years since the bucks won an NBA title.
Nike Shoe Deal With Giannis 
According to Forbes, Giannis shoe deal started with $20,000 a year, which in 2017 is upgraded to a 10 million dollars per year shoe deal. 
In 2019 Zoom Freak 1 became the biggest initial shoe launch in Nike history. 
Hats off to Nike; they have done a fantastic job promoting Giannis shoes, not just to promote Giannis shoes but to provide value to basketball fans with an incredible 5 part mini Episode of Giannis. 
Giannis, a kid who shared shoes with his brother during the basketball games between breaks, now has his own shoe line is a fantastic story. 
Giannis Antetokounmpo Interesting Facts
Giannis officially only became a citizen of Greece in 2013 because Giannis parents Charles and Veronica, were not Greek citizens.
Giannis original family surname is Adetokunbo. However, their last name was misspelled in the passport.
Giannis is the first Greek to win Regular season NBA MVP.
Giannis is the first and only player in the NBA to win MVP awards and the most improved player award.
Along with Michael Jordan and Hakeem Olajuwon, Giannis is the third player in NBA history to win both Defensive Player of The Year and regular-season MVP.
Giannis and his elder brother Thanasis both served in the Greek Military. Interestingly both brothers Giannis and Thanasis, play for the same team Milwaukee Bucks. In Greece, men between ages 19-45 must serve at least 9 months to perform military service by Greek law.
"Greek Freak" is trademarked since 2014, used on his products endorsements, such as his popular Nike basketball shoes, among others. Giannis filed a lawsuit against website Fan Closet website for selling Greek Freak merchandise. 
How Old Is Giannis Antetokounmpo
Giannis Antetokounmpo was born on 6 December 1994. 
Where is Giannis Antetokounmpo from 
Giannis Antetokounmpo was born in Athens, Greece, and grew up in the north of Athens. Both Giannis parents were immigrants from Nigeria. 
How Tall Is Giannis Antetokounmpo
Giannis is 6 feet 11 inches or 2.11 meters in height. 
How To Pronounce Giannis Antetokounmpo
I wonder how many times Giannis had to explain this to people. Below Giannis himself teaches you how to pronounce his name. 
When was Giannis Antetokounmpo Drafted
Giannis was drafted in the 2013 NBA draft by Bucks Round 1, 15th pick. 
What Position does Giannis Antetokounmpo play?
Giannis Antetokounmpo plays power forward / small forward in the NBA.
How Big are Giannis Antetokounmpo hands
Giannis Antetokounmpo's hands are the third-largest hands ever recorded of an NBA player with 9.85/12 inches. 
Here is a video of Giannis and Rachel Nichols's hand comparison. 
Where did Giannis Antetokounmpo go to college?
Instead of playing basketball at college at age 17, Giannis started playing in the third division as a semi-professional basketball player from an Athens team named Efao Zografou B.C. 
What shoes does Giannis Antetokounmpo Wear?
Giannis has an endorsement shoe deal with Nike and wears his Zoom freak edition shoes. 
How long is Giannis Antetokounmpo wingspan
Giannis Antetokounmpo wingspan is 7 foot 4 inches. 
When did Giannis Antetokounmpo Started playing basketball 
In this 2013 interview below at the 1:05 mark, Giannis mentions he started playing basketball in 2008, which means Giannis began playing basketball at age 13/14.
How tall was Giannis Antetokounmpo when drafted
According to the Bleacher Report, Giannis was 6 feet 9 inches when drafted. However, Giannis was 19 years old when he was drafted by the Bucks in 2013 and grew two inches while playing in the NBA.