How Many Championship Rings Does Michael Jordan Have?
Michael Jordan won six NBA championships or six rings in total in his NBA career.
While Jordan won a bunch of scoring titles, NBA All-Star MVP, Regular season MVP, and Defensive Player of the Year, Jordan was always laser-focused on winning a championship ring at the end of the season.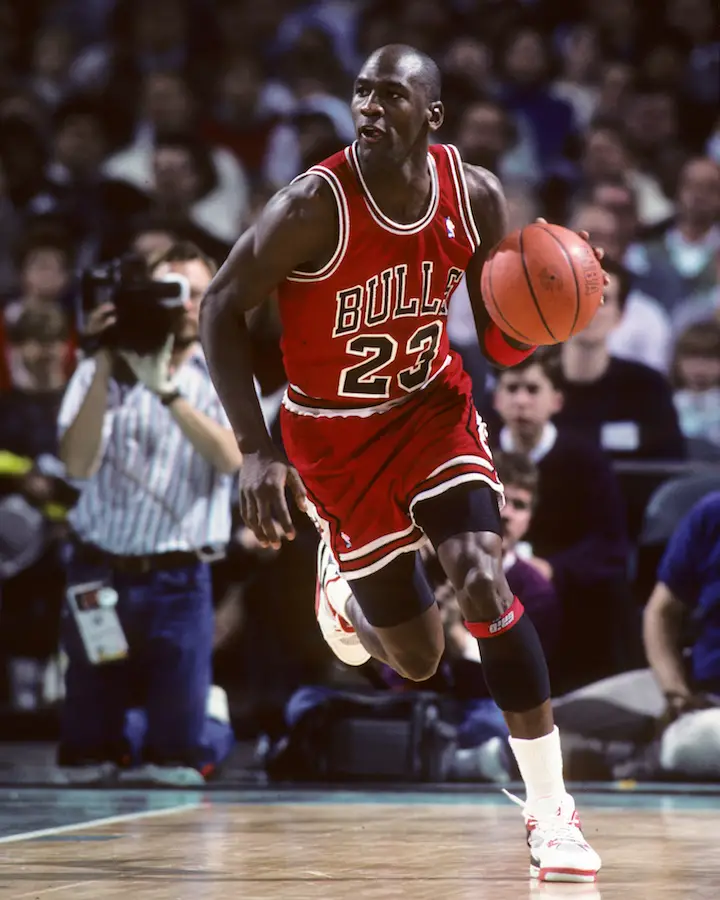 What Years Did Michael Jordan Win His Rings
Michael Jordan helped the Chicago Bulls in the Championship and won his rings in years:
1991 Against Los Angeles Lakers
1992 Against Portland Trail Blazers
1993 Against Phonix Suns
1996 Against Seattle SuperSonics
1997 Against Utah Jazz and
1998 Against Utah Jazz
Let's Roll the tape to see Michael Jordan's exciting moments winning six rings in this 6 minutes video.
Who Has More Rings Than Michael Jordan
Boston Celtics and NBA legend Bill Russel Holds the record of 11 NBA Championship rings, and two Boston Celtics players, Frank Ramsey and Jim Loscutoff, have seven NBA Championship rings.
Sam Jones has 12 rings and played for the Boston Celtics with Bill Russell. Also, from the Boston Celtics, Tom Heinsohn, K.C Jones, Satch Sanders, and John Havlicek have all 8 rings.
So yes, Boston Celtics have a history of domination in the NBA, especially in 1960, where they won 9 Championships 1960, 1961, 1962, 1963, 1964, 1965, 1966, 1968, and 1969)
Robert Horry has 7 NBA Championship rings, which he interestingly won with three separate teams. With Huston Rockets in 1994 & 1995, Lost Angeles Lakers in 2000, 2001 &2002, San Antonio Spurs 2005 & 2007.
How Much is Michael Jordan Championship Rings Worth
Unfortunately, there are no official figures on how much it costs to make a championship ring, which could be anywhere from $10,000 to upwards of $100,000.
The 2019 NBA Champions Raptors team reportedly paid $100,000 for each ring, and these rings are pride for any players how to put in their whole life of hard work.
Of course, suppose Michael Jordan was ever to sell his ring. In that case, the bidding you can imagine will start upwards of a million dollars very quickly and will likely fetch tens of millions.
Michael Jordan's net worth is easily over a billion dollars; there is no doubt he will and wants to sell his rings for more money.
But, moreover, it is a prized possession for Michael Jordan, it is one of those things in life where you can't put a price on it, and he will likely never sell it and will pass it on to his family.
How Many Rings Did Michael Jordan Have at Age 31
Michael Jordan had three rings at age 31 from his NBA Championship wins from 1991, 1992, and 1993.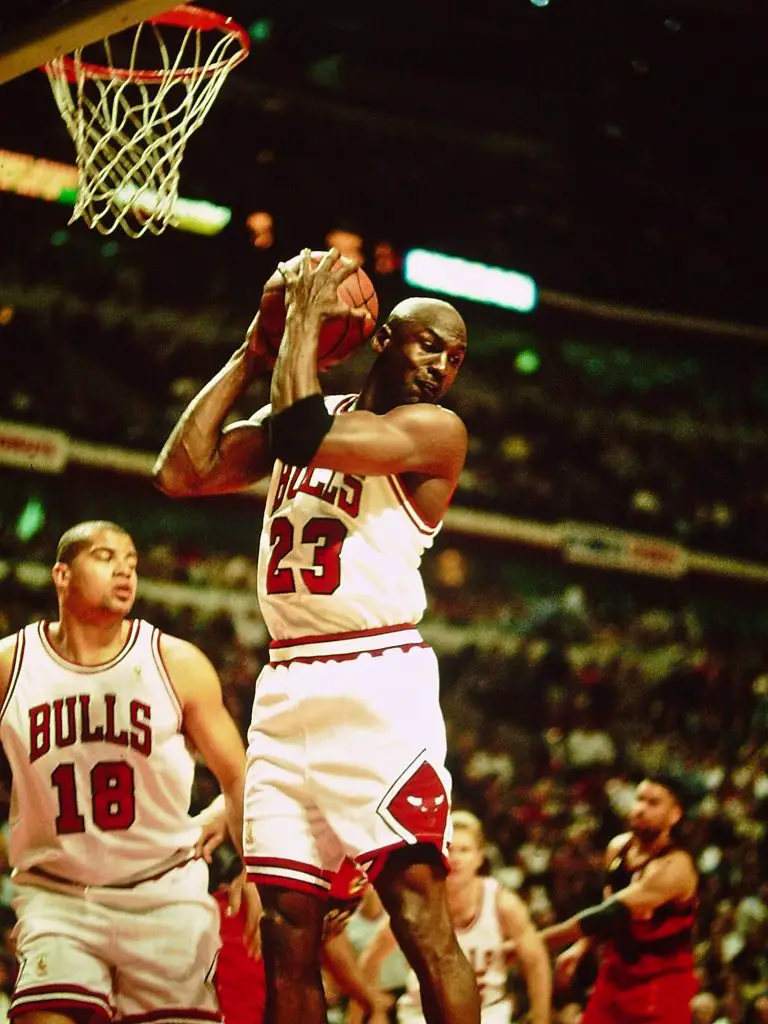 At age 30, after passing away of his father, James R. Jordan, Sr., Michael Jordan decided to play Baseball for Birmingham Barons in 1994. However, it was not until Michael Jordan was 32 years old that he re-joined Chicago Bulls to win three championships in 1996, 1997, and 1998.
Who Has The Most Rings: Michael Jordan or Magic Johnson
Michael Jordan beats Magic Johnson by one ring. Magic Johnson has 5 NBA Championship rings he won in 1980, 1982, 1985, 1987, and 1988.
The Lakers were dominant in the '80s, and Michael Jordan didn't have an all-star in his team. And when Scottie Pippen joined the Chicago Bulls in 1987, the rest is history.
Max Kellerman perfectly describes Michael Jordan when given one all-star player (Scottie Pippen when they played together 1987-1993, 1995-1998 and later Dennis Rodman joined Chicago Bulls from 1995 -1998)...
..Not only did he not win a championship every year, but he led his Chicago team to win before ever reaching game 7 in the NBA Finals.
Only Jordan legitimate excuse is in the year 1995, when Jordan came back to the NBA after playing baseball for a year and in 1990 against Bad Boy Pistons in eastern conference finals when Scottie Pippen could not play due to a migraine)
How Many Years Did It Take Michael Jordan To Win 6 Rings
Michael Jordan was away from the NBA in 1994 for a year to play baseball professionally. So, taking that into account, it took Michael Jordan 13 years as an NBA player in total to win all his 6 NBA Championship Rings.
Michael Jordan joined the Chicago Bulls in 1984 until 1998, which is also called Michael Jordan Era
Who Had More Rings, Scottie Pippen or Michael Jordan
Michael Jordan and Scottie Pippen both have six rings they won together as a teammate.
Michael Jordan Retired from the NBA, winning his sixth ring by the 1998 season. Michael Jordan returned to the NBA in the 2001 – 2002 season with Washington at age 38 before his final retirement from NBA basketball in 2003.
Michael Jordan didn't win any championship rings during his couple of years in Washington.
Who can blame him?
Michael was nearly in his 40s but still teaching young bucks how it's done with his 51 points on December 29, 2001, against the Hornets, among amazing scoring performances.
Michael Jordan owned Charlotte Hornets before he owned it with signed paperwork after he retired from the NBA 🙂 That's badass!
After winning their six championships together in Chicago, Scottie Pippen played for Huston 1998 – 1999, Portland 1999 – 2003, and returned to Chicago for 2003-2004.
Unfortunately, Scottie Pippen did not win Championship rings other than the six legendary Championship rings he won with Michael Jordan as a team.
Here is a tape of their first time playing in an NBA game before Christmas time in 2002. Wouldn't it be funny if they were to pass the ball to each other accidentally? I digress.
Where Did Michael Jordan Earn 6 Championship Rings
Michael Jordan only played for two NBA teams in his career Chicago Bulls in his prime and a couple of years 2001-2002 and 2002-2003 season in Washington Wizards.
Michael Jordan earned all his Championship rings in the Chicago Bulls team; he was drafted to the 1984 NBA draft when Michael was 21 years old.
In Washington, Michael Jordan was already reaching his 40's with no all-star teammate in his team, so there is no knock against him not winning a championship ring for later in his career.
Michael Jordan's Age When He Got Last Three Rings
Michael Jordan's age was 33, 34, and 35, respectively, when he got his last three rings 1995-1996, 1996-1997, and 1997-1998 NBA Champion.
Michael Jordan and his Chicago Bull potentially could have won a couple of more championships had there not been conflict with the front office we see in the Last Dance Series.
Who Has More Rings Michael Jordan or Lebron James
Michael Jordan (6 rings) has more rings than Lebron James (4 rings). Lebron won his Championship rings in 2012, 2013 with Miami Heat, 2016 with the Cleaveland Cavaliers, and 2020 with the Lakers. Lebron Championship ring with three separate teams is impressive.
With Lebron James already past his mid-30s time, time will tell if he will capture more Championship rings with his Lakers team.
The argument die-hard basketball fans make is that Lebron chased first his first ring, joining the Miami Heat team to play with all-star Dwayne Wade, Chris Bosh, and later Ray Allen joined in already stacked-up team.
It is different from what Jordan or Giannis did by staying loyal to his team for seven years before winning a championship.
Lebron James redeemed himself by going back to Cleveland to help the city win a championship in the 2015-2016 season.
How Many Rings Does Michael Jordan Have With The Bulls
Michael Jordan has six rings with the Bulls. Michael Jordan stayed loyal to the Chicago Bulls for seven seasons to help his Chicago team win their first Championship ring, which was emotional for Michael.
Soon as Michael won his first Championship ring in 1990-1991, two Championship rings quickly followed in consecutive years 1990-1991, 1991-1992, and 1992-1993 NBA Season to make their first three-peat.
After a year away from basketball, Michael Jordan returned from retirement to earn himself three more championship rings in 1995-1996, 1996-1997, and 1997-1998 NBA season to lead the Chicago Bulls for another three-peat.
Michael Jordan's Age When He Got Rings
Michael Jordan had his success winning his rings in his late 20's and early thirties.
| | |
| --- | --- |
| NBA Season | Michael Jordan's Age |
| 1990-1991 | 28 |
| 1991-1992 | 29 |
| 1992-1993 | 30 |
| 1995-1996 | 33 |
| 1996-1997 | 34 |
| 1997-1998 | 35 |
Who Has The Most NBA Championship Rings Between Kobe and Michael Jordan
Kobe Bryant played like Michael Jordan and just came one Championship rings short of Michael Jordan Championship rings.
Like Michael Jordan, Kobe Bryant won all his Championship Rings with one team. Kobe Bryant helped his Los Angeles Lakers win 5 championships in 2000, 2001, and 2002, making it a three-peat. Kobe Bryant won couple more championship rings in 2009 and 2010.
With Michael Jordan's 6 rings and Kobe Bryant's 5 rings, both of them didn't just have a similar style of play but also came close to the number of Championship rings they won throughout their NBA career.
Who Were The Teams Michael Jordan Beat For Rings
Michael Jordan and his team beat five different teams to win his six championship rings.
| | | |
| --- | --- | --- |
| Year | NBA Team | Result |
| 1991 | Los Angles Lakers | 1-4 |
| 1992 | Portland Trail Blazers | 2-4 |
| 1993 | Phoenix Suns | 2-4 |
| 1996 | Seattle SuperSonics | 2-4 |
| 1997 | Utah Jazz | 2-4 |
| 1998 | Utah Jazz | 2-4 |
Tell Me How Michael Jordan Is Better Than Lebron James Without Saying Six Rings
Many people argue that Michael Jordan's killer instinct, laser focus to win no matter what attitude, separates Michael Jordan from Lebron James.
Max Kellerman argues that Michael Jordan's peak was greater than Lebron James's peak and the Player efficiency rating is greater than Lebron James's.
For example, with Michael Jordan PER 27.91, Lebron James PER is 27.39.
Moreover, Max argues that Lebron James has two legitimate losses. Michael Jordan played eight seasons with at least one all start in his career and won six Championship Rings.
| | |
| --- | --- |
| Lebron James Excuse Losses | Lebron James Actual Losses |
| 4-1 Loss against the Spurs in 2014 finals. Whist Spurs were arguably the better team Lebron James had Dwayne Wade, Chris Boss, and Ray Allen. | Lebron James 4-2 Loss against the Warriors in 2015 Finals. Max says it is an excuse for loss for Lebron because both Kyrie Irving and Kevin Love, both all-stars, were hurt. Also, Lebron James took the Cavaliers 6 games; Max argues Lebron should get extra credit. |
| Lebron James and his Miami Heat loss against the Mavericks in 2011 count against him being outplayed by Dirk Nowitzki, and Lebron had Dwayne Wade and Chris Boss, great complementary pieces, and great Coach Erik Spoelstra. | 2017 Finals Warriors won 4-1, and 2018 Finals Warriors win 4-0 Max argues it should not be held against him because of the loaded Warriors team with Stephen Curry, Klay Thompson, and Kevin Durant, among others. |
| 2017 Finals Warriors won 4-1, and the 2018 Finals Warriors won 4-0. Max argues it should not be held against him because of the loaded Warriors team with Stephen Curry, Klay Thompson, and Kevin Durant, among others. | |
| | |
| --- | --- |
| Michael Jordan Excuse Losses | In 1995 the Huston Rockets led by Hakeem Olajuwon and Shaquille O'Neal won when Michael Jordan had come back to play basketball after his retirement with his baseball body and was not in a basketball shape. |
| Michael Jordan's Actual Loss | None |
| In 1995 the Huston Rockets led by Hakeem Olajuwon and Shaquille O'Neal won when Michael Jordan came back to play basketball after his retirement with his baseball body and was not in a basketball shape. | |
Whist Lebron James has two LEGITIMATE LOSSES.
Max Argues Michael Jordan played eight seasons with at least one all-star in his career not only Michael Jordan never lost in an NBA Finals, Michael Jordan won an NBA Championship in under 7 games.
Max Kellerman makes a Very Persuasive Argument based on FACTS and it MAKES SENSE.
At the end of the video, Max says "You dont want to compare a player to Michael Jordan , you will get your feelings hurt." MIKE DROP
Whist Michael Jordan Won His 6 Championship Rings How Many NBA Finals MVP Did He Get
Out of the 6 Championship Rings, Michael Jordan Won. Michael Jordan was the NBA Finals MVP all six times.
Here is an old NBA 2K12 promotion where Michael Jordan did their commercial. Let Michael Jordan brag about his ring; he deserves it!