Separate your Jerseys into Whites, Lights, and Darks.
Use a cold water setting in your washing machine because hot water could damage the jersey logo and branding.
Avoid quick wash and dry settings because this may shrink your soccer jersey.
Little extra care and effort can go a long way to keep your jersey in good condition, especially if your jersey has sentimental value to you.
   Your Guide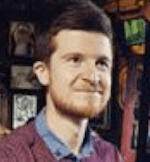 Alex Waite
If you are an amateur soccer player, you will have the UNENVIABLE task of washing your used soccer jersey at some time or another.
Or perhaps you are a coach and need to wash jerseys for your entire team.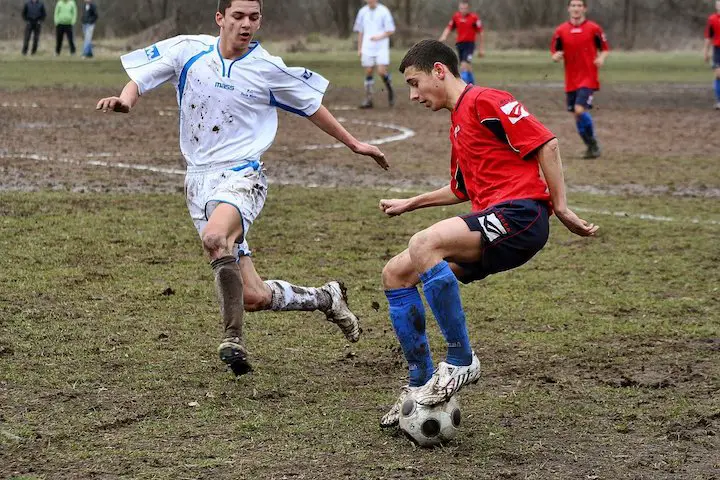 Washing a soccer jersey may seem like a straightforward task. But, one wrong step can lead to disaster. 
When I was growing up, my family was soccer-mad. My siblings and I played for various soccer clubs, and my dad was a coach of different teams.
Consequently, we often had many frowsy soccer kits scrunched up in duffle bags lying around the house, ready to be washed for the weekend. 
While things usually went smoothly, there were occasional MIX-UPS, particularly for old, worn tops. Ripped jerseys, color mix-ups and shrunken clothes were common when we rushed washing our soccer jerseys. 
Soccer kits can usually be replaced if these errors happen.
However, some soccer enthusiasts may own prized or lucky soccer jerseys that are more sentimental. If these are washed incorrectly and subsequently damaged, then they can be irreplaceable.
Taking the time to wash a soccer jersey properly can save time and money. In this article, we share a step-by-step guide on how to clean a soccer jersey. 
Keeping Your Soccer Jersey in Great Shape: A Step by step Washing Guide
By taking the correct steps to prepare, wash and dry your soccer jersey, you will be able to get it looking FRESH and crisp for your next match or practice session. 
The guide below will guide you through washing a soccer jersey correctly to keep it looking as clean as possible. 
1) Shake Off Any Mud or Debris:
After finishing a match on a wet, wintery day or following a hot training session, the last thing you will be thinking about is washing your soccer kit.
So, before you chuck the jersey straight in the washing machine, take it out of the bag and give it a quick brush down, getting rid of any excess dirt or debris.
This will help with stain REMOVAL and will not sink any loose mud or dirt into the fabric.
2)Avoid a Mish-Mash of Colour:
Unless you want to emulate Juventus, Manchester United or Real Madrid of recent years and have a bright pink kit for the season, separate your jerseys into whites, lights, and darks…
…Many soccer jerseys are made from synthetic fibers, which run more in the washing machine.
To prevent the colors from BLENDING and mixing together, separating them is key to maintaining the natural color of the jersey.
If you are washing jerseys that are all the same color, you do not need to separate them. 
3) Time for a Spin:
Once you have carefully PREPARED your jersey to be washed, it is time to get it sparkling clean in the washing machine. If possible, use a high-quality detergent and a cold water setting.
Hot water makes the colors in synthetic materials run, and it can also cause damage to logos, branding and weakens the integrity of the jersey.
In the past, I have also used a quick wash and dry setting.
Avoid this!
It may shrink the soccer tops and could prove costly to replace them.
If you are washing one jersey, doing a light wash by hand is more effective, and you can scrub any tough stains or marks. This is a more careful way of cleaning special jerseys that may have sentimental VALUE.
4) After Care:
Your jerseys are out of the washing machine, smelling good and looking match-ready, but they are not quite finished just yet.
To avoid any long-term damage or peeling sponsor logos, ensure you do not expose the jersey to INTENSE heat.
Drying a soccer jersey in the sun is a good idea, but you can cover it with thin material to avoid too much heat penetrating the fabric.
Also, try to avoid ironing or using the dryer setting when cleaning your jersey.
This is likely to PEEL off any logos or designs, and it will avoid shrinking the jerseys. 
Conclusion
If you play for a soccer team, you may have a top with a special number and your name printed on the back.
Alternatively, you may have a VINTAGE jersey representing your passion for your favorite soccer team. Ultimately, however much you do not want to, you will have to wash your jersey.
When I played soccer as a kid, the number nine jersey was mine. I was inspired by the great strikers of the 1990s.
Brazilian legend Ronaldo, Andy Cole and Filippo Inzaghi gave me the drive to claim the number nine shirt as my own. After two seasons of wear and tear and mud stains, I kept the shirt, and I still have it today.
The reason I have kept it in good condition for so long comes down to a little extra care and effort.
Washing and keeping a soccer jersey pristine does not take a huge commitment, just some additional attention to detail.