Astro-turf surfaces were a revelation and provided an excellent ALTERNATIVE to grass as you can still play soccer outside without worrying about water-logged or frozen pitches.
Your Guide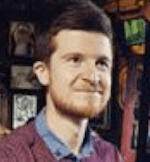 Alex Waite
Yet, the firm design of astro-turf means you need the correct footwear to play effectively.
I've often found myself slipping and sliding around on the grainy surface of Astro-turf when I've tried to play in regular trainers or soccer boots.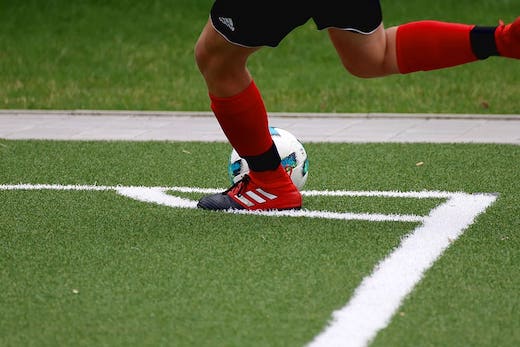 Your touch and control a lot worse with incorrect footwear too so you must get your choice right.
Ensure your astro-turf boots have plenty of padding and are sturdy enough to ENDURE the wet and cold conditions you sometimes experience when playing outside.
As astro-turf is a harder surface, you must have plenty of padding to support your feet and ankles on this surface.
Adidas Mundial boots are extremely reliable on astro-turf surfaces and offer everything you need to succeed when playing on this surface.
The Mundials have plenty of padding and offer lots of comfort and they are very durable and fairly heavy duty, making them perfect for enduring all conditions.
The Adidas Mundials also help to improve your balance when moving in all directions and help with mobility when turning direction quickly.
The rubber studs are also perfectly designed to help your balance and prevent all that slipping and sliding.
Key Features
Popular black and white style with three Adidas stripes
Rubber soles for balance
Kangaroo leather upper
PU mid-sole improves durability
Suede material towards bottom of shoe improves control
Specification
Only available in black and white
Large, foldable tongue
Lace up fit
Customisation available at extra cost
Pros
Excellent materials used improves the durability of these astro-turfs
Rubber sole and PU mid-sole offers extra support for balance.
Iconic design with three white strips
Cons
Require some breaking in as they are fairly heavy-duty
More modern and sleek designs are available from other boots and manufacturers.
#2: Adidas Goletto 7
The Adidas Goletto astro-turf boots look similar to the Mundial design but they offer something different.
These boots are PERFECT for amateur players who simple want comfort and long-lasting boots for smaller sided games of football or training.
Golettos also offer a more affordable option too without compromising much of the quality or durability in comparison to other boots.
These boots are extremely well padded to provide the comfort needed for playing on astro-turf surfaces. A simple Adidas design also provides a classic feel to these popular boots.
Key Features
Cushioned insole and ankle provide comfort
Synthetic material used on upper, making them more breathable
Rubber sole and studs support with excellent grip
Large Adidas branding on one side and three stripes on the other
Specification
Available in many sizes (6 to 13)
Lace up fit
Available in six different colours
Pros
Affordable for amateur players (approx. £40)
Offer excellent support and comfort for new players
Good quality material makes them durable
Cons
Basic design and style
Heavy duty feel makes them less dynamic than other models
#3: Puma Future 4.4
The Puma Futures have plenty to offer for the modern footballer.
Puma can modify these boots to perfectly suit your feet and playing STYLE and also make the laces to support your feet type so if you have larger and wider, or smaller and thinner, feet, for example, these provide a good option.
The all black design is modern and sleek. The Futures are made to be comfortable, lightweight and breathable and offer great support for mobility and agility of astro-turf surfaces.
Key Features
Knitted sock above the ankle provides further support
NETFIT material makes boots lightweight
TPU outsole gives extra balance on harder surfaces
Puma cat brand on heel of boot
Specification
Available in sizes 6 to 11
Customisable lace up fit available
Variety of colours available from different sellers
Pros
Customisation suits different foot types
Lightweight design improves speed and agility
Comfortable, close fit to feet
Cons
Large heel can be restrictive when in possession
Upper of boot can be slightly stiff so requires breaking in
#4: Nike Tiempo Legend VIII 
The Nike Tiempo brand has proven to be a RELIABLE make of astro-turf boot for a long time and offers plenty of quality, style and comfort for harder and artificial surfaces.
The Nike Academy range comes below their 'Pro' and 'Elite' range but still offers plenty of quality for your game on astro-turf surfaces.
Plenty of cushioning provides lots of comfort on hard surfaces, while the outsole provides sufficient grip on most surfaces.
Their sleek black design with iconic Nike tick running along the side of the boot gives the Tiempos that classic Nike feel and style.
Key Features
Interior quilting for comfort
Full grain leather
Floating mesh around toe prevents injury
Sock liner above ankles adds extra support
Rubber outsole gives extra balance
Specification
Available in six different colours
Sizes 5.5 to 14 available
Lace up fit
Slim fit
Pros
Good quality materials improve durability
Well supported to prevent injury
Very comfortable and help to improve touch and control
Cons
Very tight fitting initially due to slim design
Fly knit o heel adds little to performance or style
#5: Nike Mercurial Superfly 7
The Nike Mercurial Superfly Academy boots offer a lightweight, comfortable fit which help to support speed and agility on astro-turf surfaces.
The cushioned insole and knitted ankle support give a snug fitting boot and firmly secure your feet in place when running, passing and controlling.
The rubber soles on the Mercurial Superfly boots provide superb grip under foot, perfect for those wet and wintery NIGHTS playing on artificial surfaces.
These boots have a simple design with a few subtle details which provides that modern feel of a football boot for players looking for something with style and a practical option while playing.
Key Features
Moulded rubber studs improve grip
Cushioned insole adds to comfort
Knitted ankle support and sock liner inside boot
Nike tick flows from front of boot along side
Lightweight feel
Specification
Lace up fit
Available in three separate colours
Sizes 5 to 14 available
Pros
Lightweight build aids speed and agility
Ankle support provides extra support and can prevent injury
Excellent grip is suitable for astro-turf surfaces
Cons
Can be hard to put on because of sewn in sock
The Superfly isn't very breathable, leading to excess sweating and overheating (possibly suitable for winter rather than summer)
#6: Mizuno Monarcida AS
The Mizuno Monarcida Neo AS astro turf boots offer a great quality pair of boots without compromising the quality and durability of these astro-turfs.
High-quality synthetic material is used for the upper boot which makes these boots long LASTING and touch against tackles and contact.
They are slightly heavier than certain alternative boots, but the boots are perfect for defenders or players who receive a lot of contact.
There are many different colours and designs available for this boot too so you can ensure great quality and style without spending a fortune.
Key Features
Durable synthetic material on upper boot
Dimpled, gum rubber out sole underfoot provides excellent traction and balance
Zero glide removable sock liner adds extra comfort inside the boots and prevents friction.
Specification
Medium width
Sizes 7 to 12 available
A variety of colours and designs are available
Lace up fit
Weight (approx.) 260g depending on size
Pros
Very affordable at (approx.) £30
Durable materials make these boots long lasting without compromising player comfort
Medium width fit is suitable for a range of players.
Cons
Upper boot is quite thick which can feel heavy when worn for the first time.
Can feel tight on first couple of wears so require some time to break in properly.
If you regularly play on astro-turf surfaces then you must ensure you take the time to find the best fitting and most COMFORTABLE boots that suit your feet.
The consequences of blisters, friction and aching feet aren't worth the hassle when choosing low quality or cheaper substitutes so be prepared to try out the boots that fit you the best.
Remember that balance and control is key on astro-turf, otherwise your feet will betray you on slippery surfaces.
If you are starting out on you football journey then the Adidas Mundial or Goletto boots are a good start due to their durability and sturdiness for astro-turf surfaces.
If you are looking for something a little more advanced and modern, then the Puma or Nike boots may be more suitable for you.