Your Guide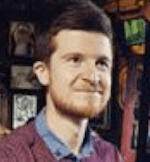 Alex Waite
There really is no better feeling than striking the football into a goal.
Whether it's during a match, training or just having a casual game with friends, having a goal definitely enhances the playing experience for all players.
Our Top Pick:
Hearing, seeing and feeling the ball hit the back of the net is an experience that any footballer will tell you is better than any other.
So, choosing the right goal to enjoy this experience can make a big difference.
When I was growing up in London, there were plenty of green spaces and concrete pitches to play football on.
These outdoor locations were great for gathering with friends and teams to practice. Sometimes just taking a ball and going by myself was INCREDIBLY ENJOYABLE.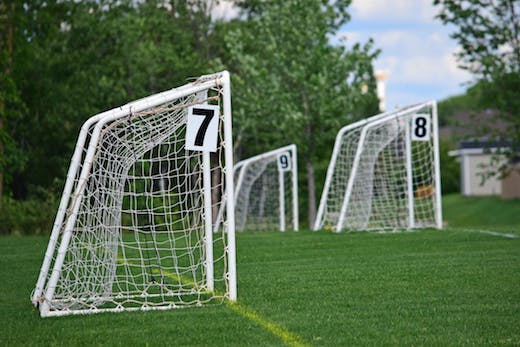 However, more often than not, when playing team matches, me and my fellow players would have to use jumpers, trees, bikes, backpacks or bins to mark out where the goal-posts would be.
Occasionally, we would also have to do this in team training which is not ideal.
This led to continuous confusion and arguments about whether a shot 'hit the post', whether it 'went over' (particularly difficult as there was no crossbar).
An article in the world-renowned football magazine Four Four Two highlighted how the humble goal-posts are the most important piece of equipment on the pitch.
If, like me, you've used a variety of different items as goalposts in your life, you will associate with this article and the evolution of the goal-post throughout football's history!
Some of my peers purchased plastic goals when we were teenagers.
These were very easy to assemble, but, as we got older and our bodies grew more, our shooting became harder and smashed the posts and crossbar within days.
We were constantly changing goals and pooling our money together to buy a new goal.
Ultimately though, having a goal is a much more enjoyable experience when playing football.
Although football is largely about enjoying a team sport with your friends or team, being able to use a goal heightens your experience and adds so much realism to your match.
Furthermore, if you are holding training sessions or playing football more seriously in a competitive manner, the goal will improve accuracy and add that element of professionalism to your team.
How to Choose the Best Soccer Goal?
There is a big selection of football goals available, so making the right choice can be difficult.
One of the major factors to be aware of is that there is not one overall size of a SOCCER GOAL to use.
The size of the goal you choose will largely depend on the age group who is playing the game. The younger the player, the smaller the goal.
But, the size of the goal may also depend on what type of skill you want to practice.
If you want to improve your accuracy, a smaller goal may be better, if you're doing a whole team practice or playing an 11 a-side game, then you will need a full-sized goal.
World football governing body FIFA specifies that goalposts must be eight yards wide and eight feet in height.
They also say that goals must be made of suitable metal and not endanger player's safety. If you do use this guide, be wary of the advice given about using wooden goalposts.
Although this is technically not a problem in some settings, wood is outdated.
UEFA recently released an extremely helpful video about goal-post safety which is a great starting point if you are unsure about the safety of the goal-posts you purchase.
This is an excellent starting point if you are looking for a goal to use in a professional setting or if your team is hosting matches.
It may not be so useful for training purposes as you are free to use any goal size you wish in training situations.
Once you've chosen the right goal for your needs, you can buy extra accessories to place in the goal (targets, hoops etc.)
These really do add an extra fun element. I've often used them with teenagers at the end of practice to start different point-scoring games which they love.
Also, consider the net you would like after you've got the right goal. Sometimes, sizing can be an issue with goal nets.
So, if your goal choice comes without a net, be sure to check and double-check you get the right size.
There's nothing worse than trying to put up a goal net and finding that it doesn't fit correctly!
What To Look For
Soccer goals come in all shapes and sizes. You can buy tiny practice goals for passing to full-sized goals for matches.
It's useful to know the size of goal you intend to use.
As a guide, the FA provides a useful table on their PDF document (please google to see the document: 'The FA Guide to Pitch and Goalpost Dimensions').
While the FIFA guidance offers useful sizing for professional and 11-a-side games, the FA guide is more suitable for individual purposes and when choosing kid's goals.
In addition to their helpful guide sizes, the FA also provides health and safety information on setting up full-sized goals.
While you may be hurriedly trying to set up your goal for training or for a match before the sun begins to set (a regular problem before the nights close in during autumn)…
..safety is extremely important as you don't want a metal bar falling on your head, neck or back.
No goals could also ruin the game you had planned!
While traditional football goals are made from metal posts, you can also purchase lighter full-size goals made of plastic.
If you choose a plastic option, just ensure it is sturdy enough to withstand your shooting power, if you are that accurate…
..otherwise, you could end up like me and my friends the day our first plastic goal cracked and we had to go back to using jumpers and tress as our goal-posts.
Another potential issue with plastic goals is that the crossbar can start to bow in the middle after long-term use. Regular use can cause wear and tear which leads to the middle of the crossbar dipping in the middle.
This causes numerous problems; it's annoying if you shoot, the ball is going in then suddenly flies over the crossbar as it's lower than the rest of the goal.
Recommendation For You: UEFA standard sizing and quality.

In addition to this benchmark of quality, it is easily portable (with two people) and you can take it down quickly when required.

You also get great value for money due to its durability and weatherproof structure. So, there will be no more falling down and compromising of safety if you choose this goal.

The ALU60 also looks great. Despite being largely made from aluminum and with elements of steel, the white paint finish makes the goal look professional and sleek.

Just looking at it makes me want to lace up my boots, line up some footballs on the edge of the penalty area and start shooting.

Key Features

Aluminium frame for excellent durability
Side frames can be easily folded away
Quick release back bars
Portable goal (non-freestanding)
Easy assemble
All weatherproof

Specification

24ft by 8ft width and height dimensions (UEFA regulation size)
Aluminium posts and crossbar, 2.5mm thick
Posts 60mm in diameter
Overall weight of 25kg
A 3mm braided white net included with purchase
Coated in white paint for glossy, professional look

MH Goals offer an excellent variety of different goals for different needs and a testament to their quality comes from the fact they provide goals to Premier League clubs as well as lots of amateur teams.

Their Senior Lightweight Folding goal is an excellent option as it can be used for both training and matches.

Its lightweight design makes it easy to move to different areas of your training pitch and can be quickly assembled.

A sign of quality comes from the goal's adherence to the British and European BSEN16579 goal safety standard set by the FA.

This ensures that, when safely assembled and checked, you won't have any issues with the stability of the goal.

So, feel free to strike the ball as hard as you like at this goal.

When you are searching for a goal, make sure it is covered by BSEN16579 or is FA, UEFA or FIFA quality checked.

It only takes a minute to check, or a quick message to the manufacturer, and makes a huge difference towards player safety.

In matches I've played or coached; I have come across MH Goals and they offer some of the best quality goals available.

I always feel confident, more so when coaching younger children, that they will be safe when using this goal and it takes away a little less worry in this scenario.

Key Features

Easy to transport and setup (two people required)
Heavy duty bolts and security in corners to hold the structure in place
Tightly secured steel joints
Extremely durable and long-lasting aluminium

Specification

24ft by 8ft width and height dimensions (UEFA regulation size)
80mm diameter aluminium posts and crossbar
White powder coated paint for glossy finish
32 mm back supports (zinc plated)
Supplied with nets, pegs, anchors and net hooks

FORZA Alu60 Soccer Goal – Club Spec Aluminum Soccer Goal How to Choose the Best Kids Soccer Goal?

Choosing a kid's soccer goal, depends a lot on size. Perhaps more so than an adult goal, a children's goal really can make the difference between young players enjoying and engaging with football in the long term.

While many kids are desperate to play in full size goals and play like their professional heroes.

As a kid learning how to play the game, I always wanted to shoot in the big goals, but every time I took a shot, I couldn't even reach the goal from the penalty spot. Doing this a couple of times is funny, but the longer it continued, the more bored I would get.

This is why the regulation sizes of children's goals varies so much in order to support their development in the sport. Imagine being a young goalkeeper and every shot goes past you into the net, it would be extremely demoralising.

What To Look For

When looking for a kid's football goal, there are two things I always try to consider before making a decision.

Firstly, safety is always on my mind – I want a goal that is sturdy and one that won't fall down half way through a match or training session.

Kids, especially younger ones, love to swing on the crossbar (if they're tall enough) or stand on their tip-toes to touch the bar. Therefore, you will need a goal capable of withstanding shots and enduring all the other things children get up to when their stuck as a goalkeeper.

Secondly, I always think about enjoyment. I ask, which goal is the right size for their ability?

Children's goals come in different sizes depending on their age, but there are plenty of alternatives depending on what your outcome is.

Do you have children who are just starting to play in big goals?

You may need something smaller. Do you have some very talented players who are accurate with their shooting?

A bigger goal is better (to expose them to earlier to full-size elements of the game).

Always try to consider the enjoyment the children will get from playing in a goal. At some training sessions I've held, I had to use 5-a-side goal or sometimes training cones of sticks as goals.

These are fine to use once if you don't have the equipment, but the children definitely won't enjoy scoring as much between two cones as they would into a decent sized goal with an excellent net.

These are small things to consider, but they can make the different between children enjoying football and wanting to play more or finding football less enjoyable and giving up altogether.

Similar to the adult size of the ALU60, the children's version of Forza's goal is an excellent quality option and will guarantee safety and the correct sizing for children's matches or practice.

The goal is made with excellent materials which make it long-lasting and durable.

Even if you leave them out in the elements overnight, which I am guilty of after organising children's football matches, you can guarantee the metal posts won't be damaged by weather damage.

The 6 by 12 for posts and crossbar mean the goal can be used for practice or in matches and tournaments in order to conform with UEFA sized regulation goals.

Goal sizing is very important at youth level football, and with this goal you can ensure it conforms to amateur and professional standards.

Another great feature is that, all though long lasting and durable, the goal is easy to take down and move with two people.

So, if you want to setup somewhere where your footballs aren't going to fly over fences, into rivers, lakes or roads, then the ALU60 is an excellent option.

Key Features

High-quality aluminium posts to prevent rust in poor weather
Professional look and heavy duty
Easy to fold-away steel frames
Quick release back bars

Specification

12ft by 6ft posts and crossbar
Weight (approx.) 22kg
Comes with 3mm nylon net
60mm circumference posts
2.5 mm aluminium used for posts and bar
White powder coated paint for posts

The Harrord Sport 12 by 6 mini-soccer goal provides a high-quality goal with very thick posts and crossbar.

Perfect for kids' football and to provide plenty of support and safety for children whilst playing.

Although the goal posts are very thick on this goal, the goal still looks very professional and has an excellent white finish, making the goals perfect to use in competitive matches and tournaments.

Once assembled, the goals hold in place very well, but if you do need to move them, they can be transported quickly with two people.

The heavy-duty nature of these goals means they can be kept outside for prolonged periods as they are extremely weatherproof.

Extra bars running along the back of the goal and in the top corners adds plenty of extra support and strength to the goal.

Key Features

Aluminium posts and crossbar
Steel back bar and corner bars for added stability
Extremely heavy-duty and weatherproof due to high-quality materials
Easy to un-peg and transport to a new location if required (two people)
Different colour net options are available to match the colours of your club's kit

Specification

12 by 6-foot post and crossbar dimensions
Zinc plated steel frames (32mm)
42 mm bottom bar
100 by 110 mm aluminium used for bars and posts

[amalinkspro type="showcase" asin="B08MLLNTQ2" apilink="https://www.amazon.com/dp/B08MLLNTQ2?tag=us01f9-20&linkCode=osi&th=1&psc=1" new-window="true" addtocart="false" nofollow="true" sc-id="5" img-sizes="500:500" imgs="https://m.media-amazon.com/images/I/61QKZTfxkdL._SL500_.jpg" link-imgs="false" btn-color="#ff9900" btn-text="Check Price" alignment="aligncenter" hide-prime="1" hide-image="0" hide-price="1" hide-button="0" width="400"]FORZA Alu60 Soccer Goals [10 Sizes] | Club Spec Premium Weatherproof Soccer Goal Posts | Soccer Practice Equipment | Soccer Goals | Soccer Goal & Soccer Nets (12ft x 6ft)

How to Choose the Best Soccer Goal Nets?

Usually, a net will be the last thing you consider or purchase when you make the decision to buy a new goal.

While the net is a key part of the goal and adds such an enjoyable aspect of scoring a goal, it is something that can always be added later.

Always remember, the structure and size of the goal needs to be right first before you buy the net.

Once you're happy with the size of your goal and it has been safely put together, then consider the net.

Most goals you buy should come with the net supplied which makes it a lot easier to put everything together all at once.

However, if you find yourself with goalposts, a crossbar, but no net, the best place to buy your net is from the supplier you bought the goal from.

Companies like Samba, Forza etc have a large selection of nets available to fit their goals, but they may not always fit every goal out there.

If you find yourself with this problem, try to find the supplier of your goal, if you're not sure who this is, then you will have to measure the size of your goal and choose the net you need.

On safety, there are small details about setting up nets which have to be adhered to in the interest of player safety.

For example, after the 2007/08 season, metal cup hooks were prohibited from use. Instead, plastic hooks must now be used in their place to secure nets to their posts and crossbar.

The FA have produced a very concise and useful guide on goalpost safety which should be referred to before making any purchases or setting up goals and nets.

What To Look For

The type of net you purchase can really make a difference to your football playing experience.

A poor-quality net is prone to rip and tear easily and can suffer easily in poor weather conditions. While one small rip in the net may not seem like a major problem, it soon becomes one.

The big problem I've experienced with big holes in the net is purely the annoyance of players or coaches having to run and collect the footballs when they go through the net.

It's a pain, but also, things like this can really slow down the place of your training session or match, then players can get tired or lose interest.

Usually, I will buy nets in bulk and have a few in reserve just in case they are needed.

I also purchase heavy-duty nets as they are obviously longer-lasting, but if you are just holding a casual game with friends, then less heavy-duty nets can be purchased as they are easier to move around and put up.

Although the goal net has clear practical uses (stopping the ball from going beyond the goal) there is also the aesthetic element of scoring in the net.

There really is a beauty in hearing and seeing the net ripple, especially if you score from range or hit a perfectly placed shot into the top corner.

In this case, if you have a little extra budget, you may want to personalise your nets to match the colour of your team, or perhaps, which I have seen before, choosing your team's lucky colour!

This heavy-duty net is great value for money and guarantees durability. Therefore, you won't have to suffer all the pain of rips, tears and all the consequences a small tear in the net can bring!

As the net is weather-proof, you can leave the net on after use as it won't damage in poor weather.

However, if you want to get the most out of this net (which is decades of use in this case) it helps to take it down and store it inside after a match or training.

Another big plus for this heavy-duty net is that it's available in plenty of different sizes so you can choose and decide which goal is right for you.

You have to consider how much you will be moving your net around though as this net is fairly heavy so you don't want to be transporting it for long distances, especially if it isn't wrapped up tidily.

Even though the net is heavy-duty, it still looks great and has a very professional look as it hangs down behind the goal.

The only available color for this net is white so there is no customization option currently.

Key Features

Long-lasting and durable goal net
High-quality polypropylene twine material
Can remain attached to goal posts all year round
Can be used for practice or competitive matches

Specification

Available in white to provide a professional look
Eight goal sizes available
3.5 mm twine used
Thicker 4.5 mm twine also available

When you first buy goals from Forza, the goal will come with a net included.

However, if the original net breaks, then they offer a wide range of alternatives to purchase if your net, unfortunately, rips or tears.

A stand-out feature of Forza's net selection is the anti-rot and UV technology.

This protects the nets from all-weather and any sun damage which makes them extra long-lasting and durable in all weather conditions, making them a great option if you play in either rain or sun.

Forza nets have also been tested to withstand high-pressure shots in all circumstances so they are perfect if you want to practice shooting from a variety of distances.

The nets look extremely professional once secured to the different range of Forza goals on the market.

These nets may not fit or lock to other brands of goals so it is worth checking whether they are the right fit before purchasing.

Key Features

UV stabilisation (protection against the sun)
Rot resistance
Long-lasting and weather-proof
Suitable for indoor and outdoor use
Twine material

Specification

2mm extra strength twine
Six sizes available to choose from
Classic white colour finish

Net World Sports Ultra Heavy-Duty Net

How to Choose the Best Popup Soccer Goal?

Popup goals are quite different to kids' goals and full-sized goals.

They are extremely versatile and can be used for a RANGE OF PURPOSES.

As they are so different, you may need to think a little differently about what you are using a popup goal before purchasing it.

The best way to approach buying your popup goal is to think about what area of your game you want to improve.

Also, how many players you will be playing with when you use them. Of course, you can use popup goals for both individual and team situations.

Be considerate that some popup goals are made from flimsier and less robust materials.

Cheaper options may also have lower-quality nets and posts so they may be more likely to break or crack when the ball impacts them at pace.

Also think about how well these goals can be transported, one of the big appeals of popup goals is that you can pack them away easily and transport them wherever you want to start playing soccer.

However, some can be heavier and clunkier than others, so if you need to carry them for a long distance, a lighter option could be best.

What To Look For

Popup football goals can be used in a variety of ways to improve lots of your footballing skills like passing accuracy, improving technique and control.

Popup goals are a fairly new introduction to soccer, but they are now used widely within the game for training purposes.

I've seen people using these to run practice drills with entire teams. But some people also use them well to work individually on their football skills.

The popup goal is a great piece of kit to keep with you.

A big positive is that they are small enough to keep with you wherever you go and they are a good cheaper option of goal, but better than using cones to mark out an area to improve accuracy.

As they are so lightweight and versatile, you can set up your popup goals wherever you want.

So, if you are playing or practicing on any surface or in any situation, you can use a popup goal.

If you've played, watched, or coached football at amateur, grassroots, or youth level, then it's very likely you've come across the brand Samba.

Samba is used widely in the footballing world but is almost synonymous with grassroots football due to their reliability and affordability in the market.

Samba's popup comes in different sizes (4ft and 6ft) so you can adapt your training purposes and outcomes based on the size of the goal.

The goals are extremely easy to put up, fold away and carry around in a comfortable bag.

But these goals are also very sturdy and provide enough support to keep them rooted to the ground when shooting or passing into them.

The plastic posts are strong enough to withstand shooting and passing, while the metal pegs secure the goal firmly in place.

The close-knit netting also allows the goal to take the pressure of a football into the net so it easily bounces back off the net.

Or slots in place (which makes collecting the ball after a goal has been scored so much easier than running back and forth when using cones, for example.)

Key Features

Easy to fold-away into flat holdall
Quickly setup and breakdown in seconds (one person can do this)
Comes with metal and plastic pegs to secure firmly in place
Strap at front of goal supports the goal in place.

Specification

4ft (width) by 34 inches (height)
2 sizes available to choose from
Blue rim with white nets

If you need a more heavy-duty pop-up goal, perhaps if you are training or playing with adults or practicing shooting and passing with power and pace, then the Bazooka pop-up goal is a great option.

Although this Bazooka goal looks solid and rigid, it is actually very easy to collapse and setup.

The frame of the goal weighs just 7kg so it is incredibly easy to fold up and carry away at the end or beginning of your football match or practice.

The Bazooka goal comes with an over-the-shoulder bag which you can use to transport the goal easily and set up in any suitable location, whether it's in the park, on a 4g pitch, or even in the back-garden.

The quality of the Bazooka goal is highlighted by the number of top, professional clubs who also use this goal in their youth academies.

Teams such as, Barcelona, Real Madrid, Chelsea, Arsenal and Manchester City all use these goals in training. However, it's an affordable goal too and its durability won't certainly won't be compromised by the price.

Key Features

Solid frame from strong plastic materials
Lightweight feel and easy to carry and pop-up
Comes in a compact, easily transportable bag
Sleek, modern look

Specification

180 cm (width) by 90 cm (height)
90cm carry bag
2-year guarantee
Metal straps to hold goal in place
UPVC frames
Elastic loop holds net in place

Frequently Asked Questions What Are the Dimensions of a Full-Sized Football Goal?

For players 15 and over, UEFA and the FA dimensions specify a goal should be 8 feet in height (two posts) by 24 feet in width (crossbar).

What Resources Can You Use to Check the Size Requirements for Your Goal and Age Group?

Refer to guides in place by your country's FA or refer to UEFA and FIFA guidance on goal sizes and pitch dimensions.

Goal sizes vary between younger age groups but ages 15 plus must use full size goal dimensions for competitive matches.

However, there are no size specifications for training and you are free to choose any goal size you wish.

How Could a Low-Quality Football Goal Affect Your Playing Experience?

Low-quality football goals could break easily and may also be dangerous for players.

Low-quality materials may break upon impact from the ball, especially plastic material goals.

Always check the quality of the material of your goal before purchasing.

What Are the Two Important Things to Consider When Purchasing a Kid's Football Goal?

Firstly, always consider the safety of your goal and refer to the relevant instructions that come with the goal for safety.

Ensure they meet the British and European BSEN16579 goal safety standard. Secondly, think about the enjoyment your team or player will get from the goal.

Too big a goal can affect the confidence of players, while a small goal may not be challenging enough. Consult UEFA or FA guidance on goal sizes for different age groups.

Why Is a High-Quality Net Important?

High-quality nets ensure holes and tears don't occur after used.

A heavy-duty net for a full-size goal is an excellent investment and, if you wish, you can save the hassle of taking down and putting up your net after every use.

How Can Pop-up Goals Help You to Improve Your Football Skills?

Because pop-up goals are easy to setup, you can use them in a variety of ways. They are great for small-sided training matches (such as 5-a-side).

But you can also use pop-up goals to practice your passing accuracy, either individually or as part of a team.

Pop-up football goals are an excellent value for money option for training sessions.

Conclusion

A football goal can make or break your football experience. It is one factor of the beautiful game that can add so much enjoyment to your playing experience and, ultimately, can make you a better player.

Think about how time-consuming it can be to mark a goal out using cones, jumpers, trees etc as goalposts and having to collect the ball every time someone scores or has a shot at goal.

It's not a sustainable situation, can be very unprofessional and ultimately leads to frustration.

Using anything other than a good-quality football goal must be considered as a last resort.

Sometimes, your circumstance may mean you have to improvise and use what you have, cones, bibs etc. However, if you Invest in a great football goal and you will save time and improve your game.

Having a good football goal, from a coach or parenting perspective, is also key. Imagine being an aspiring young football player, desperate to play and enjoy the game, but not having a good goal to practice with?

It can shape the future of young players and their perception of football. We want to encourage positivity for football as much as possible

When I was first practicing and playing as a child, I managed to save up any money I had to buy a small goal to use in my garden.

Shooting, either by myself or with friends, trying to re-create goals scored by my footballing idols, Diego Maradona, Zinedine Zidane and David Beckham…

..gave me so much more ENJOYMENT and INSPIRED ME to keep practicing to be the best player I could be.

If you're considering trying this yourself (re-creating iconic footballing goals) the BBC have been running an amazing campaign called Goals at Home, where children, and sometimes adults, recreate special moments from footballing history.

I must admit, I have tried to do some of these in my local park recently.

But the children who submitted their videos to the BBC had much better success! I am determined the keep trying though!

Also consider which goal you need for your purpose.

Are you paying 11-a-side, competitive matches?

You will need a full-sized goal conforming to FA or UEFA standards.

Do you want to improve your control and passing accuracy?

Buy a pop-up goal. Has your net ripped and you need a long-term replacement?

Finally, always consider the safety aspect of a football goal, especially for full-sized and children's goals.

Refer to European safety standards to ensure you are safely assembling your goals and testing them before playing.

While we always want players to enjoy football first and foremost, player safety is also paramount to a positive playing experience at all levels.