International soccer is the pinnacle for many professional players.
To represent one's country at the highest level BRINGS HONOUR and PRIDE for many; it is a moment of dreams and usually a culmination of dedication and hard work.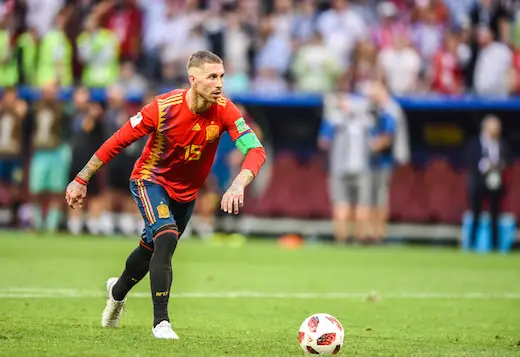 Some players may receive just one cap in their career.
England player Martin Kelly currently has the unfortunate record of making the shortest appearance for the country.
The defender came on as a substitute on 87 minutes in a friendly against Norway, playing just two minutes and 39 seconds.
Although some players make fleeting appearances for their country, others have withstood the test of time and become stalwarts on the international stage.
In this article, we profile some of the most prolific cap earners in male and female soccer.
Most Capped Male Soccer Players
Soccer players earn a metaphorical cap each time they play for their country in FIFA Category A matches.
So, reaching 100 caps is considered a milestone for any professional player. But to surpass 100 appearances is an outstanding achievement.
Many players have been recognized by FIFA for earning 100 caps or more on the international stage. Some have eclipsed this and played most of their career at the top level.
Below are the most capped male players in professional soccer:
1. Ahmed Hassan – 184 caps (Egypt): A mainstay of the Egyptian national team for nearly two decades, Hassan boasts an impressive international career.
Between 1995 and 2012, the midfielder won four Africa Cup of Nations (AFCON) with Egypt and was named AFCON Player of the Tournament in 2006 and 2010. 
Hassan captained his nation countless times, and his all-time caps record is a testament to his outstanding career for the Pharaohs. 
2. Ahmed Mubarak – 180 caps (Oman): Ahmed Mubarak, nicknamed Kano, is the most capped active player, along with Sergio Ramos.
Kano made his debut for Oman in 2003 and has captained his nation for nearly 16 years.
A midfielder enforcer, Kano is well-known for his defensive skills, and he has been central to the team's success in recent years.
Kano helped Oman win their first Arabian Gulf Cup in 2009. He also captained the side to a second Gulf Cup win in 2018 and won the MVP award at the same time.
3. Sergio Ramos – 180 caps (Spain): Sergio Ramos is the most capped player for Spain.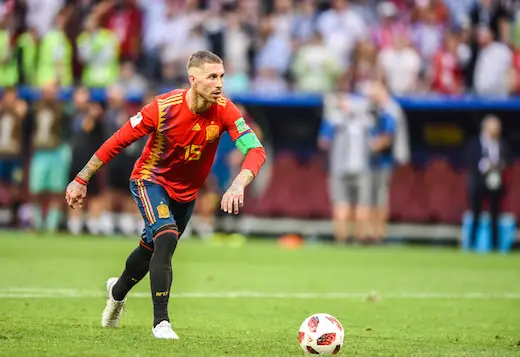 With 180 caps, Ramos has made more appearances than Spain greats including, Iker Casillas, Xavi and Andres Iniesta.
The veteran defender was a key member of three consecutive major tournament wins when La Rioja won two European Championships (2008 and 2012) and one World Cup (2010).
4. Bader Al-Mutawa – 179 caps (Kuwait): Al-Mutawa still plays for Kuwait at the age of 36, and he is on course to surpass Hassan's all-time caps record.
The striker made his debut for Kuwait in 2003 and continues to make the starting XI of the national team regularly.
Although Al-Mutawa has not won a major tournament with his country, he won the Arabian Gulf Cup in 2010 and finished as the top scorer with three goals.
5. Mohammed Al Deayea – 178 caps (Saudi Arabia): Al Deayea is the highest capped goalkeeper in international soccer.
After making his first international appearance in 1993, Al Deayea held on to the Saudi Arabian goalkeeper position for 13 years.
The long-standing keeper also helped his nation reach four World Cups between 1994 and 2006 and was a key player in his nation's Gulf Cup wins in 1994 and 2003 and the Asian Cup in 1996.
Most Capped Female Soccer Players
In women's soccer, the same rules apply for receiving caps.
Players must represent their country in a FIFA Category A match to earn a cap. Included in this are the Olympics and friendly fixtures, along with continental and international competitions or tournaments.
Nearly 350 female players have surpassed 100 caps for their country.
The majority of these players played for the United States Women's National Team (USNWT), with eight of the top 10 most capped players representing the USNWT.
Below are the most capped female players at the international level:
1. Kristine Lily – 354 caps (USA): Lily debuted for the USNWT in 1987 and represented her country on the international stage for 24 years.
The former midfielder achieved phenomenal success and consistency during her international career. Lily played in five World Cups, winning two and three Olympics, also winning two and finishing second in another.
Not only is Lily the most capped soccer player on the planet, but she also scored 130 goals in her international career. Her longevity and dedication to succeed at the highest level may never be surpassed.
2. Christie Pearce – 311 caps (USA): US full-back Christie Pearce was a stalwart in defense for nearly two decades.
Pearce represented the USNWT at four World Cups between 1999 and 2015 and played in four consecutive Olympics. She maintained high standards throughout her career, winning two World Cups (1999 and 2015) and three Olympics (2004, 2008 and 2012).
Despite her impressive international career, Pearce could have achieved more caps if not for a severe cruciate ligament injury in 2001.
The injury kept her out of the game for over a year. Consequently, she was unable to add to an already impressive caps tally.
3. Carli Lloyd – 302 caps (USA): Carli Lloyd is the highest cap holder still active in international women's soccer. 
The attacking midfielder remains an integral part of the USWNT and still represents her country at the highest level.
Lloyd is well known for her exceptional goalscoring capabilities and has 125 goals to date.  
She has also produced some of the most memorable moments of any player for the US, scoring a 15-minute hat-trick in the 2015 World Cup final, one of which was from the halfway line!
4. Christine Sinclair – 297 caps (Canada): The only leading cap holder outside of the US, Christine Sinclair is one of Canada's most decorated soccer players.
A prolific striker, Sinclair also boasts another impressive record. She is the highest-ever goalscorer in all international soccer with 187 and counting.
In addition to her overall goalscoring record, Sinclair has also captained Canada at four successive Olympics and scored at five separate major tournaments.
She also found the net six times at the 2012 Olympics – the most goal scorer in a major female soccer competition. 
5. Mia Hamm – 267 caps (USA): During a 17-year career with the US national team, striker Mia Hamm scored 158 goals, won two World Cups and two Olympics.
Hamm made her international debut in 1987, aged 15, making her the youngest player to represent the USNWT.
She was a player who maintained an elite level of performance throughout her career, acknowledged by winning the USA Soccer Female Athlete of the Year for five consecutive years between 1994 and 1998.
Conclusion
Achieving well in soccer at any level is a challenge.
Whether you're a beginner, just starting with a new team, or a seasoned professional, performing at the peak of your abilities requires unwavering commitment.
The players above epitomize success within soccer.
An ability to perform on the international stage year after year and in some of the world's most competitive tournaments is admirable and a fantastic inspiration to any budding sportsperson.
For these players, earning each cap is not just another number to add to a list; it is a source of honour and pride.