Receiving a cap in soccer is a defining moment in a player's career.
To earn the prestigious cap, a player must represent their nation's football team on the international stage – the highest standard of SOCCER WORLDWIDE.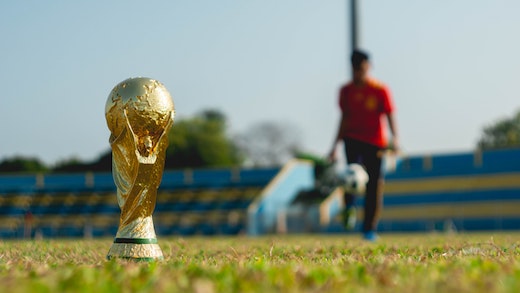 There is a variation in the number of caps players receive in soccer.
Some may only play one match, or even a matter of seconds, for their country and earn a cap.
Others have represented their country's soccer team over one, two, or even three hundred times.
Nevertheless, a soccer cap is a sign of quality and often a great honor for a player to earn such an accolade.
In this article, we look at the history of the cap and its unique link with professional soccer.
We also outline the symbolism behind the soccer cap and pay homage to some of the most capped players in soccer history.
What Is a Cap?
In soccer, players who make an appearance for their national team are awarded a metaphorical cap. It is a term in football used in place of making an appearance when speaking about international football.
To earn a cap for their country, a player must represent their team in a FIFA Tier One international match.
This can be an international friendly match, a qualification fixture or featuring in a major tournament.
However, only one nation provides literal caps for their representative players.
English footballers receive a physical cap for every appearance they make for the Three Lions and one cap to cover major tournaments, such as the FIFA World Cup or the UEFA European Championships.
Former goalkeeper Peter Shilton is the most capped men's player for England, with 125 caps. Retired midfielder Fara Williams is the England Lionesses most capped player with 172 caps – a lot to keep in the trophy cabinet.
Other nations may provide an embroidered, commemorative cap for players who reach landmark caps (usually one, 50 or 100).
Some football associations provide special pennants or commemorative shirts with the date and fixture of the player's landmark appearance.
The US Women National Team (USWNT) present players with a specially printed shirt when players reach their 100th cap.
For example, USWNT defender Ali Krieger earned her 100th cap for USA in 2019 and was presented with a specially printed US soccer shirt in a pre-match ceremony to commemorate her achievement. 
Evolution of the Cap
In Britain during the 1800s, when soccer was first growing in popularity, opposing teams did not wear shirts or jerseys. Instead, they wore different colour caps to distinguish opposition players.
Not only was this common to separate the players on opposing teams, but the colour of a player's hat helped spectators recognize individual players from the stands.
Often, players would wear a hat with the colour of their school on, rather than the entire team playing in uniformed colours, helping the fans notice their star players by the colour of their school cap.
Scotland vs England 1872 First International Soccer Match
When Scotland and England faced each other in the first international soccer match in 1872, the teams wore different headgear to tell them apart.
Scotland's players wore cowls – loose, hooded headgear, while England's players wore more customary school hats of different colours.
Due to the high-profile nature of this fixture, it was one of the first where people widely saw caps and headgear being used to differentiate soccer teams.
Introduction to Physical Caps
Caps had previously been used in cricket, with each team sporting alternative colours to represent their teams.
However, in 1886, N. Lane Jackson, founder of Finchley F.C, Corinthians F.C., and the London Football Association adopted the cricketing custom of players earning caps for soccer.
After a Football Association committee meeting in 1886 onwards, any players who represented the England soccer team at the international level were awarded a white cap with a red rose embroidered on the front.
Ever since professional English football players have received physical caps for international appearances.
There have also been lasting implications worldwide, and the term 'cap' has been used by many soccer commentators, pundits, coaches, players and fans.
However, in the late 1800s, when soccer became more professionalized in Britain, Europe and South America with the rise of organized national leagues, players began to wear jerseys to differentiate teams.
The use of the cap dwindled in soccer, and by the 1890s, players rarely wore caps in matches. But the legacy of the term cap has withstood the test of time and is a common phrase in the game today.
Record-Breaking Cap Holders in International Soccer
In soccer history, certain players have earned iconic status for THEIR LONGEVITY at the international level.
Getting to 100 caps or more is some achievement, yet some female international soccer players have surpassed two or even three hundred caps for their nation.
Below are the most capped male and female soccer players of all time, who have played in FIFA category A international matches for their country.
Most Capped Male Soccer Players
1.  Ahmed Hassan – 184 caps (Egypt)
2.  Bader Al Mutawa – 179 caps (Kuwait)
3.  Ahmed Mubarak – 180 caps (Oman)
4.  Sergio Ramos – 180 caps (Spain)
5.  Mohammed Al Deayea – 178 caps (Saudi Arabia)
Most Capped Female Soccer Players
1.  Kristine Lily – 354 caps (USA)
2.  Christie Pearce – 311 caps (USA)
3.  Carli Lloyd – 302 caps (USA)
4.  Christine Sinclair – 297 caps (Canada)
5.  Mia Hamm – 267 caps (USA)
Conclusion
Hearing the word 'cap' used in soccer can be a little confusing at first.
It may seem like there is little common ground BETWEEN THE TWO.
Like many terms used in various sports, it is not self-explanatory but is linked to the roots of professional soccer in the UK.
In soccer terms, the word 'cap' translates to appearance.
In domestic soccer leagues, commentators, fans and players refer to appearances made, and the international version of this is a 'cap' or 'caps.
The metaphorical cap, or physical if you hail from England, is also symbolic of one of the biggest honours for soccer players.
Few professional players represent their country in soccer, and this achievement is often earned from years of hard work and dedication to the profession.
Receiving a cap (whether physical or metaphorical) creates immense moments of pride for professional soccer players.