Soccer shirts can be one of the biggest EVOKERS of EMOTION and nostalgia for football fans.
Seeing a particular kit can remind us of some of the greatest footballing moments, or some of our favorite clips from HISTORY.
Your Guide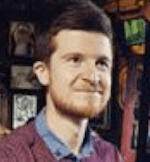 Alex Waite
Seeing the red flashes of George Best's Manchester United jersey in the 60s and 70s is a delight.
I'm often reminded of Zinedine Zidane's famous headbutt in the 2006 World Cup final when he was wearing the PREDOMINANTLY blue kit with glimpses of white across it.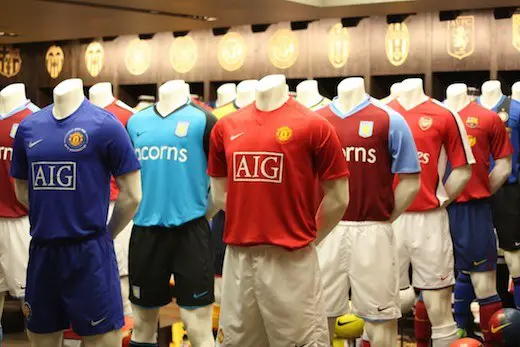 Retro football shirts aren't designed for comfort, fit or style, in fact, many older football kits show beauty amidst a mish-mash of different colors. The reason for choosing a retro football kit is for MEMORY and JOY.
Andrew Whitelaw visited the Classic Football Shirts store in London to speak to the shop's owner and show some of the best retro shirts they offer.
If you are struggling to find a valid website to purchase your retro shirt, or, like me, you just like looking at football tops from the past, Classic Football Shirts website is a great place to start your retro tops journey.
#1: Brazil Shirt 1970
Pele, graceful football and a beautiful kit. These are the reminders I get from watching archive footage of the 1970 World Cup.
The 1970 Brazil shirt is SIMPLE.
A plain yellow top with a green trim around the neck and arms combined with the blue shorts is a basic kit which almost contrasts Brazil's style of play during the 1970 World Cup in Mexico.
Brazil won the tournament in GRACEFUL fashion, playing extreme attacking football and blowing away their opponents.
Perhaps this is why the kit is so iconic. The World Cup was also the first broadcast in colour, which makes the kit stand out more.
Key Features
Non-branded shirt
Classic Brazil 'CBD' logo on crest
Round neck design with green trim
Specification
Available in sizes small to XXL
100% cotton
Regular fit
Short sleeves
Pros
Iconic design with authentic Brazil badge
Comfortable fit
Some modern retro shirt shops and websites sell for around £30.00
Cons
Some counter-fit versions are available, always check before you purchase that the kit is authentic.
Only available in regular fit
#2: Argentina Shirt 1986
Argentina won the Mexico 1986 World Cup in SPECTACULAR fashion wearing their historic blue and white striped top and black shorts.
This World Cup belonged to the exploits of Maradona and the memorable footage of his mazy runs, Hand of God goal and injury time winner in the final against West Germany are enough to make you fall in love with football.
Argentina have not won a World Cup since 1986. They came close to retaining the title at Italia 90 and against Germany again in 2014.
Maybe this is why the 1986 shirt is so well remembered, as their last World Cup winning year, led by the MAVERICK of Maradona.
Key Features
Classic embodied 'AFA' Argentina national badge
Blue and White striped design
Unbranded shirt
Specification
Available in sizes small to 3XL
100% cotton
Short sleeve
Round neck design
Pros
Comfortable fit
Shirt is washable and won't lose shape
High quality stitching for badge.
Cons
More expensive at around £45
Original shirts with the 'Le Coq Sportif' logo are more expensive and can be less authentic. Always check before purchasing.
#3: Fiorentina Shirt 1998
Fiorentina are a less well-known team around the world. But their kits are some of the most memorable from the INSANE designs to come out of the 90s.
My memories of Fiorentina come from watching Football Italia in England during the 90s and trying to re-create goals scored by players like Alessandro Del-Piero, Christian Vieri and Fiorentina's Argentinian striker, Gabriel Batistuta.
Fiorentina's purple kit with a huge Nintendo sponsor across the middle is symbolic of the big and bold styles of kits in the 90s.
Key Features
Purple colour with white lines on arms
Nintendo sponsor across chest of shirt
Large Fiorentina logo
Florentine fleur-de-lis on each shoulder
Specification
Available in sizes small to XL
Collared and buttoned neck
Various fits available (depending on seller)
Pros
Unique shirt design and colour (no other team in Europe plays in purple)
A range of fits are available for varying prices
Some sellers have short and long-sleeved options.
Cons
Authentic shirts can be difficult to find
Purchasing used shirts may be the only option rather than buying originals.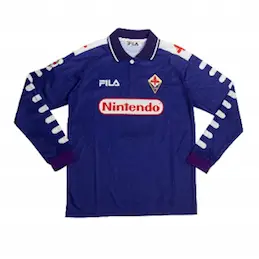 Fiorentina Shirt 1998
1999 was the one of the BIGGEST years in Manchester United's history.
Then manager Alex Fergusson led a team of United heroes, including David Beckham, Roy Keane and Peter Schmeichel to the treble (the Premier League title, FA Cup and Champions League).
All of the Red Devil's kits from this year are memorable. They remind me of some of the greatest players ever in the Premier League and provided highlights of bulldozing teams with class.
The grey, black way kit, which the team wore when they beat Bayern Munich in the Champions League final, is more memorable, but their red home kit brings back fond memories of this title winning side from the 90s.
Key Features
Manchester United crest on chest.
Sharp logo across mid-drift of shirt
Umbro brand logo on left chest
Specification
Available in sizes small to XXL
White collared neck
Short and long sleeves available from certain sellers
Pros
Lots of sizes and variations (sleeve length, FA Cup final version etc.) all available
Subtle designs give the shirt an iconic look.
Great quality, breathable material.
Cons
Some replicas (with Champions League printing above Umbro logo) more expensive
Lots of variations of this kit are available, some branded and some un-branded, which can be confusing.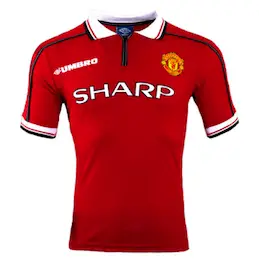 #5: Croatia Shirt 1998
The Croatia national team have always been renowned for their unique football shirts. Known for a chequered red and white pattern, with SPLASHES of blue, Croatia stand out as much for their kits as their footballing ability.
1998 was also a memorable year for Croatia as they reached the semi-finals of the France World Cup.
Led by a national great, Davor Šuker, who won the Golden Boot after scoring six goals, this football shirt is a reminder of the greatness of this Croatia team and a fantastic World Cup in 1998.
Key Features
Unique red and white chequered pattern.
Lotto branded sponsor at top of chest
No sponsor on mid-drift of shirt.
Large Croatia national team crest in middle of chest.
Specification
Blue, red and white striped collared neck
Replicas available in sizes small to XXL
Loose fitting
Pros
Excellent material and comfortable fit on replicas
No sponsor gives the shirt a great look, with the chequered pattern dominating the look of the shirt.
'World Cup of France' branding available on some replicas
Cons
Not all sizes always available due to popularity of the shirt.
Only short sleeved designs are available.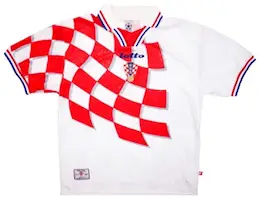 Croatia Shirt 1998
#6: Mexico Shirt 1994
The 1994 World Cup in the USA was certainly a great tournament for HISTORIC football jerseys. Baggy tops with a multitude of colours had spectators at home wondering if the static on their TV was broken.
It was a golden age for flashy, colourful football tops and Mexico's flamboyant goalkeeper Jorge Campos epitomised this style and designed his own goalkeeper top.
Mexico's outfield kit was memorable, not so much for its green colour, but for its unique patterned design spanning the entirety of the shirt.
The baggy top, made by Umbro, has extremely loose-fitting sleeves and the flashes of red throughout bring a slight relief from the green that dominates the shirt.
A white collared fit around the neck finishes off this shirt nicely and suits the 90s style perfectly.
Key Features
Umbro brand on top left chest of shirt
Triangle and quadrilateral shapes across shirt
Different shades of green dominate the majority of the shirt
Large white collar
Large Mexico emblem on top right chest of shirt
Specification
Loose fitting shirt
Available in a range of sizes (dependent on seller)
Pros
Unique shirt and a lesser known iconic kit from the 90s
Baggy fit is suitable for players and fans of all sizes
Vibrant colours throughout
Cons
You may have some difficulty in finding this shirt from a seller. The genuine shirts are quite rare and most are sold second hand with some small visible wear and tear.
Due to rarity, these shirts can be quite pricey (approx. £90) but cheaper replica alternatives are available from certain sellers.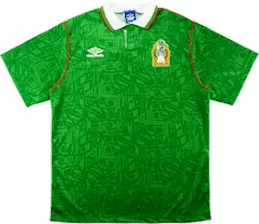 #7: Arsenal Shirt 2003/04 season
For fans of the English Premier League, the Arsenal team of 2003/04 was the epitome of class and style.
Their achievements of this season, playing every game without losing once, is yet to be matched by another team. This kit brings all the memories of this HISTORIC team back to life.
Some of the flair and goals from players like Thierry Henry, Dennis Bergkamp and Robert Pires were scored in this kit and it is a great reminder of immense football in the 2003/04 season.
The kit itself has a simple style, which contrasts the unpredictable, attacking nature of the team that wore the shirt.
A dominant red centre covers the chest and torso and white sleeves, shorts and socks complete the simplicity.
The large o2 sponsor in the middle of the shirt is synonymous with this unbeatable Arsenal team and a reminder for fans of this incredible team of the 00s.
Key Features
Subtle Nike branded tick in the top left of the shirt.
Arsenal crest on top right of shirt
Large, iconic o2 sponsor is noticeable in the middle of the shirt, but fits seamlessly with the style.
Crew neck fit has a flash of white, adding to the simplicity of the shirt.
Premier League symbol is available on genuine shirts, printed on to the lower sleeve.
Specification
Lots of sizes available (Kids S up to XXL, dependent on seller.)
Baggy fit
Some sellers sell long sleeved versions of the shirt.
Pros
Loose fit makes the shirt suitable for players and fans of a range of sizes.
Made from quality materials so lots of the shirts available have very littler faded colour or wear and tear.
Very smart and stylish look of the shirt due to its simplicity with colour and design.
Cons
Finding a correct size may be difficult due to what different sellers have available in their stock.
Not all shirts have the Premier League badge stamped on the sleeves of the shirts. Be wary of cheaper shirts which may not be authentic and made from a poorer material.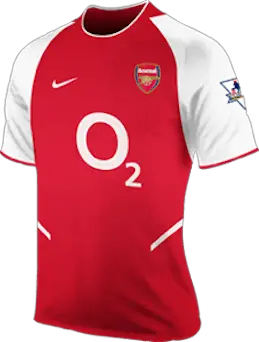 Arsenal Shirt 2003/04 Season
Conclusion
When choosing your retro football top, try to put nostalgia before anything else.
Collecting a range of football tops can be a PRICEY hobby, but if you have fond memories of any eras, teams, cup finals or players then the shirts are an item worth playing for.
Even though I don't display my retro shirts, they are neatly stored in a cupboard somewhere.
The feeling I get when I occasionally look at them takes me back to the reason, I bought the shirt, regardless of the price, size or condition of the shirt itself.