Imagine a 9-year-old kid selling donuts in the streets of the Philippines to earn food for himself and his family. A boy who often went to sleep hungry so his siblings could eat.
A boy who slept in the boxing ring and worked relentlessly on his craft, hoping to come out of poverty one day.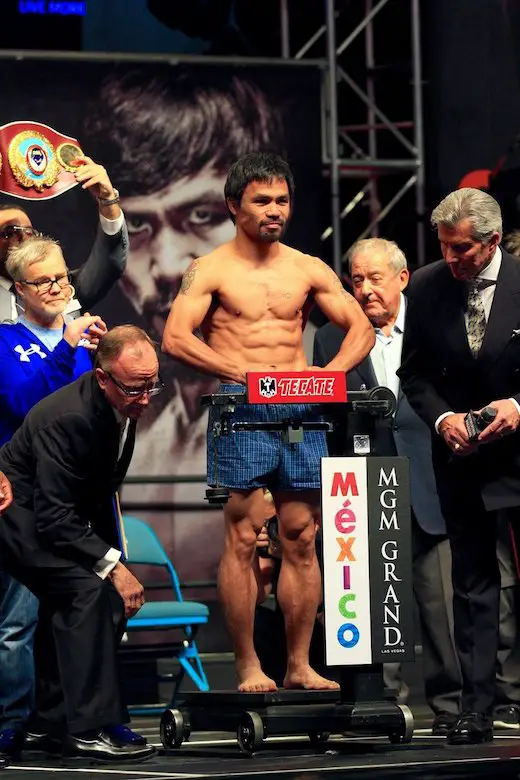 A boy became the first and THE ONLY BOXER in boxing history to become an 8-division boxing world champion.
A Lineal Championship in five different weight classes (flyweight, featherweight, super featherweight, light-welterweight, and welterweight), and loved by millions of people worldwide.
When people don't have heating in their house or cannot afford a new pair of shoes, it is considered poor in the Western world.
You may have been to a developing country or heard of people dying of hunger and not afford BASIC LIFE NECESSITIES to survive.
So people may have a different idea about being poor in the Western world and developing countries.
Manny Pacquaio grew up extremely poor in General Santos, Philippines. His home was a small nipa hut MADE OUT OF LEAVES from a coconut tree.
His mother used to tell Manny and his siblings to drink lots of water to fill their stomachs before sleeping hungry, hoping to be able to afford to eat the next day.
In developing countries, homeless dogs are found on the streets in many developing countries, and Manny saw a dog he liked and brought the dog home.
Manny grew angry and didn't speak with his father for a while after discovering; his father ATE HIS DOG because his father was hungry.
Start of Pacquiao's Boxing Journey
Manny Pacquiao started Boxing at the age of 12 with his uncle, where he would jog barefoot.
Pacquiao soon realized Boxing was great because you earn some money to help feed his family even if you lost.
Pacquiao is one of the top RAGS TO RICHES STORIES.
Remember the opening movie scene from 1976 Rocky 1 where Silvester Stallone gets $40.55 for the fight.
Similarly, Pacquiao earned 100 pesos ($2) and gave his mother the money to buy a couple of rice sacks that would last for a week.
At the age of 13, Manny foresighted that Boxing could DISSOLVE HIS FAMILY POVERTY and venture to the Philippines capital on a boat.
Pacquiao then wrote a heartfelt letter to his mother that he was sorry that he went to Manila for their family to pursue his boxing career without asking for her permission because she would not allow it and now he is earning a living so that they could help the family get out of poverty.
Pacquiao slept in the boxing ring as he did not have any relatives in Manila.
Pacquiao was malnourished and VERY SKINNY as a kid.
He had to put stones in his pocket for his first professional bout as he could not make the most minimum boxing weight of 105 pounds (47.62kg) because he weighed 98 pounds (44kg).
With a burning desire to get out of poverty, Pacquiao immersed himself in Boxing and started winning fights despite not having solid boxing fundamentals through sheer determination and a POWERFUL LEFT HAND.
As Pacquiao started winning more fights, he could eat nutritious food, and his teenage body developed.
Pacquiao lost a couple of fights against Filipino boxer Rustico Torrecampo by knockout and a boxer from Thailand Medgoen Singsurat, by technical knockout before his partnership with Freddie Roach.
At the age of 18, Manny became the Oriental, and Pacific Boxing Federation Flyweight Champion beating Chokchai Chockvivat and winning WBC Flyweight Title after a win against Chatchai Sasakul a year after.
Manny successfully defended his WBC Flyweight Title against Mexican Gabriel Mira through Technical Knockout.
Pacquiao won the vacant WBC International Super Bantamweight Title by knocking out Reynante Jamili.
And defended his Super Bantamweight Belt by knockout or through technical knockout against Arnel Barotillo, Seung-Kon Chae, Nedal Hussein, Tetsutora Senrima, and Foijan Prawet.
As Manny ran out of opponents in the East (historically, due to size differences, predominantly boxers from east fight at lower weight class like Pancho Villa, among others) the natural progression was to fight Champions in the West, seeking new opportunities and CHALLENGES, Manny moved up in weight classes.
The video below is one of the best short documentaries of Manny Pacquiao.
Manny Pacquiao and Freddie Roach Partnership
Manny visited America to look for the next opponent/trainer and visited Wild Card Boxing gym to train.
He met the Legendary boxing coach Freddie Roach who trained under another legendary boxing coach Eddie Futch.
Freddie Roach has mentioned in his interviews, "I built my gym just in case the next Muhammad Ali walked through the door. You never know when the next Muhammad Ali will walk through your door (Wild Card boxing gym), you never know, and one Filipino kid, 122 pounds walks in. That changed my life."
Freddie Roach felt AFTER ONE ROUND OF MITS with Manny Pacquiao that this kid is SPECIAL. "A little guy that could punch really hard and knock you out."
American Heavyweight Diantey Wilder is known for his knockout power but is often criticized for being a reckless boxer without sound boxing fundamentals.
In the earlier part of his career, Manny Pacquiao was often criticized for not having sound boxing fundamentals.
Before Freddie Roach, Pacquiao was also known for having knockout power, being a relentless but a reckless boxer, and RELYING MAINLY on his left-hand power punch.
Pacquiao was once only known for his devastating left-hand knockout punch. Working with Freddie Roach, Pacquiao gradually improved his footwork, ring generalship, and counterpunching, and Freddie came up with great game plans for Pacquiao.
Freddie says Manny Pacquiao is the most hard-working athlete he has trained and a great student WHO LISTENS and EXECUTES the game plan.
Freddie is prudent in researching Pacquiao's opponent's flaws and developing a solid game plan for his fighters.
After Pacquiao's loss against Eric Moralez in their first fight of the trilogy, Freddie Roach worked ferociously to make Pacquiao's right hand as good or even better than his left hand.
Freddie went on a mission to make Pacquiao A COMPLETE FIGHTER.
Freddie said in the documentary Manny The Untold Story of an Eight Time World Champion, "I am not going to stop working on the right hand until it is good as the left."
Freddie Roach introduced Alex Ariza to Manny Pacquiao as a strength and condition coach. Freddie had a complex relationship with Alex Ariza later down the road.
Alex Ariza did a great job with Manny Pacquiao for many years to help Manny get in top shape, and Freddie says Alex learned on the job to be a great strength and conditioning coach.
Among great boxer trainer duos like Muhammad Ali had Angelo Dundee, Mike Tyson had Cus D'Amato, and Manny Pacquiao had Freddie Roach.
Freddie Roach and Manny Pacquiao are known for fantastic SPORTS PARTNERSHIPS.
Robert Green dedicated a whole chapter to Freddie Roach Innovative training approach and collaboration with Manny in his famous book Mastery.
Like Mike Tyson's tight relationship with Cus D'Amato, Pacquiao considers Freddie Roach a father figure.
Manny Pacquiao's Memorable Fights
Pacquiao's first fight in America was with potentially top 10 pound-for pound level fighter 122 lbs South African fighter Lehlo Ledwaba, IBF super bantamweight champion.
Due to Ledwaba's challenger, Enrique Sanchez's injury Lehlo Ledwaba needed an opponent to fight.
Top boxers in the division didn't want to take the fight with only 2-week notice.
Manny Pacquiao, brand new to the American public, took the fight with a champion despite being a 44 to 1 underdog.
What Manny did to Ledwaba WAS SCARY.
Then at 126 pounds, what he did to Marco Antonio Barrera was even scarier who was Lineal Champion with his Ring Magazine title when they fought one of the top Mexican fighters.
During the eleventh round, trainer Rudy Perez stepped in to protect his fighter from further punishment on November 15, 2003.
After Pacquiao stopped Barrera in the 11th round, Commentor Jim Lampley commented, "A super start emerges in the San Antonio."
As underdog Manny Pacquiao beats 4-1 favorite Barrera and INTROCUSES HIMSELF TO MORE BOXING FANS.
Marco Antonio Barrera and Eric Morales went through one of the most incredible 36 rounds in Boxing. They had a rivalry to determine the top Mexican boxer of THEIR GENERATION.
Seeing what Pacquaio did to Barrera, Morales was EVEN MORE MOTIVATED to beat Pacquiao to prove that he is a BETTER BOXER than Barrera.
Eric Morales and Manny Pacquiao fought for IBA and WBC International Super Featherweight Titles on the line.
Like UNFORGETTABLE Hagler vs. Hearns toe to toe fight, Eric Moralez vs. Manny Pacquiao as the fight progressed, stood toe to toe, and the fight was an INSTANT CLASSIC.
HBO Commentator Larry Merchant famously commented in the last round of the fight as both fighters continued to fight toe to toe:
"This is a picture that doesn't need any captions." which gave thousands of people goosebumps."
As the final round came to a close, whilst both fighters continued to fight toe to toe Jim Lampley's heartfelt, passionate commentary:
"Guys, there is nothing like boxing, and there are no athletes like fighters."
"There is nowhere else in sports you'll find greater passion, greater intensity, greater courage, commitment, greater sheer guts than what these two guys are showing; this is boxing at its best."
As Pacquiao moved up in weight, some people thought maybe Eric Moralez was too big for Pacquiao after a loss with Moralez. (IMAGINE THAT we didn't know back then Manny Pacquiao is going to move up a few more divisions)
Pacquiao not only came back to beat Moralez in two more action-packed fights in the trilogy but jumped up in weights taking the most formidable opponents.
And became THE ONE AND ONLY eight-division world champion and won five lineal weight championships in his legendary boxing career.
A feat no boxer had ever accomplished and very challenging for future fighters to achieve.
Eric Morales Vs. Manny Pacquiao's trilogy is widely considered one of the greatest boxing trilogies of all time.
Eric Morales got the better of Manny in the first fight at super bantamweight IBA and WBC on the title, and the loss made Manny and Freddie work more on footwork and defensive skills.
Mexico is known for its boxing history and aggressive boxing style, which focuses on offensive aggression compared to the defense coined "MEXICAN STYLE" of Boxing.
Mexican fans love Manny Pacquiao for his aggressive boxing style. He fights like a Mexican, but Manny was nicknamed Mexicutioner for beating top Mexican fighters at lighter weights.
Manny beat three Mexican Legends, Eric Morales, in another two fights, won Barrera again in a rematch and won Marquez in a rematch.
Manny Pacquiao moved up in weight again and beat David Diaz in a technical knockout to win WBC lightweight title.
And Pacquiao moved up two weight classes to welterweight to fight Oscar De La Hoya, which many people and experts believed to be a mismatch. As the saying goes, the good big man always beats a good little man.
There was a bill in Phillippines to ban the fight because to protect Manny Pacquiao against Oscar Delahoya, and it would be a circus, a big man fighting a small man.
In the documentary Manny The Untold Story of an Eight-Time World Champion, Alex Ariza, Manny Pacquiao's strength and conditioning coach, said
"I had just barely got him (Pacquiao) to 135 (pounds); now I have to move him up two weight classes to 147, and it is Oscar Delahoya.
It is one thing if you are moving up two weight classes to fight some cheeseburger, but we are fighting one of the best boxers in Boxing. Freddie said it is going to destroy both of our careers if Manny gets beat."
Oscar Dalayahoya vs. Manny Pacquiao fight was a great symbol of the passing of the torch, and after that fight, Pacquiao's celebrity status grew even more prominent.
Although Pacquiao was recognized as a pound-for-pound boxer globally, in his fight with Pacquiao's idol Oscar De La Hoya, Pacquiao was an underdog.
Many people, including many boxing analysts, thought Oscar is too big a good chin, with greater reach, and experience than Pacquiao.
As great as Pacquiao is, moving up TWO WEIGHT DIVISIONS to a fighter caliber of Oscar De La Hoya would be too much for Pacquiao.
However, the fight went to be a mismatch for the smaller and quicker fighter.
"He cannot handle your speed, son" is one of Freddie Roach's memorable advice to Manny Pacquiao between rounds.
Pacquiao has said in the interviews that he grew up watching & admiring Oscar Delayahoya, and Pacquiao said to Oscar Delahoya immediately after their fight that "You are still my idol."
Oscar Corner threw in the towel in the 9th round.
Manny then moved down in weight to light-welterweight and went to knock out Ricky Hatton in the second round to win IBO and The Ring lightweight titles and moved up in weight again to win a technical knockout against Miguel Cotto.
In 2009 fans craved a fight between Pacquiao and Mayweather, both in their absolute prime.
Fans started calling Floyd Chicken, among other names, that he was scared to protect his zero-loss boxing record and that he wanted to take less risky fights whilst maximizing his revenue.
In retrospect, Floyd was a master marketer.
If he had made $35 million fighting Pacquiao in 2009, he made three times the amount of money when they eventually fought six years later, both out of the prime of their boxing career, but sadly a loss for boxing fans to have witnessed a historic fight.
Floyd probably regrets saying bad things about Pacquiao as he gets older.
Manny Pacquiao is compared with Henry Armstrong to MOVE UP IN WEIGHT and win a BUNCH OF TITLES in different weight classes.
Even though Manny Pacquiao was pound-for-pound number one, a match-up with the Puerto Rico boxing legend, who is a natural welterweight in his prime, was an intriguing match-up.
It was great to witness Pacquiao, once a flyweight champion, fighting and beating naturally bigger-size fighters.
Roger Mayweather, among many boxing experts, favoured Cotto to beat Pacquiao.
By solidifying a win against Miguel Cotto, Manny beat Miguel Cotto further solidifying his boxing greatness by being a SEVEN-DIVISION WORLD CHAMPION.
No boxer in boxing history has achieved.
Fighting at welterweight, Manny's opponent almost always had a height, reach, and size advantage over Pacquiao.
Even though Pacquiao lost fights, a couple were controversial (Timothy Bradley 1, Jeff Horn). Despite his eight-division world champion weight classes, Pacquiao fought the toughest opponents in their weight division.
Unlike fighters who often skip breakfast to reach the weight limit for weight-in, Pacquiao ate a full breakfast and generally ate more food to make weight.
At some of the big fights of Pacquiao's career at welterweight (147 pounds limit), Pacquiao weight in at just 142 pounds against Oscar de la Hoya, 144 pounds for Miguel Cotto's fight.
Manny Pacquiao moved up again to beat Antonio Margarito for WBC super welterweight title 154 pounds, but Manny Pacquiao only weighed in at 144.6 pounds.
Antonio Margarito had 17 pounds weight advantage over Pacquiao in a fight night.
A win against Antonio Margarito made Manny Pacquiao WBC super welterweight champion, making Manny Pacquiao the only boxer to win titles in eight different weight classes, further SOLIDIFYING HIS LEGACY.
A feat is so high that it will be extremely challenging to accomplish for any fighter in this century and centuries beyond.
Pacquiao made a speech in the House of Representatives in the Philippines "The victory over Margarito, the eighth championship belt in different weight divisions is not mine alone. It belongs to every Filipino. The Filipino people have shown once more to the world that a Filipino can excel in the world-class arena because of hard work, dedication, and faith in God all mighty."
One Filipino guy in the documentary The Untold Story of an Eight-Time World Champion "Most of these people here (Filipino people) they were so ashamed of who we were as a race. Manny Pacquiao helped us to reclaim our true identity."
Pacquiao Achilles Heel
In Boxing, weight class is important as the size of a fighter makes a big difference.
Old wise wisdom says a good big man beats a little man, but in Pacquaio's case, a good big man was beaten by a great little man when he moved up in weights.
However, Pacquiao's Achilles heel is not a big man he fought in his prime but another great little man, Mexican legend Juan Manuel Marquez.
December 8, 2012, was a potentially career-changing knockout punch that Marquez landed, making Manny land flat on his face and just lay motionless on the ground.
Boxing has a history of rivalry.
We had:
Sugar Ray Robinson vs. Jaka LaMotta
Muhammad Ali vs. Joe Frazier
Aaron Pryor vs. Alexis Arguello
Sugar Ray Leonard Vs. Thomas "Hit Man" Hearns
Erik Morales vs. Marco Antonio Barrera, and
Manny Pacquiao vs. Juan Manuel Marquez
American sportswriter and commentator Larry Merchant mentioned before Pacquiao vs. Marquez 4, "I think Pacquiao is motivated, but it depends on what Marquez we see and on how he wants to fight.
We know that Marquez is a top boxer, and he can avoid them if he doesn't want to get into a serious exchange.
We also know he was knocked down four times in the first two fights. I don't know whether he's inclined to want to take the risk, but that's why they have the fight. But should Marquez want to change his fortunes and not feel like he will get robbed, I think he needs to be more explosive and take those risks."
Marquez was not only MORE EXPLOSIVE and TOOK RISKS which led to the first knockdown of Pacquiao in their fourth fight (the first time in their four fights) and later got knocked down by Pacquiao in Ring Magazine's round of the year in round 5.
But knowing each other in their trilogy fights, it seemed like both Marquez and Pacquiao came up with a game plan to KNOCK EACH OTHER OUT.
Marquez took several straight left and right hooks in the process that broke Marquez's nose and buckled his knees, but Marquez had an eye on his prize.
Marquez knew Pacquiao loved his signature punch, double jabs and straight left-hand combo.
Marquez ducked over Manny's second jab and delivered his signature right hand that snapped back Pacquiao's head, and Pacquiao fell flat on the canvas.
In the scene of Pacquiao not getting up from the knockout, with his teenage sweetheart and wife, Jinkee weeping and fighting to get through the crowd to see her husband in the ring as her husband laid on the floor face down motionless.
It was an emotional moment for Pacquiao's family, his countryman, and millions of Pacquiao fans worldwide.
Fans may argue it was a lucky punch and some fans say Marquez lured Pacquiao for a devastating knockout.
We can all agree it was a legacy-defining win for Marquez, and Marquez should get all the accolade and respect for his tremendous win against Pacquiao.
Pacquiao Come Back After A Devastating Knockout
Judging by how devastating the knockout was, many people questioned how this would affect Manny.
There were already talks about Manny Pacquiao retiring to focus on Manny's political career in the Philippines.
Like a famous Ain't how hard you hit quote from Rocky Balboa "The world ain't all sunshine and rainbows. It is a very mean and nasty place, and I don't care how tough you are; it will beat you to your knees and keep you there permanently if you let it.
You, me, or nobody is going to hit as hard as life. But it ain't how hard you hit; it's about how hard you get hit and keep moving forward. How much you can take and keep moving forward. That is how winning is done…"
After a year off, Manny made A COMEBACK.
Like Michael Jordan after returning to the NBA on March 19, 1995, after dealing with his father's death and playing Minor League Baseball.
Michael Jordan was not quite the same young Michael Jordan with explosive dunks and drives to the basket.
Still, Michael Jordan put even more trust in his teammates, fadeaways, and perfecting his mid-range jumpers, and Michael Jordan was still relentless in winning.
Similarly, A prime Pacquiao will make you fight his fight with relentless attacks and offense.
After the comeback, Pacquiao was still explosive; however, he became a much more calculated fighter to avoid being reckless with his attacks and focused more on his counterpunching and defense.
It was soon apparent that Manny was no longer quite the relentless offensive fighter he once was after a devastating knockout.
Still, Pacquiao continued making history and solidifying his boxing legacy.
However, when you drop from a peak so high, Manny was still able to beat many excellent and talented younger fighters, Timothy Bradley, Jessie Vargas, Lucas Matthysse, Adrien Broner, and Keith Thurman.
Manny Pacquiao and Floyd Mayweather
Manny Pacquiao's other loss came from Floyd Mayweather, one of the greatest pure boxers in Boxing.
Even though the fight happened five years too late when both Floyd and Manny were at their peak, fans got to see the fight even though it was not a 50/50 fight when Pacquiao Mayweather's fight reached FEVER PITCH in 2009 back then, Pacquiao knocked out Ricky Hatton and Miguel Cotto.
As the saying goes, a good bigger fighter beats a good little fighter.
In this case, a great bigger fighter beats a great little fighter. Floyd Mayweather, a naturally larger boxer, will be favored against a naturally little fighter in Manny Pacquiao.
Manny landed several clean left hands over Mayweather; however, Mayweather was able to use the clinch very effectively in the fight and fight an intelligent fight against Pacquiao, doing enough to land his right hand and, most effectively, his jabs to win the round in judges scorecard.
Controversy emerged that Floyd Mayweather was allowed to use WADA-banned IV.
However, Nevada Athletic Commission denied injection to Manny Pacquiao's injured rightsholder and some fans sued Manny Pacquiao for not disclosing the shoulder injury before the fight.
Manny went through surgery on his right shoulder after the fight.
Despite Mayweather using banned IV or Pacquiao rightsholder injury, Fighters rarely get inside the Boxing right being 100% and sometimes fight and still win despite their injury.
Mayweather did his research and hired Alex Ariza, the former strength and conditioning trainer of Manny Pacquiao, who played an essential role in the Pacquiao camp and knew Pacquiao's flaws.
He came in fully prepared for the fight, perfect timing for the fight to make the most money whilst less risk than 2009 Pacquiao, and we can be glad that the fight happened at the end without fans wondering how the fight would have gone.
With his tremendous Boxing skills, Mayweather was also able to impose his size advantage over Pacquiao and significantly longer 5 inches (13 cm) reach advantage.
Manny, who once had to add weight in his pocket as he could not make 105 pounds (47.62 kg) and was a flyweight champion, was even competitive with one of the best pure boxers, Floyd Mayweather, says a lot about Pacquiao.
Similar to Roberto Duran fighting Sugar Ray Leonard at Sugar Ray's best weight.
Despite Roberto Duan's one win and a couple of losses against Sugar Ray Leonard, Roberto Durant is ranked higher in pound-for-pound fighter than Sugar Ray Leonard.
Manny Pacquiao is considered a greater pound-for-pound fighter than Floyd Mayweather, becoming the only lineal champion in five different weight classes: flyweight, featherweight, super featherweight, lightweight, and welterweight.
Moved up from flyweight to win a bunch of titles and became an eight-division world champion and beat bigger opponents who always had size and reach advantage at welterweight.
Manny Pacquiao's Case For Second Best Pound For Boxer After Sugar Ray Robinson
Looking at Manny Pacquiao's resume of moving up in weights and fighting the toughest fights, one and the only boxer in history to win Lineal Championships in five different weight classes (flyweight, featherweight, super featherweight, lightweight, and welterweight).
And eight-division world champion who fought all the tough opponents and didn't duck anybody has a case for the second-best pound-for-pound boxers after Sugar Ray Robinson.
Manny Pacquiao's fans believe that if Manny Pacquiao from the Philippines were American, he would be considered the greatest boxer by American media.
What is even more amazing about Pacquiao is that whilst being a senator in the Philippines and a part-time boxer, he still competed in elite competitions until his 40s.
Pacquiao's win against Keith Thurman made Pacquiao the oldest welterweight champion at age 40 years 215 days and hold a record to be the only four-decade world champion in boxing history (1990s, 2000s, 2010s and 2020s), adding more to his legacy.
In the interview post-Pacquiao vs. Keith Thurman fight, Danny Garcia said, "we just witness history, to be honest, Manny Pacquiao just beat whole new generations of welterweights that's ridiculous. The OG is a legend; what can you say."
We all fall prey to recency bias that when we grow up watching Kobe or Lebron, they are better than Jordan, and people who grew up watching Jordan say Jordan is better than the greater basketball players before him.
Hard-core boxing fans know a deep knowledge and respect Max Kellerman, who knows Boxing. Max makes a compelling case for Manny Pacquiao's greatness.
Manny Pacquiao's Celebrity Status
Manny's motto has been, "If you train hard, the fight is easy,"
Manny always comes to fight and is always concerned about the fans to give them more active in the ring. Manny is loved by boxing fans and fans all over the world.
Manny was already a superstar in the Philippines before fighting in America. After his wins with high-profile and Mexican legends like Barrera, Pacquiao started getting recognization internationally and started gaining international fans worldwide.
Pacquiao started getting thousands of fans and well-wishers waiting hours to greet him at the LAX airport and return to the Philippines.
Kobe Bryant is one of Pacquiao's favorite basketball players, and they developed a cordial friendship over the years.
Manny loves basketball, a big fan of the NBA.
Manny fought all the great Mexican legends of his time, Eric Morales, Marco Antonio Barrera, and Juan Manuel Marquez.
Mexican fighters like Manny because of fighting Mexican style that he comes to fight and never backs down.
People love Manny Pacquaio because he is humble and never forgets where he started despite all the fame, money, and accolades he has received over the years.
Manny Pacquiao Controversy
Pacquiao is a devoted Christian; however, he got into trouble with his controversial statement about gay people, which resulted in his contract with Nike contract being terminated and affected his public image.
Pacquiao reads the bible and in Leviticus 20:13, which says quote "If a man lies with a male as with a woman, both of them have committed an abomination; they shall surely be put to death; their blood is upon them."
It is considered a controversial statement in the 21st century to quote, most notably as a public figure to publicly say his views on a bible written centuries ago.
Even though the general public understood Pacquaio's views didn't come from a terrible place in his heart.
But to mention publicly controversial statements in today's age, what is written in the bible is a bad look for Manny and something many people believe Manny should have put into more thought before speaking.
Whist Pacquiao clarified he loves gay people and that the media misinterpreted what he meant.
Many people believe that even though Pacquiao likes gay people and does not have any problem with what people do behind closed doors, Pacquiao still deep inside, feels from bible study relationship between same-sex couples could be a sin.
Pacquiao got caught in having a relationship with different women while married. Pacquiao apologized to his wife and promised to follow God and be a great husband and a father with a newfound faith in Christianity and avoid gambling and drinking.
In 2013 Philippine Bureau of Internal Revenue froze Pacquiao's Philippines bank account and his properties due to not paying tax on his earnings from fights in America from 2008 to 2009.
Pacquiao then showed his income tax payment for non-resident alien payment through his boxing promoter Bob Arum to the Bureau of Internal Revenue.
Manny Pacquiao's Legacy
It is hard to tell when Pacquiao was in his prime, whether he beat Marco Antonio Barrera or when he beat Miguel Cotto.
Despite Pacquiao, he is not in his prime, even at age 40, winning a fight against a hungry lion, Keith Thurman, and talented Adrien Broner.
To add more to his legacy to he was the first boxer ever to become a four-decade world champion (1990's, 2000's, 2010's and 2020s).
Keith Thurman beat top boxers in his Welterweight division Danny Garcia, and Shawn Potter and fought with Manny Pacquiao for the WBA Welterweight title.
Manny Pacquiao fought many fights in the welterweight division and beat many great fighters, including Miguel Cotto, Shane Mosley, and Timothy Bradley.
Boxing fans respect and love watching Pacquiao fights even though Pacquiao never does trash talk and hype to promote the fights.
Still, Pacquiao is exciting and entertaining inside the ring. He comes to fight and gives fans an exciting fight.
People tuned in to watch Pacquiao fights because he came to fight and did not duck any fighters to fight the toughest fighters in his division.
He moved up to and is still the only fighter to win five weight lineal champions and win titles in eight different weight classes.
Once only known for his double jab straight left hand to knock his opponent, Pacquiao developed his right hook, effective aggressiveness, and counterpunching with Freddie Roach became a dangerous and complete fighter.
Earlier in Pacquiao's career, Pacquiao relied on his powerful left hand the most.
Many people rightly said that he is pretty reckless and lands awkwardly after he throws his power punches, leaving him open to opponents' attacks.
Freddie and Pacquiao's partnership will always be remembered as an excellent trainer-student duo.
Many people believe if Manny Pacquiao were an American boxer, he would be considered the best boxer in the boxing ring.
There could be some truth to that as the American and British media tends to have biases to rank their country fighters/western fighters higher in the sports ranking.
In the Philippines, however, when Manny fights, it is said to have zero crime, the streets are empty, and everybody is glued to the television to see their countryman fight.
Outside the ring, Manny is a family man driven by his faith and senator of the Philippines. Manny had a tender side to him while able to flip a switch once he gets in the ring.
Manny's life outside the ring is just s dynamic. Manny seems to thrive under chaos with his acting in the movies, singing, and politics. As wise ancient wisdom goes, a man who chases two rabbits catches none.
However, Manny managed to compete in Boxing at a high level while choosing to be in constant chaos around him.
A comment surfaced over the internet after Adrien Broner claimed that he beat Pacquiao and people made fun that Adrien Broner got beat by a 40-year-old and a part-time fighter.
Manny was temporarily angry with his trainer Freddie Roach for advising him to either choose Boxing or become a senator.
Freddie was not in Pacquiao's corner for the first time after decades in Lucas Matthysse's fight, but they soon patched up their relationship.
How Will Pacquiao Be Remembered
Walter Payton once said, "When you're good at something, you tell everyone. When you are great at something, they'll tell you."
Manny is known for being humble, helping less fortunate people, and being a very likable sports athlete.
Manny Pacquiao is known for his Philipionthrapy work, senator of the Philippines, and acting career. Still, he is mainly known for his boxing career, arguably the second-best pound-for-pound boxer after Sugar Ray Robinson.
Many boxing historians/experts believe Sugar Ray Robinson to be the best pound-for-pound fighter ever, and Manny has a case to be the second-best pound-for-pound fighter after the great Sugar Ray Robinson.
Boxing legend Muhammad Ali is the only boxer to win three-time lineal heavyweight boxing champion.
Manny Pacquiao is the only boxer in boxing history to win the lineal championship in five different weight divisions.
The only fighter in boxing history to be an eight-division world champion is a record that could take decades or centuries to be broken.
Pacquiao fought everybody, took the most challenging fights, and gave fans exciting fights throughout his four decades of boxing career.
Pacquiao grew up a poor malnutrition kid and could not even reach a weight limit of 106 pounds (48 kg) for his first professional fight and had to add stones in his pockets to make weight.
Like Mike Tyson, who fought opponents who almost always were taller with reach advantage at heavyweight, Pacquiao fought numerous fights at the welterweight division against naturally bigger boxers later in his career.
He moved up in weight, where his opponents also always had a natural weight advantage in the fight night.
Pacquaio is naturally a small physic fighter. He was a champion at flyweight and had to add stones in his pocket as he could not even make the weight to fight.
It is incredible to see him fight at welterweight for so many years to fight naturally bigger opponents with height, weight, and reach advantage.
Pacquiao, a devastating power puncher in his natural weight category, still had respectful punching power at the welterweight division.
Even Manny landed hundreds of his best power punches at the super welterweight division could not knock out Margerato's (17 pounds weight advantage at fight night). Still, Antonio Margarito's face looked a mess.
Manny won five lineal championships (a fighter who beats the reigning champion in that weight class) in win titles in eight separate weight divisions, and never ducked any fighter. This boxing legend has a case to be the best pound-for-pound fighter ever.
Everything feels like a blessing when you come from nothing, and Manny never forgot his roots and helped the poor people.
Manny Pacquiao will be remembered as a humble fighter who fought the toughest opponents in boxing in their prime, gave the fan exciting fights, was the first boxer to win the eight-division world championship, and a person with a kind heart who is a pride of the Philippines.
Interesting Facts about Manny Pacquiao
Similar to Michael Jodan playing baseball. Manny Pacquiao played in the Philippine Basketball Association (PBA) in the years 2014 till 2017. Like MJ's baseball career, Manny Pacquiao's basketball career (1.3 points, 0.5 rebounds, 0.2 assists) was an exciting experiment to challenge themselves.
Manny Pacquiao was born on December 17, 1978, In Kibawe, Bukidnon, Philippines, making him Sagittarius. It partly explains how Manny gets his Showmanship, charisma, and an optimistic attitude.
Manny Pacquiao has the rank of Lieutenant Colonel in the Reserve Force of the Phillippine Army.
Manny has played in over ten films in the Philippines. Pacquiao's superpower in the movie Wapakman would leave many superheroes envious. Wapakman is just as fast as a Flash, strong as the powerful Hulk, has the agility of Spiderman.
Manny Pacquiao has six siblings. Bobby Pacquiao, Rogelio Pacquiao, Isidra Pacquiao-Paglinawan, Domingo Silvestre and Lisa Silvestre-Onding.
Other than Manny's acting and singing career, Pacquiao is a senator of the Philippines.
Arnold Schwarzenegger could not have become the United States of America president because he was not born in America. However, Pacquiao potentially could become the president of the Philippines one day.
Manny Pacquiao is the first Filipino athlete to feature on a postage stamp.
At Beijing National Stadium during the opening ceremony of the 2008 Beijing Olympics, Manny Pacquiao served as a flag bearer because of his status in his country despite not participating in the Olympics.
Manny Pacquiao likes singing and even has his own two albums, 'Laban Nating Lahat Ito' and second album 'Pac-Man Pun.".
Pacquiao was mentioned in the popular song Get It Started by Pitbull, featuring Shakira. "Thriller in Manila, knocking them out like Pacquiao."
Pacquiao has beaten 22 world champions in his career.
Pacquiao is the only boxer who won Lineal Championships in five different weight divisions.
Pacquiao is the only boxer who has won titles in eight separate weight classes. A record that may take centuries to break.
Becoming a full-time senator and a part-time boxer to beat elite world-class opponents even till the 40s is a fantastic feat.
Pacquiao builds and gives away 1000 homes for the poor and homeless in the Philippines.
How Tall Is Manny Pacquiao
Manny Pacquiao is 5 feet 5 1/2 inches ( 1.66m)
Manny Pacquiao Sometimes When We Touch
Sometimes when we touch song is released in 2011 and sung by Manny Pacquiao and Dan Hill. The single reached up to number seven on the Billboard Adult Contemporary secondary charts.
On November 3, 2009, Manny Pacquiao first sang this song in Jimmy Kimmel's show which many people liked.
How Many Kids Does Manny Pacquiao Have
Manny Pacquiao has five kids. Emmanuel Pacquiao Jr, Michael Pacquiao, Queen Elizabeth Pacquiao, Mary Divine Grace Pacquiao, and Israel Pacquiao.
Manny Pacquiao Retirement
After 26 years and 72 professional bouts, Manny Pacquiao announced his retirement on 29th September 2021. What a legendary boxing carrer Manny Pacquiao had. Second best pound for pound fighter after the great Sugar Ray Robbingson.
Manny realized his journey to boxing is coming to an end he wanted to end his boxing career fighting the best.
It seemed like he wanted to pass on the torch to the next-generation superstar Errol Spence who is not only unified welterweight champion with the WBC title in 2019 and held the IBF title since 2017. The boxing community knows he is the Truth, the real deal and an extremely hard fight for Manny Pacquiao especially fighting a blue chip fighter like Errol Spence whilst being in his 40's.
Despite the challenge, people who have followed Manny Pacquiao his career know that Pacquiao is a Spiritual person and with his hard work and determination, he can accomplish the impossible.
And like Ugas, Errol is a big welterweight who can fight at middleweight.
Unfortunately, Errol Spence had to withdraw from the fight due to a retinal tear in his left eye which would have been a great passing of the torch moment for Boxing.
But despite this Manny Pacquaio, until his last bout wanted to fight and retire fighting the best which says a lot about Manny Pacquiao's Legacy and the character of a true champion.
In his tweet, Manny posted an emotional/touching goodbye to boxing.
Records are meant to be broken. However, it is hard to imagine another boxer breaking Pacquiao's Legendary boxing record of:
Winning World Titles at Eight Weight Division
Lineal Chapionship in Five Different Weight Class
Hold World Titles in Four Different Decades