Nobody should question the heart of Deontay Wilder and Tyson Fury.
Tyson Fury greatest heavyweight fight of this Era.
Case for Oleksandr Usyk to be the top pound for pound if he beats Tyson Fury.
Few days have passed since this TERRIFIC FIGHT, and WHAT AN EXCITING FIGHT it was!
We witnessed the best heavyweight fight in recent years. It will go down as one of the classics, NO DOUBT.
Legend Lennox Lewis summed it up perfectly:
"who would expect to fight like that I mean the first fight was good, the second fight was great, this was this one was the icing on the cap"

-Lennox Lewis
My FAVORITE PART of the fight was Sugar Hill instructing Tyson Fury in between rounds:
"Jab his f****** head off."

-Sugar Hill
It was so old-school and classic.
Nobody should question the hearts of Deontay Wilder and Tyson Fury
It gave me GOOSEBUMPS when Max Kellerman said during the middle of the fight sth to the like: "even though Deontay Wilder loses this fight, he left a mark in the history book and proved himself for getting knocked down and come back to knock Tyson Fury twice in around."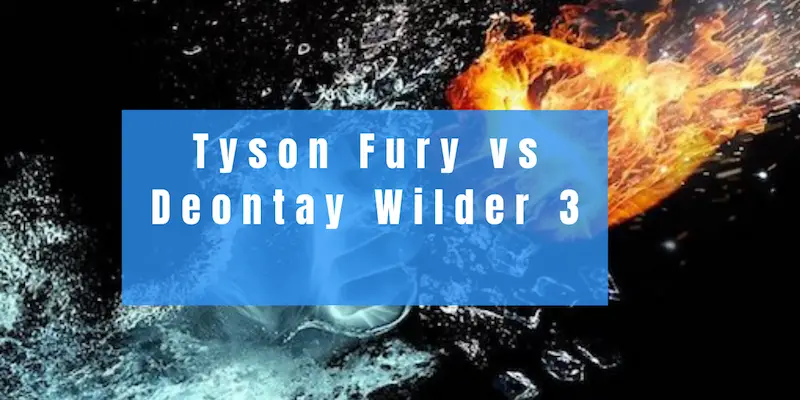 What Deontay Wilder and Tyson Fury showed in the ring IS GREATNESS. As Max Kellerman said, Deontay Wilder will always be remembered FOR this historic fight.
The first knockdown of Deontay Wilder's bell saved him, but coming back and knocking down Tyson Fury twice in a round is AMAZING!
Both Deontay Wilder and Tyson Fury DISPLAYED TREMENDOUS HEART and courage in the FIGHT; we boxing fans are THANKFUL for their performance Saturday night FROM THE BOTTOM OF OUR HEARTS.
Deontay Wilder was unhappy that his former trainer Mark Breland threw in the towel in Fury vs. Wilder 2.
Deontay Wilder wanted to GO OUT in his shield, and that is exactly what happened Saturday night.
Malik Scott said in his interview (42:40) that:
"he (wilder) felt he just felt as though that last fight he didn't really get to show people what he's really really made of and not just power he wanted to show people he's made of passion grit heart."

-Malik Scott
This is AN INSIGHTFUL interview by Deontay Wilder trainer Malik Scott.
Deontay Wilder, you displayed all that Saturday night, and you are a true Warrior.
No one should ever question the heart of Deontay Wilder and Tyson Fury.
What a fantastic display of
Fury vs Wilder 3 is THE TYPE OF FIGHT that you are on the EDGE OF YOUR SEAT the entire fight…the whole fight..
..and even though Tyson Fury was coming along strong, winning the round, it was a VERY COMPETITIVE FIGHT t, unlike their second fight, which was one side in favor of Tyson Fury.
Why is Tyson Fury the best heavyweight of this Era?
Even though Oleksandr Usyk has three more belts after winning, Anthony Joshua and Tyson Fury currently hold the WBC belt; Tyson Fury became the Lineal heavyweight champion after beating Wladimir Klitschko.
Tyson Fury OUTBOXED the great Wladimir Klitschko, and now Tyson Fury knocked out ONE OF THE MOST devastating knocks out the artist of this Era in Deontay Wilder.
Wilder vs. Joshua will still be a TERRIFIC FIGHT, but with Joshua's couple of losses against Andy Ruiz jr and Oleksandr Usyk and Wilder couple of losses against Tyson Fury.
So THE GYPSY KING will still remain King of the heavyweight division.
Below is an excellent interview from the legend Emanuel Steward from 2012 about Tyson Fury's potential before Tyson Fury was a world champion (he also speaks highly about Deontay Wilder).
Tyson Fury was humble TO SPONTANEOUSLY catch a plane to see the Emanuel Steward and how the story unfolds is awesome!
Hate him or love him; one thing we can AGREE ON is Tyson Fury, a very charismatic man.
If Emanuel Steward was still alive but maybe up in the sky, he is proud of his Tyson Fury and nephew Sugar Hill.
Case for Oleksandr Usyk to be the top pound for pound if he beats Tyson Fury
Before Oleksandr Usyk joined the party, there was AN ARGUMENT if Tyson Fury, Deontay Wilder, or Anthony Joshua was the best heavyweight of today's Era.
Let's look at another fighter who fought a naturally bigger fighter than him his entire career and had impressive wins.
Later in his career, Manny Pacquiao fought naturally BIGGER FIGHTERS than him, like Miguel Cotto, Antonio Margarito, and all the welterweights.
Manny Pacquiao was NOT JUST competing at flyweight but was a world champion at flyweight. He MOVES US one-third of his body weight to win titles IN EIGHT DIFFERENT WEIGHT CLASSES, a record that may take centuries to break.
It is impressive that Pacquiao is even competitive against Floyd Mayweather, a NATURALLY BIGGER and the best pure boxer of his generation.
Pacquiao always fought the TOUGHEST OPPONENT as he moved up in eight different weight classes, and at the age of 42…
.. he wanted to get in the ring with Errol Spence, a fighter IN HIS PRIME, the best welterweight right now is amazing! (sadly the fight got canceled due to Errol Spence last-minute eye surgery before the fight)
Manny Pacquiao recently HUNG UP his gloves, three months shy of his 43rd birthday, but the boxing is STILL ALIVE and in good hands with guys like Tyson Fury and talented fighters like Oleksandr Usyk in the heavy weight division and a stacked talent at various weight classes.
Oleksandr Usyk, just a year ago, was an IBF, WBA, WBC, WBO, and Ring cruiserweight champion. So if he beat Tyson Fury, Usyk has to be on the top on the pound-for-pound list.
Only time will tell IF WE get to see this fight against Tyson Fury and Usyk, but we will see a high-level chess match in the ring once this is guaranteed.
Until then, ENJOY watching highlights of the best heavyweight fights we witnessed, which is what I will do.