The long-awaited showdown between Errol Spence and Terence Crawford is FINALLY HAPPENING on July 29 at the T-Mobile Arena in Las Vegas. 
This high-stakes battle for the undisputed welterweight championship will undoubtedly captivate boxing fans worldwide.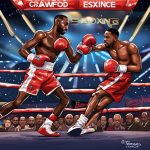 You will want to experience this epic clash of two boxing titans as they prove their mettle in the ring. 
Expect a thrilling, no-holds-barred confrontation that'll have you on the edge of your seat as Spence and Crawford vie for welterweight supremacy. 
Get ready for an unforgettable night of boxing action!
The Showdown: Errol Spence Jr vs. Terence Crawford
Welcome to the most anticipated event of the year! 
Welterweight Champions Clash and Pound-for-Pound Fighters Meet with an unforgettable showdown between Errol Spence Jr. and Terence Crawford.
Welterweight Champions Clash
July 29, 2023, will mark the historic moment when two giants in the boxing world collide. 
Get ready to witness Spence Jr. and Crawford battle for the undisputed welterweight championship at the T-Mobile Arena in Las Vegas. https://www.t-mobilearena.com/events/detail/spence-vs-crawford
Errol Spence Jr.: Undefeated Welterweight Champion
Terence Crawford: Also an Undefeated Welterweight Champion
Pound-for-Pound Fighters Meet
Their showdown will undoubtedly be a legendary collision between two powerhouse pound-for-pound fighters. 
Their skill, determination, and unyielding commitment to proving their dominance in the boxing world make this face-off one to remember.
The excitement is palpable as fans worldwide eagerly await the opportunity to witness this dynamic duo in combat, a testament to their admirable status as true boxing legends. 
Grab your tickets and prepare to be a part of history as Errol Spence Jr. and Terence Crawford meet for the ultimate welterweight showdown!
Road to the Epic Battle
You're about to witness an unforgettable showdown as Errol Spence and Terence Crawford go head-to-head in a blockbuster welterweight battle. Dive into their incredible journeys leading up to this historic event.
Errol Spence's Journey
Undefeated IBF & WBC Champ: Errol Spence has been unstoppable since his pro debut, taking down challengers to secure and defend his IBF and WBC titles. 
His impressive record showcases his dominance in the ring.
Car Wreck Comeback: After surviving a near-fatal car accident in 2019, Spence returned triumphantly to reclaim his WBC title in December 2020. 
This comeback is an inspiring testament to his unyielding determination.
Capturing the WBA Title: Spence clinched the WBA championship by overpowering Yordenis Ugas in April 2023, further solidifying his reputation as one of the top welterweights in the world.
Terence Crawford's Path
WBO Champ with Multiple Titles: Terence Crawford, a three-weight world champion, holds the WBO welterweight title. 
His RELENTLESS PURSUIT of greatness has seen him excel in multiple weight classes.
Becoming the Undisputed Champion: Crawford became the undisputed light welterweight champion in 2017, blazing his path to glory. 
On his journey to this fight, Crawford has shown he's ready to take on any challenge.
So, grab your seat and buckle up as Errol Spence and Terence Crawford prepare for an epic collision in Las Vegas!
Fight Breakdown and Analysis
It's time to dive into the highly anticipated clash between Errol Spence Jr. and Terence Crawford. 
This welterweight showdown will keep you on the edge of your seat, and we're here to break down every detail.
Styles and Tactics
Spence, a dangerous southpaw, utilizes a style reminiscent of greats like Ray Leonard. 
His pinpoint accuracy and devastating power make him a tough opponent for anyone. 
Meanwhile, Crawford's exceptional adaptability lets him switch stances, keeping his opponents guessing. Again, think of one of the greatest switch hitter like Marvelous Marvin Hagler.
Terrence Crawford is a switch hitter like Marvelous Marvin Hagler, but As ShowBizTheAdult says, Errol Spence's approach is similar to Marvelous Marvin Hagler's, which is an interesting distinction.
Size Advantage
Spence's natural size advantage could play a significant role in this fight. He's fought skillful opponents like Yordenis Ugas, Mikey Garcia, hard-hitting Danny Garcia and aggressive fighters like Shawn Porter, so his experience in this area shouldn't be underestimated. 
Crawford, however, possesses a deceptive reach that has allowed him to CAPITALIZE on distance and dictate the fight.
Skills
Both fighters bring an array of skills into the ring. Spence's AGRESSION and BODY PUNCHING can wear down his opponents, while Crawford's FOOTWORK and COUNTER-PUNCHING ABILITY are second to none. 
It's a classic case of power versus finesse.
In this explosive matchup, both fighters showcase truly elite skills, which is why it's a fight YOU cannot afford to miss.
Previous Major Fights
Spence's Notable Opponents
Errol Spence Jr. has faced some tough challenges in his career. One of his most significant bouts came against Shawn Porter. 
Spence came out victorious in a thrilling encounter and unified the welterweight titles. 
Another notable opponent for Spence was Kell Brook, where Spence became the IBF World Welterweight Champion, and he also beat top fighters like Danny Garcia and Mikey Garcia. 
Although his fight with a legend like Manny Pacquiao got unfortunately canceled after all the promotion due to his left eye injury, which would have been epic passing down of the torch, his impressive record speaks for itself.
Crawford's Top Contenders
Terence Crawford is no stranger to challenging fights, either. Crawford proved his worth by facing Jeff Horn and secured the WBO World Welterweight Championship. 
His tenacity and skill have put him among the elite in the division.
As we prepare for the much-anticipated Spence vs. Crawford fight on July 29, one thing is clear: these talented boxers have demonstrated their abilities against formidable competition. 
This showdown will undoubtedly be thrilling, determining the undisputed welterweight champion.
Promotion and Broadcasting
Pay-Per-View and Event Details
Las Vegas will host the anticipated showdown between Errol Spence and Terence Crawford at the T-Mobile Arena on July 29. 
In addition, Showtime PPV will distribute the undisputed welterweight championship for your viewing pleasure!
Boxing fans, brace yourselves for a night of exhilarating action! 
Promotional Free Agency Impact
Promotional free agency plays a significant role in this colossal event. Top Rank and Premier Boxing Champions have collaborated to stage the Spence vs. Crawford showdown.
Potential Outcomes and Future Implications
You are in for a treat with the Errol Spence vs. Terence Crawford showdown! 
First, let's dive into the possibilities and implications of this epic fight.
Rematch Clause and Possibilities
A rematch clause may affect the future of this rivalry. Should the fight be close, a rematch could be inevitable. 
If either Spence or Crawford is victorious, they might have to defend their WBO, IBF titles and more!
Imagine the hype of a second fight if the first ends in a riveting knockout or close decision. A potential rematch with high stakes creates anticipation for YOU, the boxing fan.
Impact on Pound-for-Pound Rankings
This fight is essential for both fighters' standings in the pound-for-pound rankings. 
A commanding win may catapult the victor to the top of the list!
Will "Bud" Crawford solidify his legacy with a TKO victory, or can Spence defend his current position with an impressive win? 
The future of these fighters could see them clashing with contenders like David Avanesyan.
Bear in mind Crawford is now a free agent. So a win for him might unlock lucrative opportunities. 
A victory may also lead to Spence unifying the WBO and IBF titles, changing the landscape of the welterweight division.
In conclusion, this highly anticipated fight carries significant weight for the careers of Errol Spence and Terence Crawford. 
The potential outcomes and future implications hold immense excitement for YOU, the fans, and the entire boxing community.
Fight Prediction
This is my favorite section predicting the fight, which makes you even more excited for the fight. Errol Spence put up a terrific fight against Yordenis Ugás (his last opponent), but it has been over a year since he last fought on top of his car accident event and left eye surgery. 
I got Terrence Crawford winning this fight by UD because he is more adaptable in the fight, and Errol Spence will have around 1 year and 4 months of ring rust, while Terrence Crawford fought last December. 
After Errol Spence's horrific car accident, I am not 100% confident how much he has recovered and if he has any injuries like the left eye surgery he had. 
Frequently Asked Questions
When did they fight?
Errol Spence and Terence Crawford fought for the undisputed welterweight championship on July 29, 2023.
Who is bigger?
Errol Spence is slightly taller at 5'9″ (175 cm), while Terence Crawford is 5'8″ (173 cm). However, both Terrence Crawford has a longer reach.
Does Errol Spence or Terrence Crawford have a longer reach?
Despite Errol Spence being 1 inch taller than Terrence Crawford, Terrence Crawford [74 in (188 cm)] has 2 inches (5 cm) longer reach than Errol Spence [72 in (183 cm)]. 
Who won the match?
To stay updated about the winner, keep an eye on credible news sources as the match date approaches.
What was the undercard?
Key details about the undercard will be released closer to the fight date. But don't miss the excitement!
What were their stats?
Before the match, Errol Spence had a record of 27-0 with 21 KOs, while Terence Crawford's stellar record was 38-0 with 29 KOs.
When is a rematch?
A rematch depends on the outcome of this match and negotiations between the fighters and their teams. Stay tuned for updates!
Results
Wow! I predicted Crawford to win by UD, but I was surprised how much better Crawford was than Spence in the fight.
I predicted Crawford win mainly due to Errol Spence's long layoff in the ring and his horrific car accident; if he still is the same fighter he was before the car accident and eye surgery, he had to do, which canceled his fight with Manny Pacquiao just 12 days before the fight. And I thought Crawford is more adaptable compared to Errol Spence to make any necessary adjustments in the fight.
Let's give flowers to Terrence Crawford; he was so dominant in the fight that the best version of Spence would not beat Crawford that night.
In the first round, I was fairly comfortable with how the fight was going to Spence as he was more active and landed some punches, and I thought it was going to be an interesting competitive 12-round fight where both Crawford and Spence would have good moments in the fight but Crawford will make the necessary adjustment.
However, round 1 was the only best round for Spence, and after the second round flash knockdown each rounds Crawford dominated Spence.
Crawford's jab was powerful, and later in the interview, he confirmed that it was a strategic plan his team worked on for this fight.
In addition to Crawford's quickness, he seemed he was a few steps ahead of Spence. Crawford counter punching was a thing of beauty.
I share big concerns about Spence health more than anything. All the Car crash, eye surgery and the beating he took on this fight could or may have already caused irreversible damage to Spence health.
Virgil Hunger and Teddy Atlas, among others in the boxing community, share a concern for Spence's health.
What's next for both fighters
If the Rematch does happen, I don't see Spence beating Crawford, even at 154 pounds.
Many boxing experts, including Teddy Atlas, believe Spence should take time off boxing for all that he has been through. Get fully recovered and come back stronger if he wants to come back to fighting.
Personally, I would love to see Crawford fight Jaron Ennis. Ennis Boots has been calling out both Spence and Crawford for a while, even though I will favor Crawford to beat Jaron Ennis.
I would love to see Crawford fighting either Boots or Keith Thurman at welterweight compared to Charlo (whom Crawford has expressed interest in fighting). Thurman needs to get active because he has a lot of ring rust.
Ennis Boots and Keith Thurman have good footwork and are high-IQ fighters to make any necessary adjustments during the fight. However, I see Crawford winning both fighters, but it will be an interesting fight for the fans because it will be a high-level chess match.
I currently don't see any fights that I would not favor Crawford at welterweight or at junior Middleweight. Unless he skips weight divisions like Henry Armstrong and Manny Pacquiao to fight David Benavidez (Manny Pacquiao skipped super flyweight and bantamweight, which is absolutely insane what he was able to accomplish in the sport), And even then, Crawford will make that fight very competitive with his high IQ and ability to make the necessary adjustments.
Charlo and Crawford at 154 lbs Crawford is just as strong as Charlo and Crawford is a lot quicker and has a higher boxing IQ, so personally, that fight does not interest me as much as Ennis Boots or Keith Thurman fight.
Every boxing expert would agree Crawford is far superior to Castano and in the last Charlo fight, Castano was connecting his punches with relative ease against Charlo. I see Crawford capitalizing heavily against Charlo's weaker defense and footwork.
If both fighters decide to go toe to toe, I might give Charlo some chance, but it will be another win for Crawford.