When it rains heavily, outdoor hard courts create puddles that can be cleaned using a roller or a squeegee.
During autumn, make use of a leaf blower to sideline the gathered leaves on the court.
A court and line sweeper can be used to keep your clay court clean.
Cleaning court is well worth it for your improved playing experience.
   Your Guide

   Gavin Davison
Tennis is an awesome sport, that we all know. And one of the sure-fire ways to keep it as fun as possible is to play on a clean court.
I'm not talking about trash here, I'm talking about keeping the actual court surface as clean as possible.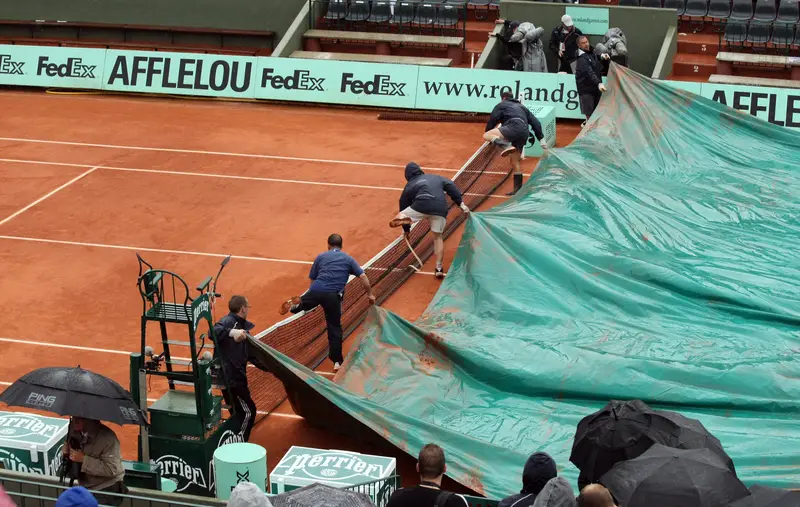 This is done to guarantee that the ball bounce is as true as possible, to ensure that your sneakers don't get messed up, and to create a court that gives you the best chance of playing your best tennis.
That's not too much to ask, right?
But since there are many different tennis court surfaces out there, the way to clean them does vary. I've covered all of this throughout. 
Cleaning various tennis courts
Outdoor Hard Courts
When you play outdoor tennis, the court, as well as yourself, is exposed to the elements. This includes wind, rain, sun, and whatever else mother nature chooses to throw our way.
All of these elements can impact the surface in different ways, although two common factors that cause the court to be 'dirty include leaves and water.
i) When it rains, the court gathers water, and this can create puddles while making the surface very slippery. The best way to clean the court is to use either a roller or a 'squeegee', which are two pieces of equipment that let you absorb the water and push it away from the court.
ii) The second most common factor is leaves. This is particularly true in the Autumn, where leaves can gather on the court and become a bit of a nuisance.
If you are playing at a local club, I'd recommend asking the managers or groundsmen if they have a leaf blower or a rake. I know, it's annoying to do this, but at least you will then get a clean court to play on.
Indoor Hard Courts
If you are playing tennis in a part of the world that can get pretty cold, there is a strong chance that you'll be playing indoor tennis a lot of the time.
Of course, indoor courts are shielded from the elements, so you won't have to contend with any weather or leaves blowing onto the court.
However, one thing you will need to deal with is the accumulation of tennis ball fluff!
If you've played a fair bit of indoor tennis before, you'll know what I'm talking about. But if you haven't, let me clarify this mystery.
When tennis balls are being whacked around all day long (how long does tennis balls last), little bits of fluff will fly off them, and after hours and hours of play, this fluff can build up. You'll often see it around the court, in corners, and around the chairs around the net (if you have some).
It also gets all over your shoes, which can get pretty annoying, especially when you start to bring it home with you. The only way to then clean this is to actually clean the courts, and there are specific court cleaners that most clubs have, which you can use to do this. 
Clay Courts
Clay court tennis is more unique than the rest. It's pretty much the only surface that leaves evidence of the play, with ball marks, shoe marks, and large sliding marks on the court where players have moved around.
Usually, players (or maintenance staff) will sweep the court and do the lines once used, leaving behind a nice clean court for you to come and play on – as seen at Roland Garros.
But if you get unlucky, you'll come to the clay court and it won't have been swept or cleaned. In this case, you'll need to remove the evidence of the previous play yourself.
There are two pieces of equipment used for this:
1) The first is the actual court sweeper, which is usually a brush or a net, and you can then drag it around with you to smooth out the court surface and remove all marks.
When this is done, however, you actually drag the clay over the lines of the court. Therefore, you must then use…
2) The second tool, which is the line sweeper. You'll need to brush the clay away from all lines on the court to leave it clean
But here's the good news, once you get efficient at doing this, it shouldn't take more than a few minutes to clean a clay court.
Grass Courts
There are only a few professional tournaments in the world, such as Wimbledon, that are played on grass. So needless to say, this is the least common court surface that you'll need to clean before play.
But with that said, there are many clubs that do have grass courts, although the standard of these courts can vary greatly.
In my experience, one of the most annoying parts of grass court tennis is the little divots that emerge on the court,
And yes, these require cleaning or tidying up before play.
The only way to do this really is to wander around the court, and tapping on the divots with your foot to make them flat again. This can be fairly time-consuming, but hey, if you want to play on a nice clean grass court, that's what you need to do.
Unfortunately, if the court surface isn't flat, which is something I've found at many clubs that have grass courts, there is not much you can do – as that will be a job for the maintenance staff or contractors.
My conclusion
Keeping a clean tennis court does take work, but it's well worth it. There is nothing worse than playing on a court that is compromised simply because of inconveniences like ball marks, divots, ball fluff, or water and leaves.
And since the tools you must use to clean the courts are usually accessible, at any reputable tennis club, you should be able to get your hands on them easily.
On a more positive note, certain clubs employ full-time maintenance teams too, so there is always the chance that you won't have to clean the court personally!
Did you find this piece useful? Have you experienced these inconveniences in the past? Let us know down below.