The Great Roger Federer Started Hitting Tennis Balls at Age 8 and Played Soccer Long With Tennis for Many Years.
Dominic Thiem Didn't Even Contemplate Playing Tennis Before Age 6, Which Interestingly Is Late Compared to Top Tennis Players Like Djokovic and Nadal, and Serena Williams, Who Started Swinging Tennis Rackets at Age 3.
A Late Bloomer, John Isner Didn't Pick Up a Racket Until He Was Age 11.
   Your Guide

   Gavin Davison
Many professional players on both the ATP and WTA circuits started playing tennis aged 3 or less.
In fact, when researching the top players…
I discovered that this was pretty much THE NORM!
I'm fairly sure I was still learning how to color in images correctly at age 3 – never mind hitting a tennis ball.
But amazingly, when you look at players like Nadal and Serena Williams, they first started whacking balls around as toddlers. 
I found this pretty interesting, especially since I didn't start hitting balls until around 8/9, and I like to think that I still turned out okay.
So, as you've guessed from the article topic, I'll be running through some players who had a relatively late start, with three high-profile players making a list.
Three Players Who Arrived Quite Late to the Party
The Great Roger Federer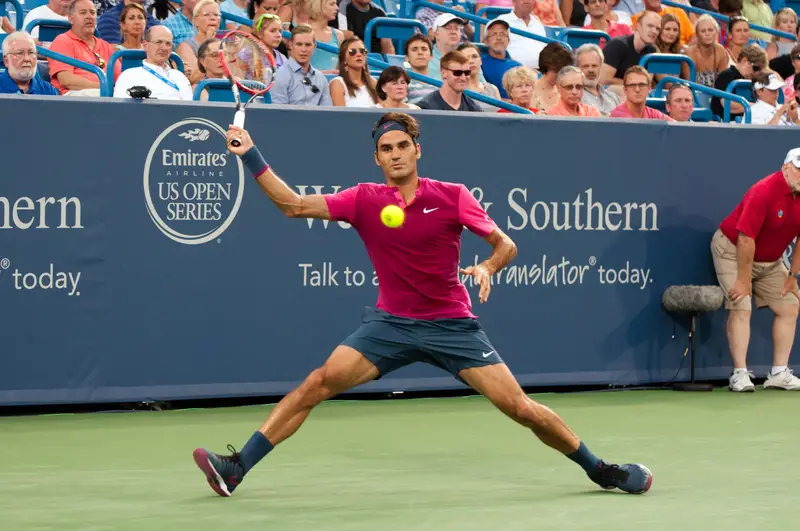 That's right, arguably the greatest tennis player of all time, Roger Federer, didn't start hitting tennis balls until he was 8 years of age.
When you compare that to two of his nearest rivals, Nadal and Djokovic, they had 5 years of practice as a head start!
And even when he picked up a racket to start playing, he apparently played soccer just as much as he did tennis.
Federer himself claims that he only started to play more tennis because he was BETTER at that compared with soccer, and the coach reportedly got angry about Federer missing all of the games to play tennis. 
I actually had the same story, although I didn't quite turn into Roger Federer (obviously).
I was handy at both tennis and soccer as a kid, but sooner or later, the commitments to both could get too much, and I was forced to pick one or the other.
I don't regret my decision to stick with tennis, and I doubt that Federer regrets his decision either!
Dominic Thiem
Dominic Thiem has been knocking on the door at the top of the men's game for a while now.
And as you might recall, he had his first real breakthrough at the 2020 US Open, securing his first Grand Slam title against Zverev in an epic five-setter.
But, believe it or not, Dominic Thiem didn't even contemplate playing tennis until age 6, which is still much later than some of the other top guys.
And apparently, he didn't take the game too seriously at this age, so I'd imagine he didn't start to practice properly for a good year or two after this. 
Of course, 3 years might not seem like much at such a young age, but I've no doubts that this would put him behind in terms of his development.
Just imagine going through the same learning elements that his peers had already gone through and accelerating his development to compete with the likes of Nadal and Djokovic.
It's fairly impressive, and I take my hat off to the guy TRULY. 
John Isner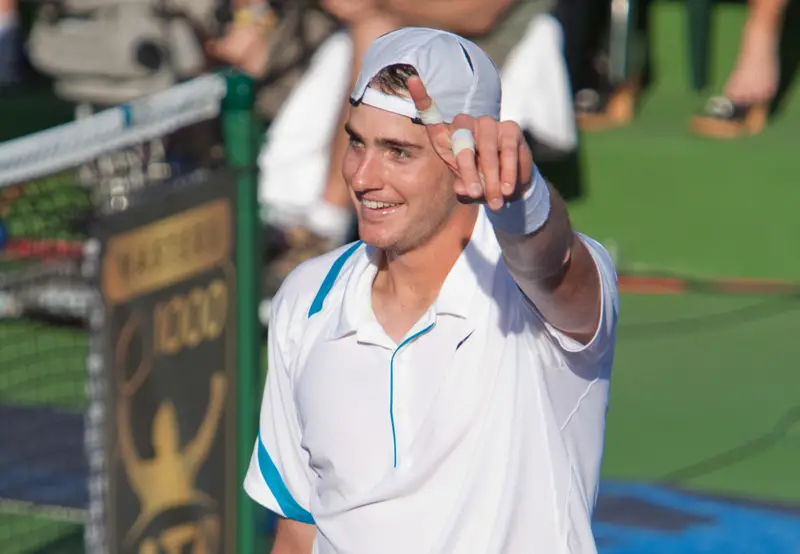 I've saved the best for last, for this one will take your breath away. While Federer started playing at the age of 8, and Thiem started playing at the age of 6, John Isner didn't pick up a racket until he was 11 years of age.
This is amazingly late to pick up the game compared to many of the other top players, and I often wonder whether this late start aided in his decision to go and play college tennis prior to joining the ATP Tour.
This late start in itself is quite unique, but the fact that he managed to reach the top of the game, having come through the NCAA system, is also unique.
You really don't see many players come through the collegiate system and then reach the top of the game.
But with that said, Isner also has a secret weapon – his enormous serve.
I've watched him play matches where guys seem to be almost dodging his serve, which can often go North of the 140mph mark. 
What Is the Right Age to Start?
Although I've highlighted three players that started the game relatively late, compared with other high-profile players anyway, it's normal to still have this question in mind.
And to answer the question with a concrete number, I don't believe this is the right way to approach things.
Instead, I believe that a child should only start when they express an interest in doing so and have the right attention capacity to practice properly.
Although many players have started as early as 3 years of age, I have coached groups of 3-year-olds, and trust me – they weren't ready.
But of course, I also understand that there will be kids who can focus at this age, and there will be kids who express a real interest and motivation to learn tennis.
One thing I will say, however, is that I wouldn't force your child to play the game. 
I've seen parents drag their kids to the court for a coaching session, and if the kid doesn't want to be there.
It is a waste of both their time and the coach's – not to mention that it's a waste of money for the parents.
So I would absolutely approach this question with an open mind and talk things through with your kid (as best you can at such a young age)…
…as this is the best way to determine whether they should start playing or not.
Bottom Line
I trust that you found this article both fun and informative, as I enjoyed finding the information to give you regarding our professional players.
These three examples go to show that a child doesn't need to start swinging a racket while they are still in diapers to go on to become a champion.
In fact, it shows more than ever that starting to play when they are ready is always the best solution.
Do you know of any other late bloomers in the world of professional tennis? Let us all know in the comments.