If you're not familiar with the dance world, the type of floor you DANCE ON may not seem like an important issue.
However, the impact of floors on dance injuries is highly important, according to Gary Wright, a National Australian Champion in Cycling and also a Flooring Technician for West Australian Ballet.
Your Guide
   Alexandra Romanmi
The lack of absorption from the floor, combined with bad REPETIVE technique, can lead to lots of injuries to your muscles, ligament and bones, leading to chronic pain and stress fractures.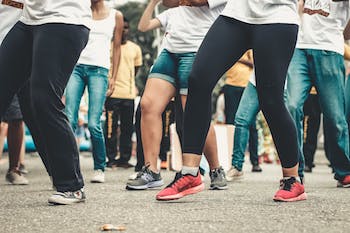 On the Ballet Blog, the expert talks about three elements that make a good floor:
The Underlying Surface
The Covering and
The MAINTENANCE Of The Surface.
For a more in-depth explanation, you can watch the interview with Gary below.
After we found out what a good floor looks like, let's have a look at the worst of them all: concrete.
It is tough, it does not absorb shock and it turns the dancing experience into a more difficult one.
Your JOINTS will have to suffer from this the most…
So if you absolutely have to dance on a concrete floor, you need to make sure you are best equipped to do so.
The shoes will make a huge difference to your ROUTINE.
Reebok comes with a very good option if you plan on dancing on concrete.
The Floatride Energy 2 model will PROTECT your feet and joints with the innovative Floatride Energy Foam that is padding the footbed.
 It provides a very comfortable cushioning, more efficient than the standard EVA sole,  without adding weight to the shoe, keeping it LIGHTWEIGHT (272 g).
The model is also flexible making it easy to dance in, as it fit the foot like a sock.
The mesh upper is also very lightweight and allows your feet to BREATHER while keeping them dry.
They are designed for long-distance running, so they are responsive on tough surfaces such as concrete, which will help you during your routine.
The model is available in four combinations of COLOURS you can choose from.
My favourite one for women is the True Grey, White and Vivid Orange combination...

While my favourite model for men is the Humble Blue, Fluid blue and Black one.
The size ranges from 7 to 13 (US). They are designed for neutral pronation with a high arch.
Pros
The Floatride Energy technology offers s great energy return, making it easier to deal with hard surfaces like concrete.
The foam padding protects the joints during jumps and rapid movements.
They are affordable.
The outsole seems durable, so they will prove to be a long-term investment.
There are special deals for Reebok Club members, so you may want to check out the offers.
Cons
The laces are a bit too short.
The mesh upper will make them impractical to wear on a rainy, muddy day. So for example, if you have a flash mob scheduled outside, you may want to check the weather before you choose to wear this pair of shoes.
FOR WOMEN:
FOR MEN: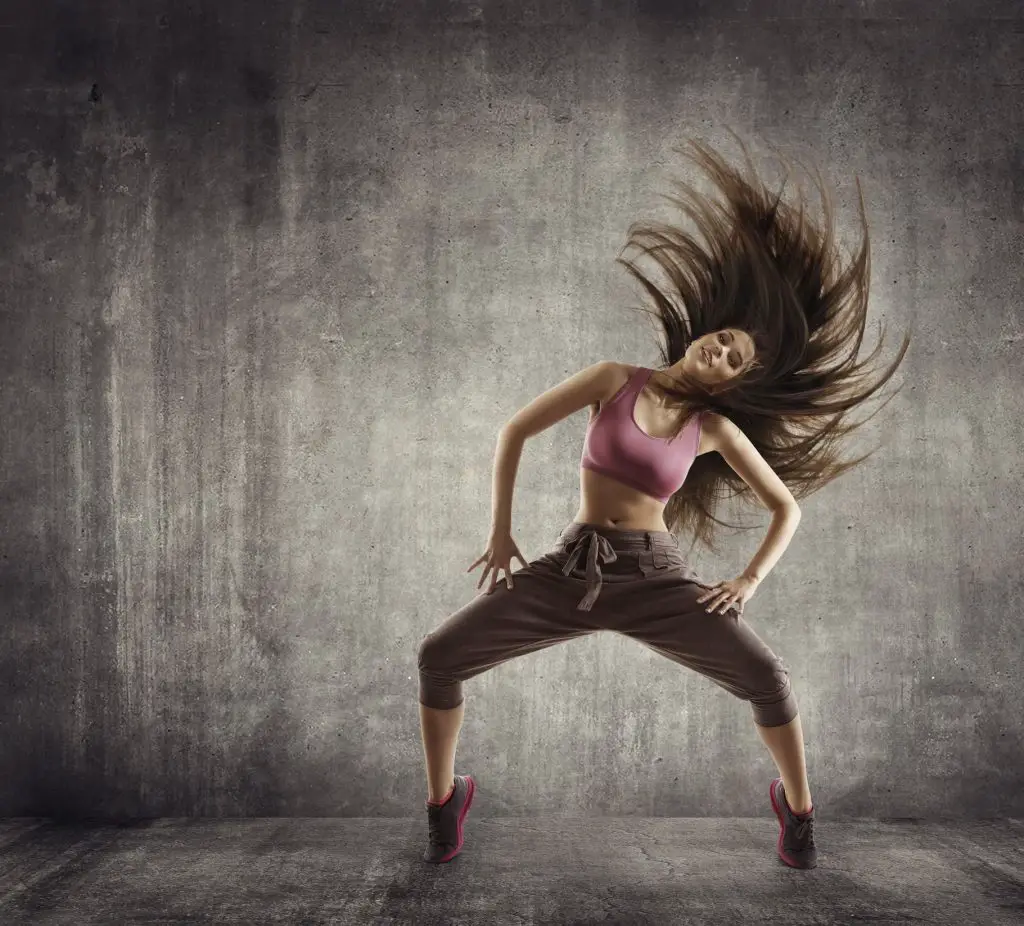 Yet another model wearing Reebok's signature is the CrossFit Nano 8.0 trainers.
With over 1400 reviews on Amazon and a score of 4.6 out of 5, they did CONVINCE me to give them a try on concrete.
Reebok has been working on this shoe, testing and redesigning it since 2010. CrossFit Nano 8.0 is a version that was born with the input of the CrossFit community and the dancers' community can definitely benefit from it.
The Flexweave technology used on the upper is very breathable, keeping your feet DRY during training. This technology weaves fibers into a figure-8 which makes it durable yet flexible.
The forefoot flex grooves also contribute to the flexibility of the shoe that will let you PERFORM any move you want. The low-cut design adds to mobility too.
The toe area is protected thanks to the Toe Tection design, so now's the time for those Michael Jackson toe stands.
The model weighs 10 oz and it features a 4 mm drop. They are available in sizes ranging from 6.5 to 14 and in a very wide color scheme.
If your size is out of stock, you can sign-up for a notification e-mail and they will let you know when they are available again.
Pros
They are very lightweight, yet they provide the appropriate support for your soles.
They are affordable compared to other high-quality brands.
The Nano 8 Flexweave fits like a sock.
As it is designed for weightlifting, they are very stable, providing the right kind of balance for dancing in them.
You can pay them in 3 interest-free installments.
Cons
The rainy weather may affect them, so you might want to reconsider wearing them on a rainy muddy day. Hopefully, none of your shows and flashmobs will actually happen on one of those days.
The design in very simple and functional, so if you want to attract attention with your new shoes, I'm not sure they will do the trick.
FOR WOMEN:
FOR MEN:
Coming straight from the '90s, these unisex shoes are made for the people who stayed COOL through the decades.
They seem to come straight out of an R n B music video, so be prepared to feel extra pumped when you put them on.
I honestly first chose them because of the nostalgic design. Then, they proved to be very functional when faced with one of my nightmares: the concrete floor.
They are a very agile model, featuring a thick EVA foamy midsole that CUSHIONS every move you make. You're walking (dancing) on clouds.
They are very sturdy, so they will take your outdoor training just fine. The upper is made of a combination of mesh, suede and synthetic leather.
The GCEVA construction gives them an update compared to their predecessors, which came out in 1991.
The color scheme has so much to offer, so give yourself time to choose. You'll have to choose from combinations such as Castlerock with Peony or White with Laser Blue. They are available in sizes ranging from 8 to 14, standard width.
Pros
They are budget-friendly.
They bring back the 90s nostalgia while living up to today's comfort standards.
The color scheme is absolutely crazy! I love it and if I could, I'd buy them all. Relax, I'm not a shopaholic. I just love colors.
They are easy to pull on using the pull tab at the heel.
Cons
Slimline design means they're not suitable for wide feet
It can be difficult to put on due to its slim size
FOR WOMEN:
FOR MEN:
With over 75 years of experience in manufacturing American footwear, New Balance has another option for dancers who need to perform on concrete floors.
The 574 Core iconic style features an ENCAP midsole technology that will SUPPORT your feet and joints, while keeping the shoe lightweight and easy to dance in.
The EVA (ethyl vinyl acetate) offers the main protection against the hard concrete floor, making the midsole foamy, and cushioning every step you take. The outsole is made of rubber, so it has a good grip and it makes it more difficult for you to slip during pivots.
The upper is made of a combination of suede and breathable mesh that will keep your feet dry. In case you hate SWEATY feet like I do, this model has you covered.
They are available in sizes ranging from 5 to 12(US), with standard and wide models. You can choose from lots of colours such as Grey and White, Navy, Burgundy or Black.
If none of those satisfy your wishes, you get the chance to customize your own New Balance 574 Core model. You can choose your favorite color, materials and SIGNATURE details.
Pros
The custom-made idea is great. I love to be able to design my own shoes even if I have no skills to actually do it from zero.
They are very comfortable, yet lightweight.
The sock-like feel brings them closer to what I actually choose to wear during my indoor ballet classes.
Cons
There is no narrow model.
They will need to be broken in first.
SUITABLE FOR BOTH MEN AND WOMEN:
Here comes the most hardcore model on my list. If dancing on concrete is not just an exception to the rule for you and you actually have to do it on a REGULAR basis, you may want to take a look at the Asics Gel Kayano 25.
They have models for both men and women, so you and your dance partner will be protected against concrete's evil ways. That's right! I really hate concrete floors.
Among runners' favorites, this model is DESIGNED using the GEL KAYANO 25 technology that guarantees a comfortable training session.
The FLYTEFOAM system uses organic super fibers that provide a great energy return and resists compression, so you can jump on them as much as you wish.
They'll take it.
Another innovative technology called FLUIDRIDE allows the midsole to gently cushion your feet while reinforcing the natural trajectory of your movements…
Going hand in hand with another signature system
AND The GEL technology reduces the impact on the floor, absorbing the shock, thus taking care of your joints.
The seamless materials protect your feet from injuries on different high-pressure points. The shoes fit like a sock thanks to the internal elastic sleeve that surrounds your foot.
The upper is KNITTED and inspired by the traditional Japanese kimono.
They also benefit from the I.G.S. (Impact Guidance System) technology.
The HEEL CLUTCHING SYSTEM is also part of what makes these shoes a superior choice and it refers to the exoskeletal heel counter that offers supreme support.
The GEL-Kayano 25 is designed for over-pronators for low or flat foot arches.
Their size ranges from 6 to 16, but if your size is out of stock you simply sign up for a notification e-mail and they'll let you know when it is available again.
You can choose from 11 colours and combinations, but I personally prefer the Cherry Tomato and Black one for ladies.
Pros
Asics loves to invest in its technologies and it shows. Among them, I looked into a very interesting one, the Guidance Trusstic System Technology which boosts gait efficiency and midfoot structural integrity. There's so much to learn from the art and science of making this kind of shoes, I highly recommend you take your time and read about it. Absolutely fascinating stuff!
They are among the most comfortable shoes I have seen in this category and they prove to work very well on concrete.
They fit very well to the foot without causing blisters.
Cons
They may be considered a serious investment.
They are very sturdy, thus, they'll need to be broken in first.
FOR WOMEN:
FOR MEN:
No matter which shoes you will choose, you need to be prepared when attempting to dance on a concrete floor.
Never NEGLET the impact it can have on your joints and tackle it with great care and responsibility.
Stay safe, my fellow dancers, and if you WISH, share with us the craziest places (and surfaces) you had to dance on.
I'll start…I had to dance in a cobblestone cellar for a Halloween party in Transylvania.
Yes, Dracula was there too.