Guess who made to the UNESCO Intangible Cultural Heritage List?
Tango DID.
And it's NO WONDER this wonderful style was included in the prestigious list. Tango is not just a dance or a MUSIC STYLE, it is a FEELING, it is history in MOTION.
Your Guide
   Alexandra Romanmi
Recommendation For You:
Born from a fusion between Candombe, Habanera and Milonga, each coming from different places, Africa, Cuba and Argentina respectively, tango is a SPIRITUAL STATE.
Tango possesses you, as one of my instructors used to say. If it does not take CONTROL OF YOUR BODY, then you're not doing it RIGHT.
That is something that any tango dancer who truly loves their craft will confirm for you.
And if you are here, reading this, it means you already KNOW ONE.
I know some, too and I can tell that I've NEVER SEEN fire burning as bright as it does in THESE PEOPLE. I grew up among artists and they're all EXTREMELY PASSIONATE people, but tango dancers…
..Tango dancers ARE DIFFERENT.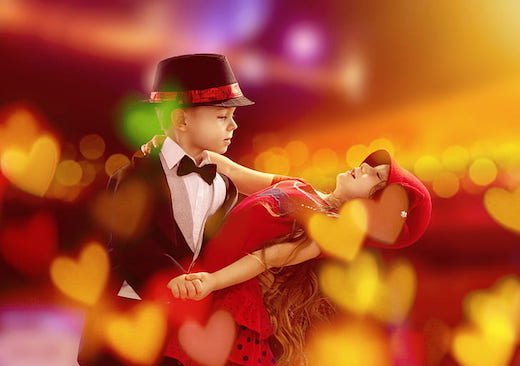 They seem to transcend this plane of existence each time the accordion starts to play THEIR JAM.
Their PASSION EXCEEDS anything I HAVE EVER SEEN or experienced and that is what makes them extraordinary human beings to me and probably to you too.
Now the tough part: getting them a gift.
What's something that matches the fire in their eyes?
What could it be? You'll have to respond to fire WITH FIRE, to passion with the SAME PASSION!
But how? Tango dancers, like most dancers:
Don't limit their horizon to their art
They are IN LOVE with art in all its forms
And their APPRECIATION for it is something you can easily explore and use in your pursuit of the perfect gift.
So, my gift recommendation when it comes to these WILD SOULS is quite simple:
A piece of art, preferably a PIECE OF ART, that reminds them of their own. So, I stopped at oil paintings depicting a couple of tango dancers.
What makes a piece of art so special?
There is something about oil paintings that manages to transmit a VERY POWERFUL MESSAGE if done right as if you can almost see the people in it MOVING…
..like you know their stories already and CAN FEEL them breathing IN FRONT OF YOU.
It was Love of Tango, a painting by Fabian Perez, the one that made me think of that.
I saw it in a dancer friend's home, hanging on a wall and I caught myself looking at it as if I was watching A SHOW. It just felt right for that painting to be in a dancer's home.
Perez's dance paintings are so full OF LIFE AND PASSION that I feel it's almost imperative for tango dancers to own one now.
The characters in them COME TO LIFE each time you look at the painting.
The effect is amazing. 
My favorite painting from him is Tango in Red. It is GORGEOUS and the story it tells seems to unfold in front of your eyes.
Looking at the couple positioned in the center of the painting, you can INSTANTLY FEEL transported to that small underground bar where they were dancing and you can FEEL THEIR PASSION through the magic of Perez's brush.
The woman's face together with the positions of the man's hand, are the two most touching details of this piece of art.
They tell the entire story of their lives and relationships.
There are many other Tango paintings you can choose from in Perez's gallery, this is just my favourite.
You can opt-out for the original oil on canvas paintings, for hand-embellished giclee on canvas or giclee on canvas (digital print), depending on the models available and on HOW MUCH you wish to spend on the gift.
Of course there are many, MANY OTHER Incredibly Talented Artists out there who make really good dance paintings…
..Perez just happens to be ONE OF MY FAVORITES, If you find others, please share their work with us.
Also, there is one more trick you can do with the painting idea that I've given you. If you have the slightest inclination towards art, why not try to create the piece of art yourself?
All you really need is to let your imagination GO WILD on canvas. If you've never put painted before, don't worry; there are lots of tutorials online.
One can never have enough of Bob Ross, Right?
And who knows, maybe YOU'LL DISCOVER you're quite good too.
In the end, however, it doesn't matter if your painting is not a Rembrandt-like artwork, your tango dancer loved one will appreciate the RESULT regardless.
It will be YOUR PASSION on canvas and that in itself will be priceless. I got my dance painting gift from my sister years ago.
She was around 8 and she made this for my birthday. It is Needless to say NO OTHER GIFT really matched it that year. I still have it in my room and I'll KEEP IT THERE FOREVER.
So go ahead and GET MESSY on canvas! And don't forget to show us what you've made!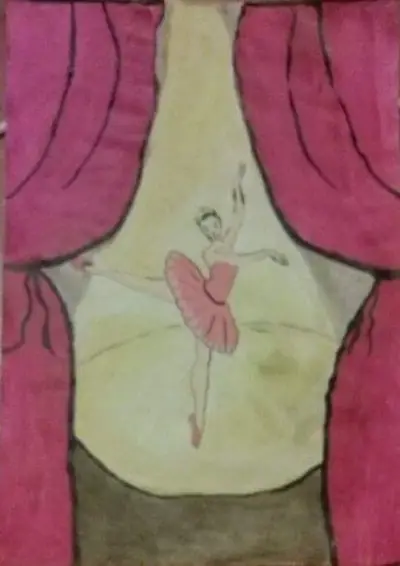 (This is the painting I got from my sister.)
Useful Links