I have to confess I am a nerd. I'm fascinated by all sorts of trivia facts and I love history.
So of course, I'll share with you what I've learnt about pole dancing (coupon code "sportsgratitude" for 10% discount).
Apparently, we can track its roots back to India, centuries ago. Its ancestor, the Mallakhamb was invented on the Asian continent and it was usually performed by men.
   Your Guide
   Alexandra Romanmi
They would perform acrobatic TRICKS using a vertical wooden pole.
Only much later, during the 1920s in America, the performers started to combine the pole dances with the burlesque shows and added to it the more seductive nature as we know it now.
Today, pole dancing is not only a form of ART, but a popular option for fitness classes and also a possible Olympic sport.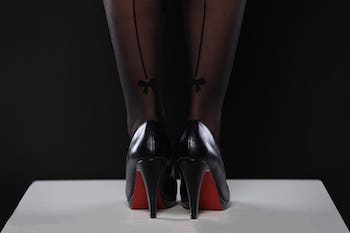 In 2017, the Olympic committee officially recognized it as a sport. It now has a special observer status, but it will take a while until they officially include in the games.
However, there are lots of national and international championships you can attend across the world.
With its popularity increasing, more and more dancers want to give it a try.
I did and it's great.
Very HARD, but GREAT.
And who knows, maybe among the people reading this hide the next Olympic medallists. It is thus important to learn about the right equipment we need in order to train safely.
My favourite brand when it comes to pole dancing shoes is Pleaser USA.
Why?
They simply know their business and their customers and their products show it.
They lift you up and help you reach the SKY…
…I'm a short person and adding 7 inches to my actual height seems like that, alright?
The gorgeous Adore – 708 Pleaser Sandals are my number one choice as they COMBINE the functionality of a pole dance shoe with a bit of necessary eccentricity and seductive treats.
With a neat 4.7 score out 5 on Amazon, they convinced me too. I was also influenced by my dance teacher who loves and praises them a lot.
The heel is 178 mm (7") which is not scandalously high compared to other models, so beginners could use them too, after a few training sessions of course.
However, Pleaser has models with a 5" and 6" inches heel in case you feel uncomfortable using these ones. The platform measures (70 mm) 2 ¾".
The clear upper and ankle strap will keep the shoe secured to your feet which in this dance style is absolutely crucial.
The chrome plated bottom of this sandal gives it a burlesque air that I really like. The rubber sole provides you with the good GRIP you need.
They are available in sizes 5 to 14 (US) and the colour scheme includes purple, red, light pink, silver, teal and black.
I would recommend you to go half a size up your normal street shoes as the plastic the pole dancing ones are made hardly stretches.
Pros
Wearing them add sensuality and wildness to your moves which is exactly what you're looking for when trying to pull off a difficult routine.
The combination of bright strong colours with the chrome plated bottom steals the show and adds glamour to your dance.
The high-volume of the bottom offers you stability, while the clear upper shows off your pedicure. Perfect combo!
They are not ultra-high like pole dance shoes tend to be, yet they still do the trick.
Cons
They are made of 100% synthetic materials, which may get your feet sweaty.
They may seem stiff and may cause blisters until your feet get used to them. My instructor used to encourage us to wear them with thicker socks around the house for a few days before taking them to rehearsals. You can also try to stretch them by warming them up with a hairdryer on low.
Ready to feel like a diva?
Pleaser Women's Delight's got your back.
This beautiful almost gothic-like pair of boots is designed to wake up the dark MYSTERIOUS goddess in every woman who tries them on.
The 6" (15.2 cm) stiletto heel makes them perfect for fairly experienced beginners and professionals alike. The platform measures 1 ¾" (4.5 cm).
The closure system relies on a lace-up upper that secures the boot to the ankle, doubled by a full inner side zipper that seals the deal.
The rubber sole offers really good grip to the floor and the pole itself which is very important during DANGEROUS routines. And yes, most pole dancing routines seem dangerous to me.
The lace-up upper is made of leather (or faux-leather in some models) which also gives good grip to the pole when climbing on it or clinging to it.
They are available in sizes ranging from 5 to 14 (US). In terms of colours (upper &bottom), you can choose from seven individual models, such as:
the Black & Black with Faux Leather, Black & Black with Leather, Black & Red Chrome, Black & Rose Gold, Red & Red, Rose Gold & Rose Gold or White & White.
Pros
The leather adds a wild, but elegant note to them, while proving really practical.
They are part of the 6" collection which makes them easier to wear and perform in (Pleaser goes up to the 10" collection).
I love the fact that I can style them to a gothic outfit.
The closure systems keep them very tight and secure to your feet.
They're great of you feel like you have weaker ankles.
Cons
The fit is quite narrow which may be a problem for dancers with wider feet.
They are very tight, so you'll more likely have to order a size-up.
Another beautiful sandal model from Pleaser USA, the Women's Radiant 708THG pair features a 7" (17.8 cm) heel – which is still high, but not impossible to wear – while their platform measures 3 ¼" (8.3 cm).
If you've ever WONDERED why the pole dancing shoes have their distinctive look, here's a very detailed guide to the anatomy of a pole dance heel offered by PolePedia.
These sandals (just like all the Pleasers I've looked at) tick all the boxes in the guide: they have a
curved insole which protects your toes from injuries during floorwork,
Padded lining for a comfortable training or shoe performance an angled heel for support,
Angled toebox that allows for easier movement of the heel,
Curved outsole that facilitates movements such as rocking forward, turning and sliding, and
One-piece shank for extra-support and easier lifting from the floor.
They feature a clear patent upper and an ankle strap which keeps the shoe SECURED to your feet.
The textured holographic heel and platform is la piece de resistance of this model.
They look really cool and basically match any outfit. They come is sizes ranging from 5 to 10 (US).
Pros
Despite their high-volume, they are actually pretty lightweight.
Their design respects the right anatomy of a pole dancing shoe, without exception.
The holographic bottom makes them stand out and look great in the spotlight.
Cons
They are available in one single colour.
As my fourth choice, I will go with an all-time favourite of mine, the ADORE 3028 Thigh High Boot.
Confession time: the gothic girl in me is overwhelmed while I write about this model and Venus in Furs by Velvet Underground just started PLAYING in my head.
For people who don't know it, it starts like this:
"Shiny, Shiny, Shiny boots of leather…"
Back to the shoes now, they sport a 7" (17.8 cm) stiletto heel and a 2 ¾" (7 cm) platform. The upper features a lace-up closure for a better control of the tightness and a full side zipper.
The three buckles placed along the upper put an EMPHASIS on the shape of the leg, making it look even more seductive.
Those too respect the anatomy of a pole-dancing shoe, with all the key elements present:
The curved insole
Padded lining
Angled heel
Curved outsole and
The one-piece shank
Angled toebox
They are available in faux leather or patent (the shiny fabric which is actually leather coated in plastic) and both versions are black.
I would go for the patent one, as it OFFERS a better grip to the pole. The sizes range from 5 to 12 (US).
Pros
They emanate an extremely sensual and wild air and they give confidence to every woman who puts them on.
They are practical, as they will make your whole leg grip to the pole without hurting your skin.
I would personally wear them outside the context on pole dancing. They are great to sport with any metal or Goth outfit.
Cons
I'd like for them to be available in genuine leather.
I'd also love to see a red or white version of the exact model available in the Pleaser shop.