I've recently discovered that there are now classes that teach you how to dance in a club. They teach Rhythm, Coordination of MOVEMENTS and even simple steps and routines you can then perform.
It feels amazing to see that people actually care about the way they dance when they go to a PARTY.
Your Guide
   Alexandra Romanmi
It means society offers more and more attention to the art I've dedicated my life to and I just LOVE that.
However, I honestly appreciate any human being that moves along to the music they hear.
It doesn't matter whether they seem like they came from a Bolshoi rehearsal or as if they lost all control over their limbs.
If they are having FUN, they got it.
That's the beauty of dance.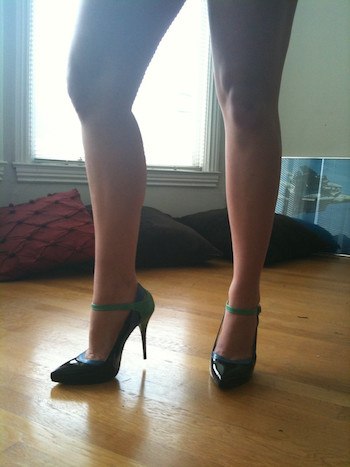 Even if I believe you can be as loose as you want on the dance floor, when it comes to the shoes you choose to wear there, there are a few tips you might want to consider before going to the club and dancing all night long.
That's the case unless you like going barefoot after the first hour or two, which happened to me way too many times.
Especially if you are known to be a dancer in your GROUP, you kind of need to live up to your friends' expectations, so giving up your beloved dance shoes for a pair of street ones, may not be a good idea.
So after a few failed nights in the club, I decided to stick to my professional dance performing shoes.
A super affordable yet much-appreciated model, the 254 Lucille Dress Pump by Ellie is a good CHOICE for your club nights.
The upper is made of 100% satin and oh, yes, I love satin.
The Vintage-inspired look with its cute sculpted heel comes straight from the roaring '20s and is ready to rock the new '20s, a CENTURY later.
The leather and rubber sole offers good grip to the floor while facilitating pivots and slides, even after way too many hours in the club and way too many drinks – please remember to drink responsibly though.
The closed round toe box is very comfortable, as it doesn't keep your toes too tightly together.  This prevents the nightmare of ingrown nails to happen to you.
The T-strap design keeps the pumps secured to your feet so you won't lose them on the dance floor, while the adjustable ankle strap allows you to fit them as you please.
The one-piece shank offers the adequate support and light cushioning for a comfortable experience. They are available in sizes 5 to 11 (US), medium width.
Pros
They are flexible, comfortable and stable, while adding a refined vintage air to my outfits.
They are very affordable.
They feature a closed toe box which I prefer when going out in crowded places. People tend to step on my toes for some reason and I need to protect them as much as I can.
Also, they're made of satin and I absolutely love satin, as I mentioned before.
Cons
They're a medium to wide in width, so people with narrow feet may find them a bit difficult to fit them.
I could only find them in black with no other colour option.
Salvatore Capezio, born in 1871 in Muro Lucano in Italy, was a cobbler with a dream.
He moved to the United States and when he was only 17 years old and soon he opened a shoe repair shop near the Metropolitan Opera in New York.
When the opera star Jean de Reszke needed a new pair of shoes URGENTLY, Salvatore put his creative ideas into practice and made his first pair of shoes.
The result was amazing, do he soon became the official shoemaker for the Metropolitan Opera House.
Huge names in the industry started to notice him and to fall in love with his work.
The great world-class ballerina Anna Pavlova bought herself and her company pointe shoes made by Capezio.
Later on, he designed a special pointe shoe named after her…
..And the history goes on until today when we can BENEFIT from Capezio's courage and determination to create high quality footwear for his beloved dancers.
With no further introduction, the next three recommendations come from the one and only, Capezio brand.
The first one is the Jr. Footlight Character Shoe, with an overall score of 4.7 out of 5, based on 84 reviews on Capezio's official website.
The shoe features a soft PU leather upper and a non-slip leather wrapped 1.5" heel, that offers great stability.
They are very COMFORTABLE thanks to the soft microfiber lining that prevents extra sweaty feet and to foam padded foot bed that will take care of your tired plantar region.
The shoe can't slip off as the slim leather strap with its buckle secures it to your feet.
You won't have to worry when the DJ's playing your favourite tune, so you immediately have to run straight to the dance floor and fully enjoy it.
I don't know about you, but there are SONGS I just can't RESIST.
The model is compatible with two of Capezio's signature accessories the Tele Tone® toe and Duo Tone heel taps, if you wish to add them.
The shoe also features an Achilles notch which is designed to reduce pressure on the Achilles tendon – less pain, less blisters.
The closed toe and sides minimizes the damage you are likely to take when your fellow party people step on your feet.
They are available in whole and half sizes ranging from 4 to 12 (US), narrow, standard and wide models.
In terms of chromatics, you can choose between a black and a caramel shade. Moreover, the same model is available with a slightly higher heel, measuring 2".
Pros
They have all the qualities of a good dance shoe, while looking just as great and elegant as a street one.
They have a scored leather sole, so it won't be a problem if you wear them on the street, on the way to and from the club. They'll take it just fine.
Even with all the history and craftsmanship that went into making them, they are still affordable.
The soft lining absorbs sweat, keeping your feet dry all night long.
Cons
I would have preferred a slightly thinner heel.
Like always, I would prefer genuine leather instead of PU leather, as it makes footwear a lot more durable.
The second Capezio creation that made it to my top is the Social Dance Eva model. It comes with an ELEGANT PU leather upper, open on the sides.
The insole is cushioned using a single layer of memory foam and the edges are folded, while the collar is padded. This triad of elements makes them very comfortable to wear for hours and hours of fun.
The cross ankle straps and the open toe box put an emphasis on the feminine lines of your feet, giving you that confidence boost you need on the DANCE FLOOR.
The ½ shank is reinforces for extra flexibility – you can easily do all your sneaky dance tricks now. The 2" flared heel is stable, yet elegant, without the usual chunky look of high-support dance heels.
They are available in whole and half sizes ranging from 5 to 11 (US). The brand suggests you start with the street size.
In terms of colours, they made your choice easy: it will be black.
Pros
They are a more elegant version of dance shoes, especially created for ballroom dance.
The extra-supportive shank comes in handy if you plan on dancing until dawn.
The Achilles notch actually works. I've never experienced pain and blisters in that area while wearing Capezio shoes with this feature.
They show off your pedicure.
Cons
The open toe box makes me feel a lot more vulnerable about my toes getting stepped on.
Like always, I would prefer genuine leather instead of PU leather, as it makes footwear a lot more durable.
Finally, the last Capezio in my top is the Cassie Character Shoe 830. It features a durable leather upper, with closed sides and a closed toe box.
The cushioned memory foam insole offers extra support to the heel and ball of the foot – the points where we put the most PRESSURE when dancing.
The single slim ankle strap with its buckle secures the shoe to your foot, while gently shaping your ankle.
The heel measures 2", but the model is also available with a 1.5" heel in case you want to go lower.
Capezio also manufactures this model as a version for children. They're that easy to wear.
They are available in whole and half sizes ranging from 4 to 12 (US), medium and wide models. You can choose between black and caramel models.
I personally prefer the black one as it is easier to match them with your outfits.
Pros
They are a very simple, practical, yet elegant option.
They are affordable.
The memory foam helps a lot if you choose to go out after a tiring week at work.
They have a closed toe box and you already know how much I like those.
Cons
The colour scheme is scarce and I don't like when my options are limited.
The heel looks a little chunky.
#5: Veronika (031 E) Shoes By Aida Dance
The last (but not the least) shoe that made its way into my top is Veronika 031E model by Aida Dance.
With almost three decades spent REFINING the design for dance footwear, Aida Dance Shoes is another brand that I like.
The model I chose features an upper made of satin, with open sides and a closed toe box and a delicate T-strap that gently secures the shoe to your foot.
Other than this, you can customize almost everything about them. You can choose from a 2" or 2.5" Flare or Slim Heel. The toe can be square or round depending on the way you like it best.
I usually prefer the round one as it gives me a little more FREEDOM of Movement. Even the sole colour is customizable: you can choose between a regular, red or black suede one.
You can also add heel protectors and replacements for the heel tips to your order. In case you want to go extra fancy, you can add rhinestones to your heels, so you could literally shine on the dance floor.
The size ranges from 4.5 to 8.5 (US) and the width can be extra-narrow, narrow, regular, wide and extra-wide.
Pros
They are the most sophisticated model on my list, perfect for more elegant occasions.
I love the fact that they are very customizable.
The strap is very delicate, emphasising the natural feminine lines of the foot and ankle.
Rhinestones!!! I love rhinestones!
Cons
With all the extra customized options, they can get pricey.
There seems to be less cushioning in the insole compared to the models I usually like wearing.
Veronika (031 E) Shoes By Aida Dance
Choosing the most comfortable, yet FASHIONABLE shoes for going out to the club can be a daunting task, but if done correctly it will ensure a night of full of dancing with no blisters and terrible leg pain in the morning.
Don't forget the key elements:
Good cushioning
Sturdy heel
Breathable lining 
Peferably (but not necessarily) a closed toe box.
Other than that, put your diva attitude on, and rock the DANCE FLOOR!
And while you're at it, share with us your most memorable ad-hoc club routines you've ever performed.
You definitely know what I'm talking about!
Apparently mine was pretty simple: headbanging to Du Hast by Rammstein for a while, then getting dizzy and ending my routine with a couple pirouettes and a (not so) graceful arabesque.
The metalheads in the club were truly IMPRESSED.
Or so I was told.