Your Guide
Alexandra Romanmi
Just like Hip-Hop, Breakdance is WILD and FUNKY, meant to make a statement and send a powerful message to the audience whenever performed.
There is a never-ending discussion about the difference between these two styles, with lots of misunderstandings about both of them.
Our Top Pick:
Most myths will include radical categorizations such as breakdance is all about acrobatics and hip-hop is all about dance or mistakes related to the way these styles are choreographed (let's all remember they are both freestyle dances in the end).
What To Look For 
People tend to argue a lot when it comes to the division between hip-hop and breakdancing, so getting your facts straight, especially if you happen to be a b-boy or a b-girl is a crucial step in your career development as a dancer.
A well-rounded breakdance artist will acquire knowledge about his field:
On the Dance Floor
In the Rehearsal Room
In Dance Clubs
On the Street but also
In the Comfort of His Own Apartment by Reading and Watching Movies About This Style
The Freshest Kids – A History of the B-Boy will come in handy and clarify all the details you need to know about breakdancing with hours of footage featuring the world's most respectable b-boys: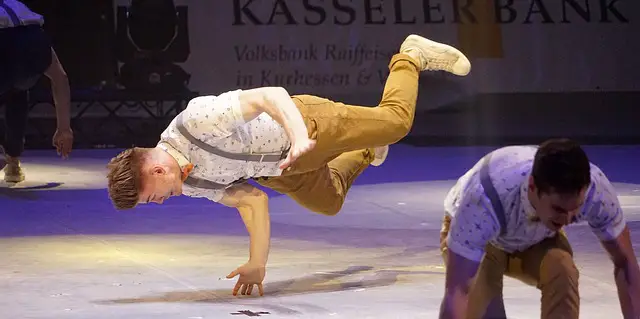 Ken Swift, New York City Breakers, Mr Wiggles, and Styelements together with the newest sensations and promising stars of the breaking scene.
The old school and new school of breakdancing are presenting the evolution of dancers from the 1970s until today…
.. focusing on the EXPANSION OF the underground movement to a worldwide phenomenon and its return to the underground scene in a matter of decades.  
Rap legends like KRS-One or Mos Def are there to guide you through your craft's history and development.
With the musical innovations of the disc jockeys, such as Kool Herc and Grandmaster Flash who created extended rhythm breaks using cross-mixing and scratching, wild and acrobatic dance styles saw the light of day.
Back spins, head balancing, flares and fancy halos took over the streets and dance floors, TRANSFORMING DANCE HISTORY FOREVER.
Another thing I like about is that the movie is a mixture of archive material mixed with amateur clips, keeping it very real and authentic.
Also, there are a few uncut b-boy battles like the ones between the Stylelements vs. The Renegades and the Flo Masters vs Super Dave that will have you glued to the TV.
If you have 94 minutes to dedicate to learning about the early days of this influential style (plus a couple more hours for the bonus footage), I highly recommend this documentary.
And if you don't trust me, you can trust its 8.1/10 score on IMDB and its 4,5/5 rating on Amazon.